Create glamour in any space with darker hues
Featuring decors from the Laminex Colour Collection, this kitchen is moody and sophisticated, with black marble patterns, brushed metallics, ultra-matte black surfaces and dark woodgrains bringing subtle shifts in texture and tone.
---
Bold and modern interior design


Kitchen designer Olivia Cirocco created a glamour style laminates kitchen that reflects a strong recent trend towards darker colours in Australian homes, and particularly in kitchens. It's moody and sophisticated, with black marble patterns, brushed metallics, ultra-matte black surfaces and dark woodgrains bringing subtle shifts in texture and tone. And with the help of some key decors from the new Laminex Colour Collection, it's a look that you can easily achieve in your own kitchen.

The geometrical form of the island bench makes a bold modern statement. The front of the island is clad in textural Laminex Brushed Bronze, with a benchtop in Nero Grafite that folds down to the floor in a triangular panel. To achieve this with solid stone would have been difficult, and costly. But using laminate it was simple, with the incredible realism of the veining in Nero Grafite creating the impression of real marble. And by layering it over the Brushed Bronze, the elegant interplay between the stone and metallic decors defines the feel of the kitchen.
The core palette
These dramatic Laminex decors give designers the freedom to bring complex ideas to life, with the look of stone, concrete and metallics, but much less hassle.
Black on black layering
Nero Grafite is also applied to the rear wall, making a major feature of its dramatic marble patterning. Below, the rear benchtop, underbench cabinetry, splashback and small ledge are clad in Laminex AbsoluteMatte Black. The light-absorbing qualities of this ultra-matte surface give it a strongly contemporary designer look. It feels beautiful to the touch too, and its unique fingerprint-resistant finish means it stays looking perfectly matte black no matter how hard you try to smudge it. Continuing the contemporary theme, appliances, tapware and task lighting have been selected in black finishes, for a slick black-on-black look. And on the floor, terrazzo with dark aggregate provides a subtle sense of texture and contrast.
Metallic laminate creates visual connection
Laminex Brushed Bronze reappears on a custom rangehood cover. It creates a visual connection to the bronze on the island bench, but here, closer to overhead lighting, it gleams a little more, and its brushed texture is a little more pronounced. In amongst all of the black surfaces, it brings a deft touch of glamour. And then, to either side of the rear bench space, shelving in rich brown Laminex Natural Walnut provides an elegant and authentic-feeling frame for the entire kitchen.

The overall effect is stunning. The dark surfaces bring mood and drama, the flashes of brushed bronze add elegant sophistication, and the natural textures of woodgrain and marble provide a sense of timelessness. In combination, they create a very cool, very modern kitchen that will stand the test of time.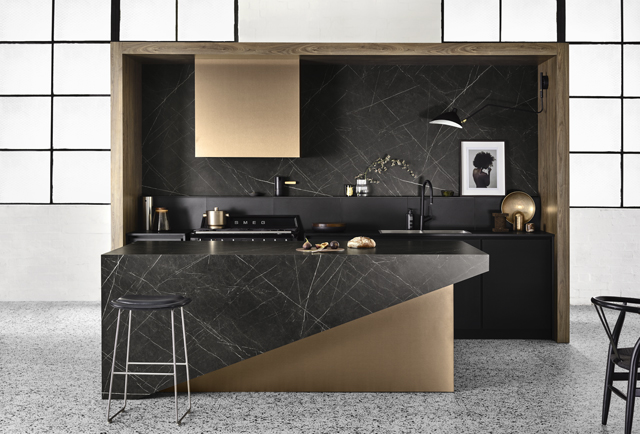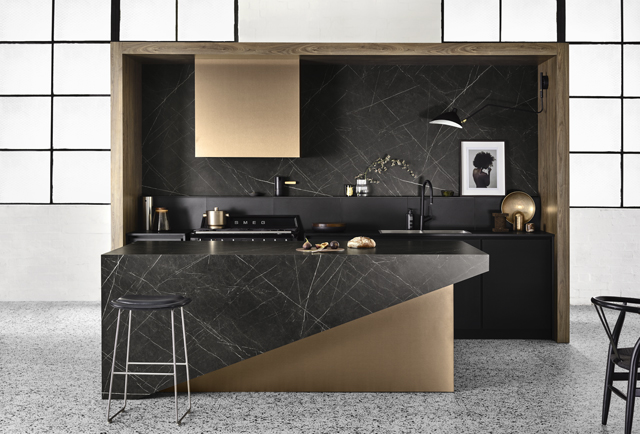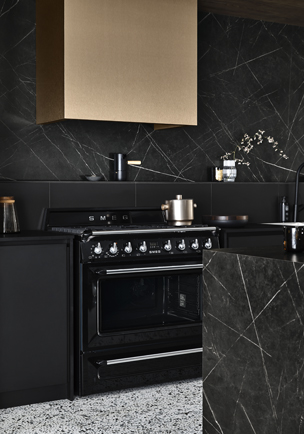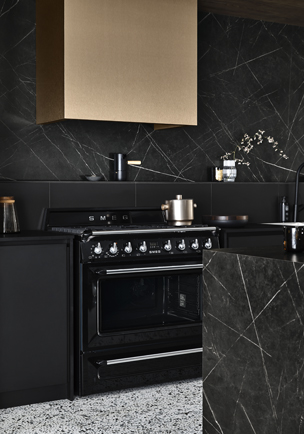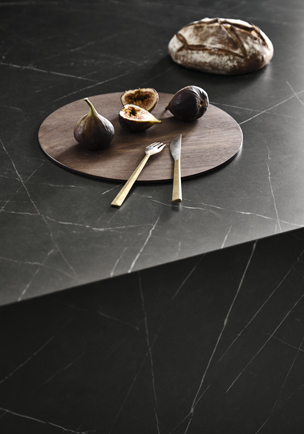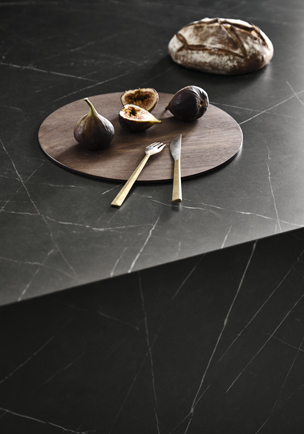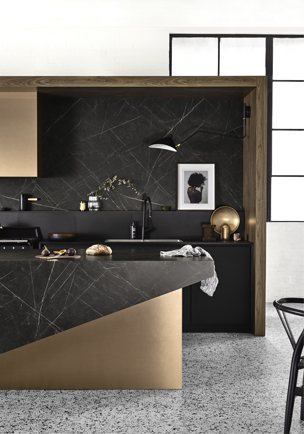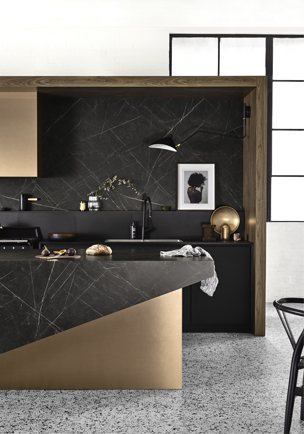 Colour Collection Projects
Explore more projects showcasing decors from the Laminex Colour Collection.
Product Brochures

Download the Laminex Colour Collection product brochures.
---
You might also be interested in these