Others may have turned down such a challenge, but for Grand Designs fans Sandy and Martin, a 'renovator's delight' in Dromana, Victoria presented a blank canvas to play with.
Despite the work ahead, homeowner Sandy explains, "The house itself seemed to guide our decisions, and we wanted an Industrial style with clean lines and no clutter." A foundation of stunning ocean views, generously high ceilings, polished concrete floors and expansive windows also informed the streamlined design of the home.
Designer John Crooks was commissioned by the couple to help bring their ideas to life. "John's vision and advice were invaluable," reveals Sandy. "He simplified the design process and thought of things we would never have." Essastone and Laminex surfaces delivered an industrial edge playing out consistently throughout the entire home. These materials were selected by Crooks for their long-lasting quality and uniquely Australian sensibility.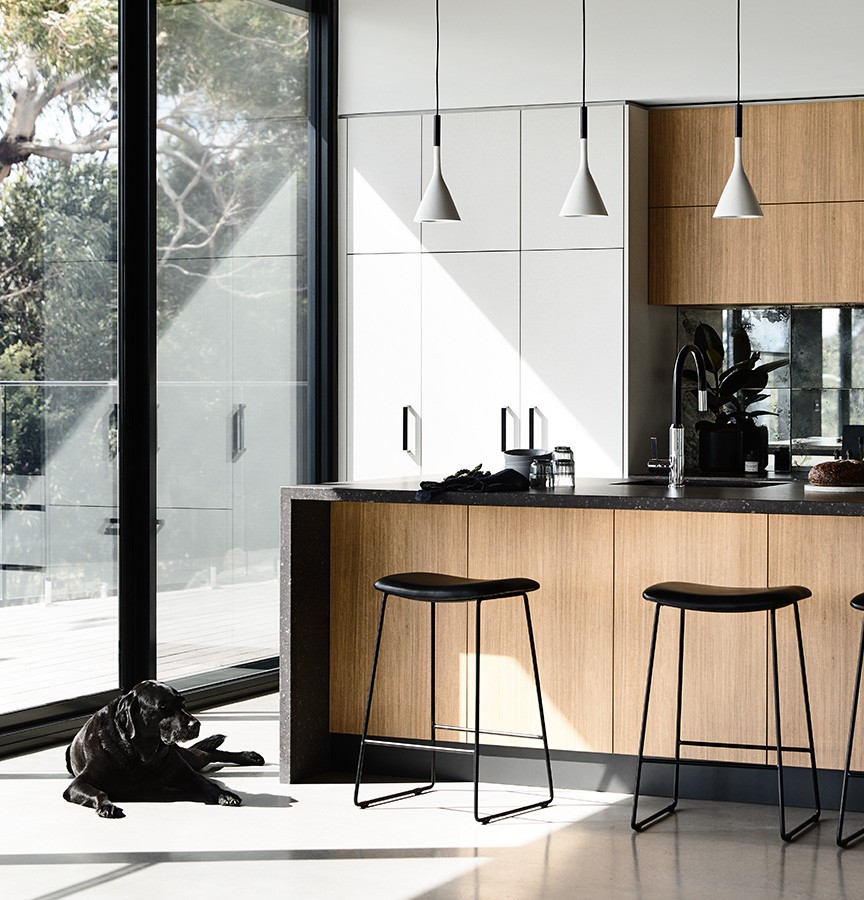 The same Essastone and Laminex surfaces were used in the home's study, kitchen, bathrooms, laundry and wardrobes, delivering a cohesive mood and a satisfying sense of flow throughout. But the couple's favourite space? Their stunning statement making kitchen. Laminex Impressions in Sublime Teak was used for the overhead cabinetry and panels, delivering a textural element to the space.
The laminate textured woodgrain beautifully offsets the clean base of Laminex in White Textile which was used for all cabinetry. Showpiece status is awarded to the eye-catching benchtop in Essastone Bitumen Igneous finish. The edgy surface merges a matte finish with areas of gloss and a subtly irregular texture. "We love the finish and texture on the kitchen cabinets and the Essastone Bitumen benchtops. They suit the house perfectly and are so easy to maintain," shares Sandy.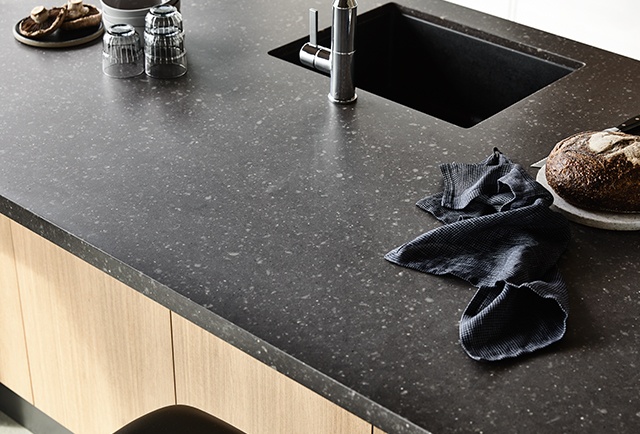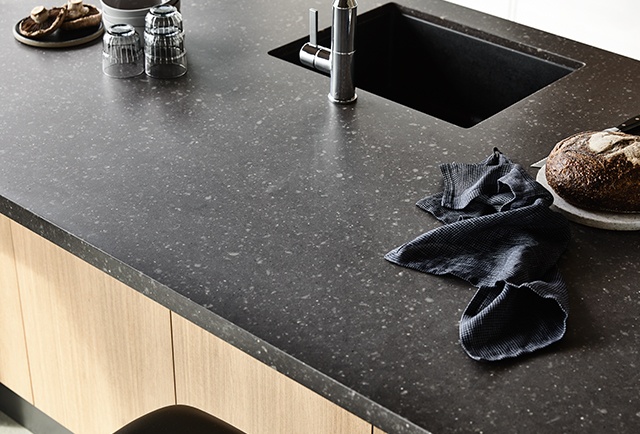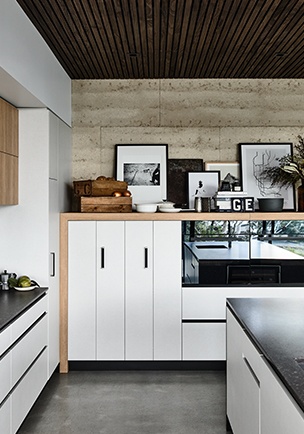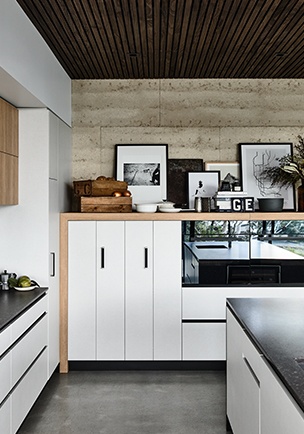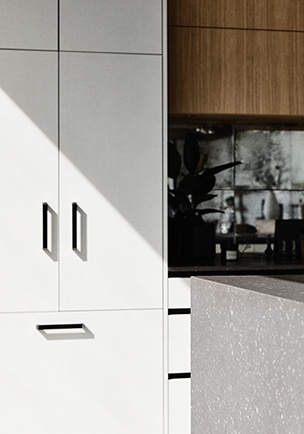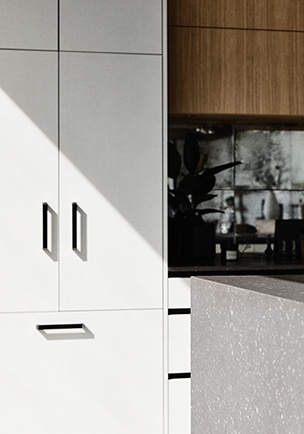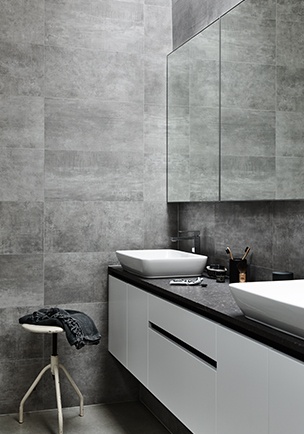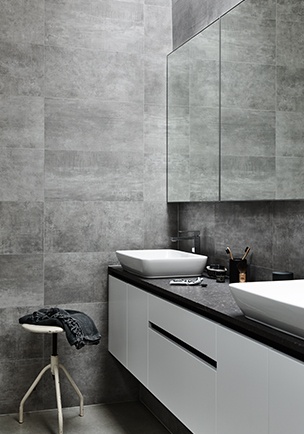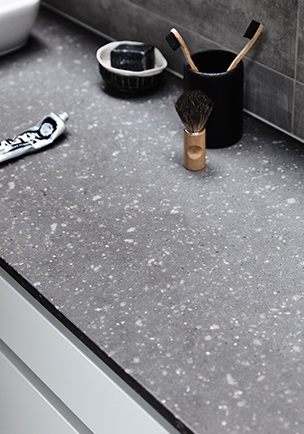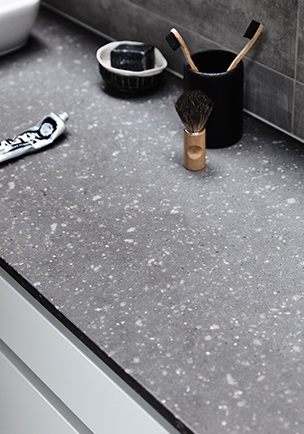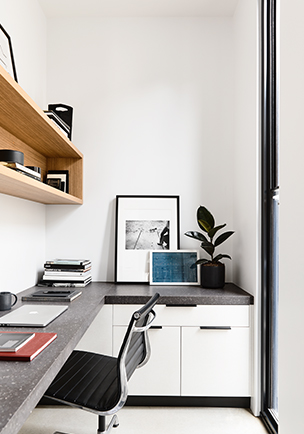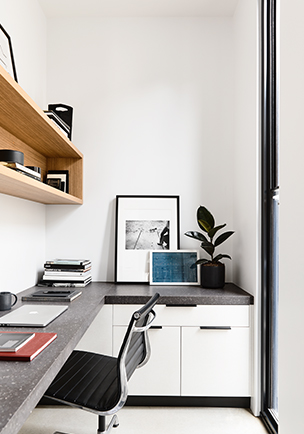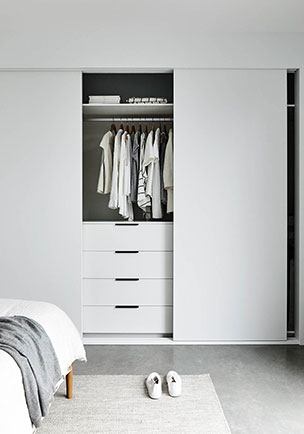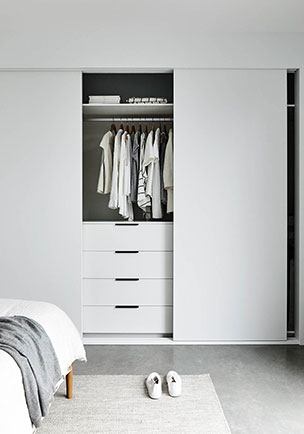 The same Essastone Bitumen Igneous finish was carried through to bathroom vanities, again bringing that consistent industrial edge to the project. Wardrobes too, were aligned with the cool, contemporary feel by using Laminex 16mm whiteboard. This minimalistic, zen style aligns beautifully with the clean design achieved overall.
Starting with the basics, the property's fundamental features and glorious setting guided these homeowners and their designer towards a fantastic finished product. Using Laminex and Essastone surfaces achieved the desired industrial styling and provided a modern Australian edge to the overall design. "We absolutely love the finished product, it's so welcoming," shares Sandy. "When returning to the house I always say, 'It's good to be home again.'"
---
Photography by Derek Swallwell