$0.00
ex GST and Shipping
You can order a maximum of free samples in a single order.
Kennedy Nolan's artful use of Laminex Sublime Teak in this workplace design introduces the beautiful look and feel of timber with the durability of Laminex® laminate.
The first thing you notice in this new workspace by Kennedy Nolan may well be its brightly coloured meeting table. But it quickly becomes apparent that the architects' use of natural textures is equally vital to the success of the space. There's a wall clad in cork, large-weave sisal carpet on the floor and, most prominently, expansive floor-to-ceiling storage concealed by doors crafted in the authentic woodgrain of Laminex Sublime Teak. Individually, these three materials are visually beautiful. Together, they create a sense of connection to nature that is instantly relaxing and welcoming, setting a mood that's highly conducive to creative thinking, open collaboration and productive endeavour.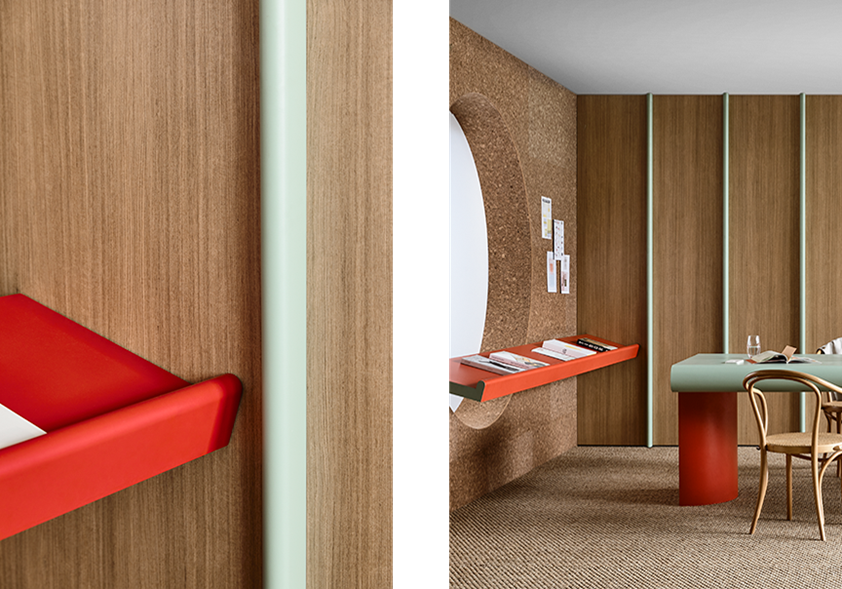 The bank of storage has been designed to appear more as a wood-panelled wall than cabinetry, with Sublime Teak's warm timber tones and textures providing a natural-feeling backdrop to the entire space. Post-formed handles in Laminex Enamel high-pressure laminate – the same delicate blue-green decor used for the meeting table, and for a display shelf at the end of the room – create a visual link to these other elements. The flawless solid colour and seamless curved form of the handles also serve to emphasise the natural character and rhythm of the woodgrain patterning.
"We wanted to use the woodgrain laminate so it didn't look like a continuous sheet, so there wasn't any possibility of the pattern repeating."
Rachel Nolan - Principal, Kennedy Nolan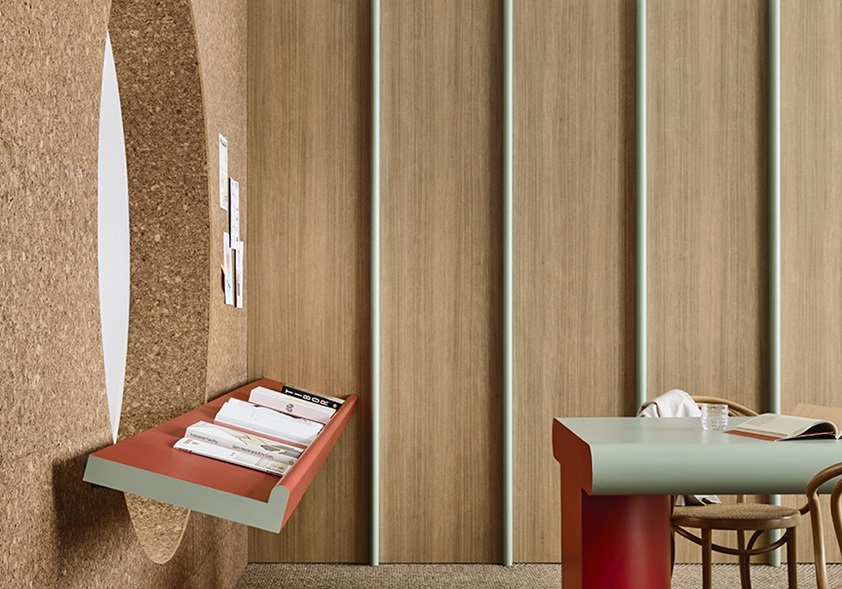 Kennedy Nolan commonly specify natural timbers into their architectural projects. But in this commercial setting, Laminex woodgrain laminate offers distinct advantages that make it the superior option. It's exceptionally hardwearing, and is resistant to stains and scratches, as well as UV light, mitigating the risk of fading or loss of detail. This is achieved without any of the additional treatments or finishes that a natural timber might require. It's also resistant to heat and impervious to moisture, which means that this same woodgrain decor could be carried through to kitchen, bathroom and break-out areas elsewhere in the fit-out. And it's exceptionally easy to keep clean. All of this along with the incredibly authentic appearance of timber and, thanks to a range of different finishes, a texture and feel that's just as realistic.
Laminex Woodgrain laminates are available in flat Natural finish and textured Chalk finish. You can order your free samples below.
Order your free samples

You can order a maximum of free samples in a single order.
$0.00 ex GST and Shipping
---
---
Featured in this design
Tower joinery: Laminex Sublime Teak & Laminex Enamel
Table and shelf: Laminex Enamel and Laminex Pillarbox
Cork wall: Portugal Cork Co
Flooring: Floor Space Heavy Rustic River Rock Sisal
Chairs: Thonet no. B9 Le Corbusier
Planter: Studio Ciao B2 Planter
Contributors
Architects: Kennedy Nolan
Creative Direction: Ortolan
Photographer: Derek Swalwell
Stylist: Natalie James
Editorial Consultant: Infinite Shapes
Table fabrication: Evolve Interiors
Tower handle fabrication: Newgrove Benchtops
You might also like