$0.00
ex GST and Shipping
You can order a maximum of free samples in a single order.
Kennedy Nolan's artful use of Laminex® laminate in this contemporary workplace explores the material's inherent design flexibility.
The best designed workplaces don't just answer the logistical needs of a business, they energise and inspire the people who work there. This commercial space, designed by Kennedy Nolan with a deftly curated mix of solid colours and natural textures, and a uniquely sculptural approach to form-making, promises to do just that. And with key elements of the design achieved through the use of Laminex laminates, the space has two other qualities essential for a commercial fit-out – a high level of durability and ease of maintenance, so it will stay looking pristine no matter how many team meetings and brainstorm sessions it hosts.
"It's a creative space where you test things and try things, rather than think 'this is how it's going to be'. And it's a workplace that, as a practice, we'd love to use ourselves."
Rachel Nolan - Principal, Kennedy Nolan
The centrepiece of the space is its eye-catching meeting table. Crafted from soft blue-green Laminex Enamel and bright red Laminex Pillarbox, it was conceived initially as a celebration of laminate's inherent design flexibility. The tabletop and drum-shaped legs were cold-formed into curved shapes, giving the table a softness and roundness that's anathema to the rectangular formality of a typical corporate boardroom. And then at the ends, the table is flat, like an extrusion that's been cut, with its section expressed in brilliant red.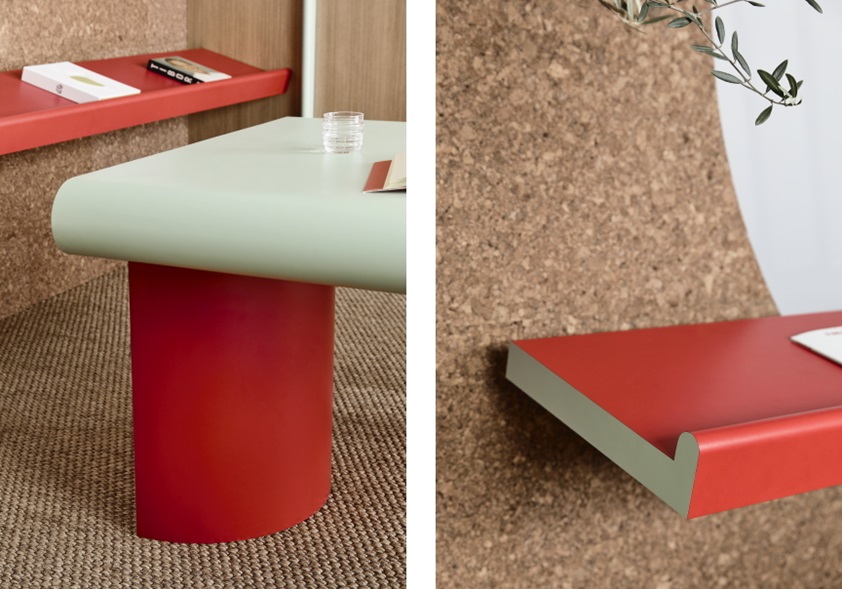 A similar effect is achieved with the nearby display shelf, although this time it's Pillarbox on the outside and Enamel as the "section". The curved lip on the end of the shelf was created through the process of post-forming, and it enables the shelf to perform multiple roles. "If you're laying documents out, it provides a really nice place to work," says Nolan. "But it can also play a curatorial role, providing a focal point in the room for displayed items."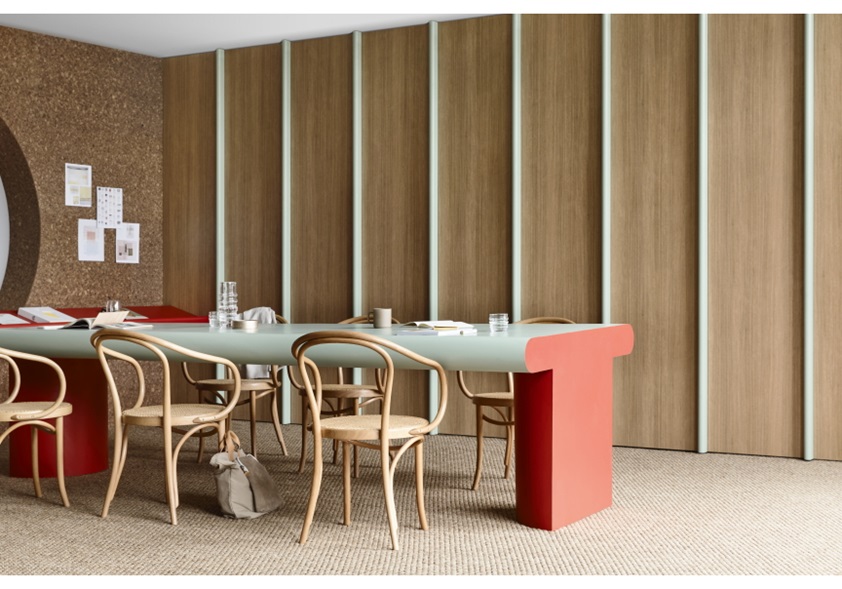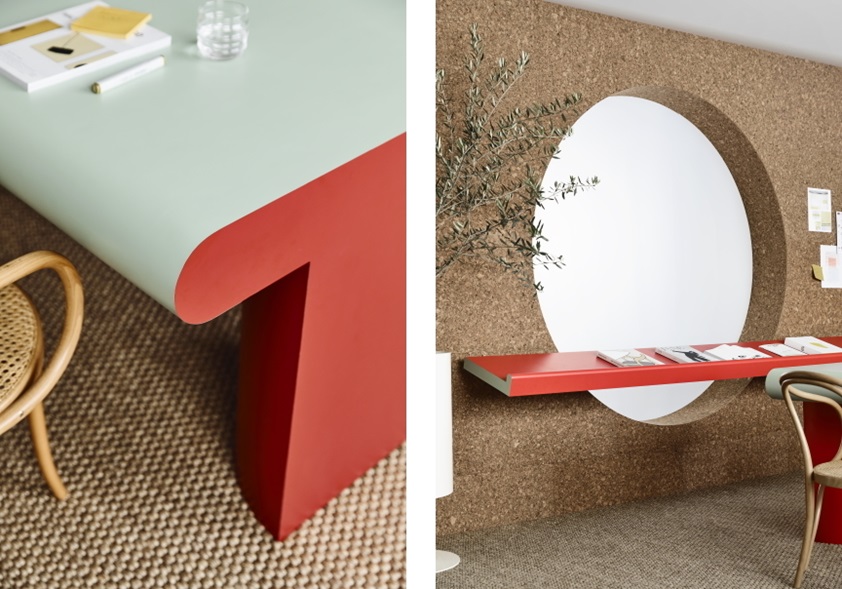 Above the shelf is a circular aperture, something of a Kennedy Nolan trademark, and the entire wall is clad in cork from Portugal Cork, creating a giant, very beautiful pinboard – another place to display documents and share ideas. The cork's intricate patterning is one of three natural textures that work together to imbue the space with a sense of calm. Beneath it, the floor is covered in large-weave River Rock Natural Sisal carpet, and to the side, an expansive bank of storage is concealed behind floor-to-ceiling cabinetry doors in the authentic warm-toned woodgrain of Laminex Sublime Teak. The latter is a beautifully designed piece of joinery, given contemporary rhythm with vertical handles post-formed in Laminex Enamel, and presenting more like a wood-panelled wall than built-in storage.
"These colours do something together that really excites us about working with laminate as a product, with that solid, continuous colour."
Rachel Nolan - Principal, Kennedy Nolan
Describing the space, Nolan says, "There's this kind of poetry, but then really practical qualities too." Its colours and forms are dynamic and energising, its cabinetry and furniture facilitate different ways of working and collaborating, and its natural textures and softly curving surfaces are comforting and relaxing. In this way, it speaks to ideas about commercial interior design that are thankfully becoming more prevalent, most notably that there's a direct link between comfortable, welcoming, energising workplaces, and productivity. In short, that if we design spaces like this one, that people want to be in, they'll do great work.
 
Decors featured in this design
 
---

You can order a maximum of free samples in a single order.
$0.00 ex GST and Shipping
---
Featured in this design
Tower joinery: Laminex Sublime Teak & Laminex Enamel
Table and shelf: Laminex Enamel and Laminex Pillarbox
Cork wall: Portugal Cork Co
Flooring: Floor Space Heavy Rustic River Rock Sisal
Chairs: Thonet no. B9 Le Corbusier
Planter: Studio Ciao B2 Planter
Contributors
Architects: Kennedy Nolan
Creative Direction: Ortolan
Photographer: Derek Swalwell
Stylist: Natalie James
Editorial Consultant: Infinite Shapes
Videography: Sirap
Table fabrication: Evolve Interiors
Tower handle fabrication: Newgrove Benchtops