$0.00
ex GST and Shipping
You can order a maximum of free samples in a single order.
The custom-designed furniture and fittings in this workplace by Kennedy Nolan are a showcase for the creative potential of Laminex laminate.
The hardwearing performance and contemporary colour of Laminex laminate are well known to Australia's architects and interior designers. But in this commercial space designed by Kennedy Nolan, it's the material's ability to be cut and curved into truly unique custom furniture and fittings – a beautiful meeting table, display shelf and cabinetry handles – that makes it particularly memorable. Kennedy Nolan Principal Rachel Nolan says that her team was inspired by these physical properties. And what they've created here will, in turn, inspire designers everywhere to rethink what they might achieve with laminate.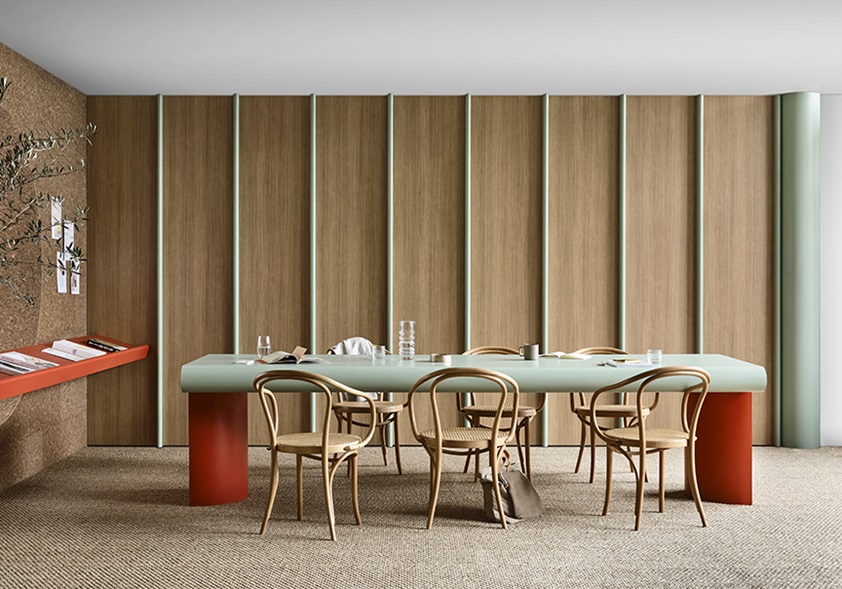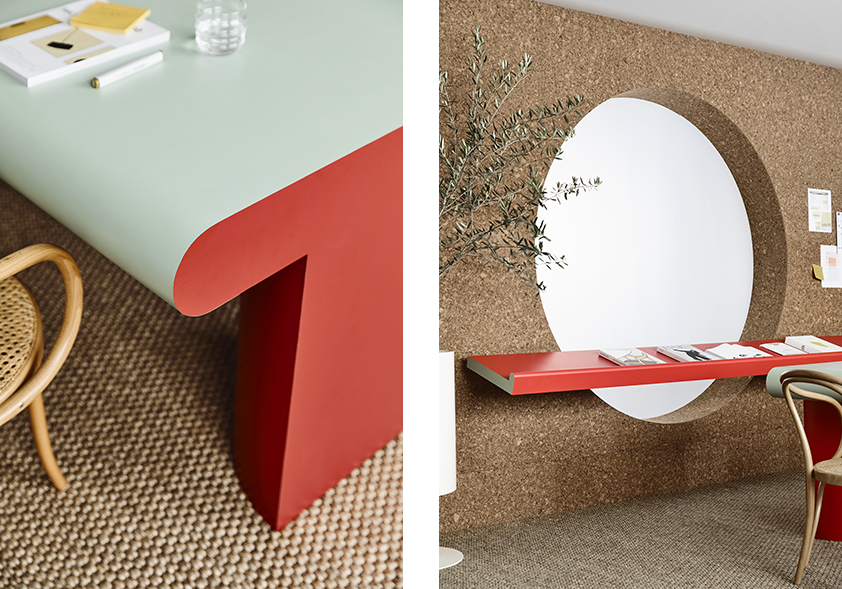 The two fabrication techniques that were essential to creating the curves in Kennedy Nolan's designs are post-forming and cold-forming. Post-forming uses heat to soften the resins in high-pressure laminate (HPL) before bending the material into the desired curved shape. With Laminex Redback HPL, it can make curves with radiuses as small as 5mm. By contrast, cold-forming is the appropriate technique for making more sweeping curves, with radiuses greater than 150mm. In this process, the HPL is simply adhered to a curved substrate, with mechanical fixings only used if required for the specific design.

Many will view the meeting table as the hero of the space. Its form is sculptural and intriguing, and its combination of soft green Laminex Enamel and bright red Laminex Pillarbox is dynamic and energising. The tabletop and barrel-shaped legs were fabricated around an MDF frame which was then clad in Trade Essentials Bending Plywood, providing the substrate upon which the HPL surface was cold-formed. The curves are soft and round, and highly tactile, but just as important to the design is how they interact with its flat ends, where the red laminate has been cut into that "mushroom" shape, giving two-dimensional expression to the table's form.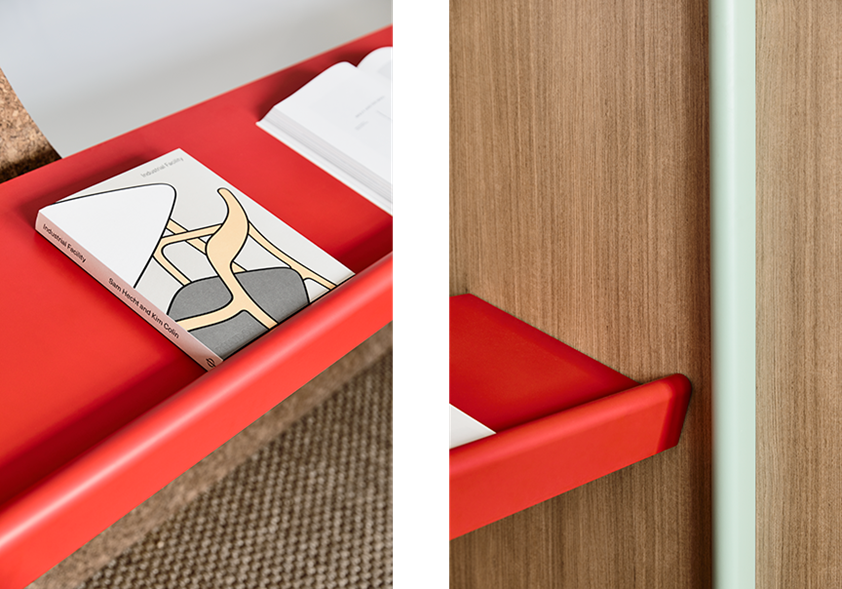 The much tighter curves of the display shelf and the cabinetry handles were achieved with post-forming. Both are visually appealing but also highly practical. In the case of the shelf, the post-formed lip facilitates the display of magazines, books and other documents. On the cabinetry doors that conceal a wall of storage, post-forming enabled the laminate to be curved into handles, at a scale that can easily be grasped by hand. And with their seamless, flawless finish, they're much more pleasurable to grasp than a traditional pull handle.
"We really had to ask ourselves about this material and what it could do. There's the idea that laminate can be soft and round. But, can it be a handle? Can it be an edge?"
Rachel Nolan - Principal, Kennedy Nolan
Curves can be fabricated in other ways, carved or machined from solid material, perhaps, or in the case of the table, crafted with timber veneer. But these techniques would either be much more costly, require surface treatments and ongoing maintenance, or simply not stand up to the rigors of a busy commercial workplace. By contrast, making curves with Laminex laminates is relatively straightforward and cost-effective. And each of these items is now invested with all of the colour impact and durability that make Laminex laminate such a popular surface material.
---

You can order a maximum of free samples in a single order.
$0.00 ex GST and Shipping
---
Featured in this design
Tower joinery: Laminex Sublime Teak & Laminex Enamel
Table and shelf: Laminex Enamel and Laminex Pillarbox
Cork wall: Portugal Cork Co
Flooring: Floor Space Heavy Rustic River Rock Sisal
Chairs: Thonet no. B9 Le Corbusier
Planter: Studio Ciao B2 Planter
Contributors
Architects: Kennedy Nolan
Creative Direction: Ortolan
Photographer: Derek Swalwell
Stylist: Natalie James
Editorial Consultant: Infinite Shapes
Table fabrication: Evolve Interiors
Tower handle fabrication: Newgrove Benchtops
---