$0.00
ex GST and Shipping
You can order a maximum of free samples in a single order.
The colours and textures in this beautiful space are instantly arresting, but it's the clever fabrication techniques at play here that make it truly unique.
The beauty of the Laminex Colour Collection is on full display in this fantastic living space, designed by YSG in collaboration with Laminex. Equally as important are the ways that the designers and fabricators have harnessed the design flexibility of the laminate itself. As we see here, it can be curved and cut into truly eye-catching shapes and patterns, delivering the kind of unique interior features that kitchen designers and cabinetmakers can use to wow their clients! Here's our quick guide to the fabrication secrets behind this stunning project.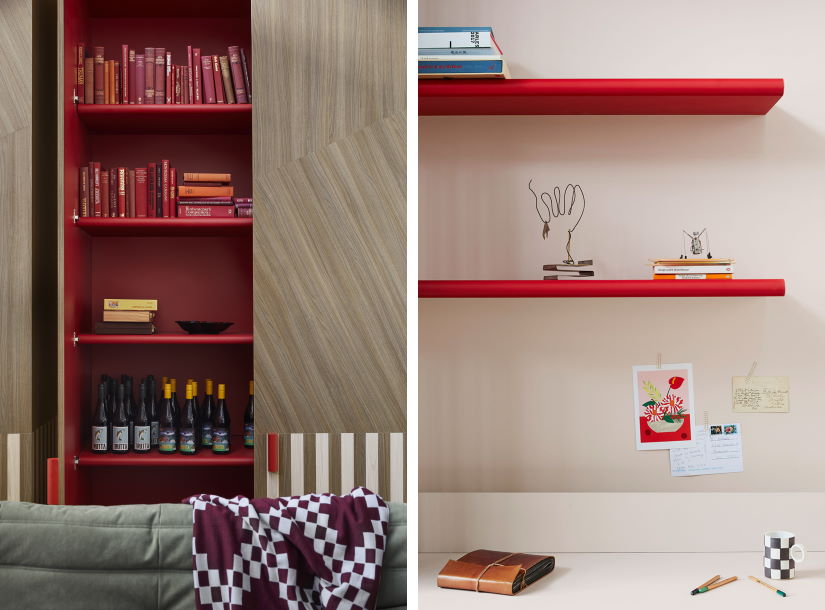 Extra-thick bullnose shelves
Shelves appear in three locations in the living area. They feature in brilliant red Laminex Pillarbox in both the study area and the tower cabinetry. In a wall recess adjacent to the lounge, they're made with dark-toned woodgrain Laminex Danish Walnut. But what really sets them apart is their extra thickness and softly curved front edge. They were fabricated from 39mm MR (moisture resistance) particleboard, which was routed on the front edge to give the bullnose profile and then post-formed with Laminex HPL (high-pressure laminate) in the corresponding decors. It's a marked shift from standard melamine shelving and makes these everyday interior fixtures into something that feels much more custom-made and special.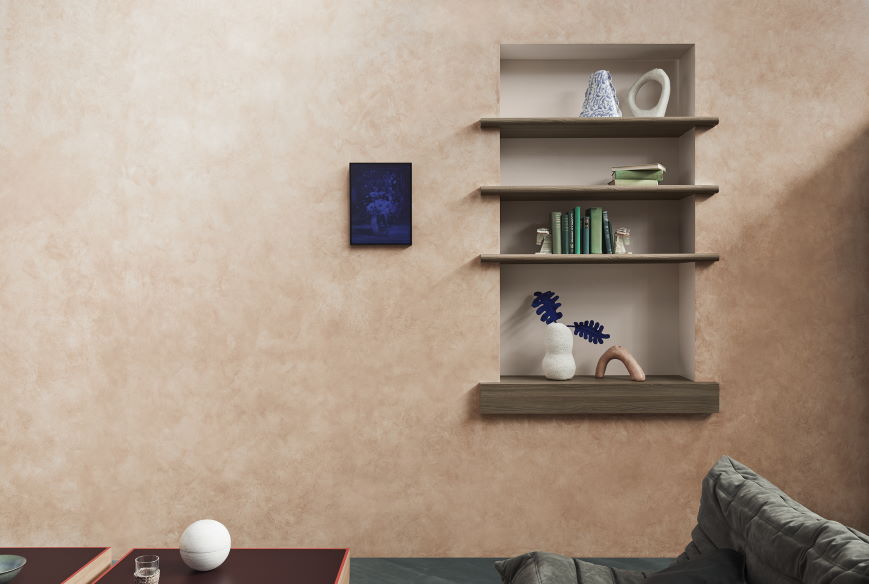 Sliding louvred screen
This idea of "custom-made" is taken to another level with a sliding screen in the study area, which was designed to conceal working-from-home clutter when friends come to visit. The screen comprises two pieces, each with vertical fixed louvres in Laminex Danish Walnut. To create a feeling of consistency with other elements in the space, these louvres were fabricated with the same bullnose profile as the shelves, again using HMR particleboard. To apply the profile to both the front and rear edges, each louvre was made in two parts, which were bonded together and post-formed in Laminex HPL. They were then attached to similarly laminated flat pieces of HMR particleboard, which form the frame.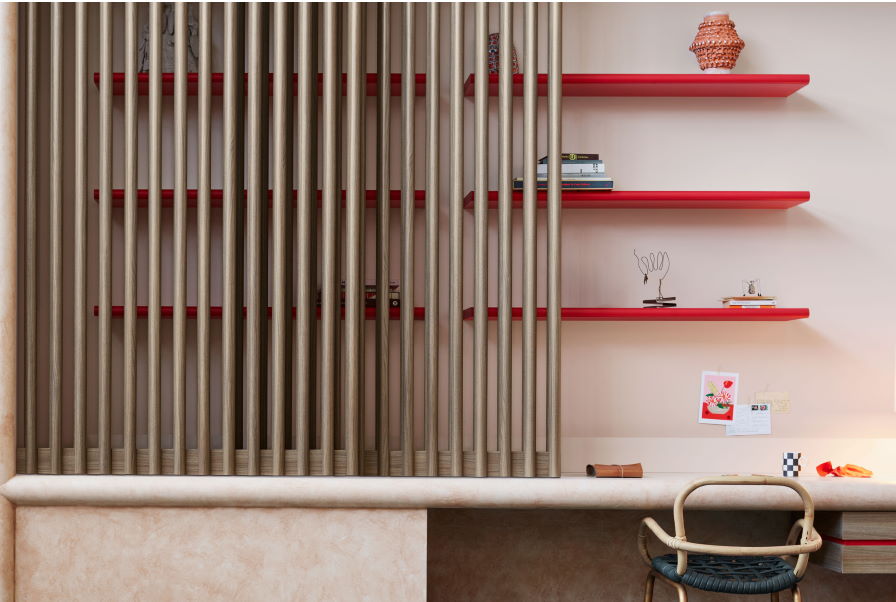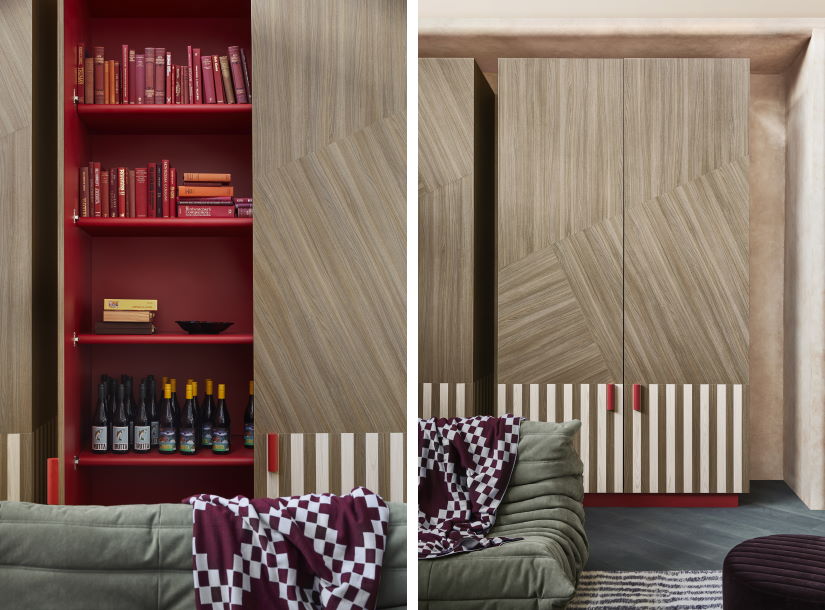 Patterned tower cabinetry doors
The most explicitly decorative element in the interior is the front surface of the tower cabinetry. Two units sit side by side, their doors featuring a captivating inlaid HPL design. Along the bottom edge, pale Laminex Milkwood is paired with Danish Walnut in alternating stripes of light and dark, almost like a piano keyboard. Above, sheets of Danish Walnut have been laid at angles to each other, creating a subtle geometrical pattern from the woodgrain texture. In both cases, the HPL has been cut to size and bonded to the MDF door panels. Importantly, the resulting tension in the substrate has been balanced by HPL applied to the reverse side – in this case, Laminex Pillarbox, creating a striking bright red cabinetry interior. And the finishing touch? Small, linear door pulls, post-formed in more Pillarbox, a tiny hint at what awaits inside!
Living Room
Coffee tables: Laminex Kalamata and Tasmanian oak veneer
Joinery: Laminex Danish Walnut Chalk finish, Laminex Milkwood Natural finish and Laminex Pillarbox Natural finish
Sofa: DOMO Toga
Study
Wall and bench: Laminex Porcelain Blush Natural Finish
Drawer: Laminex Danish Walnut Chalk finish and Laminex Pillarbox Natural finish
Screen: Laminex Danish Walnut Chalk finish
Shelves: Laminex Pillarbox Natural finish
Contributors
Design: YSG Studio
Photographer: Derek Swalwell
Stylist: Natalie James
Creative Direction: Ortolan
Editorial Consultant: Infinite Shapes
Videography: Sirap
Island fabrication: Evolve Interiors
---
Stay inspired
Sign up to our newsletter to receive the latest design and product news delivered straight to your inbox.
Sign up