$0.00
ex GST and Shipping
You can order a maximum of free samples in a single order.
The beautiful custom cabinetry and furniture here is the result of inspired design thinking, but also the work of highly skilled craftspeople.
Sydney-based studio YSG has a reputation for pushing the interior design envelope and this is nowhere more evident than in the kitchen of the Fantales House project, a design collaboration with Laminex. The richly coloured space is centred around a large, curved island bench crafted from Laminex woodgrain decors Danish Walnut and Milkwood. It's a beautiful and highly practical centrepiece for the kitchen, a credit to the designers, but also to the person who had the job of bringing it to built reality – Andy Joachim, Design and Fabrication Manager at Evolve Interiors.
As Joachim explains, the island's base was fabricated in two pieces, separated horizontally at the point where the woodgrain decors change. For each section, a skeleton was built by cutting sheets of medium-density fibreboard (MDF) on a CNC machine into the curved shape of the base, joining them with vertical slats and cladding them in Trade Essentials Craftform, a bendable grooved 9mm-thick MDF product. "We put ribs every 50mm so when we laid that Craftform, it wasn't just supported top and bottom, it's actually got ribs following that curve," Joachim says.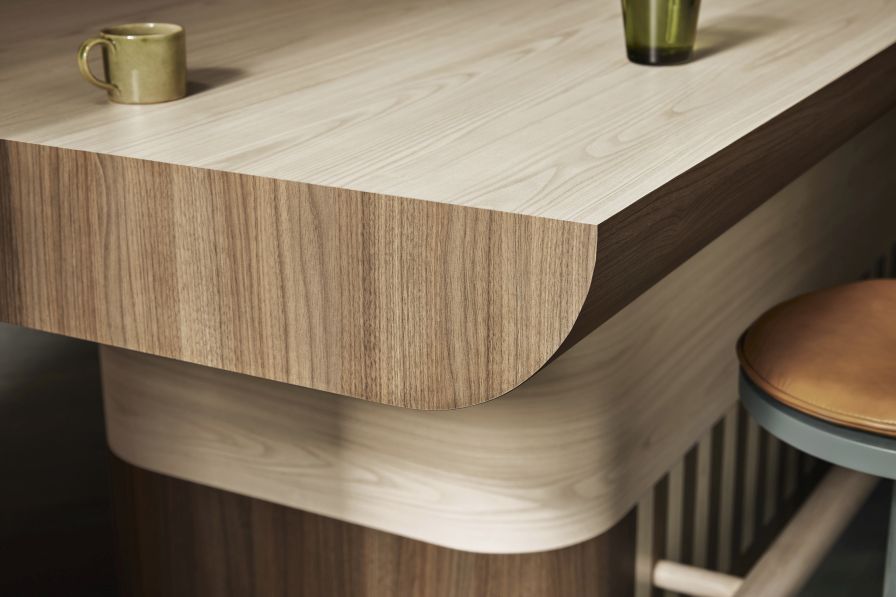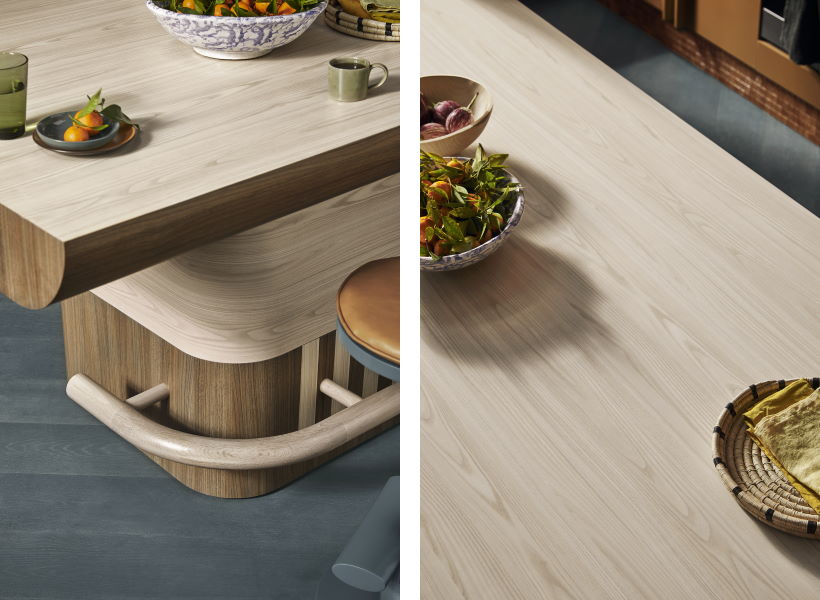 The upper half of the base was laminated in Laminex Milkwood HPL with storage space built into its "kitchen side" from 16mm Laminex Lamiwood decorated board, also in Milkwood. Finishing the bottom half was a little more involved, however, as it was designed with a striped pattern alternating between Laminex Milkwood and Danish Walnut. To achieve this, the Craftform shell was laminated with Danish Walnut HPL, leaving the patterned section as bare MDF. The individual stripes of HPL were then cut and taped together into one large sheet. "Then we slowly trimmed it back at each end until it was millimetre-perfect, before we sprayed and bonded it," Joachim explains. "It was tricky but it actually worked out really well!"
The base was completed with the addition of the footrail. The straight section is a piece of 60mm American oak dowel, but the curved ends had to be custom made. Each was fabricated by bonding two pieces of 32mm-thick oak into a single square slab, which was then cut into the curved profile on the CNC machine and given a 30mm radius on a routing table. The finishing touch was to apply a liming white stain for a close match to the pale tone of the Laminex Milkwood. And finally, the benchtop was fabricated, with the end profiles again cut from MDF on the CNC machine, joined with MDF ribs to create the skeleton, clad in Craftform and laminated on all sides, including cold-forming Laminex Danish Walnut HPL to the curved underside.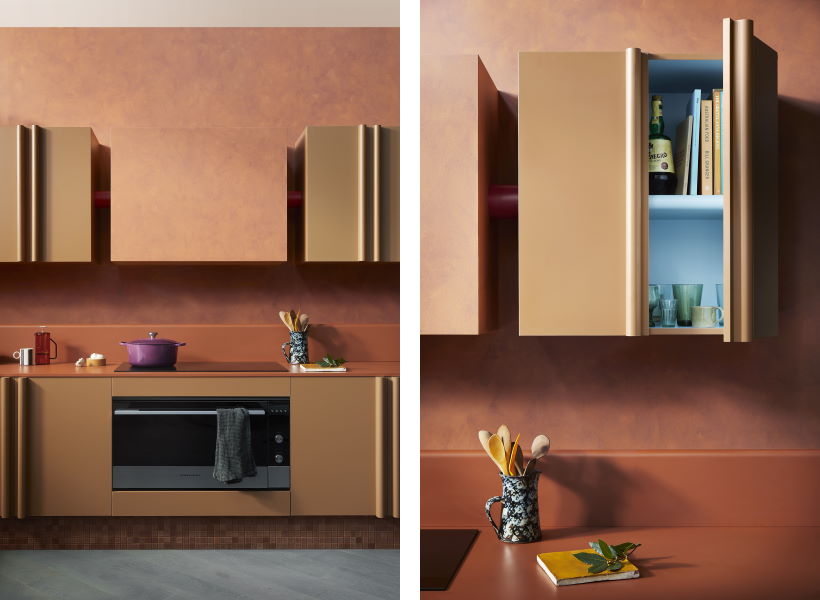 But while the island might be considered the hero of the kitchen, the application of Laminex laminate through the rest of the space is also eye-catching! Most notable are some custom curved elements that required the specialised post-forming services of Newgrove Benchtops, including linear cabinetry door-pulls finished in Laminex Burnt Ochre HPL. Each door-pull was crafted from MDF, which was shaped into its curved profile on a spindle moulder, sanded back and then laminated in a flow-through post-former. There are also shelves in the overhead cabinetry, post-formed with pale blue Laminex Fresh Spring onto Trade Essentials moisture-resistant particleboard in a bullnose profile, bringing a surprising custom-designed element where we'd usually expect to see standard melamine interior cabinetry.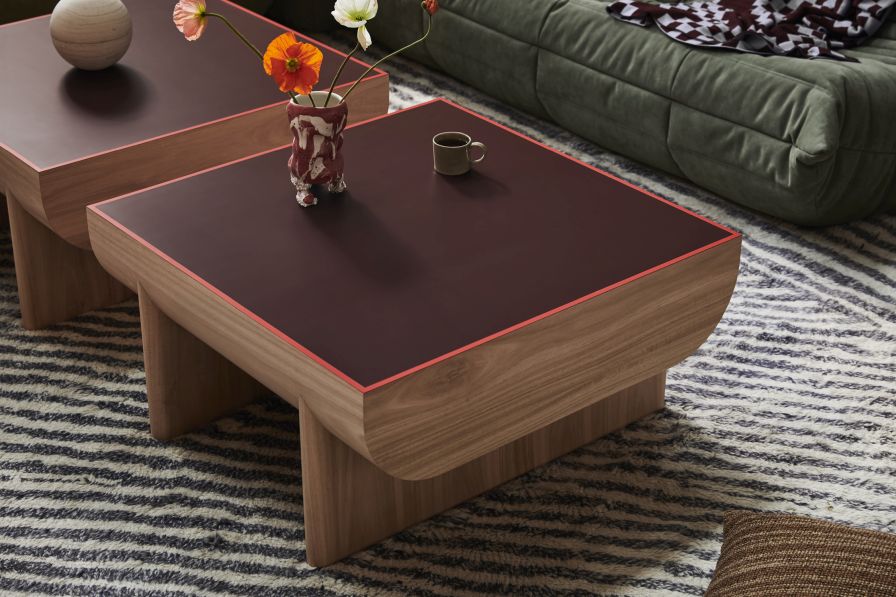 And adjoining the kitchen is a living room and study nook, which we'll share with you here soon. Joachim was tasked with fabricating two matching coffee tables for this space, once again constructing MDF skeletons, but this time clad in Tasmanian oak veneer, and with solid Tasmanian oak at the foot of each leg. The tabletops feature a 10mm perimeter of brilliant red Laminex Pillarbox around a surface of dark, saturated red Laminex Kalamata. Joachim's approach was to cover each tabletop completely in Pillarbox HPL, but only with adhesive around the edge, remove the centre with a router and then cut the Kalamata HPL to shape, trim it for a perfect fit and glue it into place. The result is stunning, and a testament to the skill and ingenuity of an experienced fabricator.
The Fantales Kitchen products
Base, overhead cabinetry and custom handles: Laminex Burnt Ochre Natural finish
Benchtop and curved splashback: Laminex Moroccan Clay Natural finish
Island: Laminex Danish Walnut Chalk finish and Laminex Milkwood Natural finish
Integrated fridge: Laminex Porcelain Blush Natural Finish
Tower cabinetry: Laminex Danish Walnut Chalk finish, Laminex Moroccan Clay Natural finish and Laminex Fresh Spring Natural finish
Tiled kicker: Artedomus Vixel N.47 for kickers
Kitchen base cabinetry handles: In Teria
Sink: Oliveri
Tap: Astra Walker
Contributors
Design: YSG Studio
Photographer: Derek Swalwell
Stylist: Natalie James
Creative Direction: Ortolan
Editorial Consultant: Infinite Shapes
Videography: Sirap
Island fabrication: Evolve Interiors
Handle and shelf fabrication: Newgrove Benchtops
---
Stay inspired
Sign up to our newsletter to receive the latest design and product news delivered straight to your inbox.
Sign up