$0.00
ex GST and Shipping
You can order a maximum of free samples in a single order.
YSG's Fantales Living Area offers designers and homeowners rich inspiration for balancing hardworking functionality with irresistible visual appeal.
The coronavirus pandemic has forced dramatic change in how we manage work and home life, but even before this, there was a strong trend towards much greater workplace flexibility. Add in our modern needs around access to technology and media, with both kids and adults competing for positions to perch with laptops, and the well-established shift from single-function rooms to open-plan living spaces, and it quickly becomes apparent just how much we demand from the modern Australian home. And that's before we even talk about how it looks! Delivering on these expectations is no small challenge, but Sydney interiors studio YSG met it head-on with the Fantales Living Space, designed in collaboration with Laminex. Their solution provides stunning inspiration for designers and homeowners alike.
"Larger homes might have separate rooms that can be dedicated purely for office work, but where space is at a premium, the challenge is, 'how can we use each space in multiple ways?' Everything you put in has to be really well considered."
Yasmine Ghoniem – Principal at YSG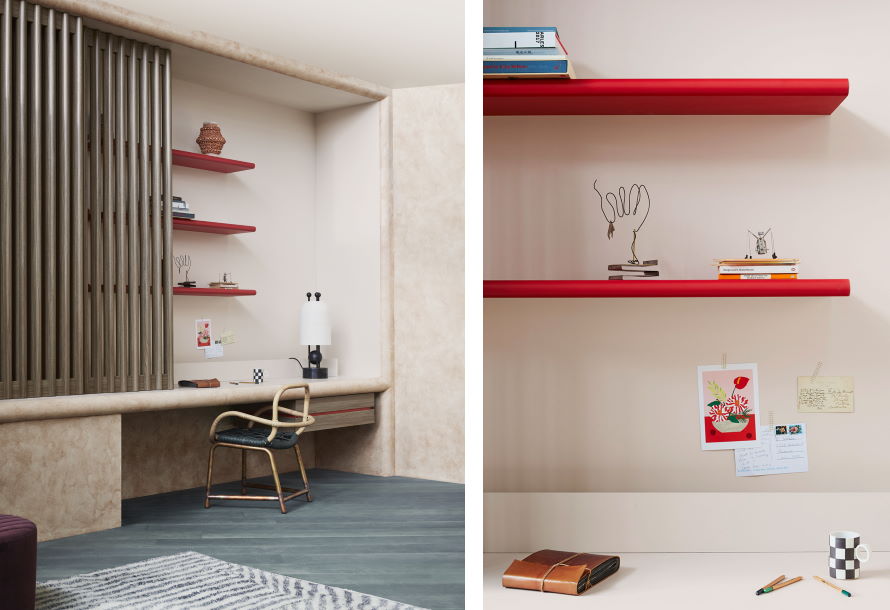 Designed for flexibility and adaptability
One aspect of YSG's design vital to the multifunctional performance of the space is the study nook. It's highly practical, with ample desk area, drawer storage and shelving, an enviable location for working from home as well as kids' homework and family admin. But it's been conceived very deliberately with flexibility in mind. Its operable screens, post-formed from Laminex Danish Walnut, slide closed to conceal office mess – handy for when friends visit, but also when you just don't want to be reminded about work! And it's also been designed to be adaptable. With its open shelving in brilliant red Laminex Pillarbox, and wall surface in pale, sandy Laminex Porcelain Blush, the study is easily reimagined as a display area for books and personal objects. So the living space can change alongside the occupants' requirements, reducing the need for future renovation, which saves money and is better for the environment.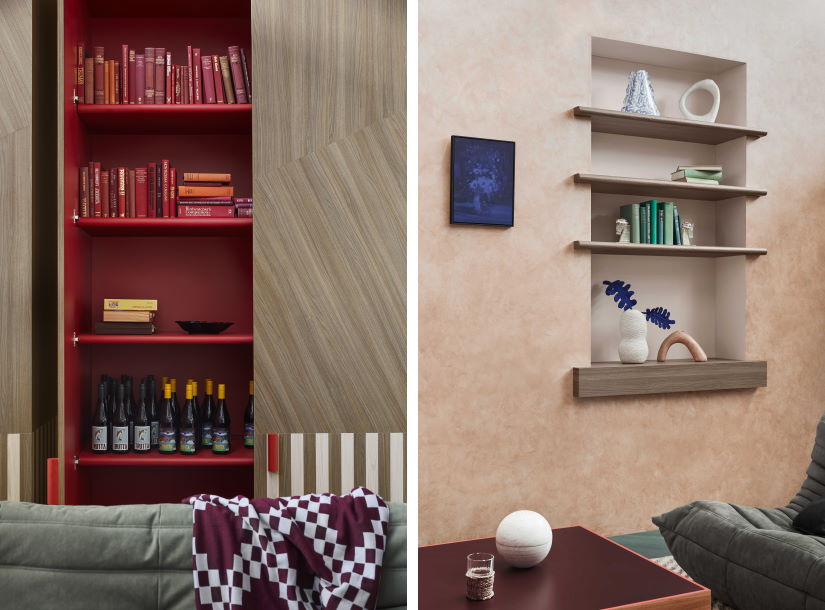 Mix-and-match material palette
YSG is known for its distinct adventurousness with colour and texture, and the Fantales Living Space bears that out with an eclectic material palette juxtaposing bold colour, woodgrains and soft neutrals from the Laminex Colour Collection. The overall effect is beautiful. But what's really clever is the way these Laminex decors are mixed and matched in different parts of the room. The study, for example, uses Laminex Pillarbox for shelves, Porcelain Blush for vertical surfaces and Danish Walnut for drawers. In a recessed shelving space next to the sofa, the shelves feature the same bullnose profile but this time in Danish Walnut. And the tower cabinetry, against the opposite wall, is a captivating mix of Danish Walnut and a second Laminex woodgrain decor, Milkwood, with Pillarbox used for door pulls and interior cabinetry. The effect is to create a sense of flow and cohesiveness without predictability or repetition.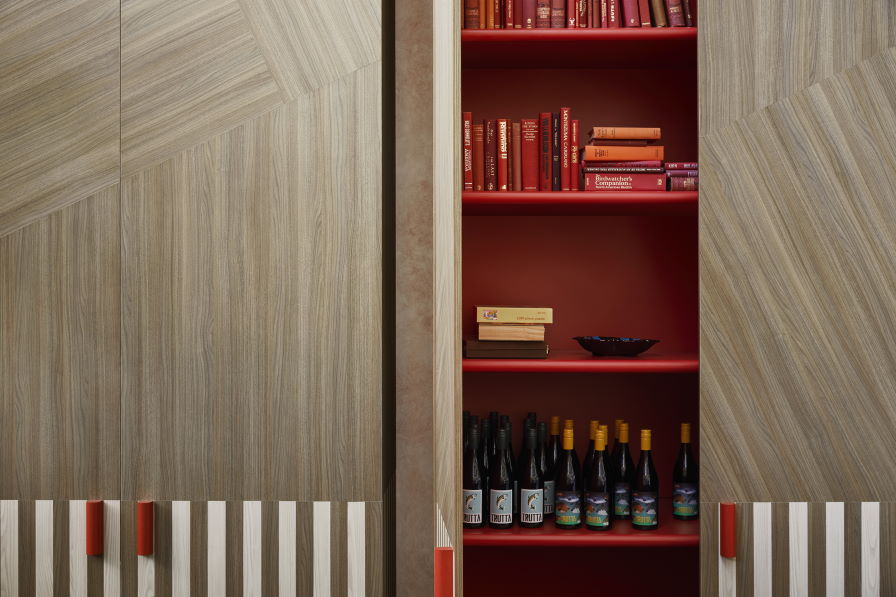 Storage that thinks outside the box
The tower cabinetry provides the bulk of the storage for the living space, but it looks much more like custom-designed furniture than a typical bank of living-space joinery. It's divided into two units which stand discretely in a wall alcove, and its two Laminex woodgrain decors have been applied with incredible attention to detail. Along the bottom edge, Danish Walnut and Milkwood are laid together in alternating strips, while above, sheets of Danish Walnut have been laid at varying angles. The Laminex Pillarbox door pulls add a fun pop of colour, but also hint at the surprise waiting within – the entire interior cabinetry is fabricated from that same brilliant red decor, and every time the doors are opened, the room takes on a completely new character. When you're spending so much time in a living space, whether for public health reasons or simply working from home, these small moments of joy can make all the difference.
Living Room
Coffee tables: Laminex Kalamata and Tasmanian oak veneer
Joinery: Laminex Danish Walnut Chalk finish, Laminex Milkwood Natural finish and Laminex Pillarbox Natural finish
Sofa: DOMO Toga
Study
Wall and bench: Laminex Porcelain Blush Natural Finish
Drawer: Laminex Danish Walnut Chalk finish and Laminex Pillarbox Natural finish
Screen: Laminex Danish Walnut Chalk finish
Shelves: Laminex Pillarbox Natural finish
Contributors
Design: YSG Studio
Photographer: Derek Swalwell
Stylist: Natalie James
Creative Direction: Ortolan
Editorial Consultant: Infinite Shapes
Videography: Sirap
Island fabrication: Evolve Interiors
---
Stay inspired
Sign up to our newsletter to receive the latest design and product news delivered straight to your inbox.
Sign up