This beautiful new holiday home is a showcase of nature-inspired colours and materials, and the Zen-like ambience they can create.
For interior designer Cassie James-Herrick's recent clients, building their own holiday home on the Mornington Peninsula was an opportunity to create a genuine escape. James-Herrick's practice, CJH Studio, was engaged to create the interiors, working with design and building company The Sociable Weaver, and the brief was very clear. "The owners wanted something completely different to where they usually live in the city, which is very loud and very bright," she says. "It was important their weekend retreat provide a sense of calm and somewhere to relax."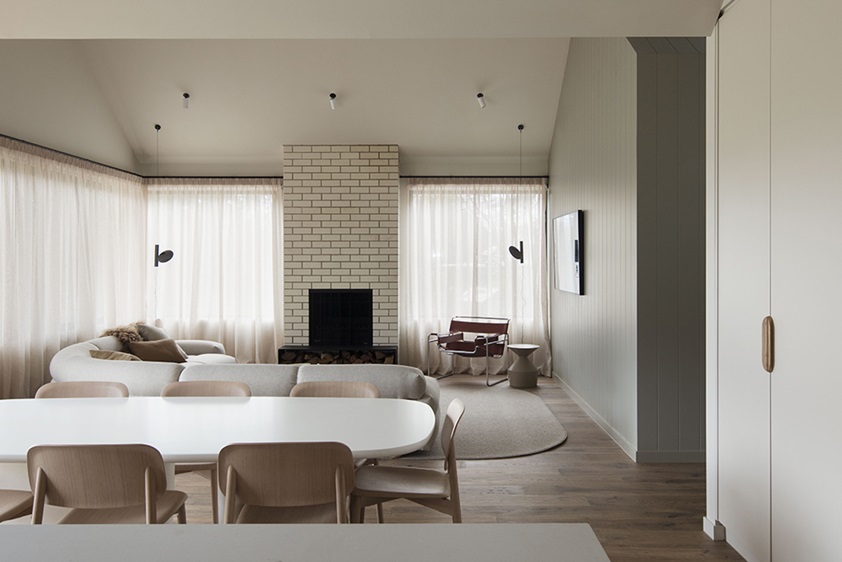 Every aspect of the home has been designed with this idea of relaxation in mind. The floor plan is suitably uncomplicated - there's a north-facing open-plan living area visually anchored by a cream-brick fireplace, a rumpus room providing an additional casual living space, and bedrooms positioned to the south to create the darkest possible sleeping quarters. Large windows throughout the home make the most of the idyllic rural setting, providing views out to the surrounding gum trees. And a vaulting double-pitched ceiling creates a dynamic sense of spaciousness and volume, with skylights over the central hallway that bounce natural light deep into the interior. But what brings all of these elements together into a cohesive and serene living environment is a wonderfully restrained palette of materials and colours.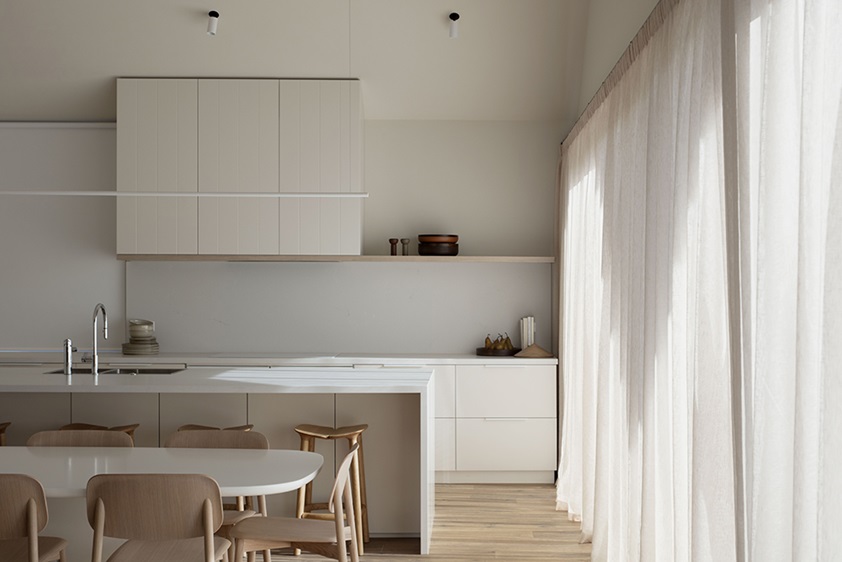 James-Herrick took inspiration from the home's surrounds, bringing the outside in with timber flooring, shelving and other surfaces, and curating a natural-feeling medley of cream, pale rust, caramel and taupe finishes and fabrics. Joinery in the kitchen, rumpus room and bedrooms uses soft-cream Formica Flaxon. Combined with closely colour-matched minimalist furniture pieces and unembellished soft furnishings, it creates a tonal consistency that gives the interior a decidedly calming ambience. A similar effect could be achieved with Laminex Raw Cotton or Laminex Pumice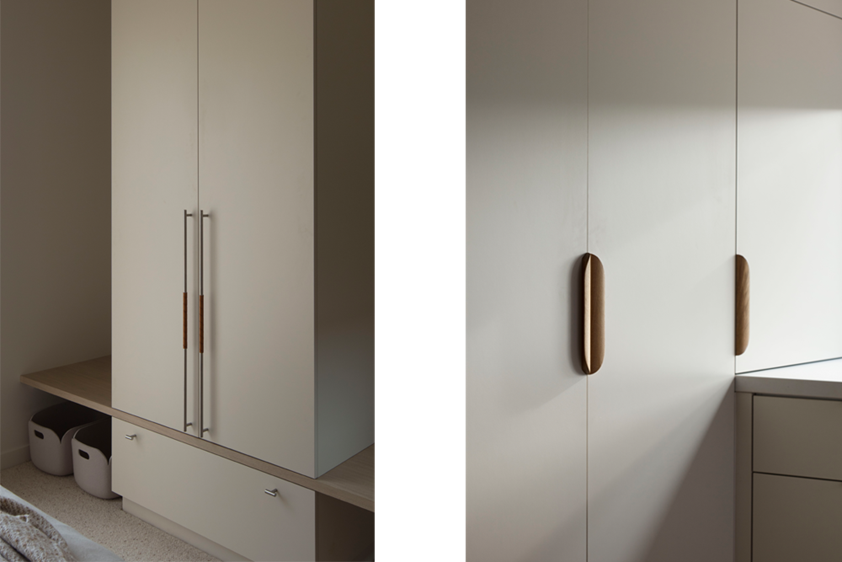 The only space where richer colour is introduced is the galley-style laundry, but even here a similar strategy is at play, with a singular colour scheme inspired by nature. The benchtop, cupboards and splashback are all finished in Laminex Possum, its muted yellow-green tone immediately reminiscent of the eucalypts outside, beautifully complemented by timber joinery handles from Linear Standard, the architectural hardware business James-Herrick co-founded with her husband, Shaun. "Possum adds a richness and depth to the space, without being overpowering, and also makes the small laundry appear bigger than what it is, because of the singular material application," says James-Herrick. "It's a real joy to be able to use the one product throughout an entire room and I think the clients wish they'd used more of it throughout the rest of the house!" Indeed, after their initial uncertainty about the idea of going a little bolder with green, the laundry has ended up being the owners' favourite space!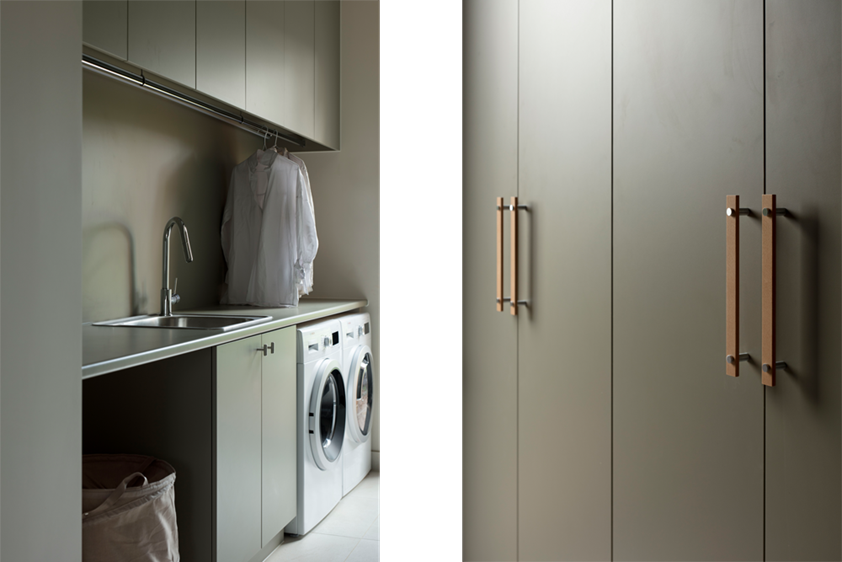 But there's something else that the designer likes about the laundry. "It was also economical," she says, "because we avoided the extra cost of using stone for the benchtops and splashback." In this way, the laundry is emblematic of the entire project, which achieves a luxurious, high-end outcome on a modest budget. It highlights James-Herrick's flair for using robust, cost-effective materials to striking effect. And for her clients, it's delivered a calming, comforting holiday home, the perfect retreat from their vibrant life in the city.

Photographer: Ben Hosking