How calm colours made an old home feel new again


Est Living founder, and designer and renovator, Sian MacPherson took just 11 weeks to transform this run-down six-bedroom Queenslander house into a modern, sunny and functional family home. "The house needed some love and care to bring it back to life," says MacPherson. "But Queenslander homes have such charm and appeal. The character was there – I just had to tease it out." MacPherson stripped out the interior and reconfigured the floor plan to make it more conducive to family life. Removing walls created open and generous spaces and allowed natural light and cross ventilation into what was formerly a rabbit warren of small, closed rooms. Incorporating built-in storage reduced clutter, and allowed the new soothing monochromatic colour palette to shine.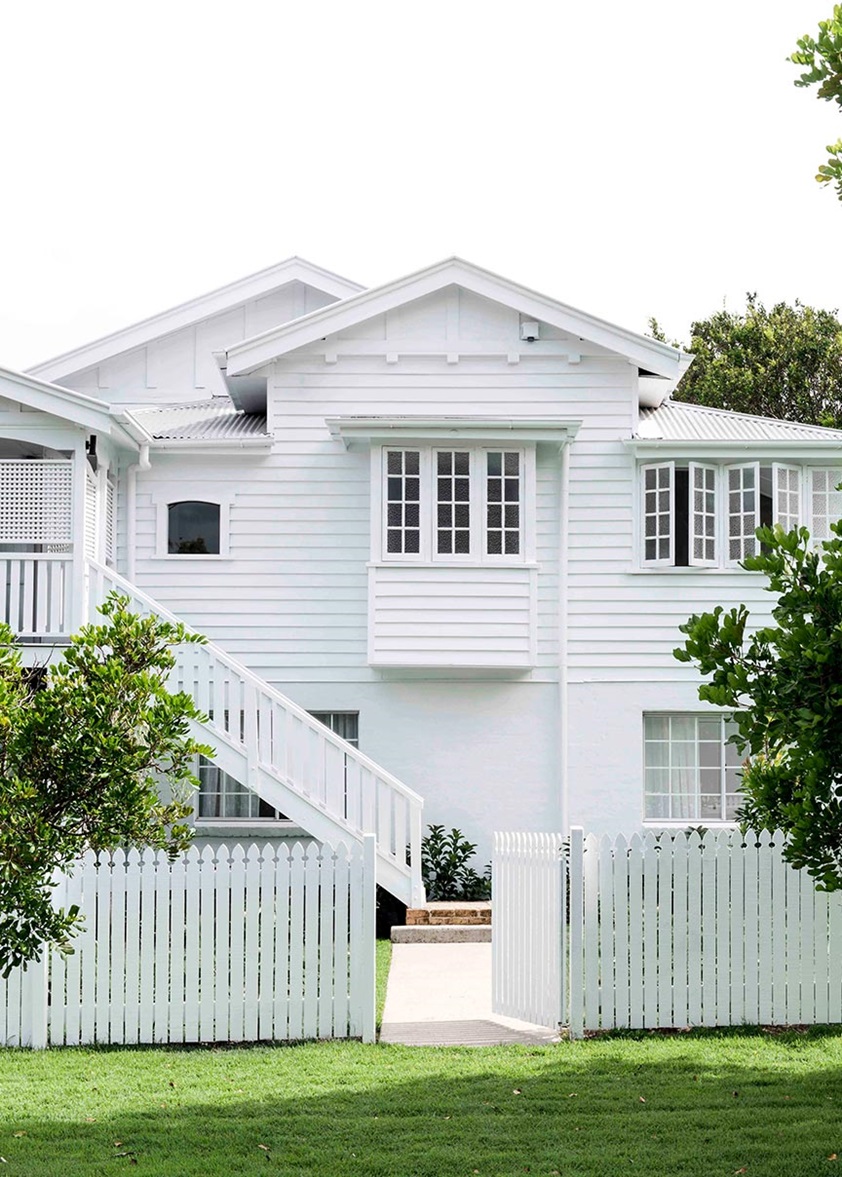 "I prefer to create a sense of order and calm in the home, in contrast to the frenetic pace of the busy outside world," MacPherson says. She layered white, black and pale grey to achieve this tranquillity and warmth as well as provide a neutral and natural backdrop for the new owners to put their stamp on.MacPherson not only had to transform the house within a short timeframe, but on a limited budget, which refined her palette selection. "I really enjoy choosing finishes, fixtures and fittings, working within a tight budget because it narrows the choice and keeps me focused on decision making," she says. She specified materials and decors that would achieve the desired sense of serenity while also withstanding the knocks of everyday family life.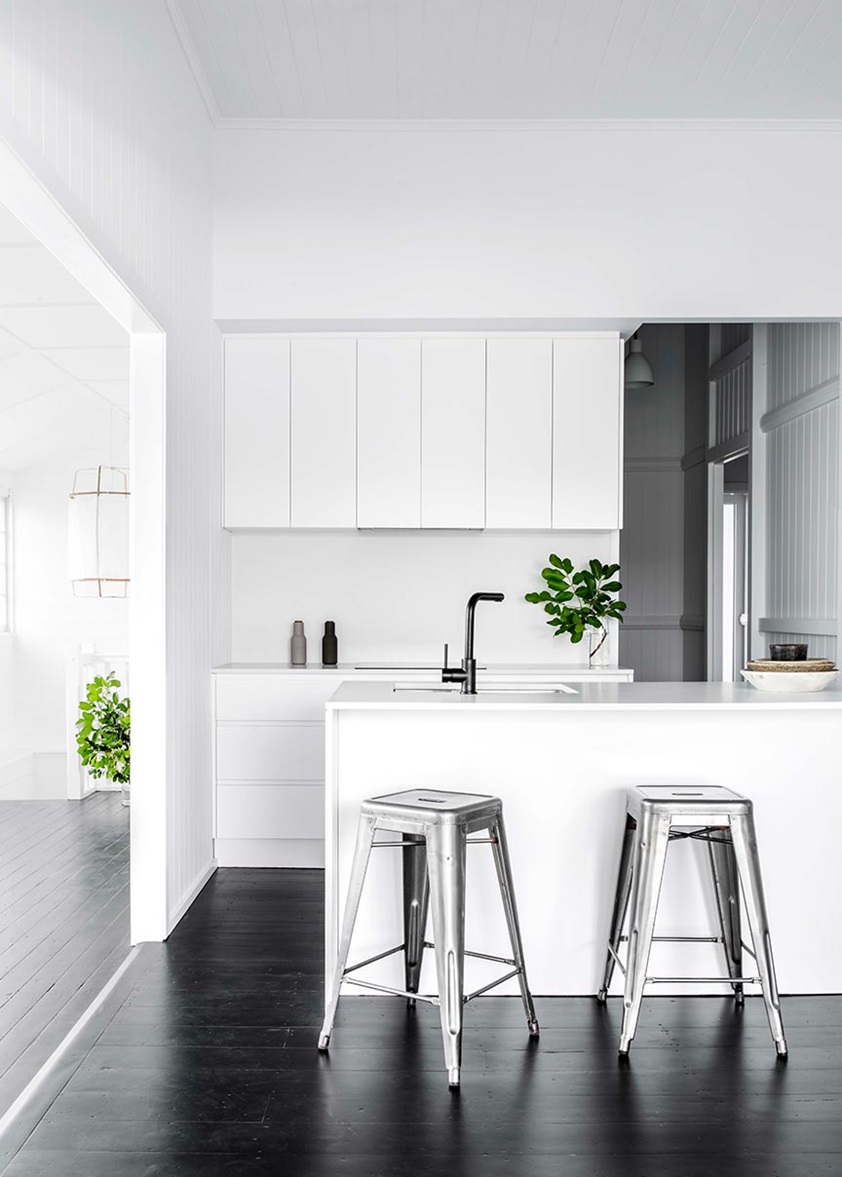 A visit to the Hive by Laminex showroom in Sydney's Alexandria helped MacPherson confirm her Essastone and Laminex selections, guided by her personal preference for the Laminex Zen design style. Laminex FormWrap in Polar White Satin finish provides a crisp white decor for cabinetry in the kitchen, laundry and bathroom, and is layered with Essastone benchtops in subtly detailed, soft grey decors. "Essastone is a hard surface that wears well, and you don't need to worry about it as much as a marble or stone benchtop, while still having a natural look," Macpherson says.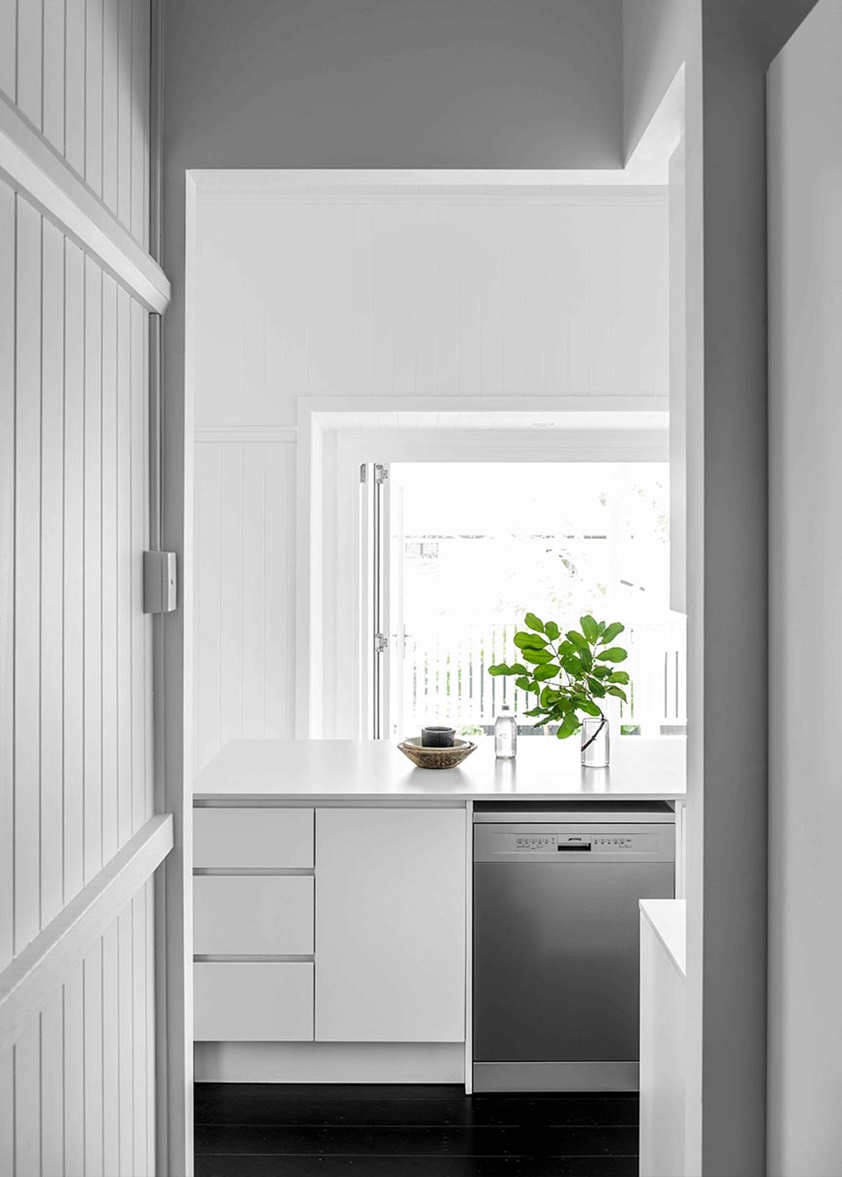 The kitchen and butler's pantry have benchtops in Essastone White Concrete, a soft pale grey decor with a dense, fine particulate that adds subtle texture and depth. "The grey is quite unique and I haven't seen another product with that beautiful colouring," MacPherson says. The original timber floors stained with black Japan anchor the room, and VJ wall panelling retains the inherent character of the Queenslander home.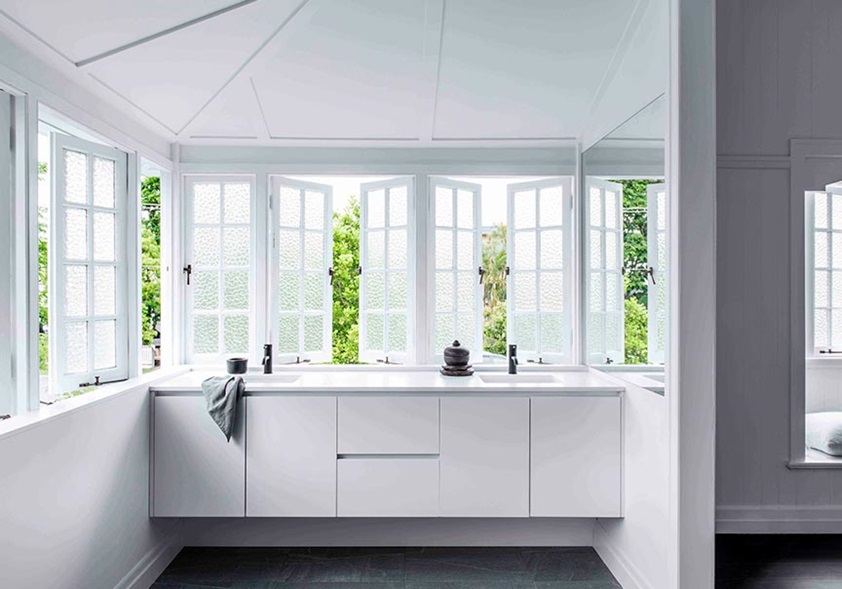 The pure white look continues in the bathrooms, where the Laminex Polar White cabinetry is paired with Essastone Caolino Matte finish. Caolino is an almost completely solid white composite with a very faint trace of dense, fine particles. "The black tapware and grey stone tiles add a darker monochromatic punch against the white," says MacPherson. The ensuite bathroom is located in a closed-in verandah where it looks out through a series of casement windows to the garden.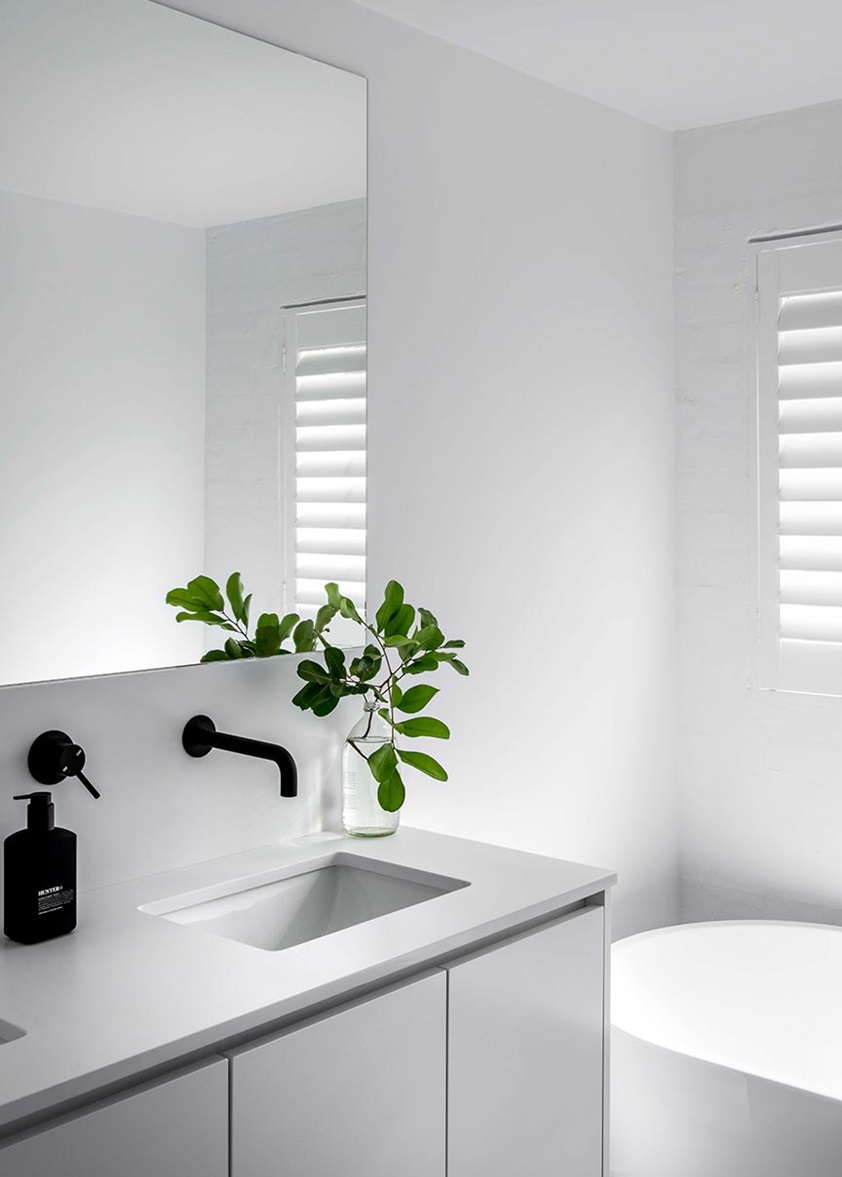 The benchtop in the laundry is a slightly darker grey with Essastone in Ash Concrete, a realistic interpretation of smooth grey concrete with very fine aggregate detail. "Combined with the Laminex Polar White cabinetry, it creates a fresh, light-filled space that would be a joy to work in while undertaking the most mundane of jobs," MacPherson says.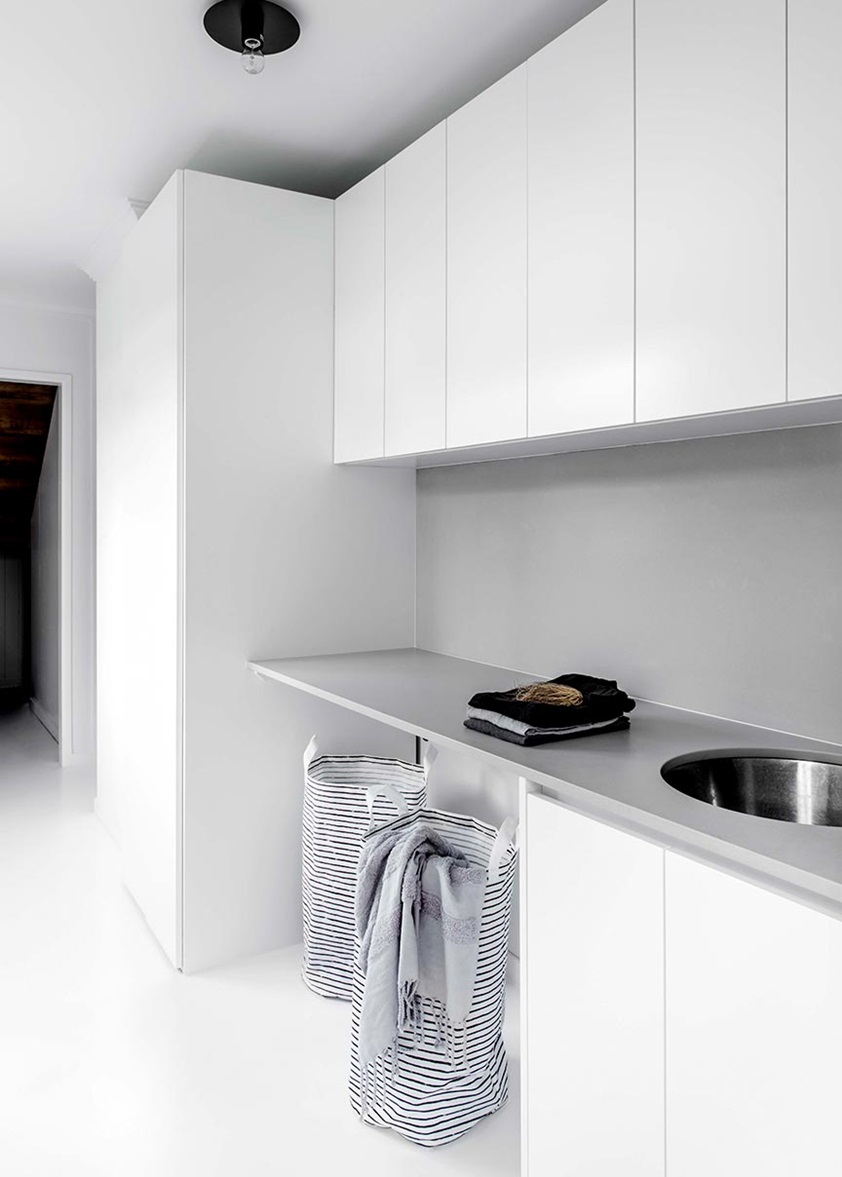 Using this pared-back monochromatic palette throughout the house, with subtle differences from room to room, creates a wonderful sense of cohesion and calm. MacPherson has successfully brought out the charm of the old Queenslander house, while giving it a new lease of life for a young family to enjoy.
To read more about the Laminex White Series, click here.
Photography by Cathy Schusler
---
Get the look
This space was created using the following products.
Click the swatches below to order free samples.
You might also be interested in these articles