A beachfront penthouse apartment on Queensland's Gold Coast is about as prime as real estate gets. But while interior designer Cassie James-Herrick's clients, a young couple with a small child, were suitably enamoured by their recent purchase, they were the first to admit that it was in desperate need of refurbishment. The building had been constructed in the 1980s and the penthouse had been given the most ostentatious interior treatment of all the residences. It was filled with the spirit of that decade of excess, typified by an oversized built-in spa and swan-themed tapware!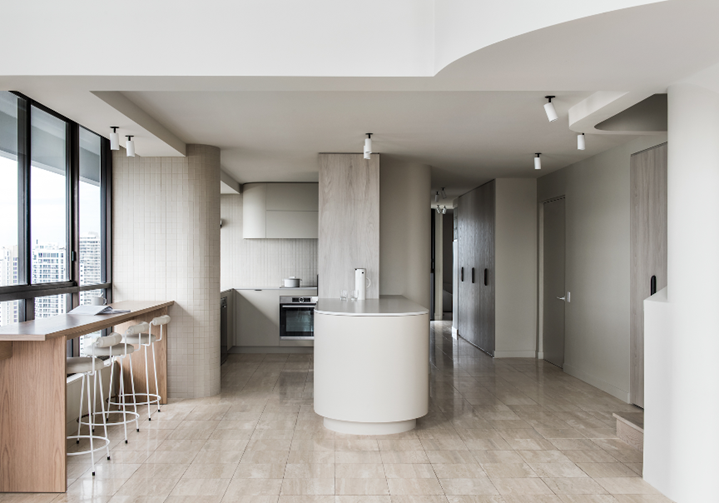 "Their brief called for a very dramatic shift away from what it was aesthetically," says James-Herrick, director of Melbourne-based CJH Studio. "They also needed something that would be easy to maintain, because they have a young son and busy lifestyle. And this all had to be achieved within a strict budget." Fortunately, the penthouse had good bones, including a generous double-height void with a mezzanine floor, abundant curves and archways, and travertine-tiled floors. So James-Herrick set about stripping out all of the superfluous embellishment, paring back the mezzanine's three bedrooms and opening up the kitchen, dining and lounge areas to emphasise the apartment's best features.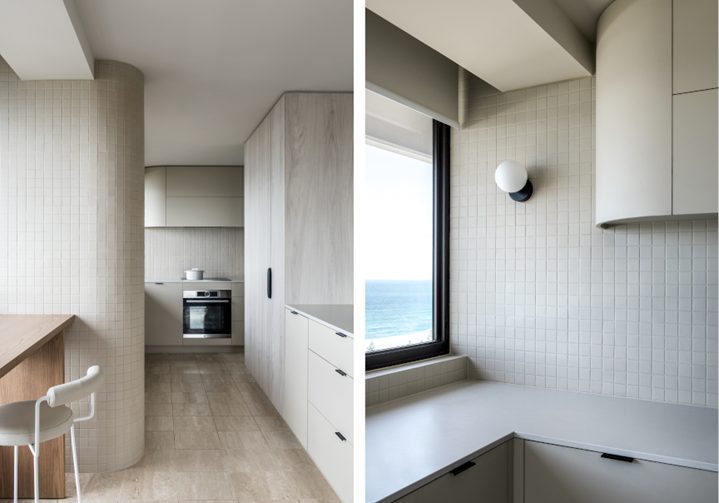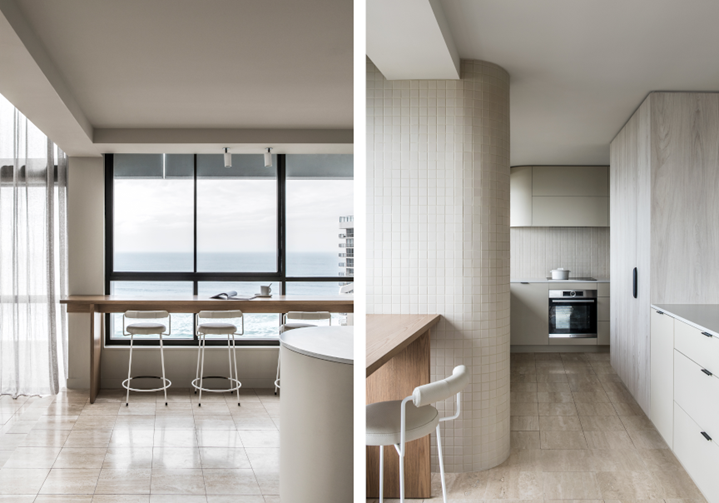 This design strategy is supported by a restrained material palette of warm neutral tones, putty-hued wall tiles and refined woodgrain textures that imbues the space with a sense of calm, and brings form and shadow to the fore. According to James-Herrick, specifying Laminex AbsoluteMatte Raw Cotton provided the impetus for the palette to come together. The super-matte cream decor features prominently in the kitchen and lounge area, and on bathroom joinery. "I don't really like glossy materials, so when the AbsoluteMatte range first came out, it appealed to me for that reason," she explains. "It has such a soft finish, which gives it high-end appeal, and the anti-fingerprint technology very much fit with the clients' brief."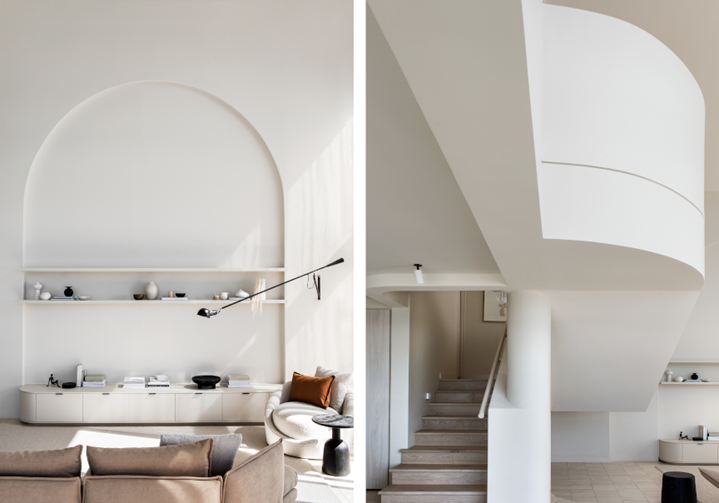 It's also advantageous in minimising glare from the light that streams in through the apartment's ocean-facing full-height windows, which definitely wouldn't have been the case with a glossy, stark white surface material. And as the project's construction progressed, James-Herrick came to appreciate AbsoluteMatte's malleable qualities too. "It could be manipulated and easily pressed onto the joinery units' curved edges," she says. "So we could achieve the curves as well as the straight sections, and this meant we used the same product throughout." The result is a seamless finish that accentuates the penthouse's sculptural forms and creates a feeling of understated luxury. Thanks to AbsoluteMatte's superior durability and ease of maintenance, it's also one that meets the clients' family-oriented brief.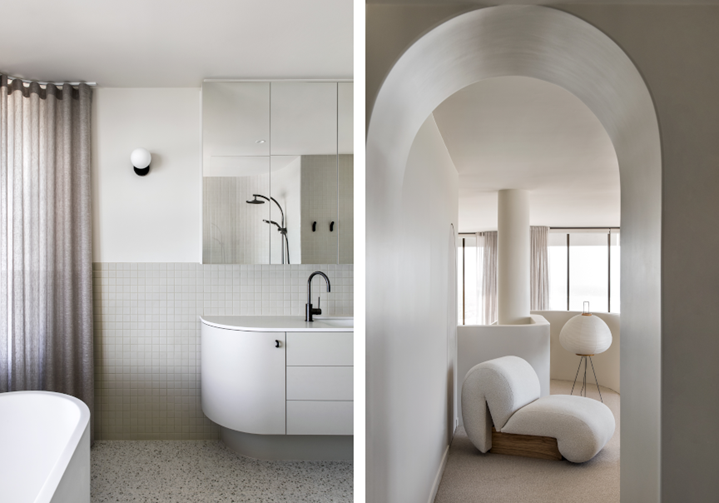 Indeed, this balance between a sophisticated look and feel, and the practicality required by a young family, is very impressive, and the project being shortlisted in the Residential Design category at this year's Australian Interior Design Awards gives due recognition. "Not only did we achieve a luxurious outcome, but we did so with a product that has the same, or even more, appeal than a considerably more expensive one," says James-Herrick. "I'm quite proud of creating an interior that feels very glamorous, but was still within the clients' budget." By all reports, the young family is proud of their new beachfront home too, now complete with refined good looks and childproof surfaces, and no '80s "swan taps" in sight!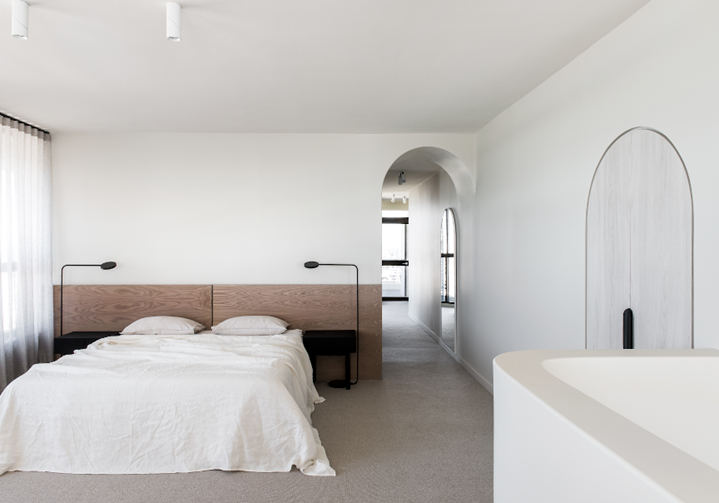 Laminex Raw Cotton is available now. To order a free sample, click here.
The project's recent shortlisting in the Residential Design category at this year's Australian Interior Design Awards provides formal recognition of her achievement.