With the Laminex Woodgrains range, you can enjoy the authentic natural beauty of woodgrain with the hardwearing performance of premium laminate.

Natural timbers are incredibly popular in Australian interior design. Now, thanks to cutting-edge production technology, Laminex offers a range of woodgrain laminates that replicate the authentic look of natural timbers, but with the durability, water resistance and ease of maintenance of premium laminate. So realistic, so hardwearing, they're even better than the real thing!
Laminex Woodgrains recreate the authentic look of natural timber
The biggest trend in Australian interior design is the use to natural colours and textures. We're seeing it in muted organic greens and rich, earthy neutrals that echo the colours of the bush and, most prominently, in the predominance of natural timbers. But timber isn't suitable for every application, particularly in kitchens, where surfaces are subjected to constant cleaning, splashing with water, and extreme wear and tear. That's where the Laminex Woodgrains range comes in.

Laminex Woodgrains decors are manufactured using the very latest production technologies. Each design starts with photographs of actual pieces of timber, which have been meticulously sourced for maximum visual interest. Then a multilayer printing process replicates the colour, tone and finest fibre detail in the woodgrain, to deliver the most realistic timber-look laminates currently available on the market.

But, unlike natural timber, these decors offer all of the performance benefits of premium laminate. They're:
exceptionally hardwearing

resistant to stains, scratches, heat and UV

impervious to moisture

easy to clean
Finishes to suit different requirements
Laminex Woodgrains are available in a range of finishes for different applications.
Nuance finish combines physically embossed gloss and matte layers to replicate sandblasted woodgrain to add beauty and realism - perfect for cabinetry and low-wear surfaces.
Tactile, low-gloss Chalk finish has the look and feel of a raw veneer, suitable for benchtops and cabinetry.
Semi-gloss Silk finish is a luxurious surface that is easy to clean and adds a sleek style to cabinetry.
Subtly textured Natural finish is a low sheen, smooth touch surface that is a durable and low maintenance option for benchtops and cabinetry.
The perfect timber look for every interior style
Because Laminex works closely with Australian designers and architects, the specific woodgrains in the range have been designed to match the latest trends in interior design. And they're grouped according to tone, so you can very quickly find the timber look to match your interior style.
The weathered beauty of grey-tone woodgrains
The grey-tone woodgrains recreate the character of aged, weathered timbers and run the gamut from pale timbers to almost-black tones. The cool grey of Laminex Fox Teakwood brings to mind the silvered timbers of your favourite beachside getaway, just perfect for a coastal-style interior, while Delana Oak adds a touch more warmth, making it a good match for either coastal interiors or a more contemporary treatment.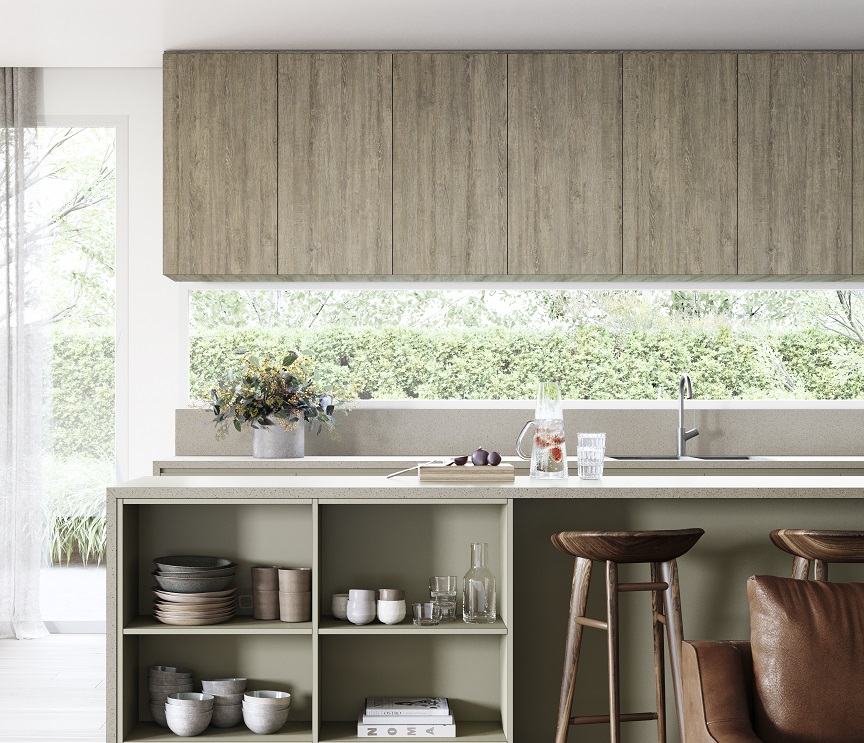 Light warm-tone woodgrains for modern interiors
Among the light warm-tone woodgrains, Laminex Raw Birchply showcases the full value of woodgrain laminates. Its blonde, subtly grained surface fits straight into a modern Scandi-style interior but unlike natural plywood, which can warp and split when exposed to moisture, and also tends to yellow with age, Raw Birchply says looking pristine, even in the bathroom. Matched edging is available that recreates the alternating dark and light layers of veneer in real plywood. By contrast, Laminex Planked Urban Oak, created from a single piece of salvaged oak, has a deeper brown colouring and stronger woodgrain more suited to an urban or industrial interior.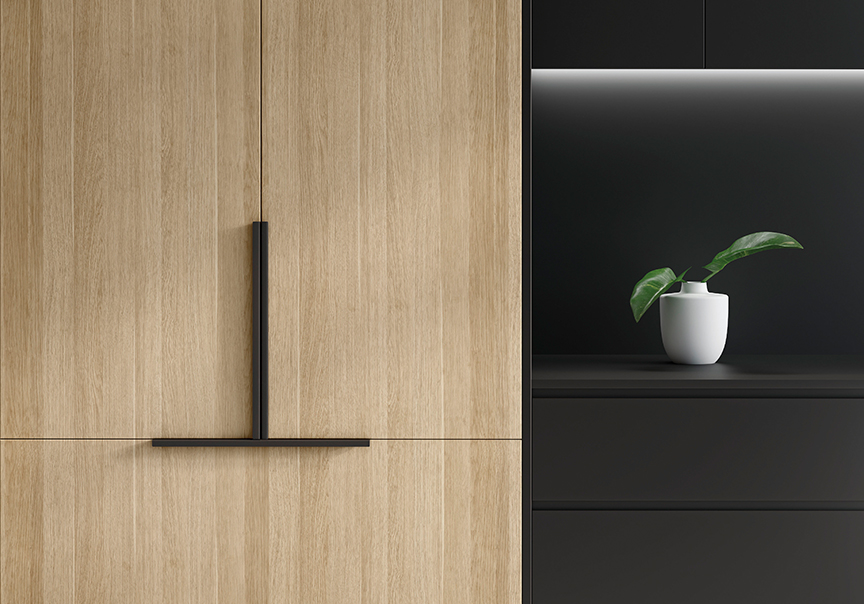 Dark warm-tone woodgrains, from refined to rugged
Finally, the dark warm-tone woodgrains are rich and moody, and bring a masculine character to an interior. Some are quite refined, like Laminex Aged Walnut and Jarrah Legno, their chocolate brown tones ideal for a classic interior scheme, while others, such as Oxidised Beamwood, display the rugged character and raw beauty of reclaimed hardwood.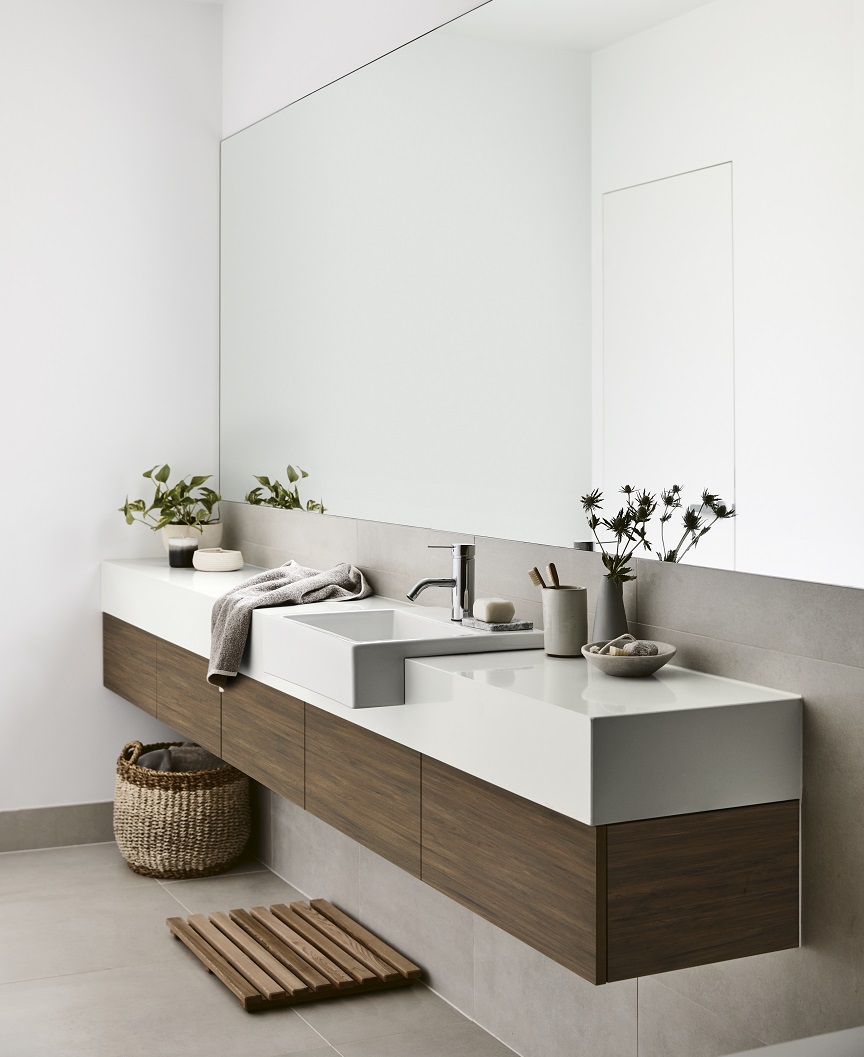 From grey to light to dark, from refined to rustic, every timber look you might want is covered in Laminex Woodgrains range. Each so realistic you'd assume it's real woodgrain. And each with the hardwearing durability of premium laminate. Even better than the real thing!
---
Explore the Laminex Colour Collection
Inspired globally and designed for the Australian lifestyle, the new Laminex Colour Collection is a cohesive colour and product range that reflects a movement towards design that connects with our natural environment. Expect beautiful timber grain laminates with true realism, muted organic colours, urban influences and dramatic finishes.
---