$0.00
ex GST and Shipping
You can order a maximum of free samples in a single order.
Kennedy Nolan was drawn to this technologically advanced surface material for its perfect ultra-matte finish and incredible fingerprint resistance.
Kennedy Nolan Principal Rachel Nolan describes Laminex AbsoluteMatte as "a big drawcard" in the design of the Studio Kitchen. First, because of its performance as a surface material. Where so many matte surfaces, particularly darker colours, are constantly marred by fingerprints, Laminex AbsoluteMatte is fingerprint resistant, and stays looking pristine with minimal maintenance. Second, because it's just such a beautiful material, with a remarkable visual softness and satin-smooth finish. And third, because it's manufactured in Australia. Sourcing locally made building materials is increasingly important to architects and designers, because of the environmental advantages and also the support it provides to Australian communities. The Laminex AbsoluteMatte range is manufactured at Laminex's plant in Ballarat, Victoria.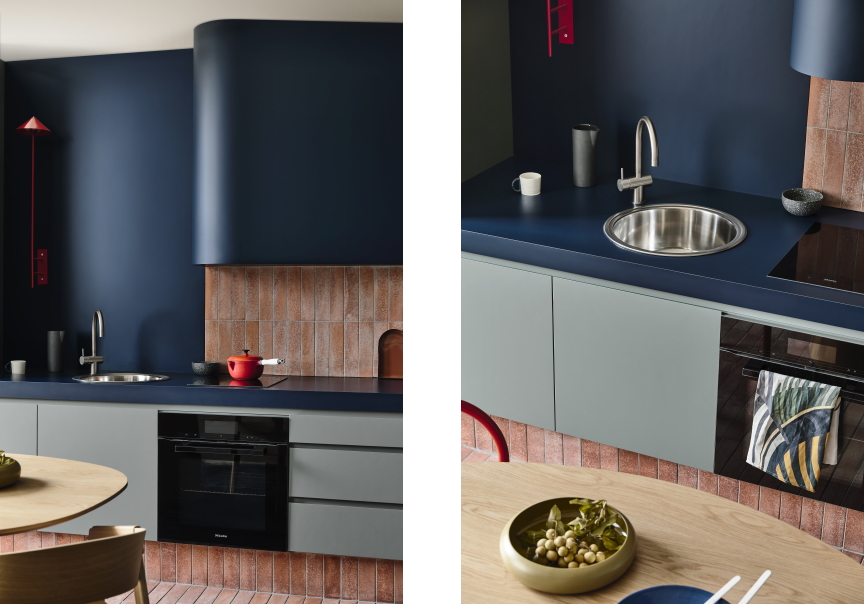 Not just matte black, an expanded range of rich colour
The rise of matte surface materials has been driven largely by the popularity of matte black finishes in contemporary interiors. But Kennedy Nolan's design here shows the potential for matte surfaces in an expanded range of colours from the Laminex Colour Collection. The Studio Kitchen project palette was built around warm green Laminex AbsoluteMatte Green Slate and deep blue AbsoluteMatte French Navy, paired with rustic Artedomus terracotta brick tiles, which provide wonderful textural contrast. The broader AbsoluteMatte colour palette includes an additional selection of rich neutral tones, as well as whites and creams, and of course, irresistibly cool AbsoluteMatte Black!
"We've gone bananas for AbsoluteMatte! You're touching cupboards all the time when you've got fingerpulls, so the idea of a matte product that doesn't show those marks is pretty compelling. It just looks better for longer."
Rachel Nolan – Principal, Kennedy Nolan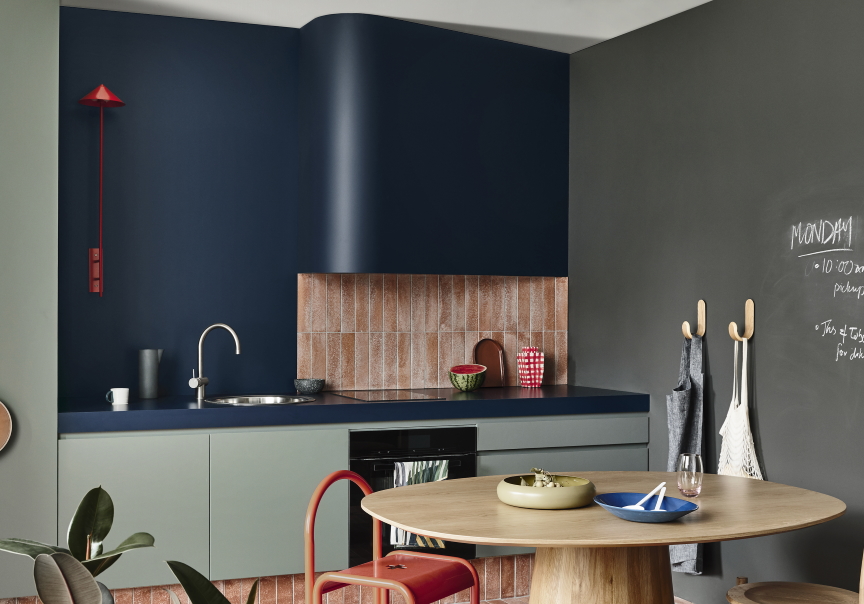 Ultra-matte surfaces for every application
Kennedy Nolan's design also highlights the versatility that comes with the different products in the AbsoluteMatte range. Specifically, AbsoluteMatte HPL, which is recommended for horizontal surfaces such as benchtops, because of its impact resistance, and AbsoluteMatte Panels, which have the rigidity required for the structural elements of cabinetry, including doors and drawers.
And that's exactly how Kennedy Nolan has used the two products here. But they've also used AbsoluteMatte HPL more creatively, applying it to the wall as a large splashback, and to the wave-like curve of the rangehood. The overall effect is utterly compelling – a complete kitchen with the consistently beautiful look and feel of Laminex AbsoluteMatte, in coordinated colours from the Laminex Colour Collection.
---

You can order a maximum of free samples in a single order.
$0.00 ex GST and Shipping
---
Featured in this kitchen
Cabinetry: Laminex AbsoluteMatte Green Slate
Benchtop, splashback and rangehood: Laminex AbsoluteMatte French Navy
Drawer interior cabinetry: Laminex Pillarbox
Flooring and splashback: Artedomus Cotto Manetti Rustic Split
Wall light: Volker Haug
Handle: In-Teria, Big Moo
Sink: Oliveri Solitaire Round Sink
Tap: Sussex Tap
Cooktop: Miele CS 7612 FL
Oven: Miele 11128560 H 7860
Wall paint: Porter's Paints Chalkboard Licorice
Contributors
Architects: Kennedy Nolan
Art Direction: Ortolan
Photographer: Derek Swalwell
Stylist: Natalie James
Editorial Consultant: Infinite Shapes