$0.00
ex GST and Shipping
You can order a maximum of free samples in a single order.
The Studio Kitchen by Kennedy Nolan feels much larger than it really is, thanks to some clever design moves that could be used in any small home.
Kennedy Nolan's Studio Kitchen is visually beautiful, replete with rich colour, rustic texture and moments of sculptural form-making. But what's remarkable is how the architects have used a handful of design strategies to effectively create space – both the feeling of being in a larger kitchen and the amenity too. Here's our quick guide.
1. Play with scale, build blocks of colour
Much of our world is built to standardised dimensions. But as Kennedy Nolan Principal Rachel Nolan points out, "As soon as you push anything out of that, it becomes a little more abstracted and compelling." Make some of those dimensions larger and an entire space can feel more generous.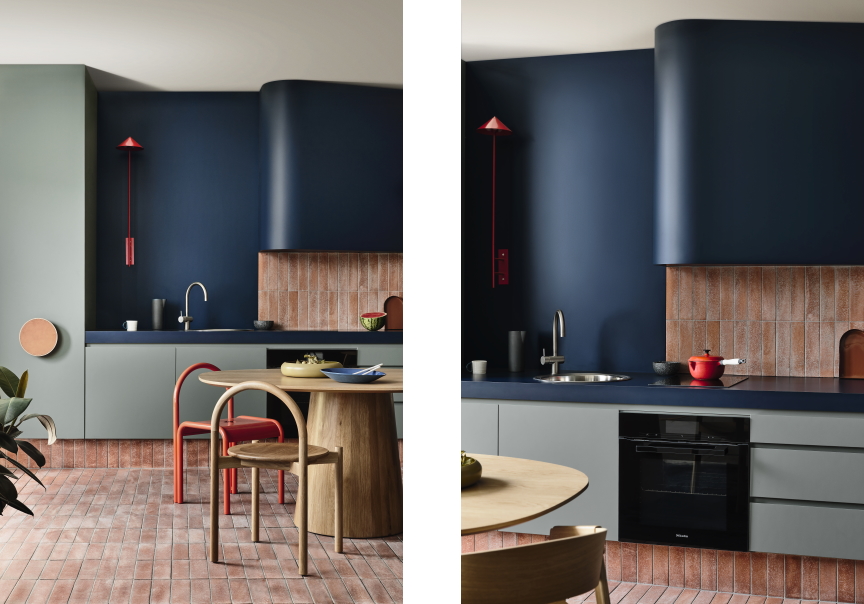 The Studio Kitchen does this, with its extra-chunky benchtop and kicker extending to the full height of one of the terracotta floor tiles, a splashback that reaches right up to the ceiling, and the arrangement of two Laminex AbsoluteMatte decors in a visually simple block-colour composition, punctuated only by a single oversized circular door handle.
2. Make your benchtops deeper
There's one other part of the Studio Kitchen that's been pushed beyond standard dimensions, and it deserves special mention. Whereas a standard benchtop is 600mm deep, the benchtop here is 800mm from front to back. In any kitchen without an island bench, workspace is at a premium, and that additional 200mm means toasters, oil bottles and other cooking essentials can sit against the splashback, leaving plenty of room for food preparation. "You actually don't need much benchtop area as long as you've got space in front of you," says Nolan. "The ergonomics of it being bigger actually make it quite enjoyable to work in."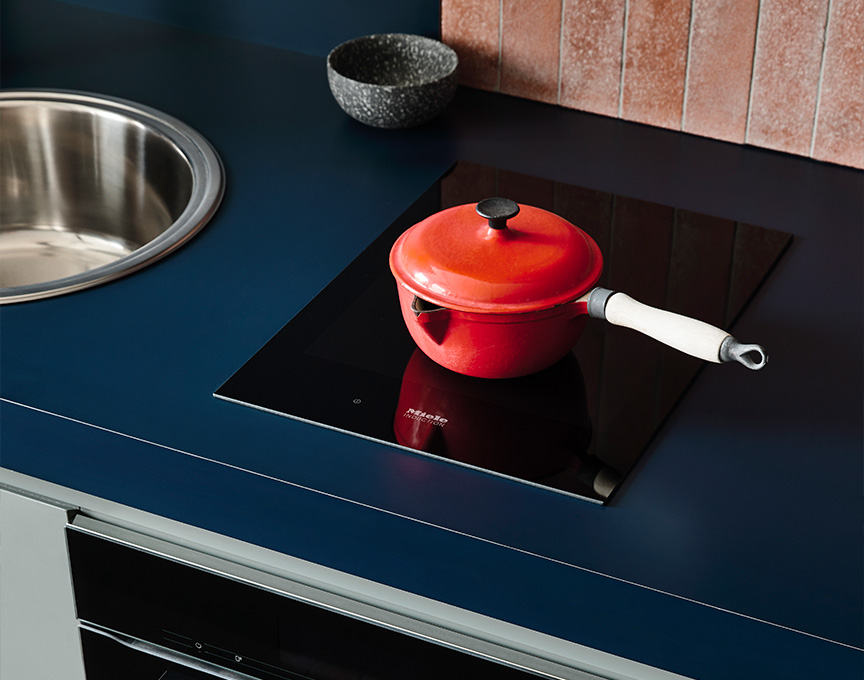 3. Simplify storage, make it generous
With limited space for storage, the most efficient approach is to reduce the number of storage locations and make them as big as possible. That's what Kennedy Nolan have done here, with a large pull-out pantry to the right of the oven, and floor-to-ceiling tower cabinetry over to the left. This layout simplifies the process of storing, finding and retrieving kitchen supplies and objects, saving time every day. It also makes for a wall of cabinetry with a cleaner, less fragmented appearance, which supports the above strategies for making the kitchen feel larger and more open.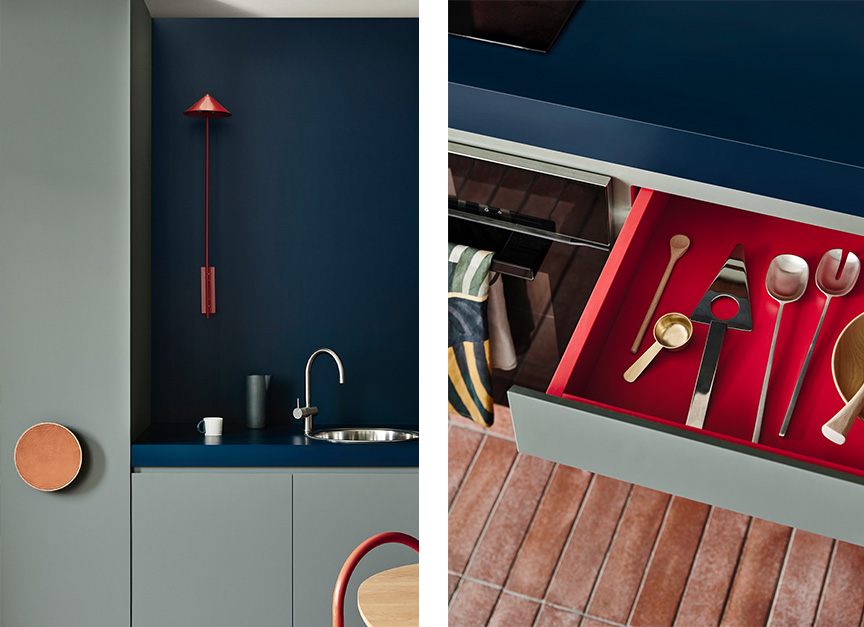 4. Consider darker colours and matte finishes
Kennedy Nolan are unequivocal in their praise of Laminex AbsoluteMatte, particularly in darker colours on kitchen cabinetry, where its resistance to fingerprints means that surfaces stay looking pristine. "It just looks better for longer," says Nolan. But these ultra-matte surfaces play another role in the Studio Kitchen. The richer tones of Laminex Green Slate and French Navy, in combination with the light-absorbing qualities of Laminex AbsoluteMatte, help the kitchen cabinetry to recede in the space. And that makes the interior feel more open. Applying the two decors in large blocks of colour, with relatively few interruptions to the surfaces, reinforces this effect.
5. Create a beautiful backdrop for everyday life
In a small home, cooking, dining and lounge areas will inevitably be in close quarters, but a few simple strategies can mitigate feelings of living in the kitchen. Choose products to be unobtrusive – streamlined tapware, a low-profile induction cooktop and oven colour-coordinated with the interior palette. Conceal the fridge within cabinetry. And add design features that make the space feel that bit more special. "You might buy a couple of pieces and it comes alive as something beyond just a kitchen," says Nolan. In the Studio Kitchen, it's the red Volker Haug wall light and that beautiful cabinetry handle, crafted from timber and leather by In-Teria.
---

Products used in the studio kitchen by Kennedy Nolan


You can order a maximum of free samples in a single order.
$0.00 ex GST and Shipping
---
Featured in this kitchen
Cabinetry: Laminex AbsoluteMatte Green Slate
Benchtop, splashback and rangehood: Laminex AbsoluteMatte French Navy
Drawer interior cabinetry: Laminex Pillarbox
Flooring and splashback: Artedomus Cotto Manetti Rustic Split
Wall light: Volker Haug
Handle: In-Teria, Big Moo
Sink: Oliveri Solitaire Round Sink
Tap: Sussex Tap
Cooktop: Miele CS 7612 FL
Oven: Miele 11128560 H 7860
Wall paint: Porter's Paints Chalkboard Licorice
Contributors
Architects: Kennedy Nolan
Art Direction: Ortolan
Photographer: Derek Swalwell
Stylist: Natalie James
Editorial Consultant: Infinite Shapes