$0.00
ex GST and Shipping
You can order a maximum of free samples in a single order.
In the Studio Kitchen, Kennedy Nolan shows how different laminate products can be used together to create beautifully coordinated spaces.
One of the great benefits of the Laminex Colour Collection is that it allows architects and designers to specify different surface materials into an interior and still coordinate colours and textures across all of those surfaces. Kennedy Nolan's design for this small kitchen provides a wonderful case study.
Harnessing the design flexibility of HPL
High-pressure laminate (HPL) is perfect for horizontal surfaces because of its durability, impact resistance and, particularly important in kitchens, heat resistance. And because it's simply adhered to its substrate, it gives architects and designers freedom to create custom designs and work outside standard measurements. This is exactly what Kennedy Nolan has done, adding 200mm to the typical bench depth to create an extra-deep 800mm benchtop, cleverly maximising work area in the limited available space. By folding the HPL down over the front edge of the cabinetry, they've also created the impression of an extra-chunky benchtop.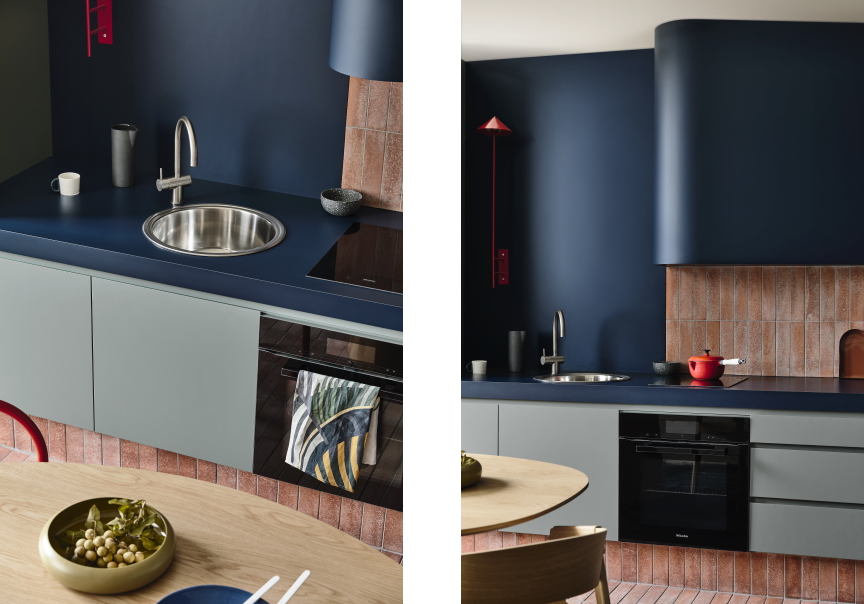 Creating curves and building blocks of colour
But it's not just benchtops that benefit from HPL's design flexibility. Above the cooktop, an elegant, wave-like rangehood has been fabricated by cold-forming AbsoluteMatte French Navy HPL over a curved substrate. And to its left, a single sheet of the same HPL has been applied as a splashback that extends all the way to the ceiling. Enhanced by AbsoluteMatte's visual softness, these two elements add a compelling sense of depth to the "kitchen wall".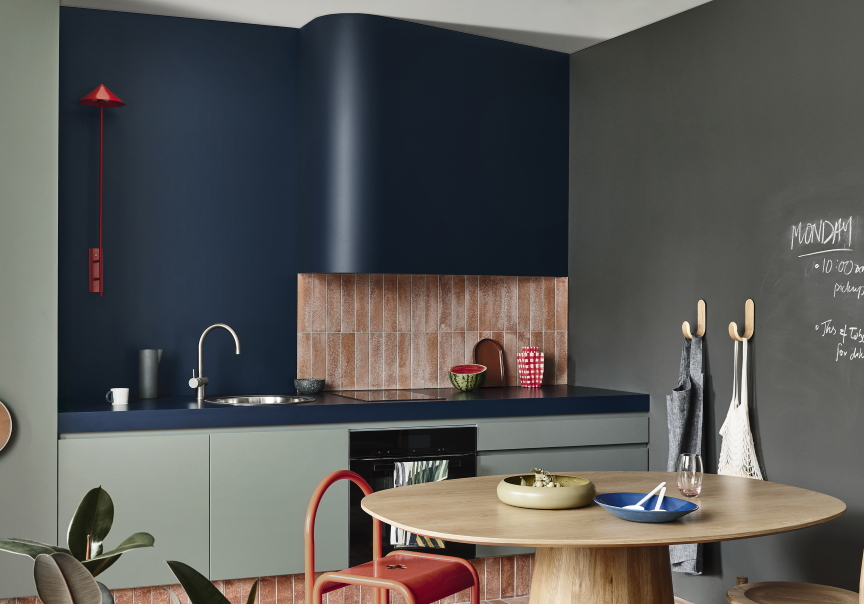 Tower and under-bench cabinetry, with a surprise inside
Low-pressure melamine (LPM) is the material most commonly used for cabinetry, drawers and doors, because of its structural rigidity and its cost-effectiveness as a prefinished panel. However, when an ultra-matte finish is required, Laminex AbsoluteMatte Panels – an advanced panel product made with an MR E0 MDF core – can be used in exactly the same way. Kennedy Nolan specified them in warm green AbsoluteMatte Green Slate, building on the kitchen's rich colour palette while maintaining a consistent ultra-matte look and feel.
The under-bench drawers and doors were supplied in Laminex's Reverse Bevelled profile, which negated the need for handles and pulls. It's an approach that AbsoluteMatte is well-suited to, for two reasons: the appearance of the drawers and doors won't be marred by fingerprints every time they're opened and closed, and their satin-smooth finish is a pleasure to touch.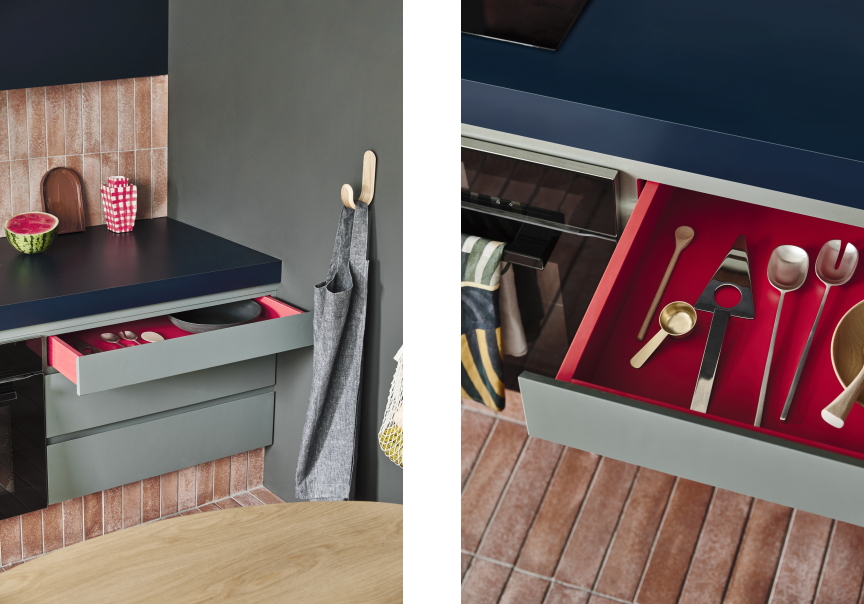 Adding one more layer of pleasure, the inside of one of the under-bench drawers was fabricated from Lamiwood HR LPM in brilliant red Laminex Pillarbox! It's a bold flash of colour, only visible when the drawer is opened, that brings a moment of surprise and fun in a very sophisticated, very beautiful kitchen.
---
Featured in this kitchen
Cabinetry: Laminex AbsoluteMatte Green Slate
Benchtop, splashback and rangehood: Laminex AbsoluteMatte French Navy
Drawer interior cabinetry: Laminex Pillarbox
Flooring and splashback: Artedomus Cotto Manetti Rustic Split
Wall light: Volker Haug
Handle: In-Teria, Big Moo
Sink: Oliveri Solitaire Round Sink
Tap: Sussex Tap
Cooktop: Miele CS 7612 FL
Oven: Miele 11128560 H 7860
Wall paint: Porter's Paints Chalkboard Licorice
Contributors
Architects: Kennedy Nolan
Art Direction: Ortolan
Photographer: Derek Swalwell
Stylist: Natalie James
Editorial Consultant: Infinite Shapes