$0.00
ex GST and Shipping
You can order a maximum of free samples in a single order.
Get inspiration for a kitchen you'll love forever, from the creative designs of Kennedy Nolan and the beautiful decors of the Laminex® Colour Collection.
The kitchen isn't just where we prepare food, it's the hub of modern Australian life, a place for everything from paying bills and finishing school assignments to sharing beautiful food and drinks with guests. So if there was ever a space in your home where you should look to make a bigger impact with design and colour, this is it. Taking inspiration from a wonderful new kitchen by architects Kennedy Nolan, here are three key considerations for designing your own – a kitchen that you'll truly love and will be proud of for years to come, your forever kitchen!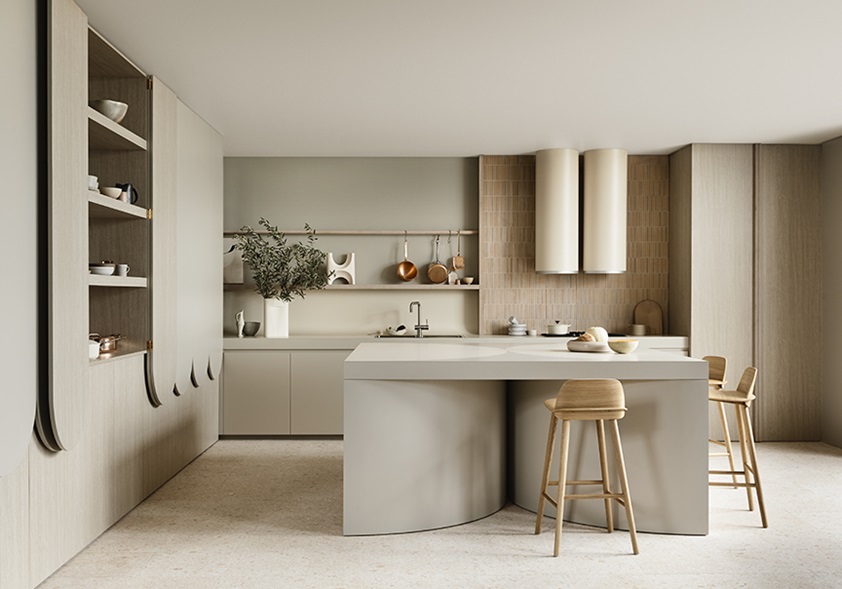 "People might aspire to have big marble benches in their dream kitchen, but this kitchen feels quite glamorous, it has a lovely scale about it, and it's Laminex."
Rachel Nolan - Principal, Kennedy Nolan
Timeless neutrals and natural textures
There's been a colour revolution in interior design and the days of kitchens defaulting to white, beige or grey are long gone. Kennedy Nolan's timeless colour palette of neutral tones and natural textures provides an inspiring template for your forever kitchen, because it's beautiful, contemporary and highly liveable. Warm neutrals like yellow-based Laminex French Cream are a great choice, because they're naturally calming and welcoming. And Laminex decors like green-based grey Paper Bark and light woodgrain Whitewashed Oak have a similar effect, evoking feelings of being surrounded by nature. Build a palette around these kinds of colours and textures, and your kitchen will be unique, sophisticated and a pleasure to come home to.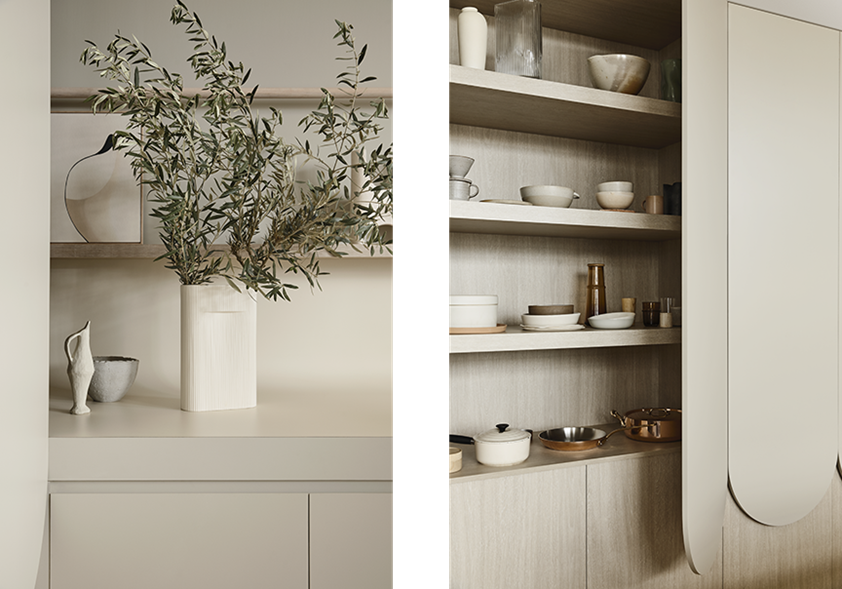 Bespoke features to elevate your kitchen
Kennedy Nolan's design was inspired by the versatility of laminate, how it can be formed into luxurious flowing curves, like we see in the base of the island bench and the splashback, or cut into decorative patterns, such as the scalloped doors on the storage wall. Bespoke design features like these add a sense of individuality and style, and can be large or small, to match your personal taste, available space and budget. Tiles are another great option for making a kitchen feel a little more special and unique, because they come in so many variations of colour and texture. In Kennedy Nolan's kitchen, terrazzo floor tiles from Fibonacci Stone add a blush of pale pink to the entire space, while Japanese ceramic tiles from Artedomus on the rear wall bring a beautiful, handmade quality.
"We don't do kitchens that are like each other. We're more interested in how we can get a little bit of magic, or some kind of sculptural element, out of something that's a necessity."
Rachel Nolan - Principal, Kennedy Nolan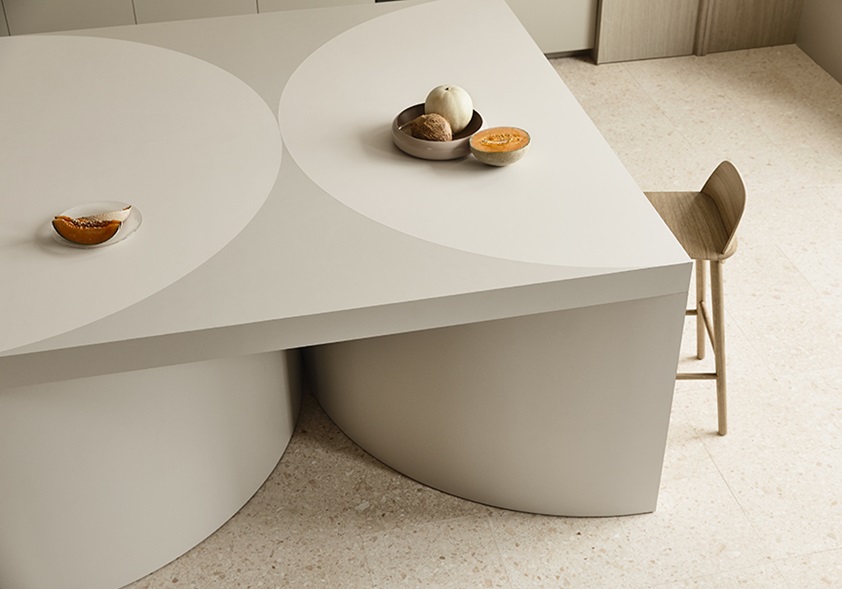 The unique benefits of laminate
It stands to reason that your forever kitchen has to be made to last, so the durability of its surface materials is key. Laminex laminate is resistant to water, scratches and stains. It's also resistant to UV, which is particularly important in retaining the authentic tone and detail in woodgrain decors like Whitewashed Oak. And it's very easy to keep clean. So it's a dream to live with, and will stay looking pristine for a very long time. In addition, all Laminex laminates are made with Protec+ antimicrobial technology, which is certified as food-safe and offers protection from bacteria. And all of that comes in a product that's highly cost-effective, making a stylish, luxurious forever kitchen like Kennedy Nolan's all the more achievable for everyone.

You can order a maximum of free samples in a single order.
$0.00 ex GST and Shipping
---
---
---
Featured in this kitchen
Island benchtop: Laminex French Cream and Laminex Paper Bark
Tower scallop cabinetry: Laminex Paper Bark and Laminex Whitewashed Oak
Tower internal cabinetry: Laminex Whitewashed Oak
Rear benchtop and curved splashback: Laminex French Cream
Rear cabinetry: Laminex Paper Bark
Rangehood: Laminex French Cream
Splashback behind rangehood: Artedomus Inax Renga Border REB4
Flooring: Fibonacci Pavlova
Cooktop: Miele KM 2334 GAS COOKTOP
Oven: Miele H 7860 BPX Graphite Grey
Tap: Sussex Voda Sink Mixer Square SS 316
Sink: Abey Sink Lago Inset Double Bowl LG200
Stools: In Good Company: Muuto Nerd Bar Stool

Contributors
Architects: Kennedy Nolan
Art Direction: Ortolan
Photographer: Derek Swalwell
Editorial Consultant: Infinite Shapes
Stylist: Natalie James
Island benchtop fabrication: Evolve Interiors