$0.00
ex GST and Shipping
You can order a maximum of free samples in a single order.
Curved surfaces and organic shapes create a sense of luxury and tactility, made possible with Laminex® laminate.
According to Kennedy Nolan Principal Rachel Nolan, her team's starting point for designing this kitchen with Laminex was to focus on the material qualities of laminate, particularly the relative ease with which it can be formed and cut into curved shapes and patterns. But, as you'd expect from these creative architects, this project was never going to be a purely technical exercise – their approach was very much to understand these qualities, consider the design possibilities and then assimilate them into a holistic response to the brief, which asked for a beautiful, functional kitchen.
"When we make a curve, we really work hard on it being the right curve. I can't tell you what that is - it's an instinctive thing."
Rachel Nolan - Principal, Kennedy Nolan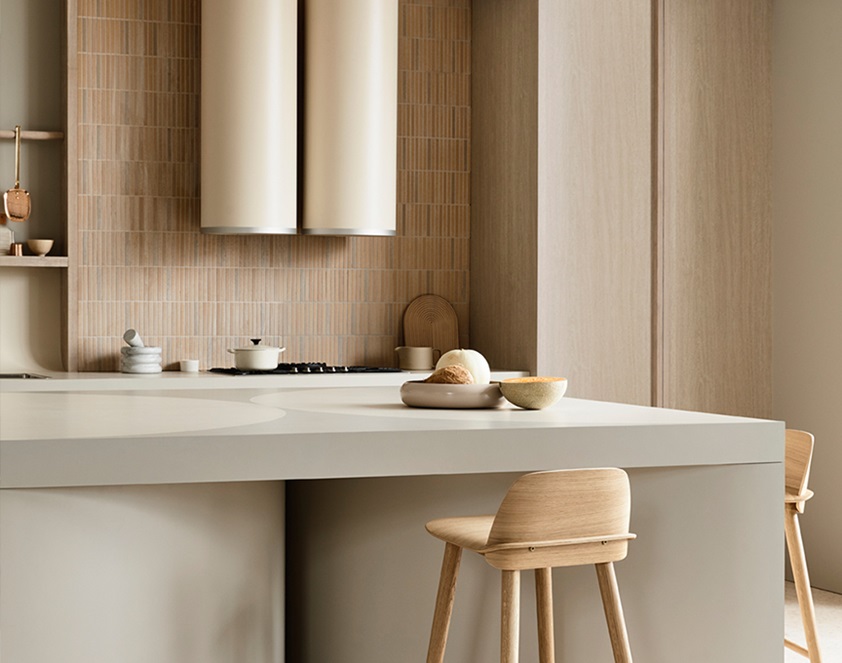 "We're clearly in a time when people are feeling comfortable about exploring curves," says Nolan, noting the "moment" organic shapes are having in interior design right now. "But we're very careful about it when we do it. We try to make it a meaningful thing."
Perhaps the foremost "meaning" created by the curved shapes in this kitchen is its approachable sense of luxury. It comes from the way the laminate has been transformed, through the process of cold-forming, from flat sheets into surfaces that are soft and round. This is most notable in the sculptural island bench, it's voluptuous drum-shaped base inviting to be touched, much like we might instinctively be drawn to run our hand over marble. Yet it was fabricated quite simply and cost-effectively with laminate. Imagine the expense of crafting this shape from stone!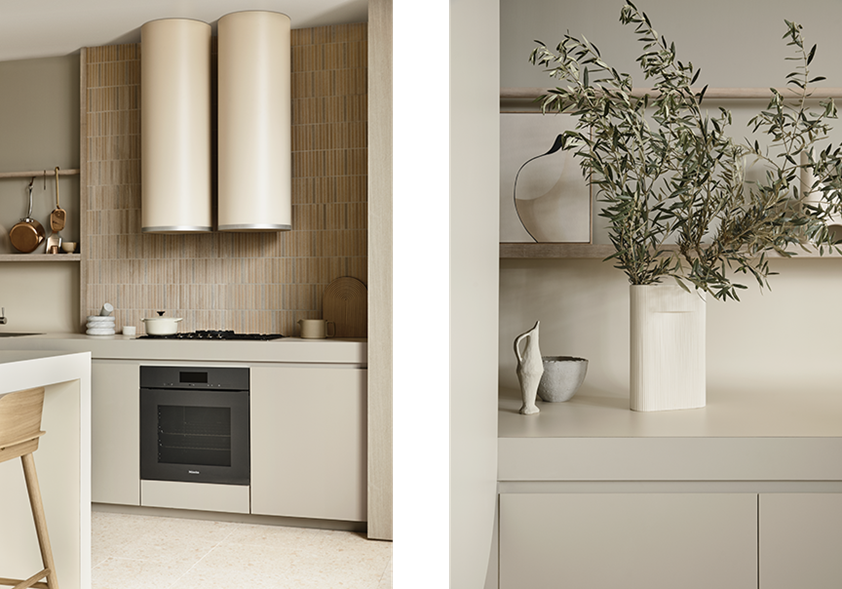 The cylindrical rangehoods create a similar sense of tactility, and a visual softness that's welcome relief from the square-edged, stainless steel expression of functionality we expect to see over a cooktop. And nearby, the sweeping, seamless rear benchtop and splashback brings finesse where there would typically be a prosaic junction of right-angled surfaces. Like the base of the island bench, the rangehoods and the rear benchtop were cold-formed from laminate.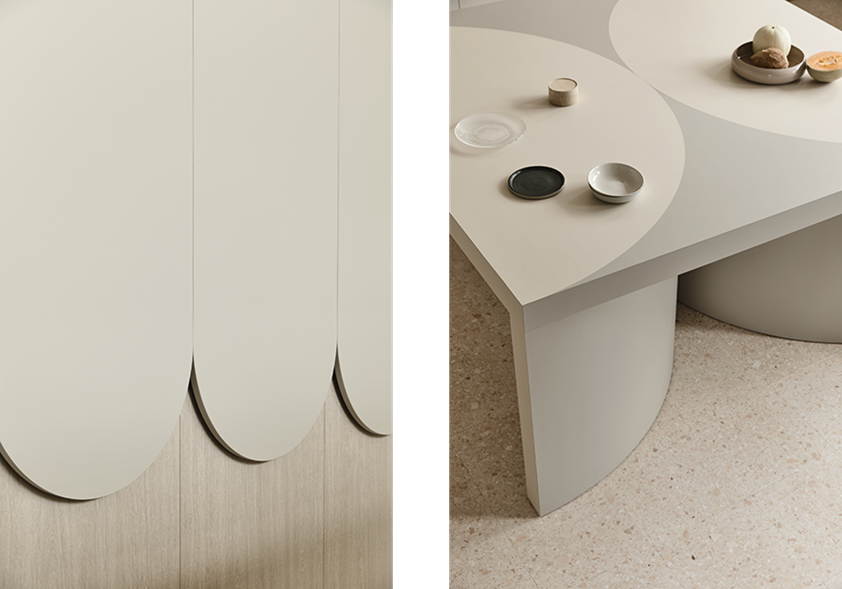 "What would you remember if you visited this kitchen? It would be the big island bench and the curved pattern of those doors. Really, this space is about form-making and pattern."
But this kitchen shows how curved designs can be achieved in other ways. On the island benchtop, the featured solid-colour Laminex decors, Paper Bark and French Cream, have been cut and inset into a single flat surface, creating a two-dimensional pattern that follows the shape of the drum legs below. For the scalloped edging on the tower cabinetry doors, Laminex Paper Bark has again been cut into a curving pattern.
In both cases, the effect is quite different to the rounded forms of the island bench, splashback and rangehoods, but they all work together beautifully to give the space depth and character. In Nolan's mind, they're central to its success. And those two processes are made possible with the design versatility of Laminex laminate.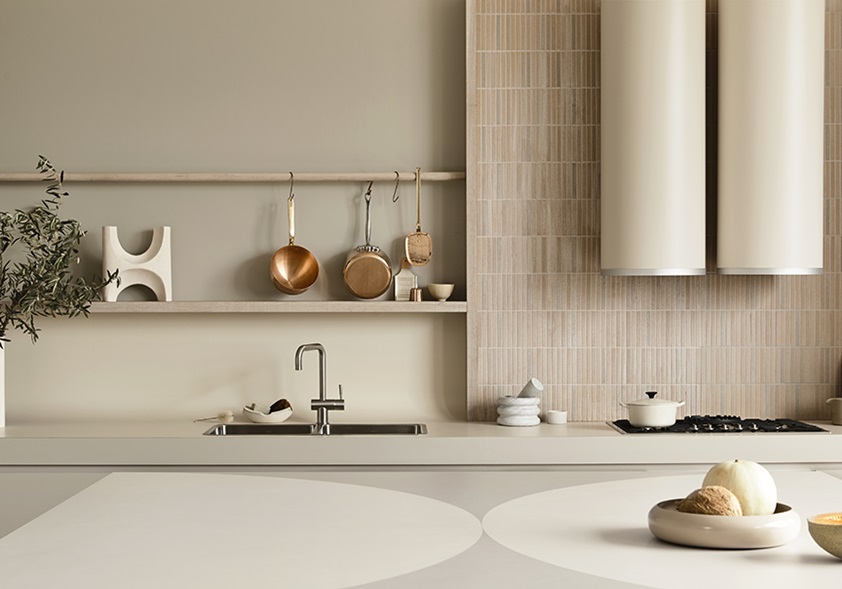 You can order a maximum of free samples in a single order.
$0.00 ex GST and Shipping
---
Featured in this kitchen
Island benchtop: Laminex French Cream and Laminex Paper Bark
Tower scallop cabinetry: Laminex Paper Bark and Laminex Whitewashed Oak
Tower internal cabinetry: Laminex Whitewashed Oak
Rear benchtop and curved splashback: Laminex French Cream
Rear cabinetry: Laminex Paper Bark
Rangehood: Laminex French Cream
Splashback behind rangehood: Artedomus Inax Renga Border REB4
Flooring: Fibonacci Pavlova
Cooktop: Miele KM 2334 GAS COOKTOP
Oven: Miele H 7860 BPX Graphite Grey
Tap: Sussex Voda Sink Mixer Square SS 316
Sink: Abey Sink Lago Inset Double Bowl LG200
Stools: In Good Company: Muuto Nerd Bar Stool

Contributors
Architects: Kennedy Nolan
Art Direction: Ortolan
Photographer: Derek Swalwell
Editorial Consultant: Infinate Shapes
Stylist: Natalie James
Island benchtop fabrication: Evolve Interiors