$0.00
ex GST and Shipping
You can order a maximum of free samples in a single order.
A celebration of sculptural curved surfaces, muted organic colour and soft woodgrains at the heart of the family home.
Kennedy Nolan's brief was quite simple. They were asked to design a large kitchen with an emphasis on neutral decors from the Laminex® Colour Collection. And their response, according to Kennedy Nolan Principal Rachel Nolan, began with careful consideration of the nature of laminate itself. "We started by really thinking about what that material can do. We talked about the idea that you can cut it, that you can put two colours together to make a pattern, that it can be formed into different shapes," she says.
"We wanted to be able to show the product in ways it's not typically used. And then we came back to, what are the colours that look great together."
Rachel Nolan - Principal at Kennedy Nolan
All of those ideas converge in what is arguably the hero of the space, the large island bench at its centre. More like furniture than joinery, it sits on drum-shaped legs created by cold-forming Laminex Paper Bark, with a square top that pairs Paper Bark with Laminex French Cream in a geometrical pattern of just-touching circles. On the front, the drum legs create a visually compelling form as they recede into shadow beneath the benchtop; on the sides, they make deep alcoves for stools.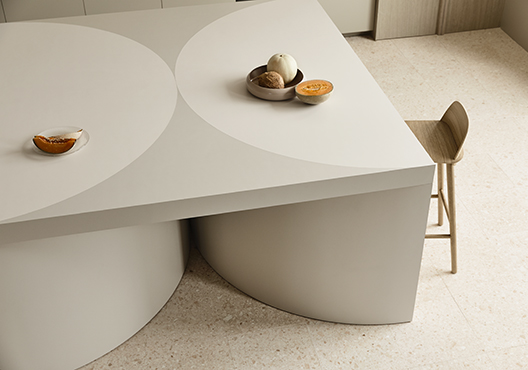 The large scale of the bench contributes to the kitchen's sense of luxury, and by providing a flat surface uninterrupted by a sink, it's also highly practical. "Often what you need in a good family kitchen is a beautiful central piece where everyone comes together. Something that's really easy to work at, with people on all sides," says Nolan. "You can really imagine three people preparing a meal together or having a glass of wine." Or indeed, doing homework, or working from home.
"We don't do kitchens that are like each other. We're more interested in how we can get a little bit of magic, or some kind of sculptural element, out of something that's a necessity."
This flexibility of use is supported by tower cabinetry in Paper Bark and Laminex Whitewashed Oak. Its beautifully scalloped doors open up on 180º hinges to reveal additional work surfaces, as well as storage for food and small appliances. By pushing the doors slightly out of plane with the lower portion of the cabinetry, their edges become door pulls, and we're left with this beautiful repeated pattern, emphasized slightly and given a sense of depth by the shadow it throws.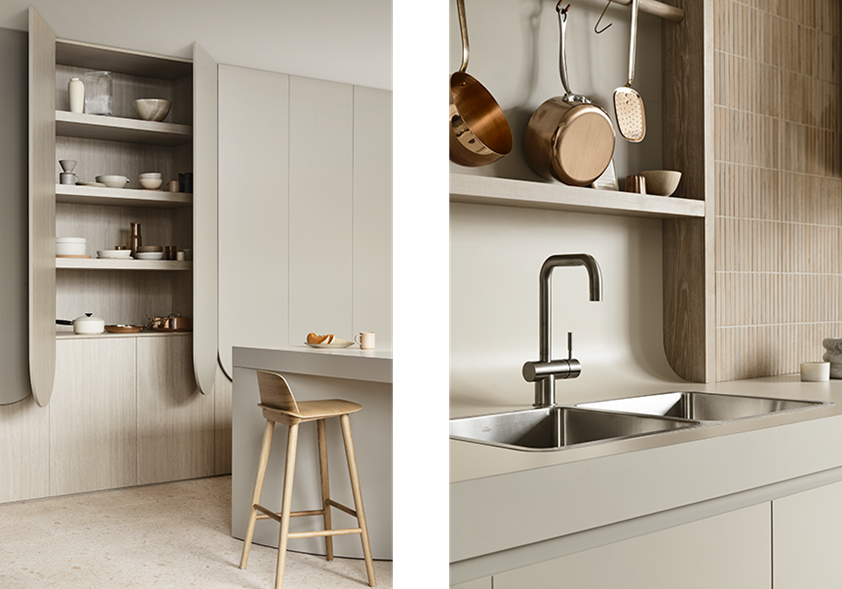 On the rear wall, this idea of pushing surfaces "out of plane" is given a different treatment. A single sheet of Laminex French Cream curves down seamlessly from splashback into benchtop. But where you might expect it to fold over the front edge of the cupboards, giving expression to a chunky benchtop, it instead changes to Paper Bark.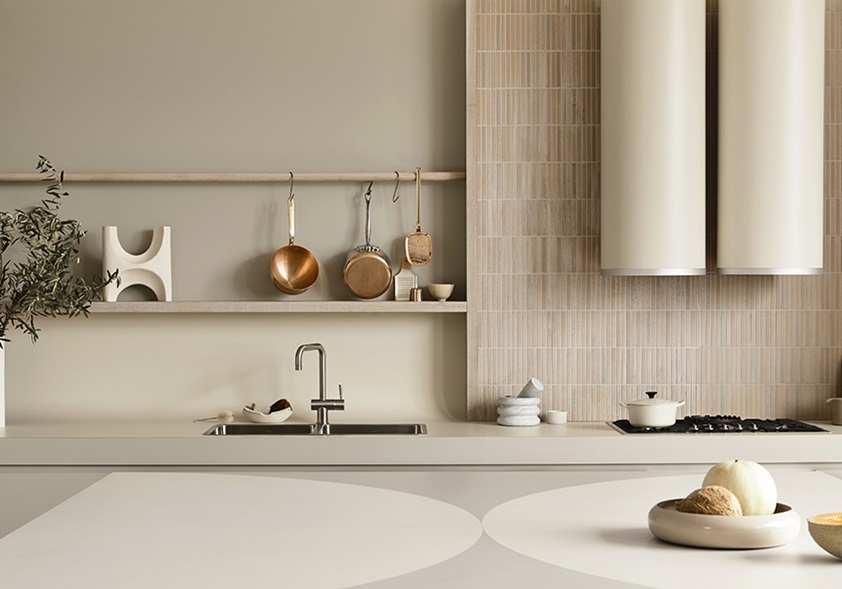 "Ultimately, we're interested in things working well. That's key, particularly in a kitchen."
Rachel Nolan - Principal at Kennedy Nolan
At its upper edge, the splashback terminates neatly at a timber shelf, with a timber rod for hanging utensils. This gives the kitchen a feeling of openness at eye level, and leaves space for another sculptural gesture – twin cylindrical rangehoods, created with Laminex French Cream. Behind them, the wall is covered in Japanese ceramic tiles, their grouted rhythm providing a beautiful textural contrast to the perfect smoothness of the curved laminate.

You can order a maximum of free samples in a single order.
$0.00 ex GST and Shipping
---
---
---
Featured in this kitchen
Island benchtop: Laminex French Cream and Laminex Paper Bark
Tower scallop cabinetry: Laminex Paper Bark and Laminex Whitewashed Oak
Tower internal cabinetry: Laminex Whitewashed Oak
Rear benchtop and curved splashback: Laminex French Cream
Rear cabinetry: Laminex Paper Bark
Rangehood: Laminex French Cream
Splashback behind rangehood: Artedomus Inax Renga Border REB4
Flooring: Fibonacci Pavlova
Cooktop: Miele KM 2334 GAS COOKTOP
Oven: Miele H 7860 BPX Graphite Grey
Tap: Sussex Voda Sink Mixer Square SS 316
Sink: Abey Sink Lago Inset Double Bowl LG200
Stools: In Good Company: Muuto Nerd Bar Stool

Contributors
Architects: Kennedy Nolan
Art Direction: Ortolan
Photographer: Derek Swalwell
Editorial Consultant: Infinite Shapes
Stylist: Natalie James
Videography: Sirap
Island benchtop fabrication: Evolve Interiors