We spoke with Yasmine Ghoniem recently about the diverse life experiences and healthy dose of irreverence fuelling creativity at her interior design studio, YSG.
In the first year after founding interior design practice YSG, Yasmine Ghoniem won six major design awards, was profiled in the Australian Financial Review and interviewed on the Design Your Life podcast, and had her projects published in no less than 18 Australian and international print magazines, including the likes of Vogue Living, House & Garden and Architectural Digest. Her work is marked by an expressive style and exuberant use of colour; it's vibrant, uncompromising and non-conformist. And so is her approach to marketing. Visit YSG's new website and elements of Ghoniem's manifesto pop up in huge letters across the homepage: "For seekers of the unconventional" and "The magnetism is in the mix". Statements that risk putting off more conventional clients, but then Ghoniem never seems to have shied away from taking a chance, and by all accounts, her bravery has paid off.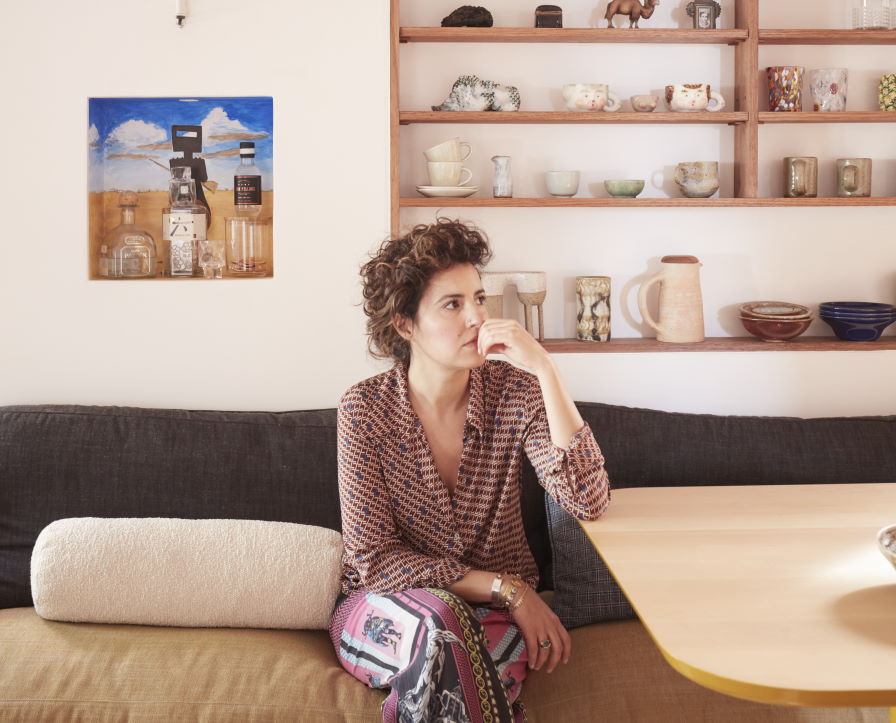 "Being able to focus on one discipline has really manifested a stronger, bolder type of interior. At the end of the day, you don't come to YSG to not stand out – you come because you want something a bit off-beat, colourful, expressive."
Yasmine Ghoniem – Principal, YSG
Drawing from a rich tapestry of life experiences
YSG's design output is informed by Ghoniem's eclectic background; a life lived across continents and in different creative industries creating a wide pool of inspiration. With an Egyptian father and an Australian mother, she grew up in Australia and Kuwait, before studying in Dubai and then the US, where she spent the first years of her career as a designer. A move to Australia and more experience working for other design studios followed. Running a business, Amber Road, with her sister, landscape architect Katy Svalbe, allowed her to sing in a rock band at night and work during the day. In 2016 she even found time to co-host a season of Foxtel television series Deadline Design with Shaynna Blaze. Then, in February 2020, with Svalbe moving to Perth, Ghoniem struck out on her own. YSG was born.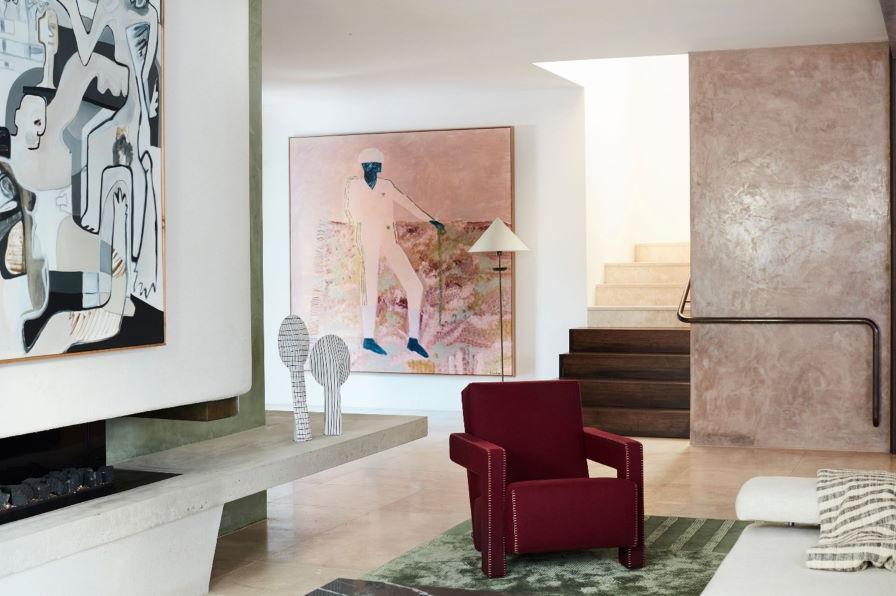 Bold colour and texture as a form of storytelling
Ghoniem's material and colour choices are an important part of what makes YSG's interiors so rich and appealing. At Four Pillars Laboratory, a floating blue concrete bar pays homage to the juniper berry of the client's gin offering. At Budge Over Dover, the award-winning residence in Sydney's Dover Heights, there's an aubergine ceiling. "I literally took a baby eggplant to my painter and said, 'match this'," Ghoniem explains. "The first application wasn't great; his second attempt was perfection." The ceiling is made even more special by the velvet crush finish achieved with marmorino, a polished plaster.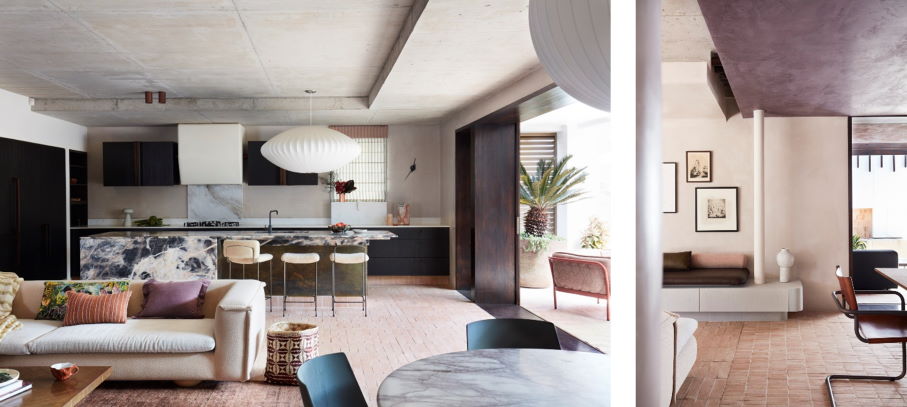 At Atomic Beer Project, the theme was inspired by 1980s science-fiction movie Tron, with shimmery metallics and a play of light and shadow, almost filmic in quality. Amongst the compelling mix of colours and textures are tabletops in four different Laminex decors, including the brushed metallic sheen of Laminex Aluminium Forte and Laminex Reclaimed Denim Fibre in highly tactile Plex finish.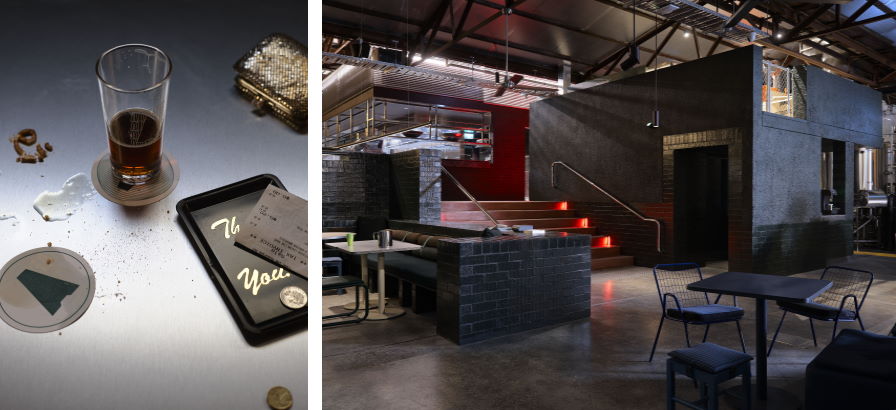 "I'm always drawn to tactile surface finishes. I want people to touch a leathered quartzite stone surface or run their fingers over the swirling hollows in a poplar burl surface. My interiors are intended to age gracefully. In fact, they look better with age."
Yasmine Ghoniem – Principal, YSG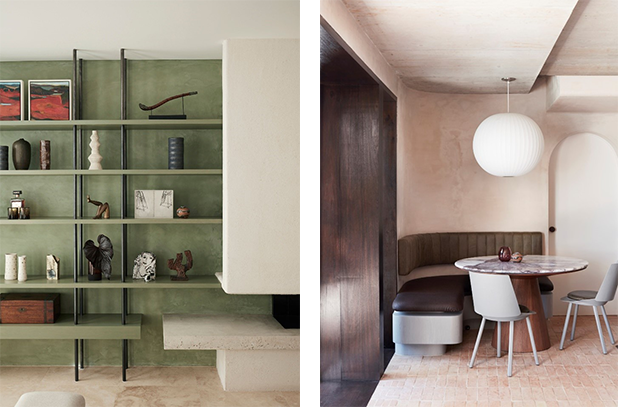 The projects are part of an already impressive folio of work, yet it's only the beginning for YSG. Staff numbers have already more than doubled since the practice's launch, and Ghoniem's design flair is destined to influence Australian interiors for some time to come. Particularly in homes and hospitality venues whose owners have the courage to be different.