Melbourne's DesignOffice uses a pair of contrasting Laminex products to tie a multi-purpose home and workspace together in colour and philosophy. The oversized kitchen providing the centre point for partners and staff to come together at different times in the day.
In Marrickville, in Sydney's Inner West, Mud Australia, the handmade porcelain company gathers its team of professional and amateur ceramicists to shape and form, glaze and colour fine clay into the wonderful hues and shapes the company is famous for. DesignOffice has transformed the two-story building into the embodiment of the brand; open, airy and welcoming.
It's easy to see why Mud and DesignOffice work so well together. There's the palette of course; the saturated colours that find their way into everything, the gentle angles and shapes that greet like open arms, but there's a meeting of philosophies that makes this relationship work.
"We get each other, and we create these amazing spaces."
Shelley Simpson, Mud's Designer, Founder and CEO
On the ground level the company operates the Mud workshop, where the pieces are made and stored, picked and packed ready for the world, while upstairs the space is mixed use, serving as a communal office space and home for Shelley Simpson and her partner James.
After hearing Shelley Simpson's need for more space and a space better suited to the business, DesignOffice's directors Mark Simpson and Damien Mulvihill looked at the project as one might an installation or intervention.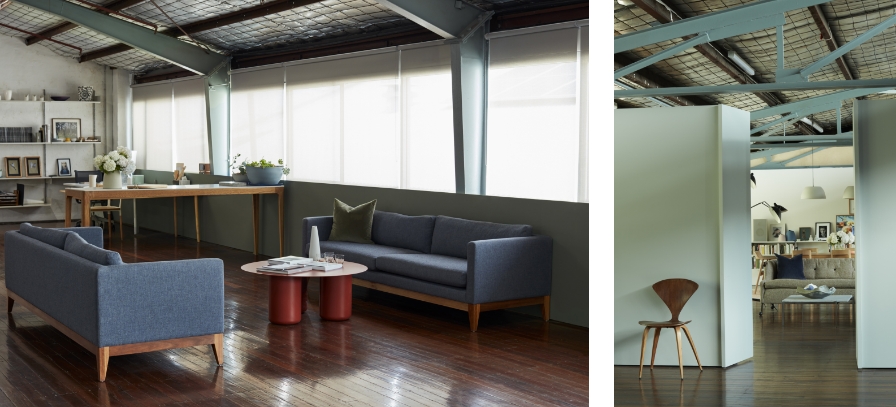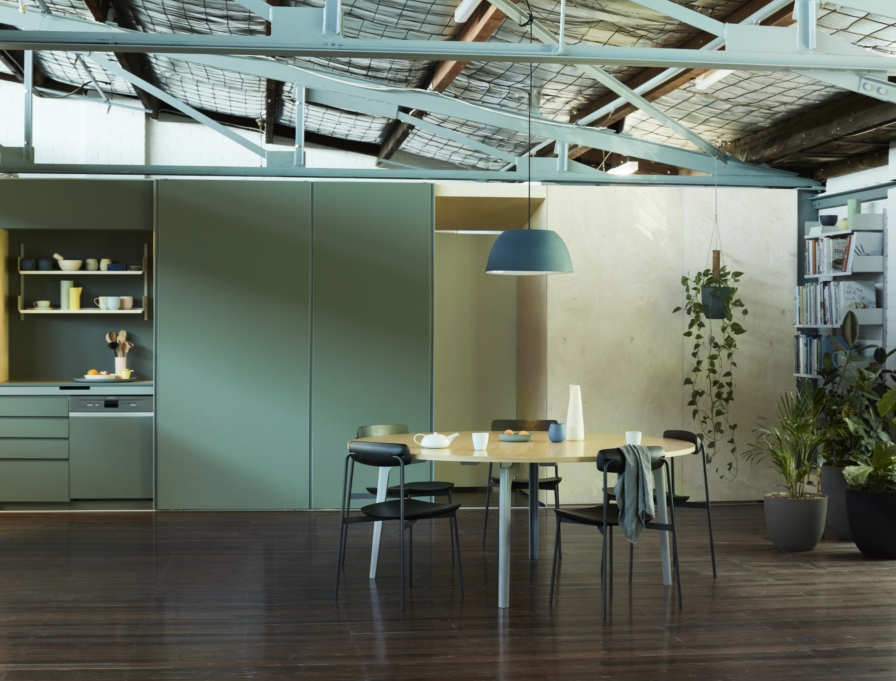 "[We wanted to] get it working in quite a hard way and still retain the sense of overall volume and meet those functional needs and keep it full of light and airy'" says Simpson. "One of the most exciting parts of the project is how big the space is. It allows everyone to come together, and it means we're able to create this huge, oversized kitchen bench, which is for cooking, for preparing, but you can have meetings and it's not often you get to play with an 8-metre-long bench and 12-metre-long back bar. The scale was quite exciting."
Whether for an afternoon tea in a beautiful blue cup or for a staff meeting, the kitchen bench is striking and rightfully takes pride of place in the loft. To achieve the uninterrupted lines and finish DesignOffice worked with Laminex.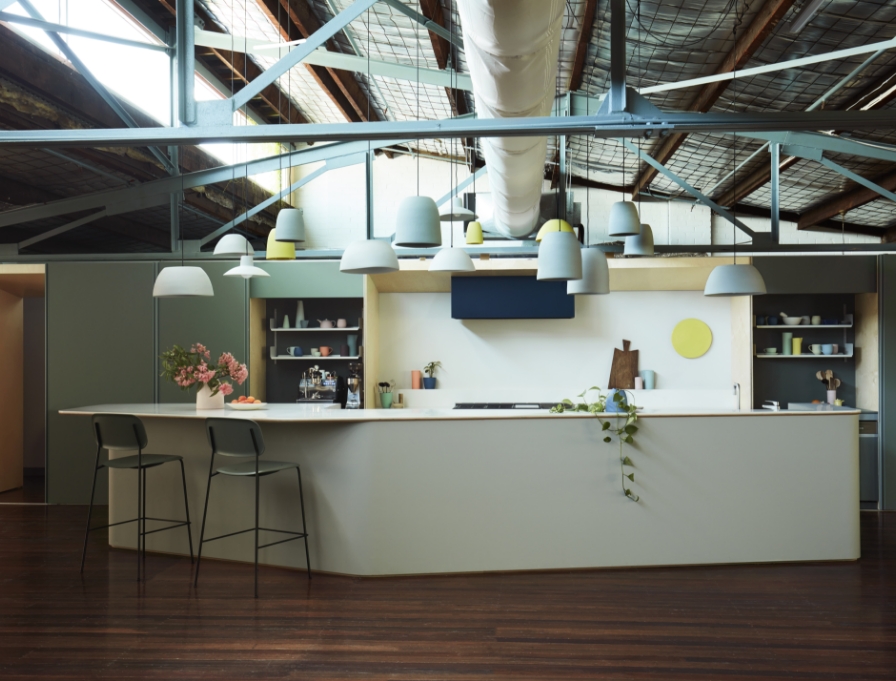 "It's about using colour in a selected, edited way. Working with textures and materials that compliment and work with the product was a really big drive for us… we ended up looking at 2 different products."
Mark Simpson, Joint Creative Director of DesignOffice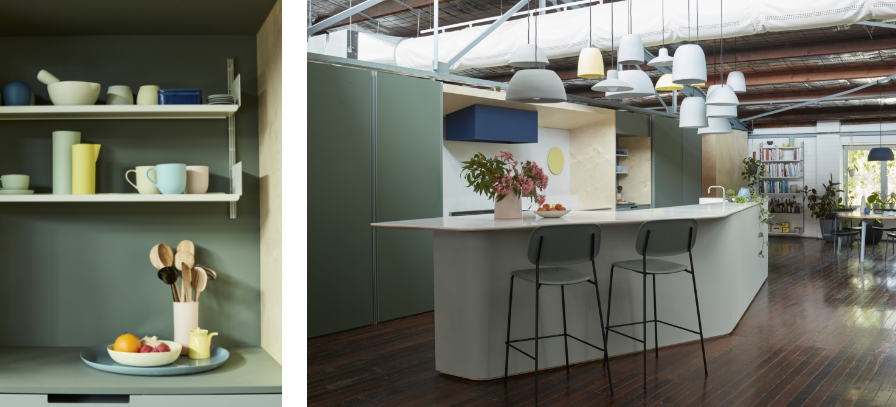 Using Laminex AbsoluteMatte and HI-MACS products, the bench and back bar took shape as any space might, but with both these offerings, DesignOffice were able to not only hit the mark on colour, but extraordinarily, create a visually seamless, monolithic like expanse. Uninterrupted and at 8 metres long this is no ordinary kitchen island.
"By its very nature it can create homogenous surfaces, so with such a large island it meant we could have an entire bench space with no visible joints in it," says Mark Simpson.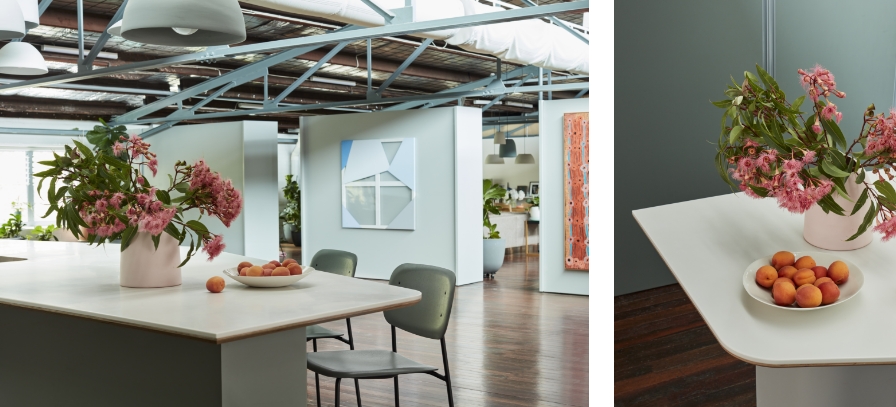 "[We worked with] Laminex Absolute Matte; it has a deep and saturated use of colour, but a completely flat texture, and HI-MACS, which when matching the matte of the Laminex with the lustre of the HI-MACS just brings the subtlety of the palette together that works with the Mud product."
With its durability and seamless potential, DesignOffice placed HI-MACS throughout the building, customising and adding bespoke cut-outs and routed edges to benchtops, tailoring workshop specific solutions with DesignOffice's signature radius detail. Aesthetics aside, the specification of HI-MACS in a workshop setting was the perfect answer to an area where non-porous materials were required, and tasks repeated daily.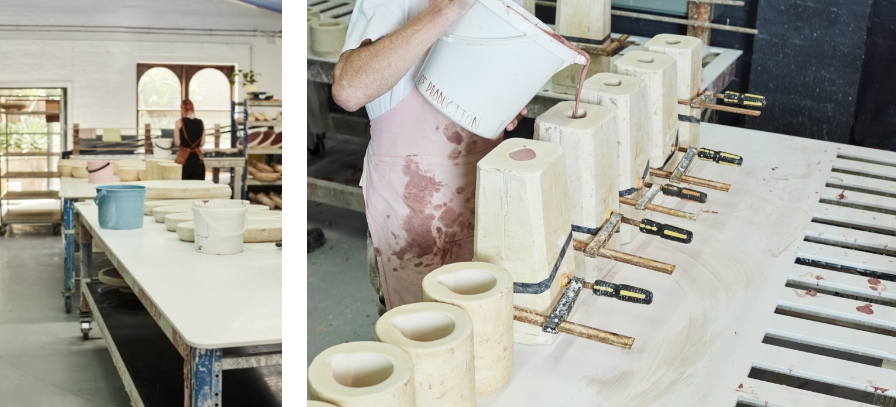 Throughout the building the colours of the cabinetry have been chosen to reflect Mud's palette and distinct tactility. Matching perfectly with the unique surfacing of Laminex AbsoluteMatte, its use in the kitchen is bolstered by its fingerprint, stain and wear resistance.
"The Mud Collection is always the starting point whenever we work with colour, it's something that we always work with making the product pop," says Mulvihill.
DesignOffice used Laminex AbsoluteMatte in Green Slate, Surf, Pewter and French Navy, tapping into the beloved Mud palette and the design studio's signature of calming, saturated colours. With Laminex's life proof properties, they created a space that is designed to last and be used, but most importantly it's a space that is for all, reflecting Mud's philosophy of joie de vivre and inclusivity.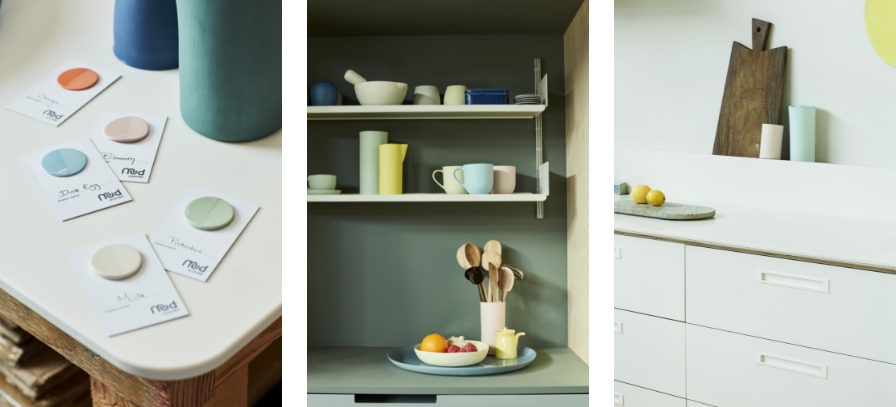 "I love what Mark and Damien do. Their choice of colour and finishes; I love that they leave the essence of the building alone," Shelley says of the finished product.
Holding onto its original exposed framework and the beautiful timber floorboards DesignOffice has created a work/residential space that compliments and adds to, enhancing with a palette and materiality designed to encourage connection and togetherness.
The Mud Australia Palette
Mud Australia Products
Kitchen Island: HI-MACS Alpine White Benchtop and Laminex AbsoluteMatte Pewter Base.
Kitchen Joinery: Laminex AbsoluteMatte Green Slate Doors & Drawers, Laminex Surf Cabinetry, Laminex AbsoluteMatte French Navy Rangehood and HI-MACS Alpine White Benchtop.
Workshop Tabletops: HI-MACS Alpine White.
Office Wall Panelling: Laminex AbsoluteMatte Green Slate.
Contributors
Design: DesignOffice
Photography: Prue Ros Ruscoe
Styling: Kerrie-Ann Jones
Video: Filmed and Edited by Cheer Squad Film Co.
Production by The Local Project.