Mud Australia and DesignOffice's use of colour and texture is well established. When it came time to design Mud's multi-purpose home and workshop, neither wanted to sacrifice aesthetics and the use of HI-MACS for high traffic and demanding creative and professional use was the perfect solution.
Working with HI-MACS
The centrepiece of Mud Australia's double story, multi-use home/office/warehouse is the new kitchen island and perhaps one of the best ways to view HI-MACS in action. A multipurpose solution for a multipurpose workplace, the oversized island is ready to cook and prep, to host staff meetings and casual dinners.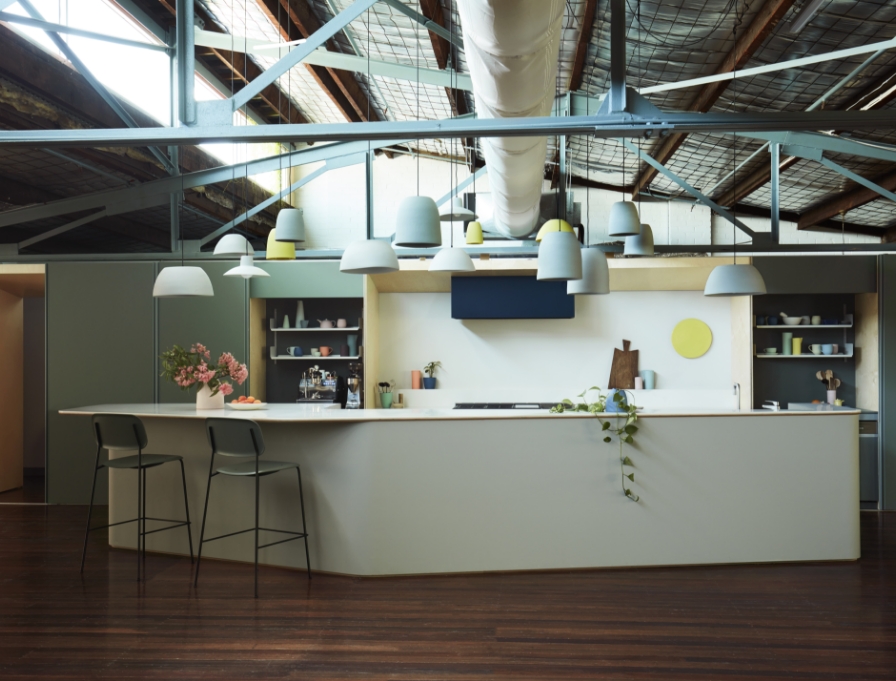 Visually seamless, the benchtop designed by DesignOffice for the Mud Australia head office is the perfect example of what can be achieved with HI-MACS. At 8 metres long, it grounds and centres the warehouse space and welcomes staff and friends, encouraging them to sit or participate in the action. Achieving the giant expanse without visible seams would have been almost impossible without HI-MACS.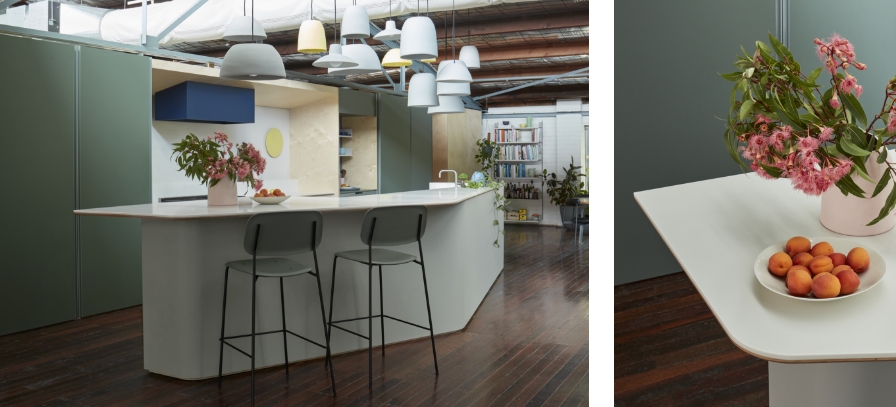 What is HI-MACS?
HI-MACS is a remarkable product exclusively offered by Laminex. A delicate composition of acrylic, minerals and natural pigments, HI-MACS can have as little, or much intervention as required. Able to be thermoformed into three dimensional shapes and even sawn, drilled and routed to suit any project, HI-MACS has the unique ability to be formed into seamless lengths.
In working with DesignOffice, Mud specified several bespoke requirements for the workshop, namely the slatted bench for draining and clay recycling. Working with clay is a wet and creatively messy process, the need for non-porous surfaces is essential to quality production. Using HI-MACS both Mud and DesignOffice were able to achieve the aesthetic goals they'd set for themselves while also appealing to the needs and realities of the materials.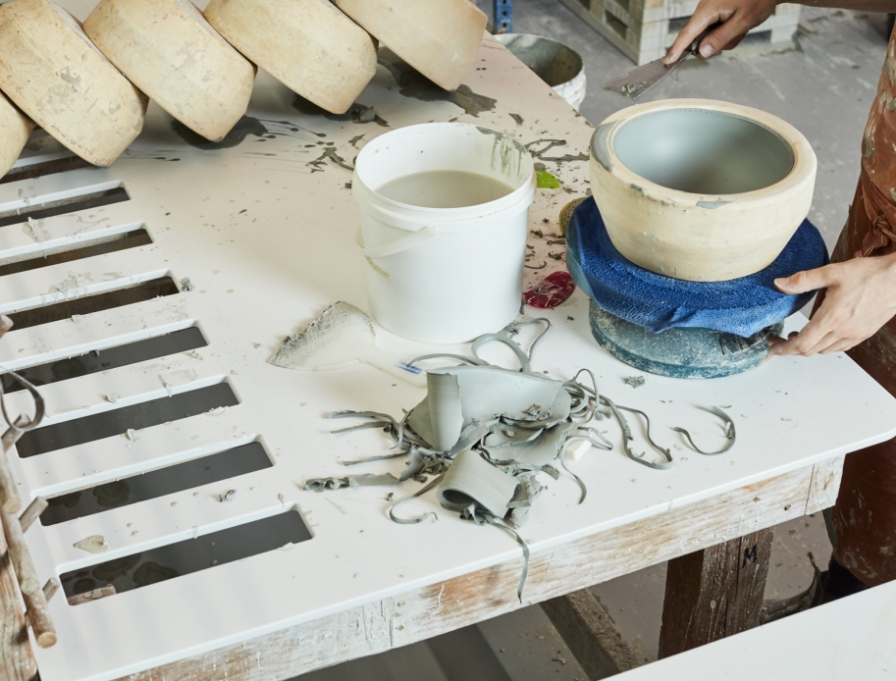 DesignOffice kept the palette simple to contrast the muted colours of the Laminex cabinetry and compliment the Mud range beautifully, but with 66 colours available in marble, stone and textural concretes, plus bold and poppy hues, including a broad selection of whites and neutrals the world is your oyster. Let your imagination run wild.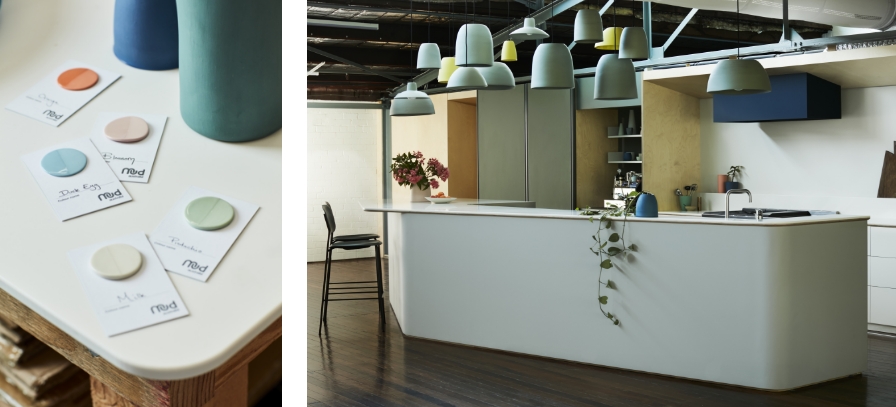 Built to last
Just like the Mud benchtop, HI-MACS is uniquely suited to kitchen and wet area applications where durability and a designers' keen eye for detail is required.
With no visible seams, HI-MACS surfaces come ready made for clean, efficient use. Non-porous, dirt and stain repellent, hygienic and resistant to a wide range of chemicals, HI-MACS' homogenous construction also makes scratches almost invisible, appearing no different to the surface and completely repairable. Great for high traffic and multi-use applications.
Durability and use can mean many things to different people but over the two floors of Mud Australia, the need to keep materiality and the design language on message is just as important as its need for endurance. Along with the 8-metre kitchen island, all workshop benches have been custom fit with HI-MACS, enabling bespoke features and edging. More importantly the daily routine of the ceramic business is met with ease, the slap of clay and the repeated actions of makers is met as easily as it is upstairs in the kitchen.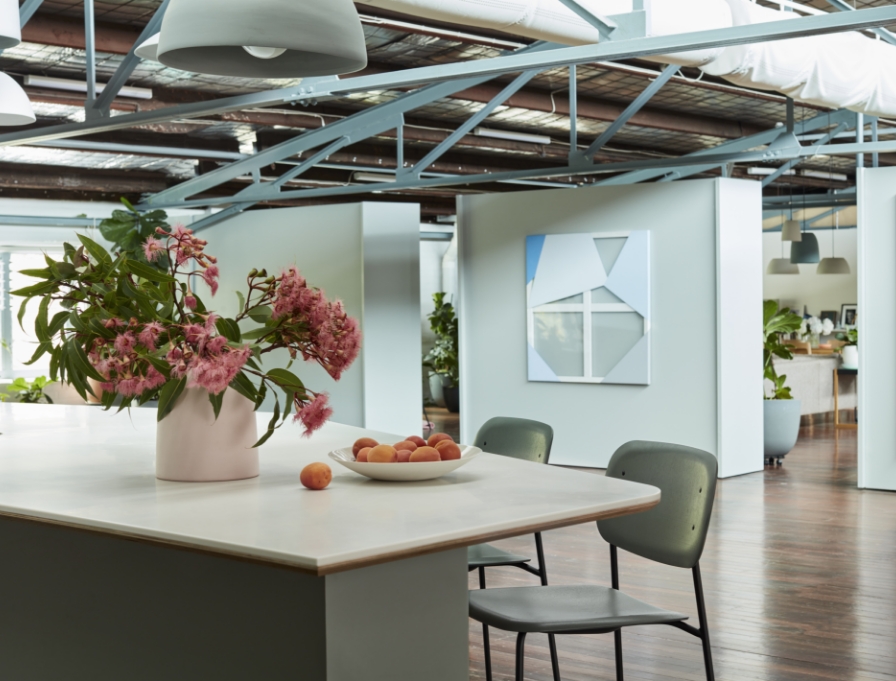 HI-MACS has a flexibility unlike many other materials. Seamlessly join with our range of sinks and basins to create homogenous designs and areas – with non-porous, 100% waterproof and scratch resistant qualities, HI-MACS can be used in commercial and public health related fields. It's ability to be thermoformed opens up unlimited potential and possibilities, particularly amazing when considering an internal radius of just 6mm.
Don't let convention stand in the way, certain colours and thicknesses of HI-MACS can create translucent panels while it's composition can be formed and integrated into large areas without visible joints or seams to create one-off desks and benches, stairs and wall features.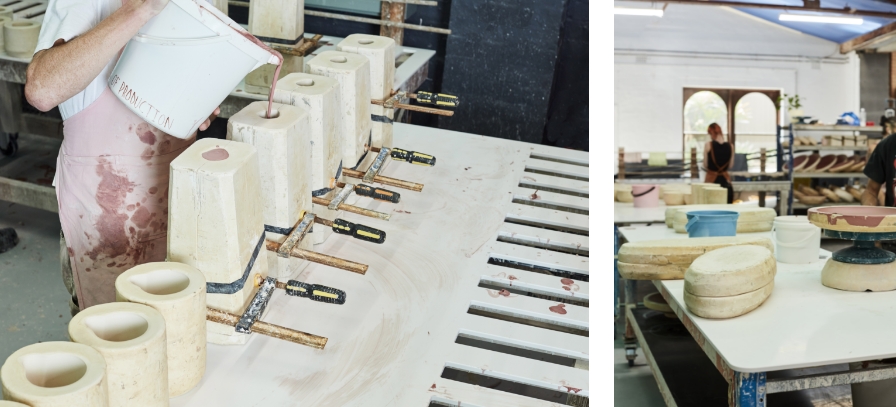 Mud Australia's new facilities, multipurpose workspace and home has been the perfect chance to see HI-MACS in action, showcasing this amazing material's ability to thrive in a busy, working environment. Its customisable and design-flexible characteristics, along with its water-proof and scratch resistant features make it ideal for commercial and wet areas, while it's thermoformable ability to create unique three-dimensional shapes makes it ideal for creating one-off responses to challenging briefs.
Learn more about HI-MACS Acrylic Solid Surfaces.
Mud Australia Products
Kitchen Island: HI-MACS Alpine White Benchtop and Laminex AbsoluteMatte Pewter Base.
Kitchen Joinery: Laminex AbsoluteMatte Green Slate Doors & Drawers, Laminex Surf Cabinetry, Laminex AbsoluteMatte French Navy Rangehood and HI-MACS Alpine White Benchtop.
Workshop Tabletops: HI-MACS Alpine White.
Office Wall Panelling: Laminex AbsoluteMatte Green Slate.
Contributors
Design: DesignOffice
Photography: Prue Ros Ruscoe
Styling: Kerrie-Ann Jones