The spa-like ambience of this Sydney office's end-of-trip facility encourages staff to exercise in their lunch breaks, and to ride, run or walk to work.
Many of the latest developments in workplace design come out of our growing understanding of the interdependence between physical and mental wellbeing and productivity. We see office layouts that provide different environments to support different modes of working, greater access to natural light and a proliferation of indoor plants. And just as importantly, we see more attention given to end-of-trip facilities. Because well-designed, accessible showers and changerooms make it easier for workers to exercise in their lunch breaks, and to ride, run or walk to work. This is certainly the case at Pinnacle, a business park in Sydney's Macquarie Park, where property owner Goodman engaged InOne Projects to expand and redesign their existing end-of-trip space.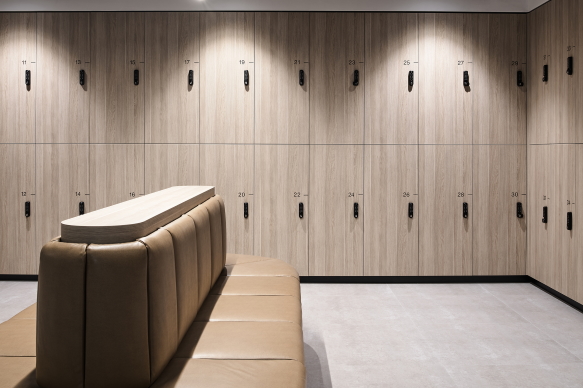 "The design intent was to give the staff members more of a spa feel, so when they walk through, it's like an escape from the office and their work environment."
Emma Murray – Interior Designer at InOne Projects
The layout is simple and feels spacious, but it's the carefully considered materials palette here that makes it genuinely feel like a luxury retreat. There are large-format floor tiles, smaller feature wall tiles, benchtops in concrete-look engineered stone and in the centre of the lobby, an elegantly curved tan-upholstered bench seat. And all around, the honey-toned woodgrain of Laminex Classic Oak. It's been used for all of the partitions and all of the cabinetry, including the lockers in the lobby, which create the effect of continuous walls of timber, enveloping the space with warmth, beauty and feelings of connection to nature.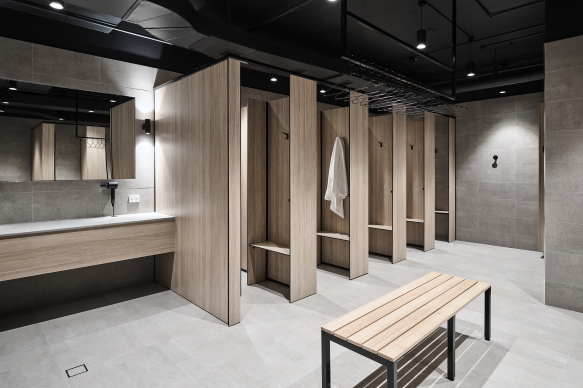 "We went with strong Laminex materials because it will get a bit knocked about as an end-of-trip facility. And it's really easy to keep clean as well, especially important in this day and age with coronavirus."
Emma Murray – Interior Designer at InOne Projects
The palette very successfully fulfils the client's brief for a "spa-like" ambience, and it also dovetails with the predominantly neutral colours and natural textures introduced elsewhere in the building, as part of a recent shift from a much more vibrant colour scheme. But just as importantly, it features materials that will stand up to the rugged treatment and exposure to water that is inevitable in such a facility. Satisfying both of these imperatives, for aesthetics and durability, was made much easier by being able to specify Laminex Classic Oak across different products matched to different applications – specifically, Laminex Compact Laminate for all shower and toilet partitions, Laminex Lamiwood MR for cabinetry and Laminex high-pressure laminate for the cold-formed curved base of the bench seat. So now, the workers have a beautiful and hardwearing place to shower and change. And one less excuse for not getting more active!