$0.00
ex GST and Shipping
You can order a maximum of free samples in a single order.

Black

No Finish

Black

No Finish
HI-MACS®
---
HI-MACS® Adhesives have been developed specifically for use with HI-MACS Sheets.

HI-MACS Black Adhesive has been expertly colour matched and approved for use with the following HI-MACS sheets:
G010 Black Pearl
P004 Perna Black

added to your favourites

removed from favourites
Log in to add
HI-MACS Adh 45ml Black
to a project
Please note, Add to Project is only available for Specifier/Architect users at the moment.
Laminex® has been part of Australian life for more than 85 years. Our commitment to design, innovation, quality and sustainability endures. That's why we continue to produce a beautifully curated collection of decorative surfaces. They're perfect for a wide range of styles and applications, and are designed to stand up to the rigours of everyday life.
Are you a Laminex Trade customer?
Login to your account to see pricing, availability and make purchases online.
Filters
---
[+] EXPAND ALL
[-] COLLAPSE ALL
HI-MACS Adhesives
HI-MACS Adhesive 45ml Black H07
Select the Technical Data document to download below.

HI-MACS®
Colour Code: AH07
HI-MACS®
Colour Code: AH07
You can order a maximum of free samples in a single order.
$0.00 ex GST and Shipping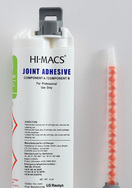 HI-MACS®
LG HI-MACS Black HI-MACS Adhesive
COLOUR CODE: AH07
Please be aware that once your order is placed, orders can only be changed or updated via the Customer Service team by phone at 132 136 or via online chat.
Please select your delivery method.
Important note: Only 1 delivery method or address can be selected per order. The delivery method and/or address you select will be applied to all products in your cart, please be aware that changing your delivery method/address may change the availability dates of the products already in your cart.