A new holiday destination on Victoria's Phillip Island makes beautiful use of a refined, natural material palette and a hand-picked selection of Laminex decors.
Katie Lamaro and husband Rom had already built their dream home at Smiths Beach on Phillip Island, south of Melbourne, but were on the lookout for somewhere they could grow their own food, when a local real estate agent suggested they inspect a five-acre micro-farm not far from the island's famous Penguin Parade. "It had two run-down 80s brick veneer residences on it," Lamaro says, "but as soon as we walked onto the property, we knew it was perfect." The couple have a background in hotels and hospitality, and Rom is a carpenter, so they quickly realised that their new block of land held potential for more than just small-scale agriculture. Working with building designers Onsite Design and interior designer Belle Hemming from Belle Bright Project, they set about reimagining the property as luxury short-term accommodation destination Five Acres. You can explore the property in a video produced with The Local Project, featured below, or scroll down to read the full story.
"The ultimate goal for us was to create something that we would love to go and stay at. We wanted to have the feel of a cabin yet still pay homage to the quintessential beach shacks, which are scattered all over Phillip Island."
Rom Lamaro – Co-owner, Five Acres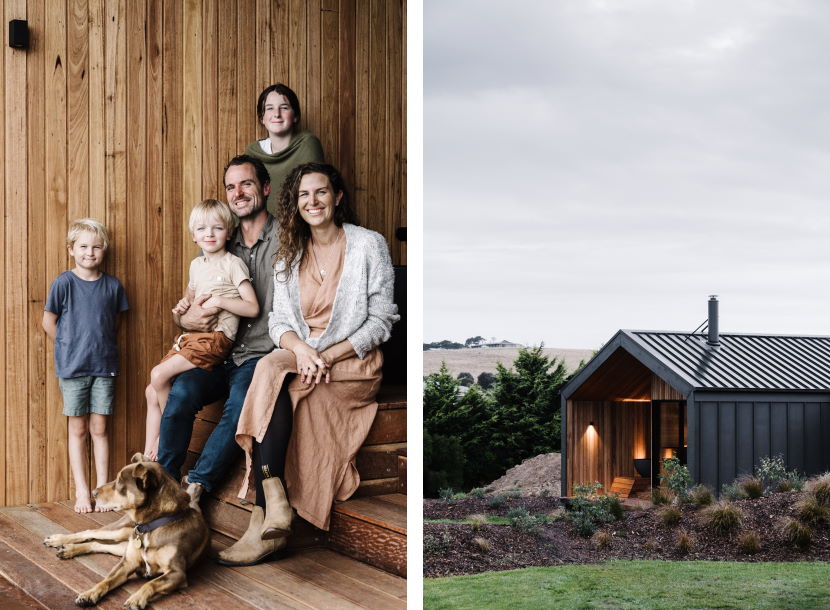 The original farmhouses were knocked down and replaced with three cabins – Barley, Clover and Rye – constructed with the help of Rom's brother's building company, Lamaro Homes. Each cabin may only measure 54 square metres, but they feel incredibly spacious, with plenty of seating options, natural light and ventilation, and a split-level plan that creates a sense of separation between living and sleeping zones. The interior walls and ceilings are clad in honey-coloured Tasmanian oak board, with different colour accents lending the cabins their own distinct personalities. This plays out in each kitchenette with a different Laminex decor.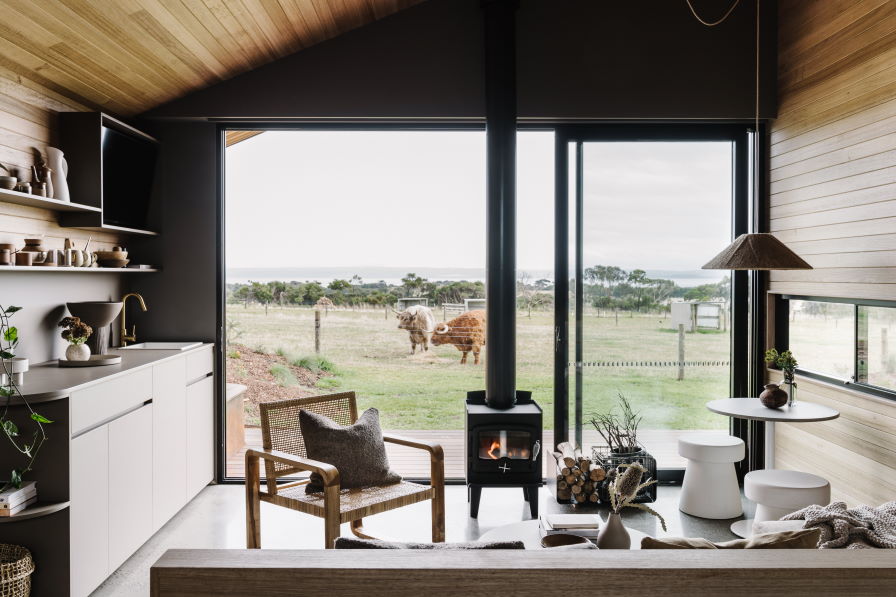 "Laminex decors are warm and inviting, and clearly very well selected to mix and match with a huge array of other wall and floor finishes and colours."
Katie Lamaro – Co-owner, Five Acres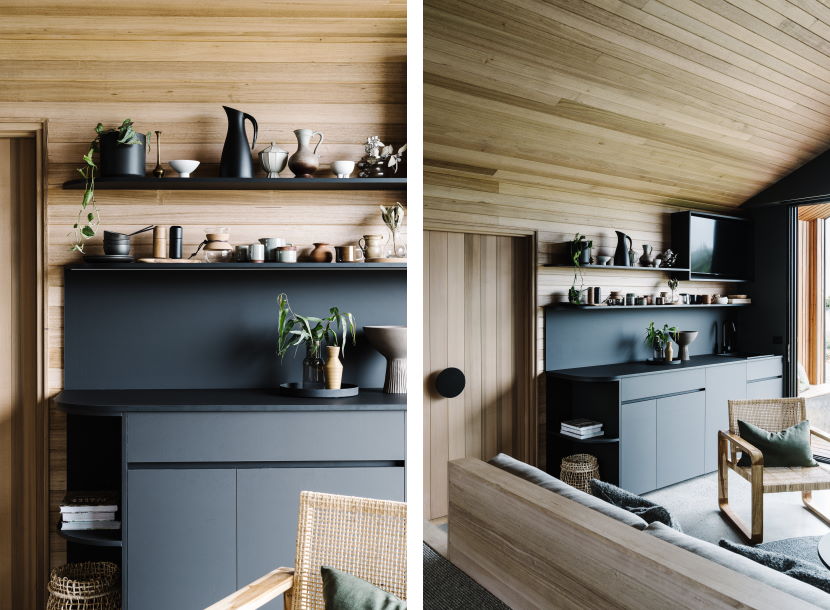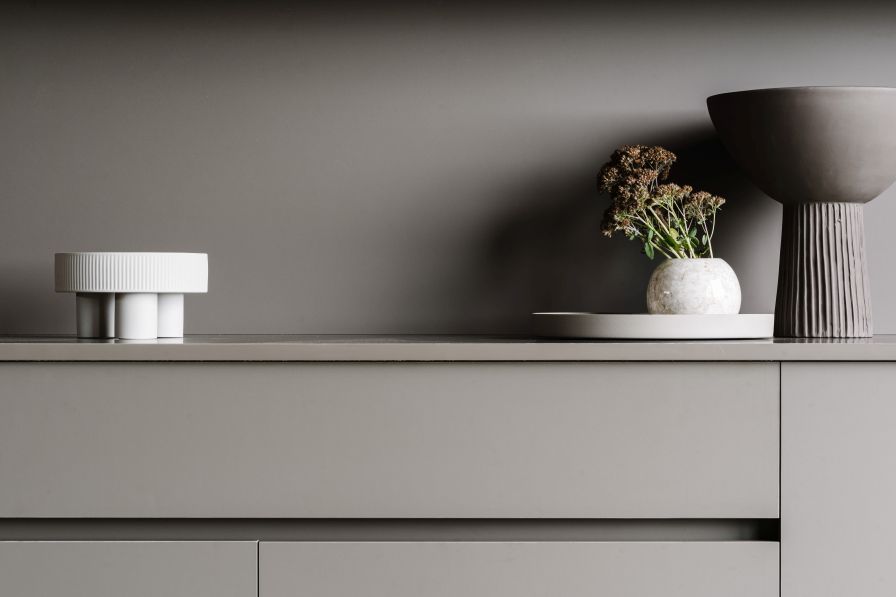 As Lamaro explains, "The aim was for a refined yet pared-back luxury aesthetic, so we chose the same quality finish but in different decors. We wanted the cabins to feel 'earthy' because Rom and I have always tended towards less 'shiny' objects. When Belle showed us the AbsoluteMatte product we decided to use it immediately." Clover's kitchenette makes a dark, moody statement with AbsoluteMatte Black, while the use of warm green AbsoluteMatte Green Slate gives Rye a look that's fresh but still cosy. Barley's kitchenette uses mid-tone brown Laminex Earth, lending it a warm, grounding ambience. In each case, the featured decor works beautifully with the Tasmanian oak and polished concrete flooring, creating a natural-feeling material palette highly sympathetic to the surroundings. The particular affinity between the AbsoluteMatte surfaces and the Phillip Island landscape is no coincidence, as the product was designed and manufactured by Laminex right here in Australia.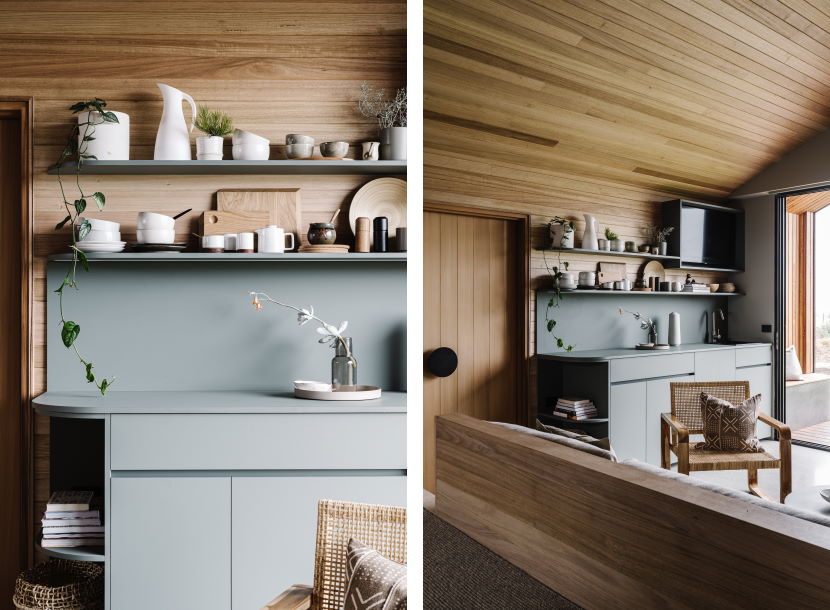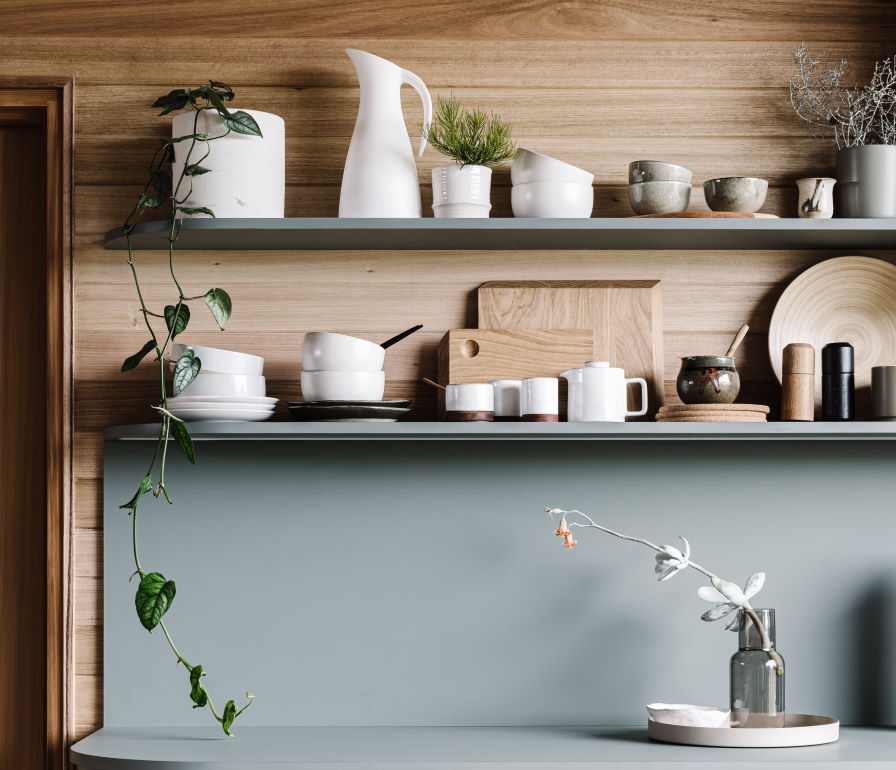 "What I'm most proud of is the compliments I get when people have visited the space, saying how you just want to linger, you just want to relax, you just want to unwind and not go anywhere else."
Belle Hemming – Interior Designer, Belle Bright Project
Undoubtedly, the cabins' sensual, highly textural materiality makes them as warm and welcoming as they are sophisticated. And Lamaro says that she especially loves the subdued nature of the neutral tones and how their colour-blocked application elevates the kitchenettes' joinery to look more like bespoke furniture. It was also important that the kitchenette surfaces be hardwearing and easy to clean, and the Laminex products certainly deliver there. Yet, one more consideration had to be covered off, and happily, it has been, with the Five Acres micro-farm now boasting an orchard and vegetable gardens. So the Lamaros have a place for sustainable food production and their guests enjoy an even more idyllic setting for a luxury weekends away!
Learn more about Five Acres and book your stay here
Contributors
Interior Design: Belle Bright Project
Design: Mitch Bagley from Onsite Design
Builder: Lamaro Homes
Cabinetry: South Coast Kitchens
Photography: Marnie Hawson
Video: The Local Project