The Fantales Kitchen by YSG

A warm, enveloping space layered with rich colour, subtle textural shifts and finely crafted, contrasting woodgrains.
We can easily describe how a colour looks, but when it's applied to an interior, in a carefully curated material palette, it's true power is in how it makes us feel. Particularly in our kitchens, where we spend so much of our time, and never more so than now, as our homes have become for many of us places to live, work and play. This idea is central to the design philosophy of YSG, whose interiors regularly use bold combinations of colour and texture for emotive impact. "My end goal is always about evoking feelings rather than a fixed visual conclusion," explains studio founder and Principal Yasmine Ghoniem. Given full run of the Laminex Colour Collection to design this spacious kitchen, she was immediately drawn to two sumptuous new Laminex decors, red-orange Burnt Ochre and blackened-red Moroccan Clay.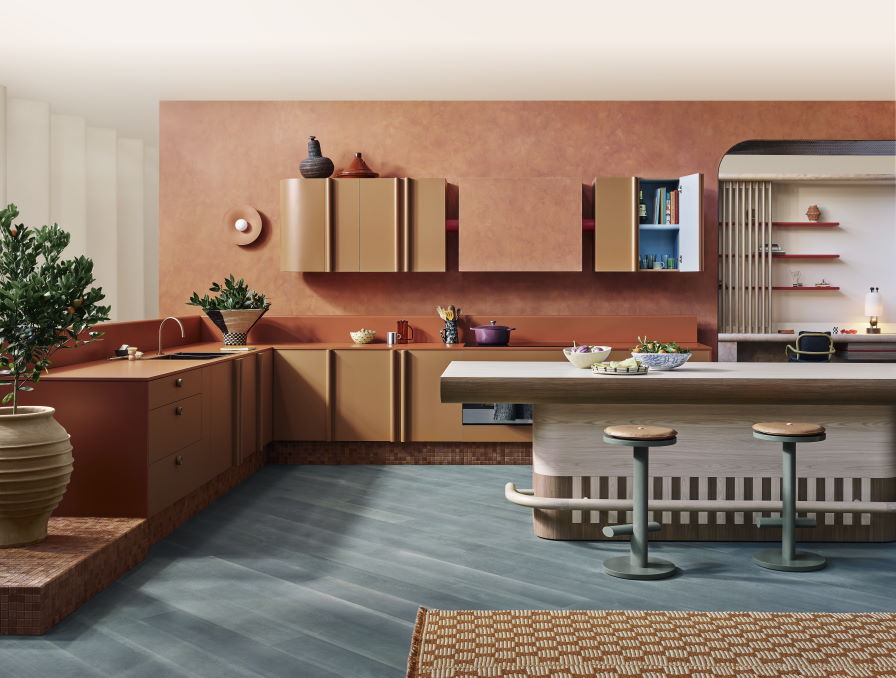 "I wanted to capture the essence of 'afternoon delight', that warm, cosy time of day when the sun filters into the home and there's nowhere else you'd rather be, because the world seems to stop in that golden moment."
Yasmine Ghoniem – Principal at YSG
Laminex Burnt Ochre features across all of the kitchen's vertical cabinetry surfaces. With linear door pulls crafted from the same decor, post-formed over curved MDF, and one end of the overhead cabinetry cold-formed into another sweeping curve, it creates a near-seamless flow of rich colour. The rear benchtop and splashback, made with Laminex Moroccan Clay, provides a shift in hue but with a very close tonal intensity to the cabinetry. And the wall behind is painted in a similar warm colour, with a mottled finish. The overall effect is enveloping and immersive. As Ghoniem describes it, "like being dipped into a pot of sweet, warm caramel!"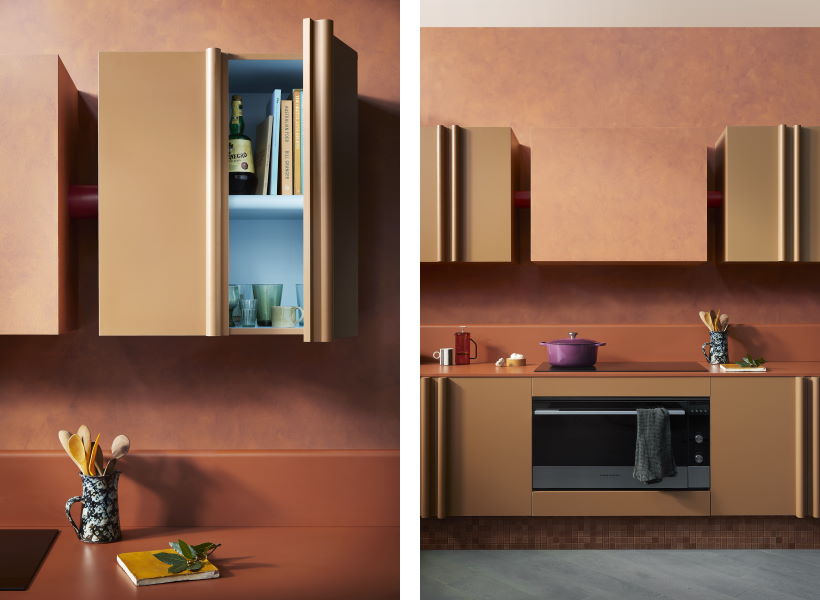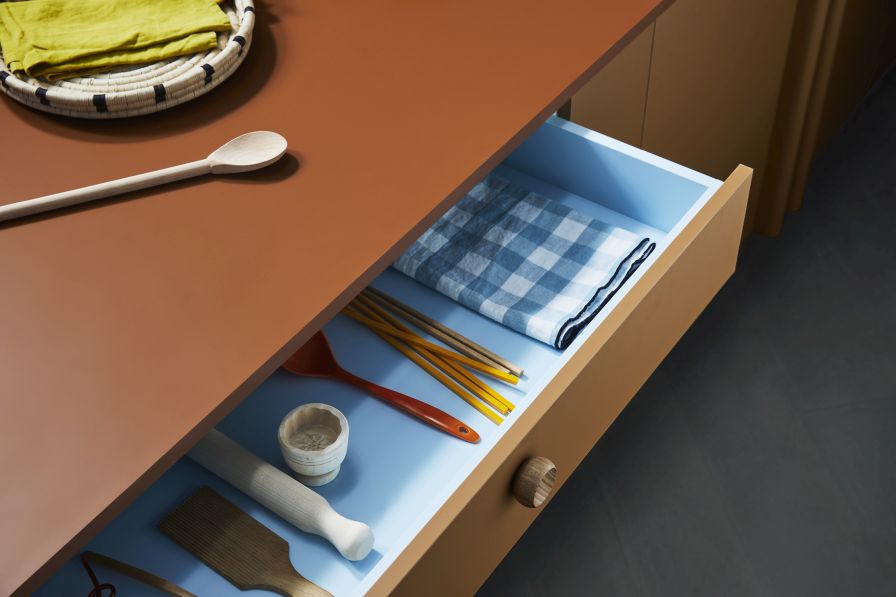 This 'wall of caramel' wraps around two sides of the kitchen. It accommodates the sink, oven and cooktop, integrated fridge and plenty of storage, leaving room at the centre of the space for an island bench quite unlike anything you might've seen. Finely crafted from two Laminex woodgrain decors, dark Danish Walnut and pale Milkwood, the island sits on a curved base, with a curved, cantilevered benchtop. The contrast between the two woodgrains is highlighted by an inlaid stripe pattern along the bottom of the base, but also in the specification of different finishes – Laminex Milkwood in smooth Natural finish and Danish Walnut in low-gloss Chalk finish, which replicates the natural look and feel of raw timber veneer. So the effect is tactile as well as visual, and on a design element that's touched frequently in everyday use, it's an important consideration. Complemented by a beautiful footrail fabricated from solid timber, the juxtaposition of woodgrain textures creates an impression closer to a handcrafted piece of furniture than a standard island bench.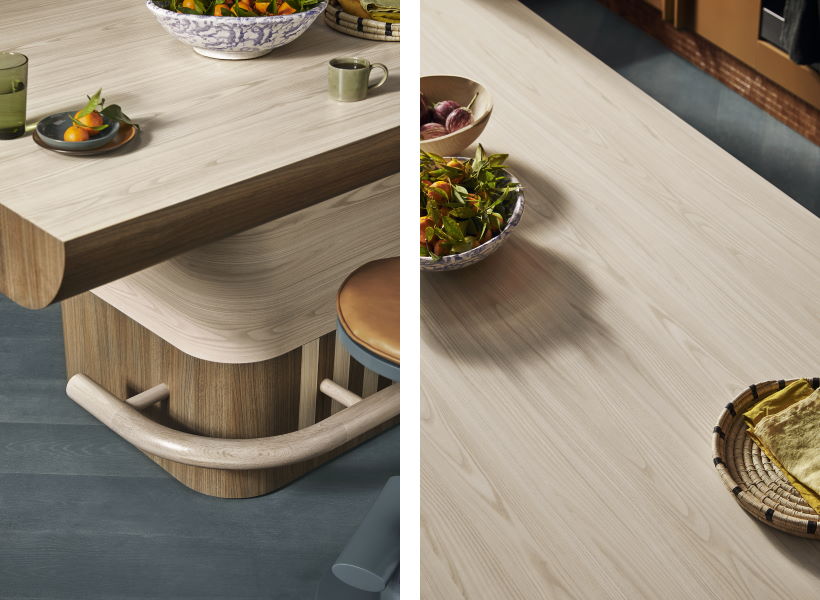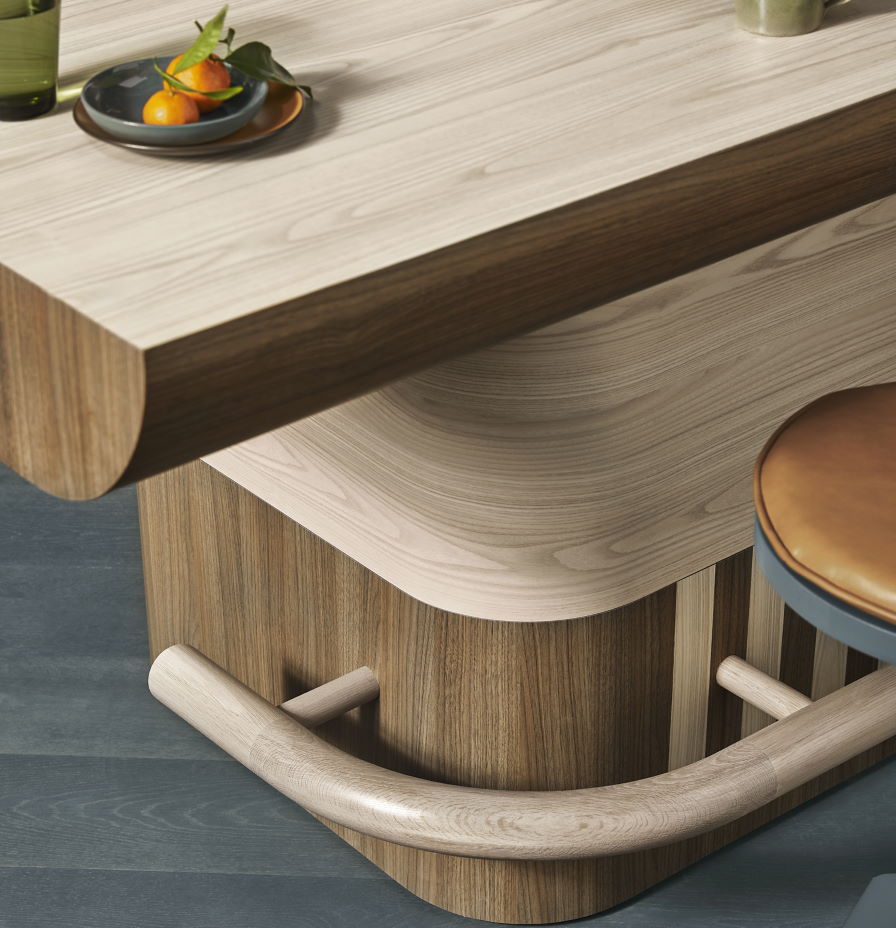 "Texture is a huge component in any really considered palette," says Ghoniem, and it plays out here in many different ways. There's the woodgrain pattern of the Laminex decors, of course, and the subtle shift between the Chalk and Natural finishes. There's that mottled wall paint. But then, subtle tile applications, to the kicker along the base of the cabinetry, and lining the open archway that leads through to the adjoining living space. And on the floor, timber boards laid diagonally and tinted with a green wash reminiscent of eucalypts and other native flora.
These material interventions are matched by smaller pops of colour, which serve to balance the kitchen's cocoon-like warmth. Flashes of brilliant red paint, for example, in the gaps between the overhead cabinetry and rangehood. And internal cabinetry surfaces in gentle blue Laminex Fresh Spring. The latter appears in the overhead cabinetry as well as a block of tower cabinetry near the fridge. The shelves in both locations feature an extra-thick bullnose profile created by post-forming high-pressure laminate (HPL). They make a particularly strong impact in the tower cabinetry, where their pale tone provides strong contrast against panels in Laminex Moroccan Clay and doors in Laminex Danish Walnut.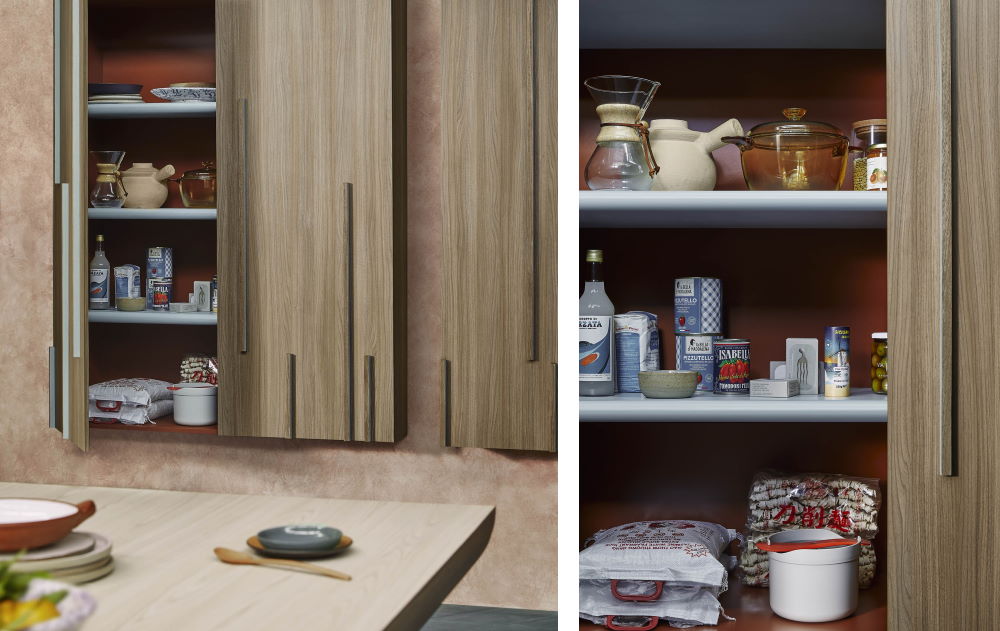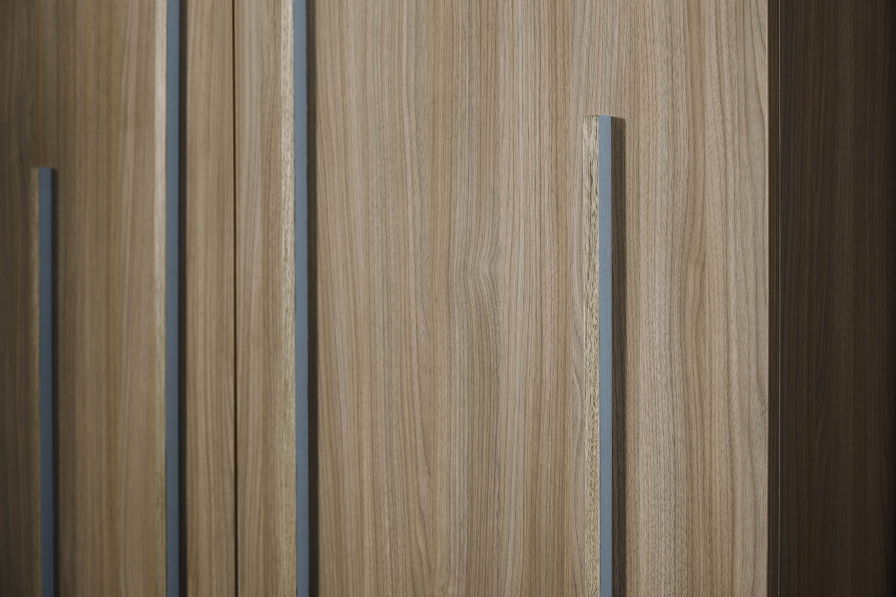 "It's like looking at a painting, flat on, going, "oh, it needs a bit of red out here in the corner'. That's literally how I look at an interior, more like a piece of art. You're placing the colours where you think your eye's going to jump next."
Yasmine Ghoniem – Principal at YSG
Ghoniem talks about the influence of painter Mark Rothko on this interior, reimagining the familiar interior design strategy of colour blocking as "colour fields" where multilayered tonal combinations and contrasts drive strong emotional reactions. The impact is undeniable. But the intriguing flipside to this approach is that the same interior palette can be applied differently, to achieve a different feeling. And that's what Ghoniem has done in the adjoining living area, creating flow and connection through a shared material palette while designing a space with a quite distinct character. One that will be shared here soon!
The Fantales Kitchen palette
The Fantales Kitchen products
Base, overhead cabinetry and custom handles: Laminex Burnt Ochre Natural finish
Benchtop and curved splashback: Laminex Moroccan Clay Natural finish
Island: Laminex Danish Walnut Chalk finish and Laminex Milkwood Natural finish
Integrated fridge: Laminex Porcelain Blush Natural Finish
Tower cabinetry: Laminex Danish Walnut Chalk finish, Laminex Moroccan Clay Natural finish and Laminex Fresh Spring Natural finish
Tiled kicker: Artedomus Vixel N.47 for kickers
Kitchen base cabinetry handles: In Teria
Sink: Oliveri
Tap: Astra Walker
Contributors
Design: YSG Studio
Photographer: Derek Swalwell
Stylist: Natalie James
Creative Direction: Ortolan
Editorial Consultant: Infinite Shapes
Videography: Sirap
Island fabrication: Evolve Interiors