$0.00
ex GST and Shipping
You can order a maximum of free samples in a single order.

Introducing Laminex x Kennedy Nolan
A collaboration with one of Australia's most creative architecture practices.
Laminex has collaborated with respected Melbourne architects Kennedy Nolan to design three contemporary spaces – two residential kitchens and a commercial space – that demonstrate the beauty and functionality of Laminex® laminate.
Kennedy Nolan are no strangers to working with laminate and for this project they were given full creative licence to explore its innate design flexibility - how it can be formed into curves, cut into shapes and patterns and layered with other materials - across the extraordinary spectrum of colour and texture in the Laminex Colour Collection..
In keeping with Kennedy Nolan's philosophy of delivering highly individual designs that respond to the specific requirements of client and context, these spaces have a truly unique and compelling character. They're beautiful and practical, with moments of surprise and delight intended to elevate the everyday, breathing life into the architects' assertion that "the design and arrangement of spaces can support and reinforce relationships, can add piquancy and zest to life". The designs by Kennedy Nolan will inspire architects, designers and homeowners alike and show you how you can realise your boldest interior design ambitions with the Laminex Colour Collection.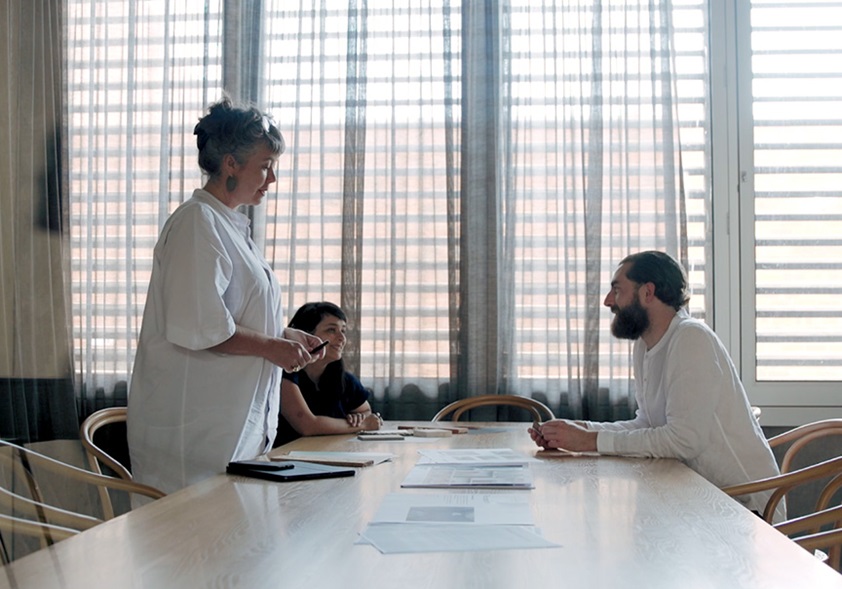 The first design we shared is the Expansive Kitchen, a flexible space where people can cook, eat, work and socialise, characterised by sculptural curved surfaces and a sophisticated, timeless palette of warm neutrals. The second is Workplace, a contemporary commercial space that celebrates laminate's inherent design flexibility with an energising mix of colours, curved surfaces and natural woodgrain texture. And the third is the Studio Kitchen, perfect inspiration for small houses and apartments, offering incredible functionality within a small footprint, and resplendent with rich colour and luxurious Laminex AbsoluteMatte finishes.
---
Contributors
Architects: Kennedy Nolan
Art Direction: Ortolan
Photographer: Derek Swalwell
Editorial Consultant: Infinite Shapes
Stylist: Natalie James
Videography: Sirap
Island benchtop fabrication: Evolve Interiors