$0.00
ex GST and Shipping
You can order a maximum of free samples in a single order.
Designing with Laminex Woodgrains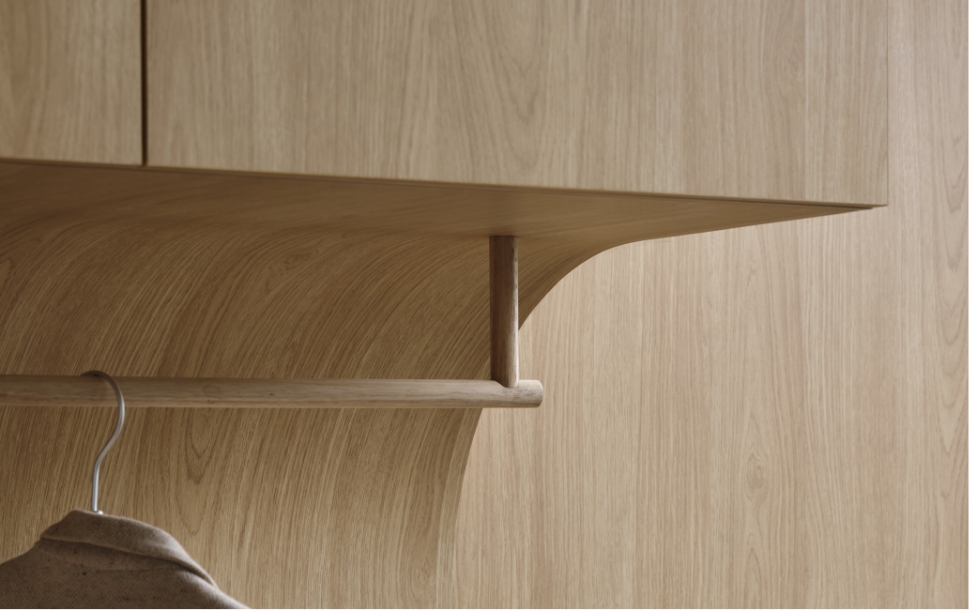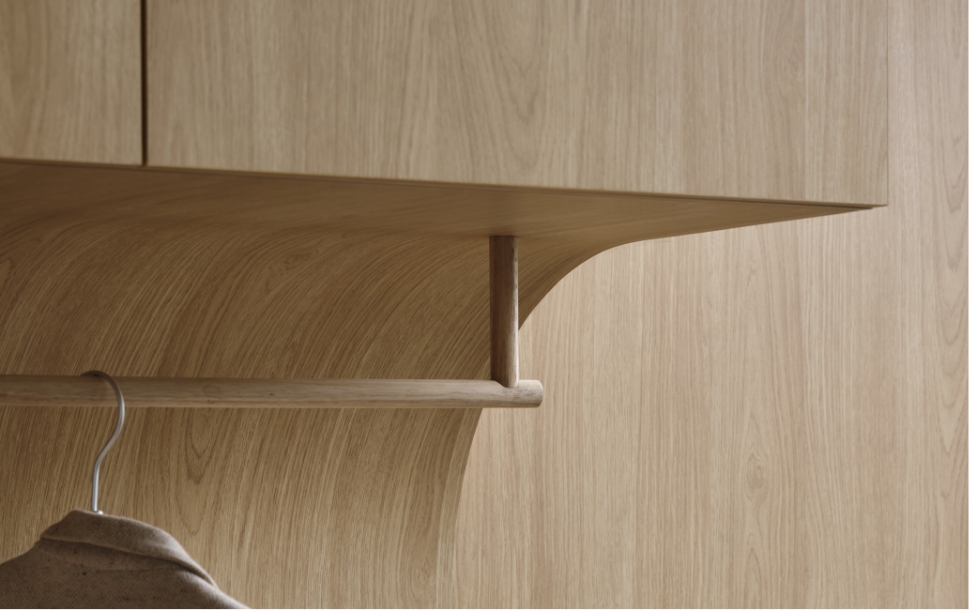 Woodgrains are what makes this collaboration sing and it's the unexpected mix that deliver a truly surprising result that asks you to look twice to see its subtle brilliance.
Working with the Laminex Colour Collection provides designers and specifiers an incredible range of colours and finishes that promise durability and strength. With the benefit of extensive research and development, Laminex woodgrains deliver sophisticated natural textures, design flexibility and the same permanency and hard-wearing characteristics of Laminex laminate range.
Diving into the Laminex Colour Collection, CJH Studio was tasked with producing four rooms that captured and showcased their signature warmth and creative joinery. Featuring bull nose benches with tight radii, curved shelves, and bulkheads in generous convex and concave forms, Cassie James-Herrick and her team explored the full potential of the Laminex Woodgrain collection.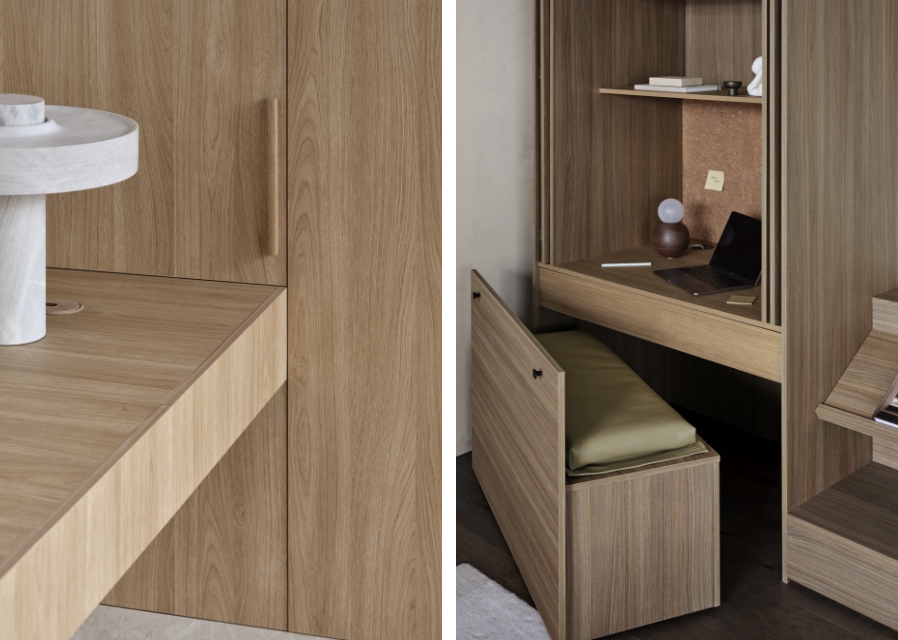 Alternating grains, finishes and technique for maximum impact
Several finishes and techniques have been creatively employed in the execution of this project. Far from the use of Low-Pressure Melamine (LPM) for doors and panels, CJH Studio explored the full range of possibilities at their disposal, utilising all the benefits and techniques Laminex can offer. Mixing different woodgrains to create drama and separation through colour, tone and texture became strong design motifs, as seen on the kitchen splashback shroud in Laminex Milkwood and in the pantry with Laminex Danish Walnut.
Alternating grain direction and placement introduced quiet variation to the living spaces and provides a wonderfully subtle contrast. Throughout the rooms, natural and chalk finishes have been used to achieve a raw and as close to nature feel. A clear advantage of Laminex Woodgrains is their ability to achieve a raw look without altering their colour through stains or treatments, but with all the inherent strength of laminate.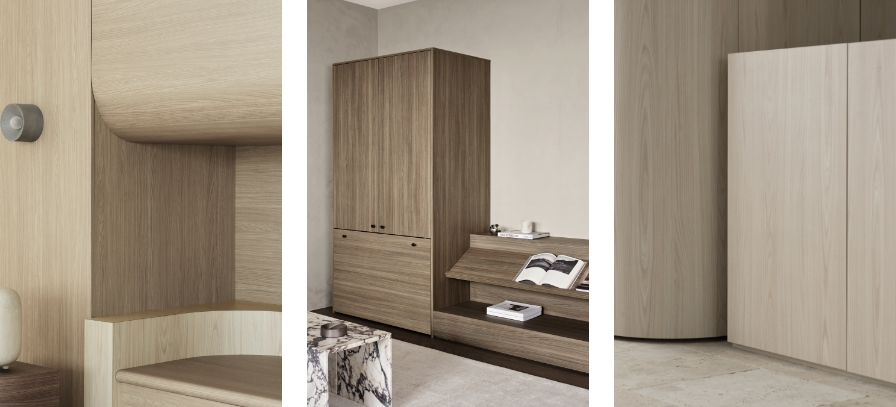 Hitting the curve with high pressure laminate
The kitchen bulkhead, splashback shroud and plinth, laundry returns, and arched wall of the wardrobe were cold formed using High Pressure Laminate (HPL). Curves such as these – anything 150mm or greater – fabrication of the form can be made from a curved substrate and the HPL adhered to the surface.
In the CJH Studios kitchen, a fun throwback to the old style or past limitations of post forming technology has been used in a deliberately retro sized, bullnose, benchtop detail in Laminex Aged Ash. Post forming is used where a tighter radius is required. This technique softens the HPL with heat in a post forming machine and is then adhered to the substrate of the required dimensions. Technological developments have meant a minimum external radius of 5mm can be achieved today for tighter, cleaner applications.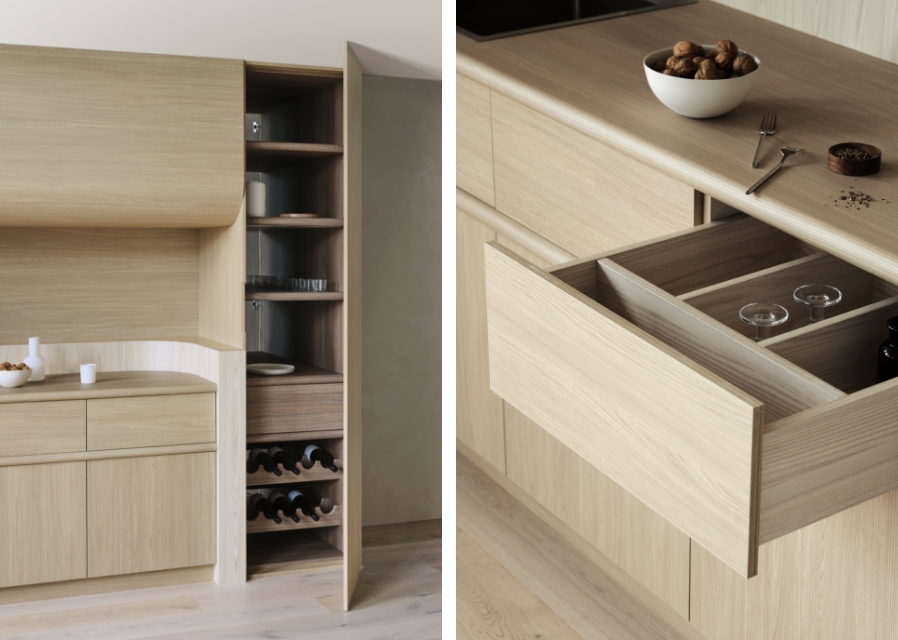 Continuous woodgrain
Modern expertise and equipment have enabled Laminex to create patterns of continuous woodgrain, their random placement affirming the natural effect to produce a more realistic look and feel. Finishes such as chalk, with its low reflectivity go one step further by providing authentic finishes akin to raw veneer, reinforcing the emotional connection we strive for in materials and design. Like all Laminex laminates it is UV and stain resistant easing any fears of damage, colour variation or matching issues like those found in real veneer.
Full height panels and cupboards are finished without seams or repeat and feature consistently throughout the project. Flat panels have been made using prefinished boards, further reducing cost and waste.
In creating a space like CJH Studio's, working with an experienced cabinet maker is essential, but by speaking with Laminex and quality tradespeople, achieving small moments that generate emotional responses and push design is the first step to a great home and better living.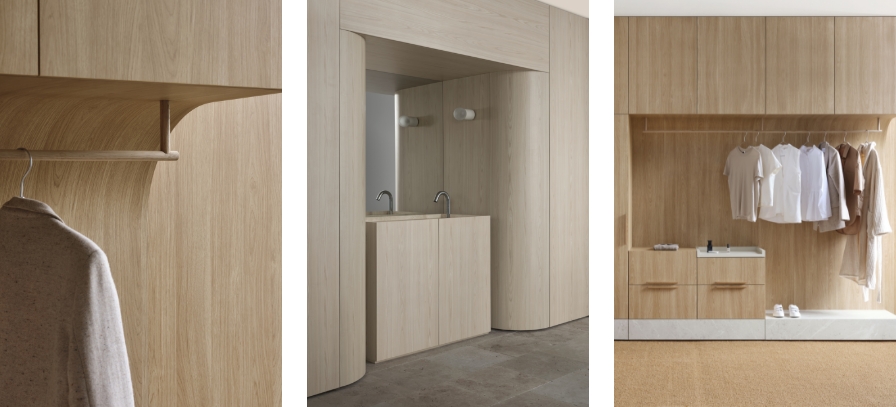 You can order a maximum of free samples in a single order.
$0.00 ex GST and Shipping
---
Contributors
Design & Art Direction: CJH Studio for Laminex
Styling: Bek Sheppard
Photography: James Geer
Featured in these designs
Kitchen
Laminex Aged Ash, Chalk finish – Cabinetry and Benchtop
Laminex Milkwood – Splashback and Drawer Interiors
Laminex Danish Walnut, Chalk finish – Plinth and Pantry Interior (Shelves)
Laminex Mirror Smoke – Pantry Interior (Back Panel)
Wardrobe
Laminex Elegant Oak, Chalk & Natural finish – Cabinetry
Laminex Catalana Marble – Bottom Drawers
Laminex Raw Cotton – Dressing Station and Tray
Living
Laminex Danish Walnut, Chalk finish – Cabinetry
Laminex Sublime Teak, Chalk finish – Desk Joinery
Laminex Mirror Smoke – Bar Joinery
Bathroom
Laminex Milkwood – Joinery
Laminex French Cream – Laundry Joinery