$0.00
ex GST and Shipping
You can order a maximum of free samples in a single order.
Maximising the use of small spaces with smart design, clever cabinetry and integrated storage solutions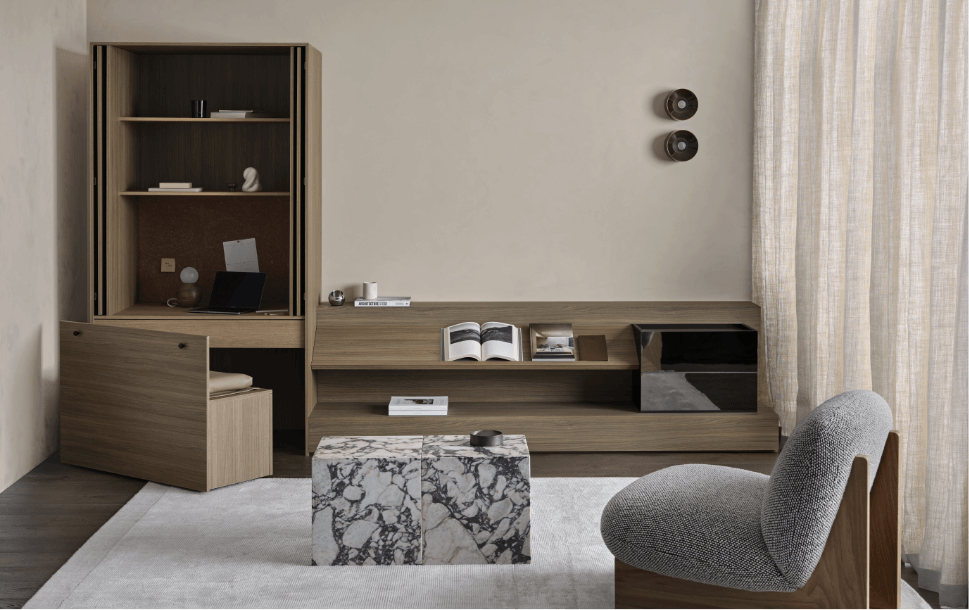 There is plenty to discover in the collaboration between Laminex and CJH Studio, the real key to success is how will you interpret them.
Cabinetry on double duty
Whether it be the living room or kitchen, all closed up CJH Studio's spaces are a minimalist dream. They conceal their secrets and clever ideas till absolutely necessary, never distracting from their clean aesthetic.
In the living room, that might be the bar at the end of the bookcase or in the wardrobe's make-up station; smart solutions abound, creating interest both when in use and not.
When designing your space think about how it will be used, do things need to be on display all the time or can they be concealed to create quiet, reflective areas?
Make your cabinetry work double-time by designing benches as bookcases, study nooks as cupboards, or shoe storage into your wardrobe plinth. Whatever you do, make your designs work double time.
Make it to suit
"That's the thing about Laminex. It can be made to suit," says James-Herrick, "it doesn't matter if your space is small. Use it to your advantage."
Making your spaces work for you need not be all utilitarian and function. While essential, form is just as important if you're going to achieve the room of your dreams. As James-Herrick says, it doesn't matter if your space is small, use the parameters to influence your design. Work off the door and window heights, existing walls, and boundaries to create lines of interest and consistency.
"Start with the function and push it different ways. In the living rooms, there was the bookcase. Do you want to store books or are they to be displayed? Is there another way we can do that? Think about the things you want to display and the things you want to conceal."
In the laundry, function tends to dictate a lot of design and Laminex is the perfect solution to high traffic areas such as this – scratch, stain and water resistant – or whatever your laundry can throw at it, but in CJH Studio's laundry interpretation, form doesn't over-rule function, but is by no means a wallflower.
Full height doors meet oversized curves in an abundance of Laminex Milkwood that guides you to the sink and hidden cabinetry.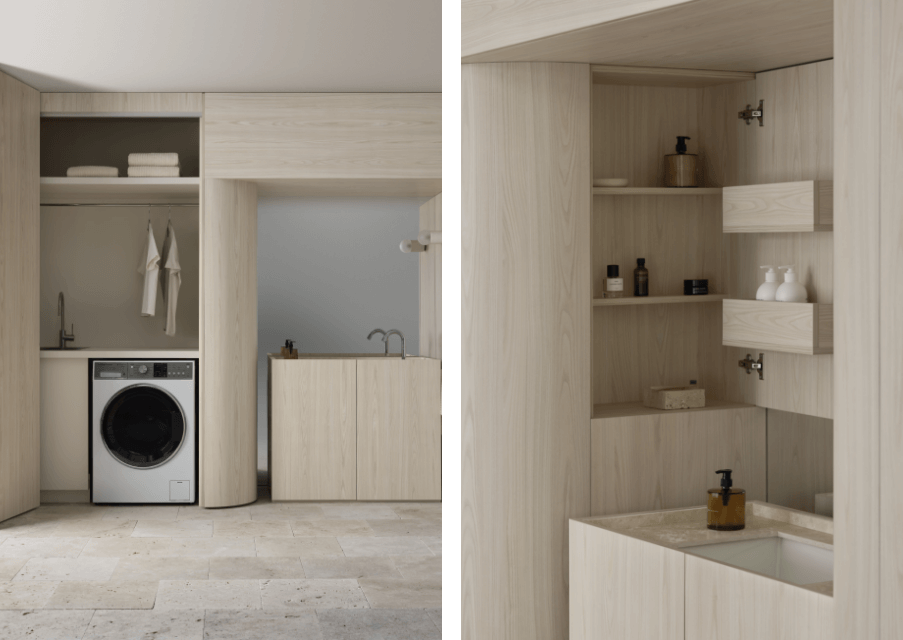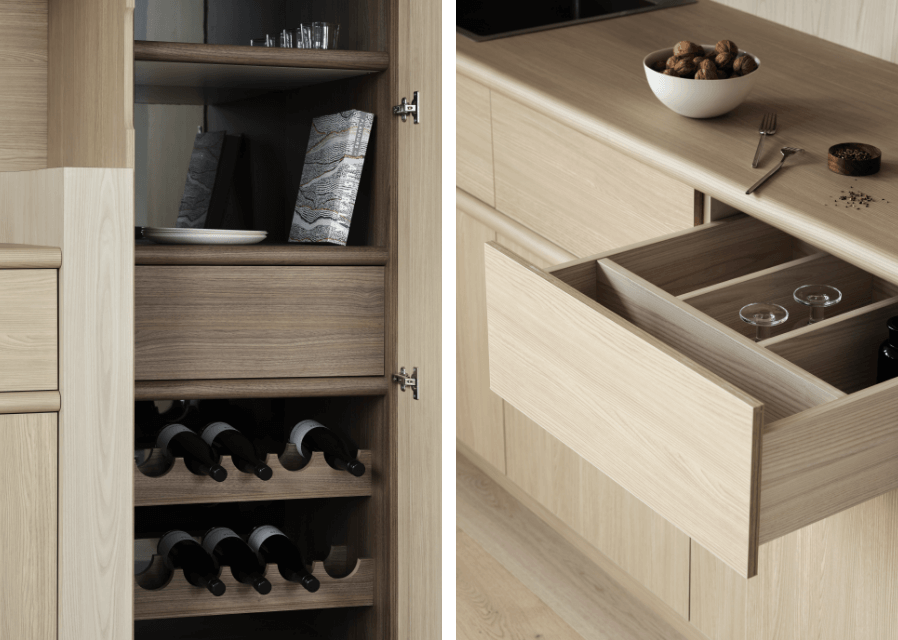 Integration is maximisation - Think like CJH Studio
Beautiful spaces succeed when good design is both useful and aesthetic.
Integrated storage is key in all CJH Studio's rooms. Smart doors and clever drawers maintain the purity of line and concept while still enabling the spaces to fulfil their practical duties.
As James-Herrick says, think about the things you want to show and those you want to conceal, letting that guide your design and layout, allowing their usage and placement to dictate your plans. Place the common and often used in reach while giving display pieces the attention and space they deserve.
The bar in the living room hides its purpose until opened, just as the wardrobe make-up desk does to facilitate quick getaways and easier cleaning. The same goes for the bathroom where an extra deep cavity inside the vanity conceals extra storage on the doors themselves using shelves to effectively double its capacity. All these solutions exist without compromising the goal of creating beautiful and clean spaces.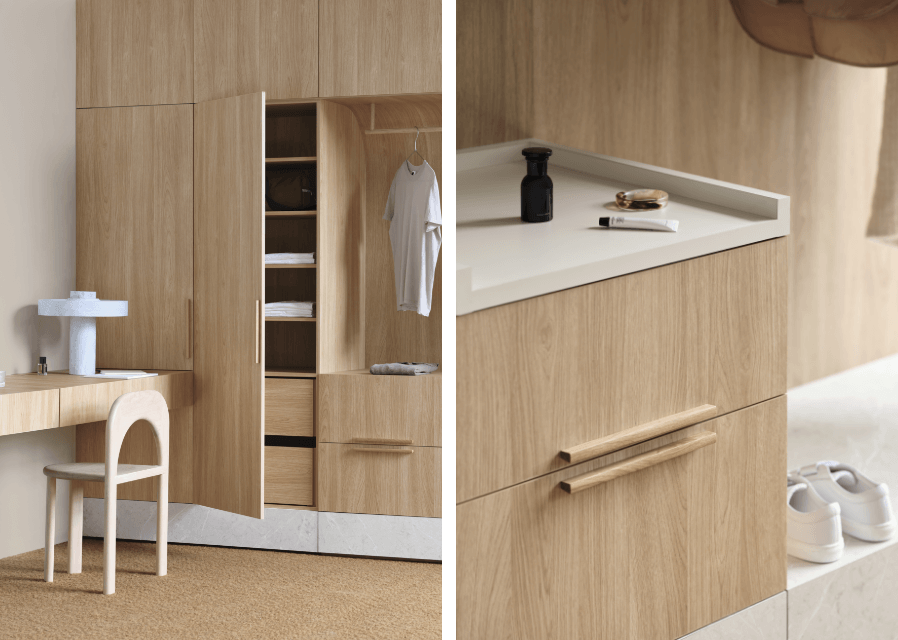 Contributors
Design: CJH Studio for Laminex
Styling: Bek Sheppard
Photography: James Geer
Featured in these designs
Kitchen
Laminex Aged Ash, Chalk finish - Cabinetry and Benchtop
Laminex Milkwood - Splashback and Drawer Interiors
Laminex Danish Walnut, Chalk finish - Plinth and Pantry Interior (Shelves)
Laminex Mirror Smoke - Pantry Interior (Back Panel)
Wardrobe
Laminex Elegant Oak, Chalk & Natural finish - Cabinetry
Laminex Catalana Marble - Bottom Drawers
Laminex Raw Cotton - Dressing Station and Tray
Living
Laminex Danish Walnut, Chalk finish - Cabinetry
Laminex Sublime Teak, Chalk finish - Desk Joinery
Laminex Mirror Smoke - Bar Joinery
Bathroom
Laminex Milkwood - Joinery
Laminex French Cream - Laundry Joinery