$0.00
ex GST and Shipping
You can order a maximum of free samples in a single order.
Laminex CustomArt®
Build customised, dynamic and ever-inspirational interiors.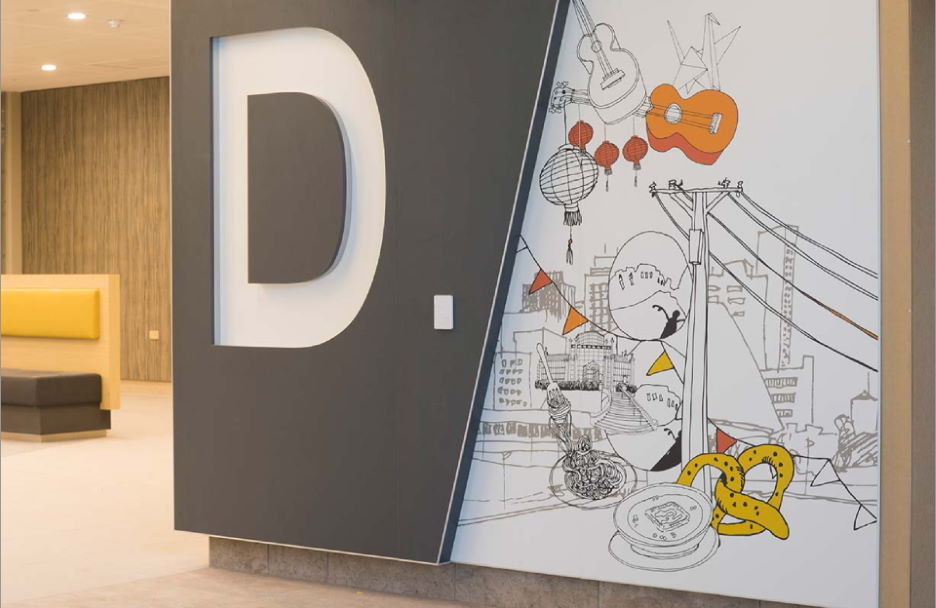 Custom Built Laminates

Laminex® CustomArt® surfaces help you build exciting, dynamic and ever-inspirational interiors. Made using our Australian-Manufactured Laminate, they are custom built to ensure you achieve your ideal vision. Perfect for just about any internal application, you can create your own unique palette or design printed on a durable surface allowing your office or commercial space to impress for years to come. So for eye catching doors, walls, tabletops, ceilings and more, explore the stunning possibilities with Laminex CustomArt® surfaces.
---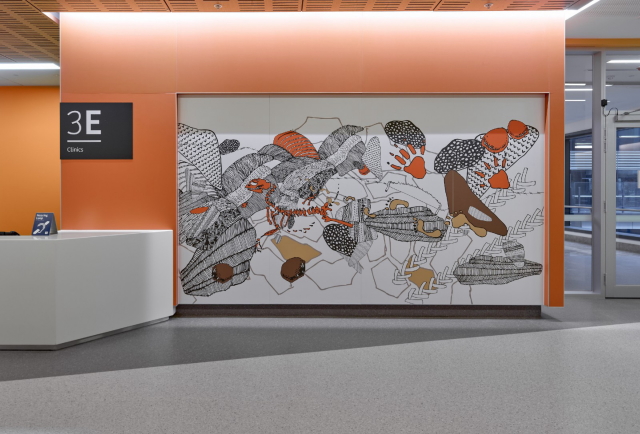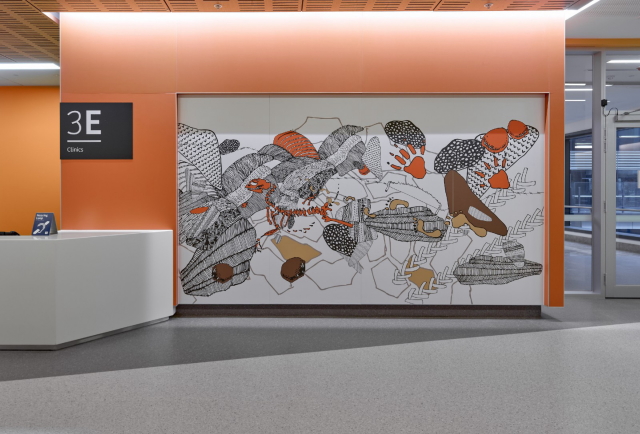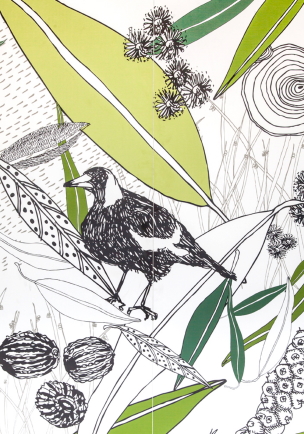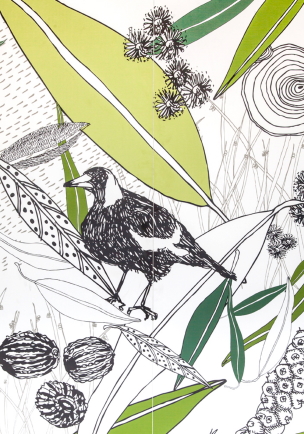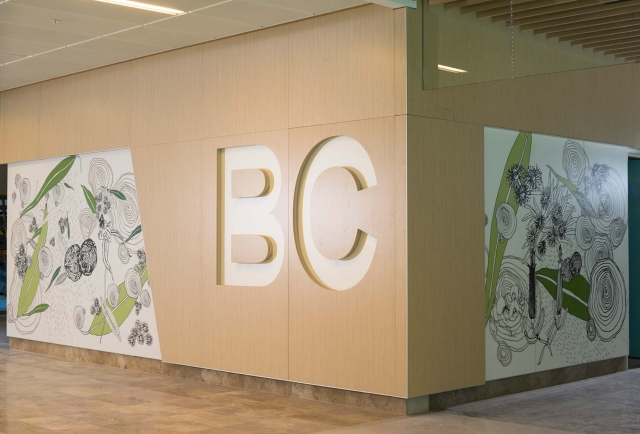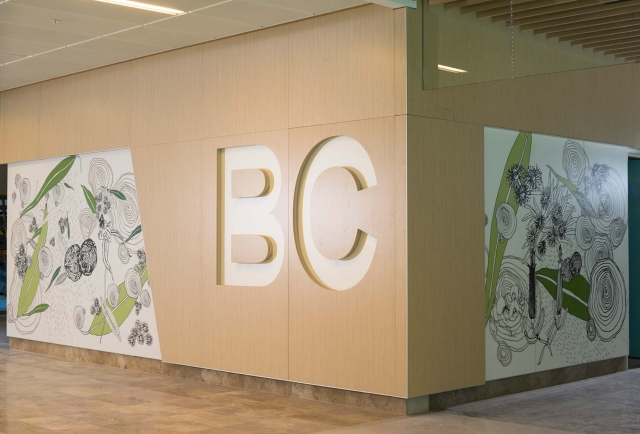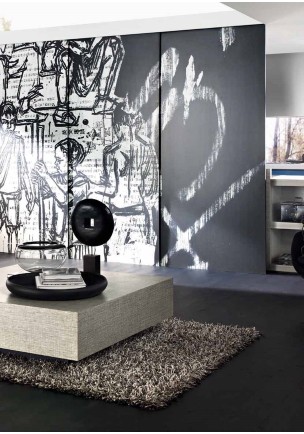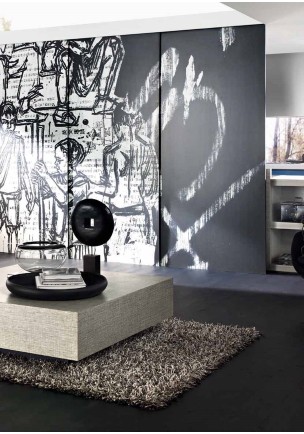 From Sketch to Print
Whether you are creating a modern healthcare facility, a café, residential interiors or an office – Laminex CustomArt® Surface is the perfect solution to bring your unique design to life. It is suitable for any internal application, from wall murals and panels, to furniture, benchtops and doors.
Create your own design and supply the file to Laminex – Your art is then printed onto rolls of a laminate Customart® surface. Laminate can then be pressed on a suitable substrate and installed as required.
CustomArt Applications
With a range of laminate grades is available. The correct choice is essential for a successful result. It's important to familiarise yourself with the specific features of each laminate grade before you make your selection.
| APPLICATION | XTRA GRADE |
| --- | --- |
| BENCHTOPS | ✓ |
| CEILINGS | ✓ |
| COLUMN CLADDING | ✓ |
| CUPBOARD DOOR | ✓ |
| ENTRY DOOR FACES | ✓ |
| FURNITURE SURFACES | ✓ |
| LOCKERS | ✓ |
| RETAIL FIXTURES | ✓ |
| SHOWER WALL LININGS | ✓ |
| SINGLE-SIDED SIGNS | ✓ |
| TABLETOPS | ✓ |
| TOILET PARTITIONING | ✓ |
| WALL PANELLING | ✓ |
| WALL MURAL | ✓ |
How to Order
PROVIDING FILES FOR PRINT
Creating your CustomArt® surface is easy. All we need is a digital file containing your unique design. It is best to provide complete, fully formatted and approved designs to ensure the fastest turnaround.
LEAD TIMES FOR SAMPLES
A 300mm x 300mm laminate sample of your CustomArt artwork will be produced so you can see how it looks in full size. This sample usually takes up to 10 working days to deliver.
LEAD TIMES FOR ORDERS
Once your CustomArt sample is approved, we can process your order. This usually takes up to 21 working days plus delivery to complete, depending on the complexity of your request.
Production Process
CREATING WALL MURALS
Wall murals can be achieved by splitting an image into multiple tiles of laminate sheets. Special consideration should be given to the graphic design process as the image formatting needs to be constructed to allow image edges to evenly match up against each other.
QUALITY OF ARTWORK REPRODUCTION
Virtually any image can be reproduced with CustomArt Laminate. The final output of CustomArt Laminate is very close to the original artwork as long as the file supplied is at the highest resolution.
All images are printed on overlay paper using a large format digital printer. During the printing and pressing process, images may incur some slight changes. These changes may result in the images not exactly aligning, with a possible variance of up to 5mm. Therefore, we are unable to guarantee that the CustomArt sheets can be perfectly aligned.
DESIGN COPYRIGHT
Design ownership resides with our specifier client or the originator of the design provided to the specifier with permission from the originator. Whoever provides us with the design is responsible for ensuring that permission for reproduction of that specific image has been granted.
HOLDING FILES FOR FUTURE REFERENCE
All CustomArt files are stored securely by Laminex Australia. The images remain the exclusive property of the designer and the file is held as a reference for future repeat orders, only with permission from the designer.
60+ Years of Experience
Combining the latest advances in digital printing and custom graphic design with proven high-pressure laminate manufacturing technology, Laminex Australia has been creating these kinds of surfaces for over 60 years and is a leader in the use of emerging technologies to produce exciting new products.
Laminex has been a proud Australian manufacturer for over 85 years with our range made locally at our factories around Australia. Laminex is proud to be the only Australian manufacturer of thin high pressure and compact laminates.
Technical Information
Sheet Dimensions & Information
XTRA GRADE
Sheet Size (nominal) 3600mm x 1200mm
Thickness (nominal) 1.0mm
Weight (approx) 1.4kg/m2
Surface Finish Natural - provides a fine, low sheen finish with minimal reflectance. Ideal for horizontal use and low reflectance vertical use.
Technical Data Xtra Grade laminate conforms with AS/NZS 2924.1, HGS Type and ISO 4586.1:199
Sheet Dimensions & Information
CustomArt surfaces have been specifically designed for interior applications. This means they are hardwearing and resilient to most spills, stains and everyday use.
Exterior Use
Whilst the performance of CustomArt surfaces is extremely good, it is not suitable for use externally. CustomArt surfaces are only warranted for interior applications.
Post-forming CustomArt Laminates
You cannot post-form Laminex CustomArt® surfaces.
Bonding Surfaces to a Substrate
Xtra Grade needs to be bonded to a moisture resistant substrate such as particleboard, MDF or plywood.
Warranty Information
CustomArt Laminates come with a 7 Year Limited Warranty