A more dramatic approach to traditional minimalism, Japandi builds on the need for calm, restful interiors but with a contrasting monochromatic palette.
Not a new trend but one that has again gained momentum, is the style of 'Japandi'. This 'wabi sabi' meets 'pared back' style is based on minimalism but with plenty of texture, contrast and lots of imperfect finishes. Whilst Calm Minimalism creates a serene interior, the more dramatic approach of Japandi allows for contrast through the use of darker timber finishes such as Laminex Shou Sugi and Laminex Danish Walnut against an otherwise neutral palette of textured wall finishes and organic materials. The effect of this highly tactile interior is still one that allows you to relax, unwind and calm the mind as tactile surfaces are shown to help reduce anxiety and stress.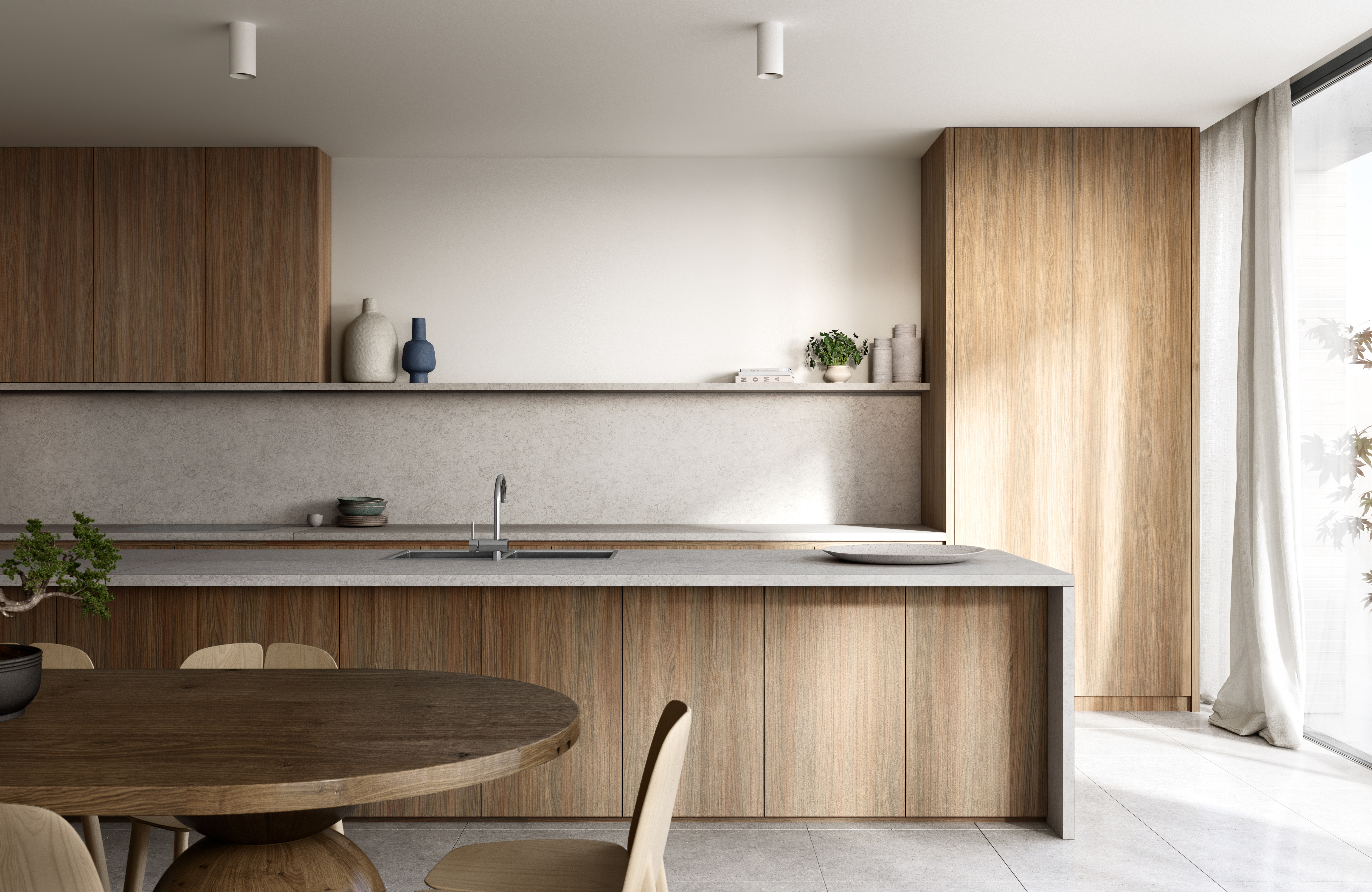 "Tactility within an interior can be created through visual texture, tactile surfaces help to relax us, reduce our stress and improve our wellbeing. "
– Bree Leech, Trend forecaster and interior designer
The Laminex decor Shou Sugi draws its inspiration from the traditional process of charring cedar to create a blackened effect. The look was not just about the colour, as a new texture was also created through the effect of burnishing the timber with wire brushes and sandpaper to remove the loose charcoal.
The new decor recreates the texture and depth of colour of Shou Sugi Ban, creating a sense of rich tactility especially when combined with tonal stone decors such as Pietra Cloud.
– Bree Leech, Trend forecaster and interior designer
Laminex Danish Walnut has a depth that allows for the striking contrast needed to create the look of Japandi, with a warmth reminiscent of popular mid century furniture. Laminex Danish Walnut can add texture through its complex colour nuances, allowing it to work harmoniously with many stone decors to create different moods, such as Laminex Figured Limestone or the cooler tones of Laminex Tumbled Terrazzo. Both of these new dark timber decors perfectly compliment the Japandi trend and will enhance any interior that is building on this particular mood.
Contributors –
Words & Trends Forecast: Bree Leech