This inner-city psychology clinic provides its staff with a beautifully immersive kitchen custom-designed to provide respite between appointments.
Comoda Design's new fit-out for Teneriffe Psychology is as stylish as you might expect for a clinic on the second level of a former woolshed in inner-city Brisbane. But it offers much more than just good looks, because the clinic's three directors wanted an interior that was not only warm and inviting for clients, but supportive of the staff's mental and physical wellbeing. "Part of the brief called for a breakout space that made it easy for staff to switch off, unwind and take a breather after sessions with clients," explains Comoda Design's interior designer Mim Davis. And so this beautiful staff kitchen was born.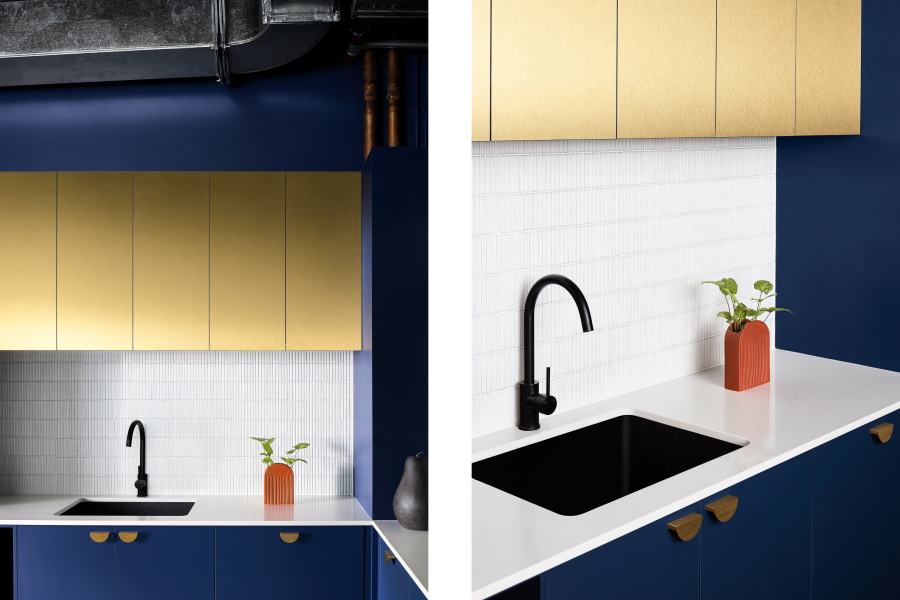 The kitchen is rich with saturated colour and glittering metallics. The main cabinetry is crafted from deep blue-purple Laminex Midnight, with overhead cabinetry in warm, bright Laminex Brushed Brass. Splashbacks of white finger-mosaic tiles, and white benchtops, provide tonal contrast. But then, the elegant beauty of the cabinetry surfaces – the intensity of Midnight and refined texture of Brushed Brass – is heightened again by their juxtaposition with the industrial steel and copper of exposed services and timber beams in the ceiling. Completing the scene, the remaining wall surfaces are painted in a deep blue closely matched to the Midnight cabinetry, which makes the entire space feel immersive and calming.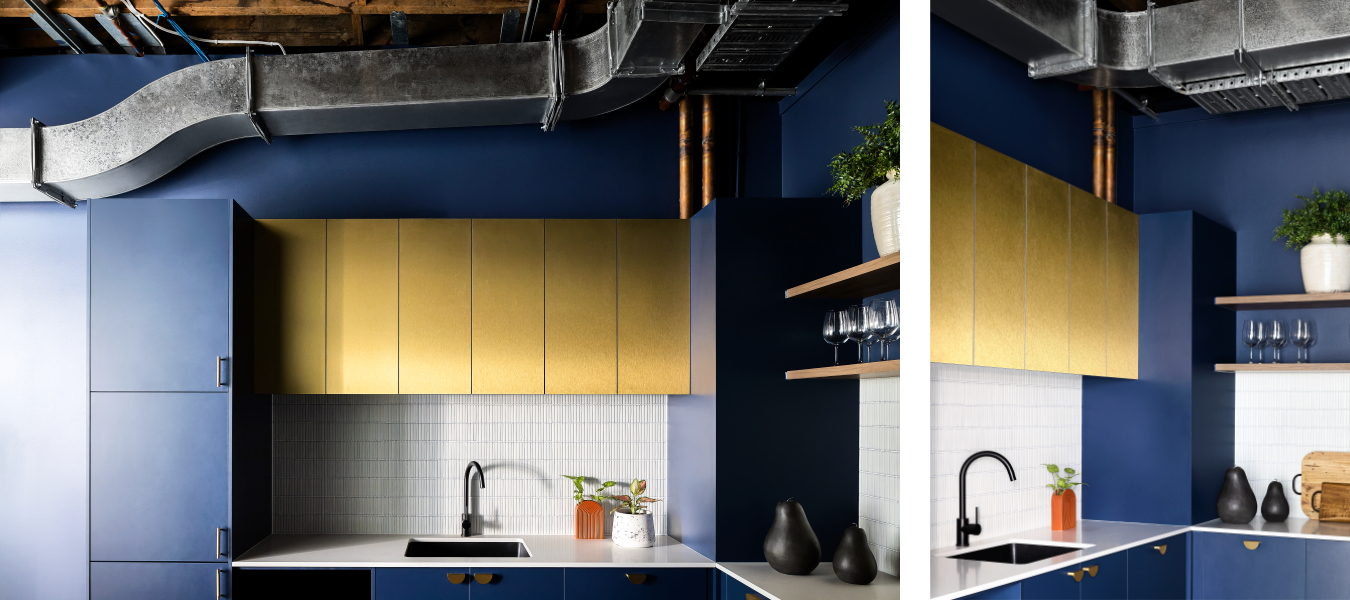 The decision to specify Laminex products was driven by their durability and cost-effectiveness, but also because the appearance of Brushed Brass enabled the designers to create a visual link to the broader fit-out, particularly the reception desk's custom-fabricated brass countertop. According to Davis, Laminex Brushed Brass was the unequivocal laminate option for the kitchen's overhead cabinetry. "Laminex is the only supplier we know of that does a brushed brass decor that can be used on a vertical surface," she says. "We would definitely have been scrambling to find an alternative product."
Staff frequently move in and out of the kitchen during the day, and because it has such a distinct feel to the rest of the fit-out, it creates a palpable sense of transition into a different, more relaxed environment – and frame of mind. It's a wonderful space, and a thoughtful gesture for these very deserving essential workers.
Credits:
Design and build: Comoda Renovations
Photography: Brock Beazley