A sculptural staircase in HI-MACS® for a contract project in between architecture and interior design
HI-MACS® is back as the protagonist of architecture in Italy, thanks to a project from the architect Ilaria Mosso who, together with Simone Piva, supervised the construction of the new headquarters of the company, Inox Fondi Srl of Villamarzana, Rovigo.
The company, leader in the production of stainless-steel dished heads, was in fact looking for a metropolitan and contemporary style to set up its new office block on the main façade of the administrative/manufacturing complex. Hence it turned to the designer who decided to opt for HI-MACS® to create a staircase on three floors giving an imposing and dramatic result.
'In the linearity and simplicity of the overall project' recounts Ilaria Mosso, designer of the magnificent staircase 'the idea was to create a contrasting element which, with its curves, was able to interrupt yet at the same time combine with the rigidity of the context. Hence the staircase was born'.
The side and underneath of the metal staircase structure are entirely covered in plasterboard, while the internal parts of the risers and treads are in HI-MACS®. Nothing is standardized, but each single step is one of a kind, made using hand-shaped rough wood templates, which undoubtedly made the project more difficult, but at the same time also truly unique.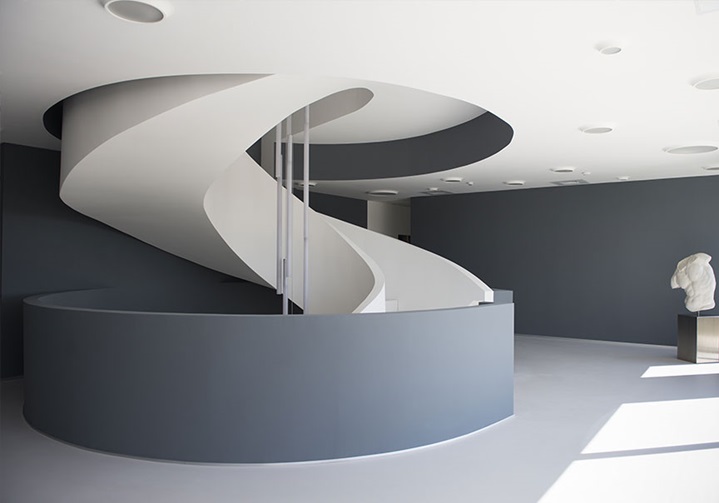 The shape of the structure, which like a helix rises from the inner gate of the building, is then highlighted in places by strips of light which underscores its graphic and spectacular character. The desire to obtain a single surface, without any change of material between dark and light, did in fact prompt the architect to experiment with a backlit system for the steps, for which HI-MACS® is also the perfect material.
In order to accommodate the LED lights, the steps had to be milled having first had an extra piece of material added, to increase the thickness of the step. Finally, thanks to a skilful and innovative solution, the steps were made so as to fasten onto and be released from the structure by means of a magnet system which, by making everything easily removable, also makes it very practical to remove the electrical system in case of a fault.
'HI-MACS® was chosen for various reasons' continues architect Mosso, 'for instance because of its transparency and colour uniformity, and also because it is easy to work with, even when its thickness is very reduced – in this case only 9 mm – and finally because of its brightness and its modern appearance'.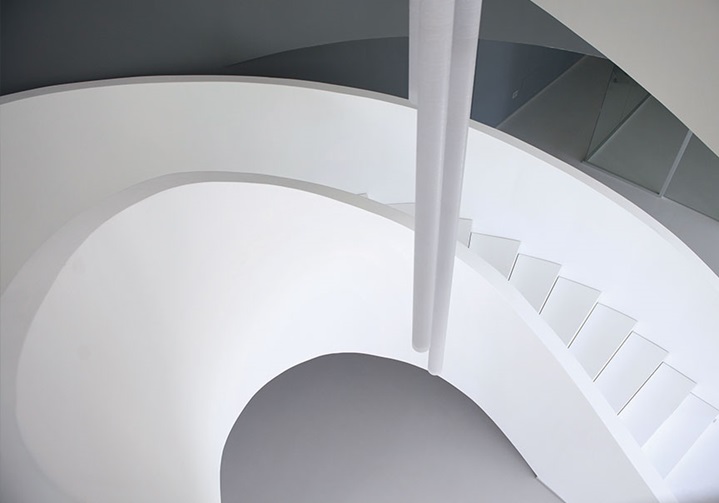 Location
Inox Fondi Srl offices, Italy
Material
HI-MACS® Alpine White
Photo credit
©Francesca Bottazzin