This pro-bono project by Melbourne architecture practice Breathe is a case study in great design, but also great empathy and generosity.
Anyone seeking evidence that architecture can make the world a better place needs look no further than the Cobargo Santa Project by Melbourne-based architects Breathe. Moved by the devastation wreaked by the Black Summer bushfires of 2019/20, and hearing stories from the New South Wales town of Cobargo, where many firefighters had lost their own homes while defending others', Breathe resolved to provide substantial, practical assistance. They made direct contact with the rural fire service and were introduced to Dave and Barbara, a couple who spent their lives giving to others – Dave a volunteer firefighter and every Christmas, the town Santa; and together, foster parents to kids in need. A couple who had lost everything in the fires.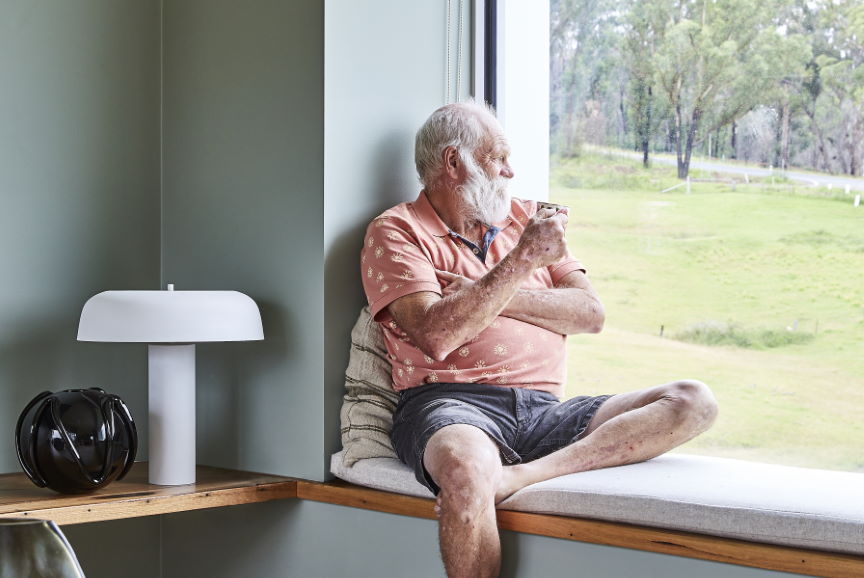 "It's one of the most special projects I've been involved in. Never before have we delivered such a meaningful home for someone who really needed one."
Madeline Sewell – Director of Houses at Breathe
Breathe contacted suppliers asking for materials and appliances, gathering donations as diverse as solar panels, lighting, carpet and insulation, and this schedule of products then informed the design. Time was of the essence, with Dave and Barbara in rudimentary temporary accommodation with their foster children, so the architects set about working as quickly as possible. And then the COVID pandemic reached Australia, and the entire process had to be managed remotely. "We'd never seen the site before we went up and saw the finished house, and hadn't even met Dave and Barbara in person," explains Madeline Sewell, Director of Houses at Breathe. "It taught us a lot about how capable we are at handling things from a distance."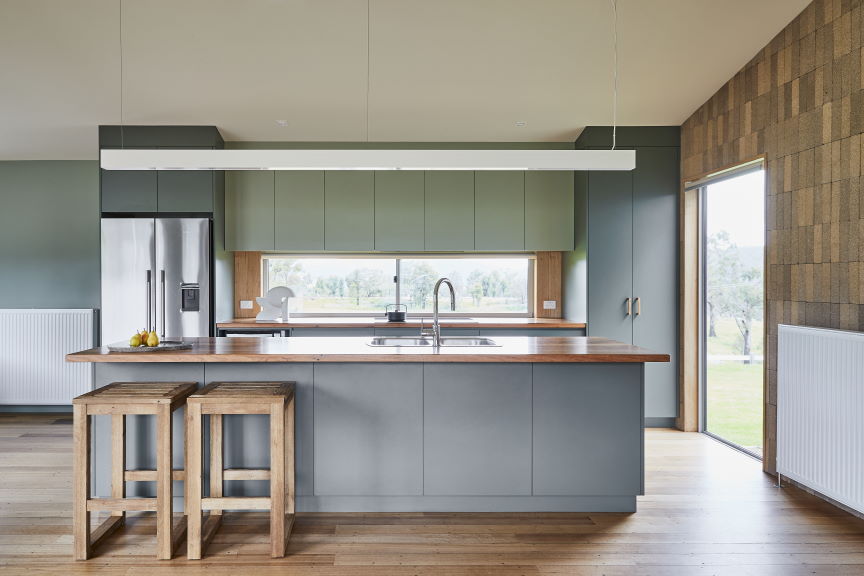 The new home occupies the same place on the property as the previous residence, because it was deemed the best location in a fire situation, with a rating of BAL-19, and is "fossil-fuel free", with electricity coming from a rooftop array of photovoltaic cells and a heat pump servicing hot water, among other sustainability features. It comprises two volumes, one for living, dining and kitchen and the other for bedrooms and bathrooms, with an airlock entry zone in the middle. And its walls and roof are clad in steel, chosen for its bushfire-resistant qualities. Viewed from a distance, the home sits in the bucolic landscape like an incredibly well composed farm shed. But as you get closer, details such as expressed timber window seats reveal the building's contemporary residential character.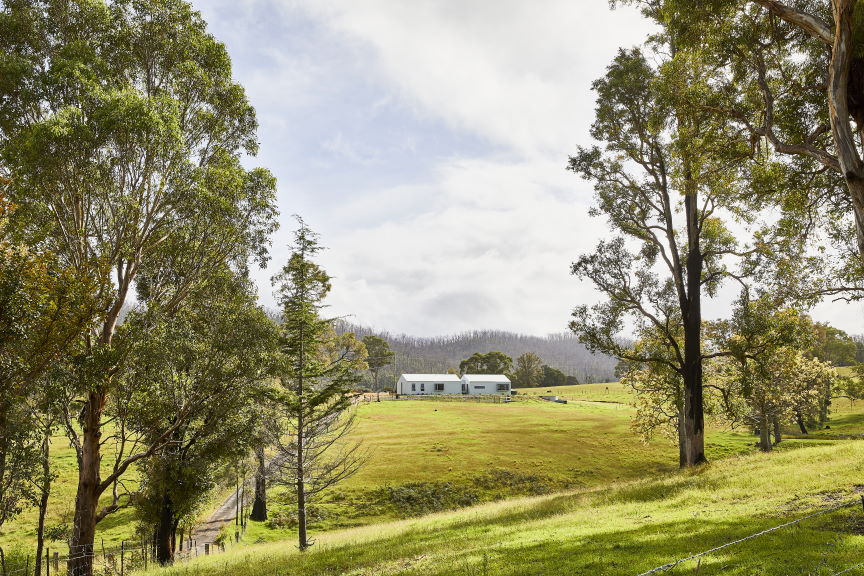 The interior has been designed to stand up to daily family life with a robust palette of hardwood, laminate and brick tiles perfectly suited to the rural setting. This connection to the environment is enlivened by wonderful use of colour, with a range of custom paint colours designed by PPG Paints' Rachel Lacy in response to the surrounding landscape. They're spread through different rooms in the house, and range from purples and pinks like we might see at sunrise and sunset, to a beautiful eucalyptus green that defines the open-plan living zone. Lacy also assisted with colour selection for laminate in this space, including Laminex Green Slate for kitchen cabinetry. The combination of the rich, organic green Laminex decor and the custom paint colour, and then the views out to the green paddocks and trees all around, is beautiful and, for Dave and Barbara, incredibly relaxing. Walking into this relatively simple silver building and finding these interior spaces full of natural-feeling colour and generous outward views must be a daily delight.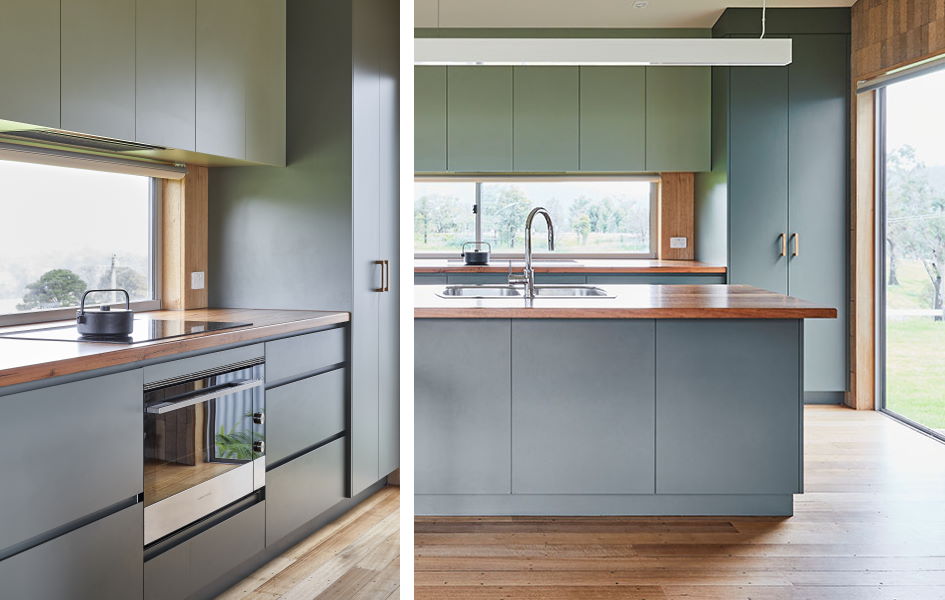 "The reason we specify Laminex is because it's made from FSC-certified kraft paper and it's made in Australia."
Madeline Sewell – Director of Houses at Breathe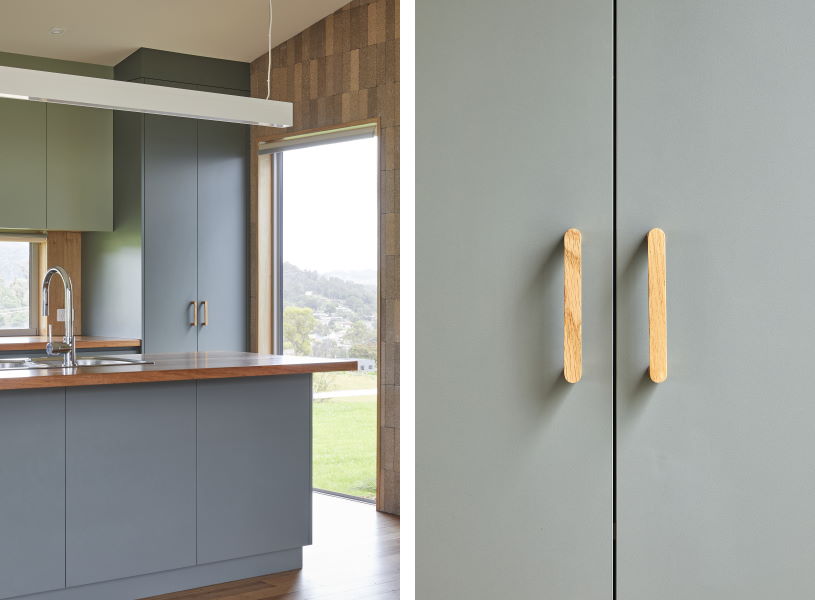 Words can't really describe how tough a time that summer must have been for so many people in rural New South Wales and Victoria. Nor can they adequately convey how Dave and Barbara must've felt to receive this unsolicited assistance from an architecture studio 700-or-so kilometres down the road in Melbourne. But now they can look forward to life in a new home, one built with high-quality architecture, and also with great empathy and generosity. "Hopefully it demonstrates how powerful, and easy, it is to offer help," says Sewall. Indeed, it's a story to inspire us all.
Anyone who has lost their home or vital community assets due to natural disaster or other adverse circumstances and have limited or no means to rebuild can now seek support from the Architects Assist initiative.
Contributors:
Design: Breathe Architecture
Build: Davis Construction
Styling: Atelier Lab
Photography: Pablo Veiga for The Local Project