With the trailblazing Melbourne architects chalking up 20 years of practice, we talked to Director of Houses Madeline Sewall about their approach to design and the constant quest for environmental sustainability.
The Commons apartment building is a landmark in more ways than one. Physically, it rises up next to Melbourne's Upfield railway line like a vine-clad monument to good design. Conceptually, it represents the dawning of a new era for responsible urban development in Australia, as the project that spawned Nightingale Housing. And for Breathe Architecture, the practice that instigated The Commons and whose co-founder and Design Director, Jeremy McLeod, continues to drive Nightingale, it marks the beginning of a period of sustained expansion into larger projects and different typologies. But that growth hasn't changed Breathe's fundamental approach to their work, which is built upon a longstanding belief in the transformative power of architecture. Breathe Associate and Head of Houses Madeline Sewall describes this mindset as "looking for projects that will have maximum impact" and across two decades of architectural output, you can see it in spades.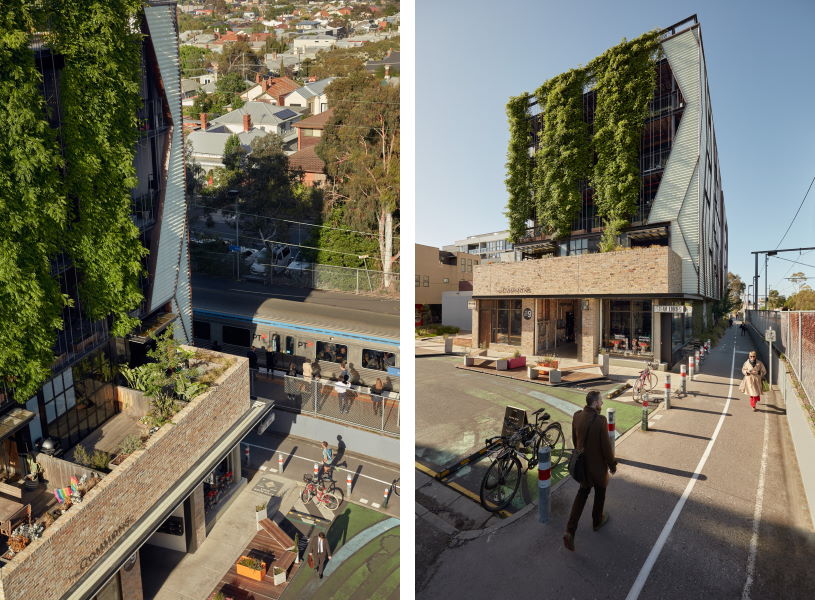 "If you're not trying new things, you're not growing, you're not trying to do better."
Madeline Sewall – Associate and Head of Houses at Breathe Architecture
The quest for greater sustainability
Talking about sustainability can sometimes be tricky, because the use of a singular term implies misleadingly that there's a singular solution, a "right" way. That Sewall acknowledges this without hesitation shows how seriously Breathe takes the challenge of designing more efficient buildings. "Something that we try to remind others of is 'progress over perfection', as people say. Because we're learning alongside everyone else," she says. Pressed on where that learning is up to right now, she outlines two key aspects of sustainable design that the practice is prioritising.
The first is the operational strategy of a building, to reduce its environmental impact once occupied. "We're focused on eliminating gas from buildings so we're not burning fossil fuels, making sure they're connected to 100% green power, incorporating solar PV arrays, and investing in the building's thermal envelope so the amount of energy required for heating and cooling is minimised," Sewall explains. And then there's the embodied energy of the building, including everything from the efficiency of construction to the materials being specified. "We try to use as much timber as possible, which sequesters carbon, and recycled materials that have already paid down their carbon in a previous life," Sewall says.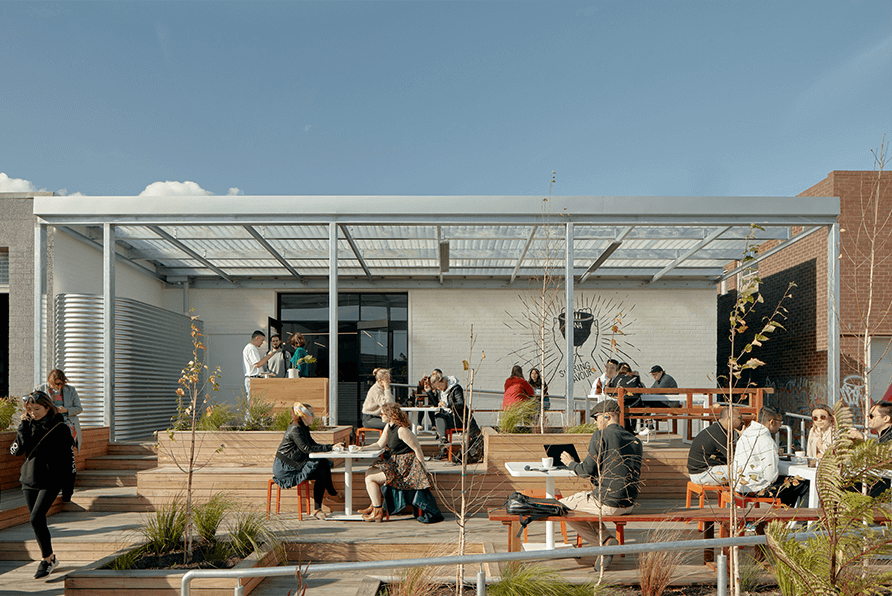 This dedication to careful material selection often leads to unique design outcomes, such as the sublime central espresso bar at Ona Coffee, clad in brick offcuts diverted from landfill. And it can also inspire shifts away from traditional aesthetics, such as the practice's current preference for using locally manufactured fibre cement sheet for wet areas instead of tiles, which are fired in gas-burning kilns and commonly imported from overseas.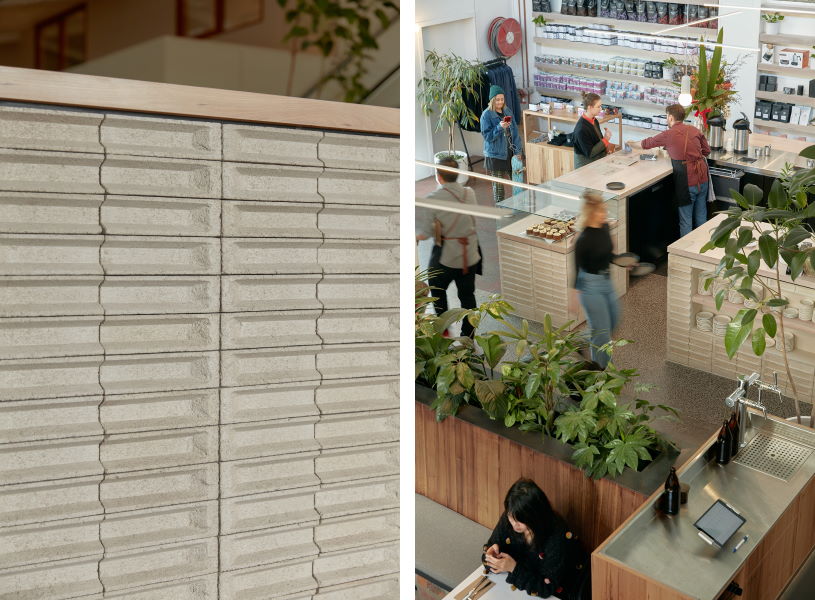 Making an example of a suburb
If Breathe is synonymous with sustainability, it also has a very strong association with Brunswick, the inner-Melbourne suburb where the studio is located. The team does plenty of work elsewhere, of course – for example, the elegant architectural palimpsest that is the Paramount House Hotel in Sydney – but a significant proportion of their folio is in their own neighbourhood. And it's no accident. "We see the potential for this precinct to be a real case study of sustainable medium-density housing," Sewall explains.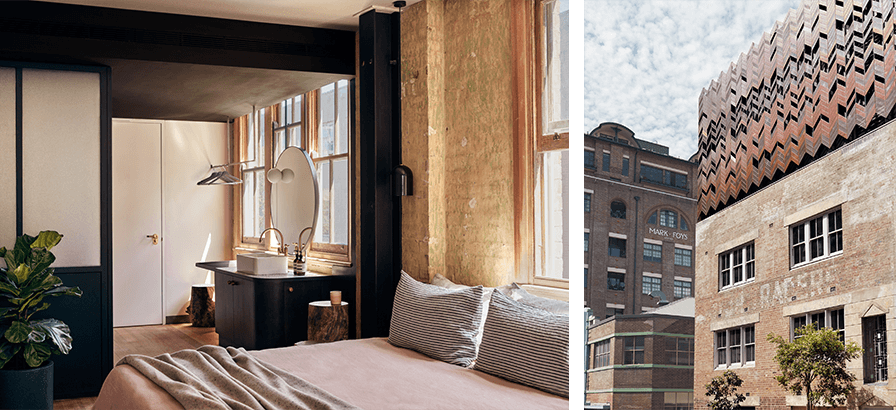 "We're really interested in concentrating our influence in one location so we can demonstrate the impact that it could have."
Madeline Sewall – Associate and Head of Houses at Breathe Architecture
Over the road from The Commons is Breathe's Nightingale 1. Around the corner is Breese St, a new development designed by DKO Architecture with interiors by Breathe. Two more Breathe-designed Nightingale buildings are in the works nearby, one under construction, the other in town planning. And then there's Nightingale Village, with Breathe's building to be among five others by different practices. Incredibly, by the time these projects are completed, less than a decade will have passed since residents first moved into The Commons. The precinct will have been transformed from mostly anachronistic warehouses and factories, to mostly architect-designed multiresidential buildings. Then it'll be time to assess the impact. And you can bet that the team from Breathe will be at the forefront of any critique, looking for lessons to take into the next project.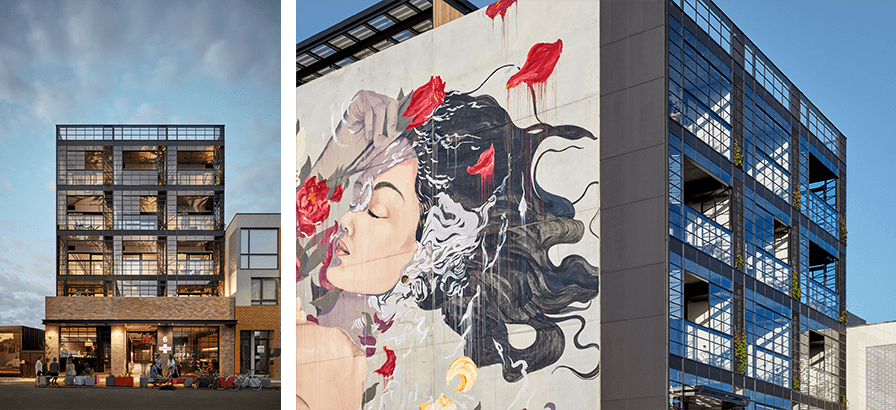 That's not to say that the next project will necessarily be a large-scale building, because the practice is still very much engaged with the design of individual dwellings. Edgars Creek House in Coburg North, not far from Brunswick, is a wonderful recent example. Located on the edge of a fairly homogenous new housing estate, it's been designed to turn away from the streetscape and look out to the bush corridor along the adjacent creek. The house's rammed earth walls provide a visual connection to the sandstone cliffs below, its ironbark cladding a direct link to the ironbark trees that grow all around. For the fortunate occupants, the front door must feel like some kind of portal between suburbia and a national park!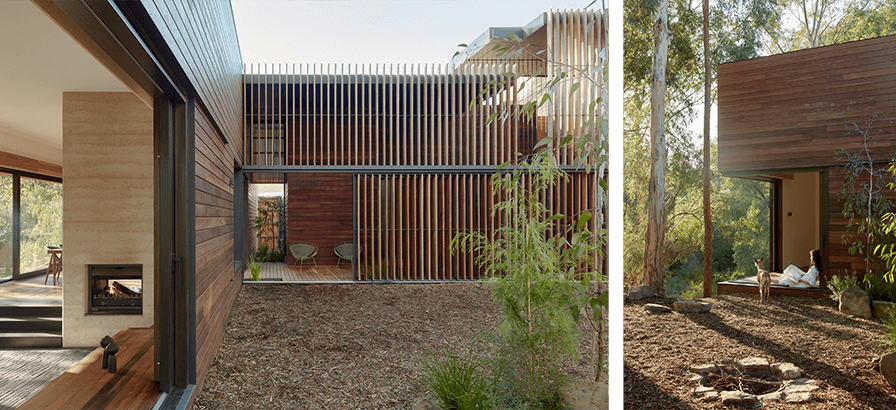 Reflecting on the difference between designing a single residence like Edgars Creek House and larger buildings, Sewall says, "We love single-res, because it's a much deeper conversation with a family or an individual about how they're living. It achieves a deeper, more concentrated kind of impact." So we see, it always comes back to that word – different kinds of impact from different kinds of project, but always an impact. And it neatly encapsulates why Breathe Architecture is such a widely admired practice.

You can explore all of the projects featured here, and more, at the Breathe Architecture website.


Breathe Architecture:
https://www.breathe.com.au/

Contributors:
Practice: Breathe Architecture
Photography: Tom Ross