HI-MACS® enlightens the OSRAM Headquarters in Munich
No other brand name is associated with light as much as OSRAM. Naturally, this is reflected in the entrance hall of the company's headquarters in Munich.
The offices interior design was executed by Brune Architekten BDA using translucent HI-MACS® Opal, and it represents the key business subject for the brand – the interaction of artificial and natural light.
The large lounge with glass on three sides was designed using a simple and clean white concept, keeping it functional with a reception counter, waiting area and security gate. Light is the main feature of the white cube, controlling the perception of space and design. To enhance the light-filled ambiance, the 11 metre long counter was created from translucent HI-MACS® material designed as a monolithic light object with the seamless joints which are a feature of the Solid Surface material.
The implementation of this ambitious design required the use of a multi-functional high tech material like HI-MACS®. Architect and town planner Wolfgang Brune who developed the project in close cooperation with the solid surface material specialists and furniture makers Hommel Manufaktur says: "A light object of such volume could only be accomplished with this material".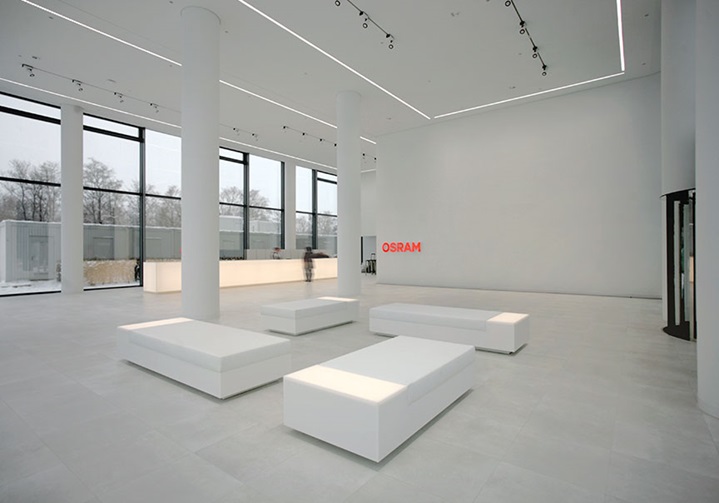 HI-MACS® translucent light furniture plays with natural light
More than 100 meters of OSRAM LEDs were built into the reception counter. Their technology creates this smart interface with changing light conditions. The atmosphere in the reception area changes according to weather conditions, time of day and season. The lights guide visitors from the entrance through the room and serve as workplace lighting for the staff.
Combining functionality and design is another strong point of the HI-MACS® solid surface material which was used here in the translucent Opal S302 shade. Thanks to the seamless finish, the counter looks flawless to visitors – like a one-piece luminous block. For staff, it serves as a zoned light object, hiding a work desk made from contrasting dark wood veneer.
The four white rectangular HI-MACS® benches in the waiting room also display lights: arranged in a square, the rectangular luminous areas on the outside optically define the space. Again, this special effect is created by the seamless combination of translucent and white HI-MACS®.
Due to its robustness and durability, this non-porous solid surface material is ideally suited for public areas. The natural acrylic stone is easy to clean and impervious to stains which can easily occur in a busy reception area. In addition, HI-MACS® offers an inviting, pleasantly soft and warm feel, for a complete sensorial experience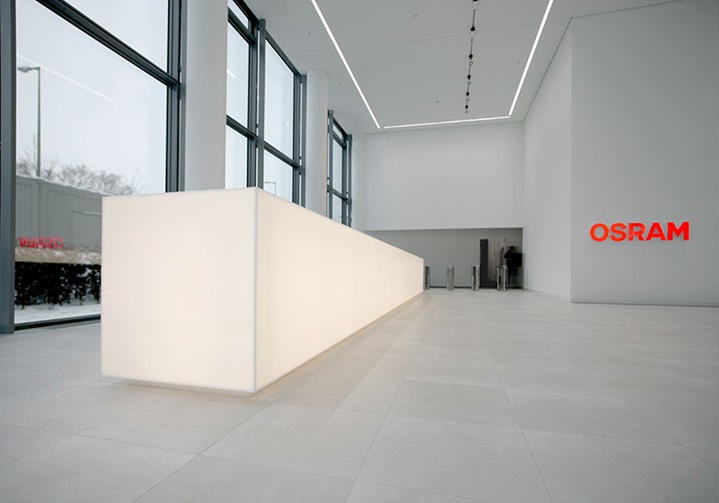 Design
Brune Architekten BDA, Germany
Fabrication
Hommel Manufaktur GmbH, Reichenbach
Material
HI-MACS® Opal S302 12mm
Photo credit
©Daniela Hommel