Introducing Laminex's premium ultra-matte laminate and panels in rich, warm green of Green Slate and brilliant Polar White.
The rise of ultra-matte surfaces began with the movement towards sophisticated dark interiors, and anyone who's seen a contemporary kitchen crafted from Laminex AbsoluteMatte Black will understand the appeal! But architects, designers and fabricators are increasingly discovering the stunning visual softness and luxurious texture that AbsoluteMatte brings to a wider range of colours. And that's set to continue, with Laminex adding two new Colour Collection decors to the AbsoluteMatte range – the wonderfully rich, warm-based green of Green Slate, and the classic fresh and striking Polar White.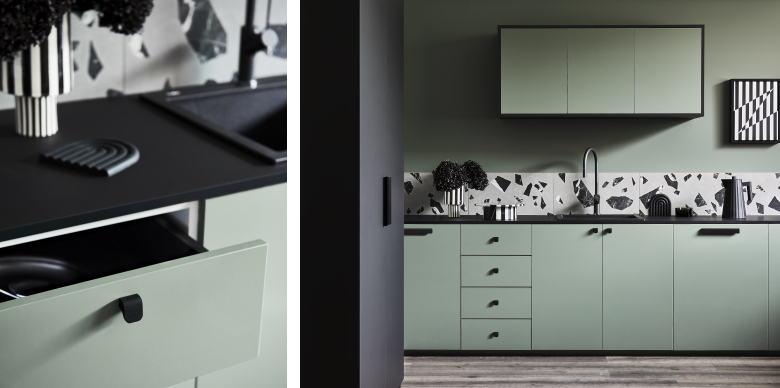 The design possibilities of a coordinated ultra-matte palette
The addition of Green Slate is a direct response to the incredible popularity of the decor since it was introduced in the relaunched Laminex Colour Collection. It can be used as a neutral tone in support of other colours and textures, or as a feature in its own right. And in both scenarios, its rich green hue inspires a strong sense of connection to the natural world. Polar White, on the other hand, has been part of the Laminex offering since 1992 and is the most popular classic white in the Colour Collection. Its small hint of blue undertone gives it a distinctive optical brightness, making it a preferred white decor for contemporary interiors, and an excellent partner to solid colours, timbers and metallics.
These two new decors build on the existing AbsoluteMatte palette, which includes the likes of warm grey Oyster Grey, creamy white Surf, highly saturated rich grey Terril and, of course, timeless Black. Because they're part of the broader Laminex Colour Collection, they can be coordinated or contrasted with any number of contemporary Laminex decors, to create beautifully balanced, unique colour palettes. Or alternatively, paired with the matching decor in Natural finish, to create compelling textural effects in a tonal interior.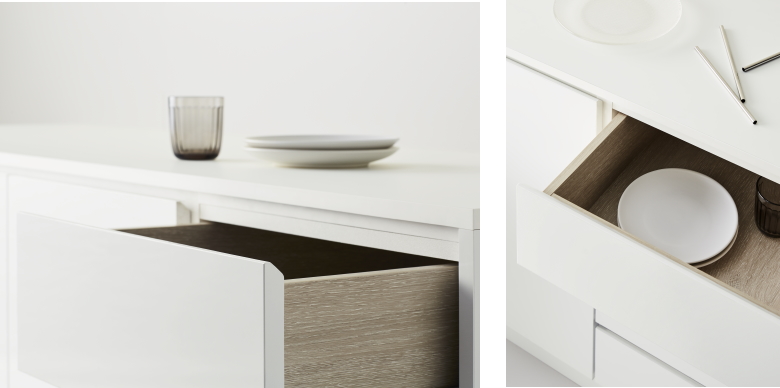 Available as panels and HPL for multiple applications
Both of the new decors can be specified as either AbsoluteMatte Panels or AbsoluteMatte high-pressure laminate (HPL), for everything from cabinetry, doors and drawers, to benchtops and splashbacks. AbsoluteMatte HPL is also cold-formable, which opens up opportunities for innovative curved designs such as we've seen in Laminex's collaboration with architects Kennedy Nolan. And of course, whichever way they're used, they bring all of the performance benefits of the AbsoluteMatte range – particularly their incredible fingerprint resistance, but also exceptional durability, resistance to heat, stains, scratches and water, and UV stability for indoor use.
---
Featured in the Green Slate Kitchen
Kitchen Cabinetry: Laminex AbsoluteMatte Green Slate
Kitchen Benchtop: Laminex AbsoluteMatte Black
Sink and Tap: Oliveri
Handles: Linear Standard
Design & Styling: Bree Leech
Photography: Lisa Cohen
Featured in the Polar White Kitchen
Kitchen Cabinetry & Benchtop: Laminex AbsoluteMatte Polar White
Styling: Bek Sheppard
Photographer: Annette O'Brien