Fresh perspective: Looking at Laminex through an emerging designer's eyes
Two kitchens by award-winning young designer Olivia Cirocco show new ways to capture the look of metallics, woodgrain and natural stone with high-quality laminate.
Interior designer Olivia Cirocco, from GIA Bathrooms & Kitchens, had a night to remember at last year's KBDI Awards – the first-time entrant took home seven of them! A team from Laminex was also there, as major sponsors of the KBDI. They were deep in development work on the new Laminex Colour Collection at the time, and collectively wondered what this emerging designer might do with the decors they'd soon be launching. That speculation became a conversation with Cirocco, and a new project was born – the designer was given two kitchen briefs and the full run of the Colour Collection.

Tinted metallics, muted greens and woodgrains
"Pink and green is my favourite colour combination at the moment," says Cirocco, explaining her rationale for bringing together soft pink metallic Laminex Matte Rose Gold and yellow-green Seed, in what's been dubbed the Colour Collection Kitchen. The tinted metallic decor wraps around the top and bottom edges of an island bench clad in Laminex Raw Birchply. Between the upper band of Matte Rose Gold and the woodgrain decor, there's a finely detailed shadowline in rich grey-based blue Laminex Winter Sky. "Winter Sky is quite a deep blue with green undertones so it provides great contrast against the Matte Rose Gold," says Cirocco, "and it makes the metallic pop just that bit more." The dark blue also helps to bring out the darker tones in the Raw Birchply's woodgrain pattern.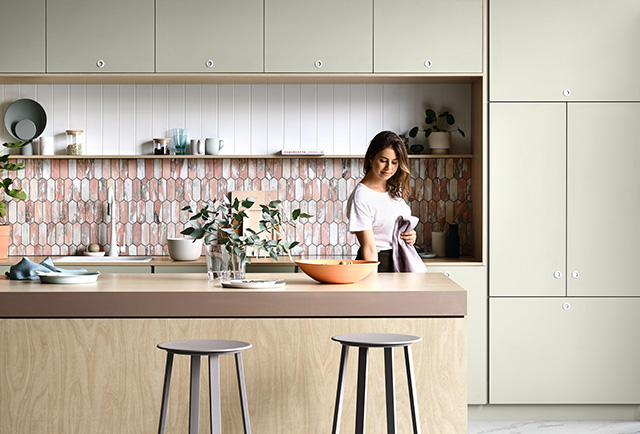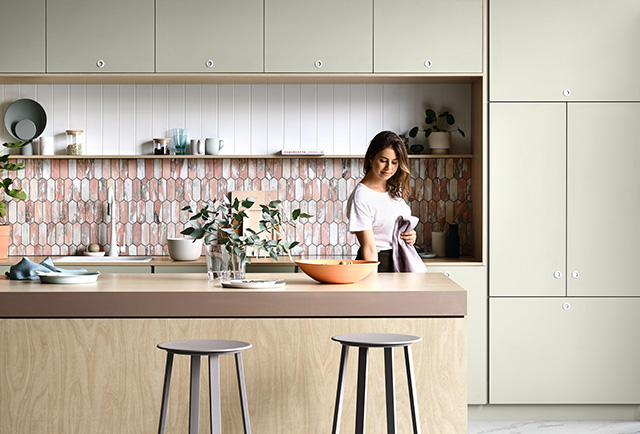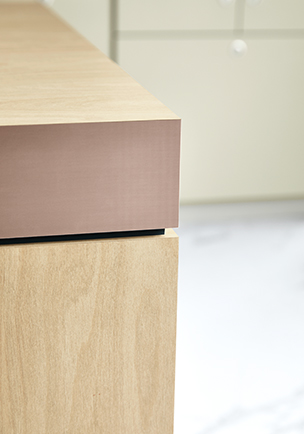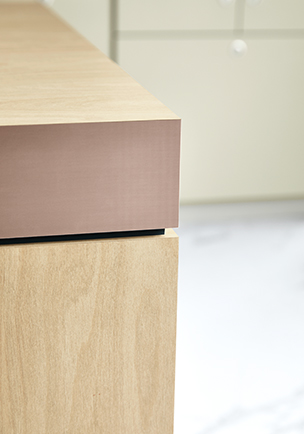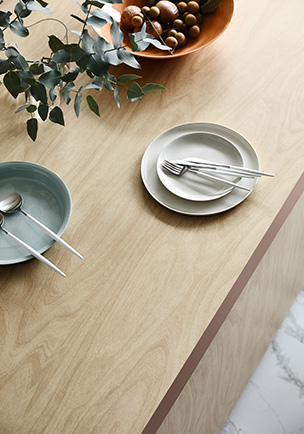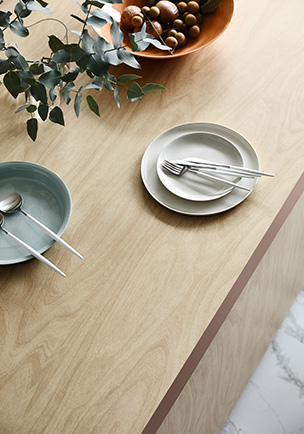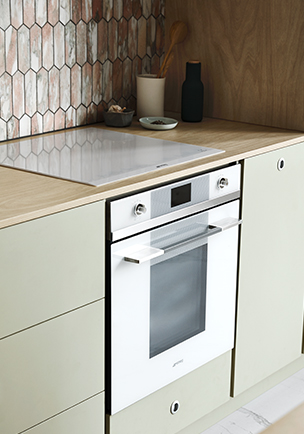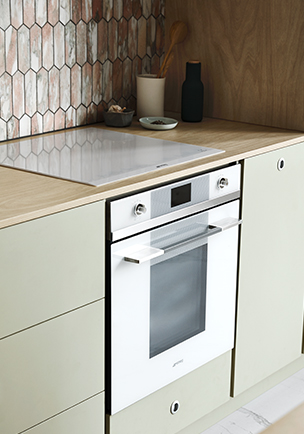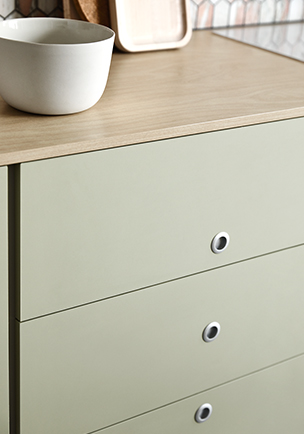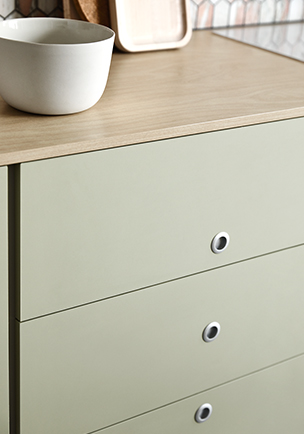 Cirocco's use of Raw Birchply extends to the benchtop itself, making a feature of the woodgrain in a way that wouldn't be practical with real plywood, due to its susceptibility to water damage and general wear and tear. Combined with the recessed kicker, metallic edging and shadowline detail, it creates an impression more like custom furniture than a block of cabinetry.
On the rear wall, there's more pink, in the dappled colouring of marble tiles. Above them, white panelling in a lining board profile provides a bright background for decorative objects. And then, all around – on overhead, underbench and tall cabinetry – that organic green Laminex Seed. It's one of a range of muted greens introduced with the launch of the new Colour Collection, and immediately brings to mind the trees and grasses of the Australian bush. Its calming effect is palpable and, with the woodgrain and marble textures, and gently tinted metallic highlights, it makes for a kitchen that feels relaxed, natural and authentic.
The rise of dark hues, with a flash of brushed brass
The connection to nature continues in Cirocco's second kitchen, the Minerals Kitchen, although the effect couldn't be more different. Black marble-look Laminex Nero Grafite features extensively, on a large island bench and also on the rear wall. It's teamed with blacker-than-black Laminex AbsoluteMatte Black on cabinetry and the rear benchtop and splashback, rich brown Laminex Natural Walnut shelving, and a terrazzo floor with chunky dark aggregate. The subtle shifts in texture and tone between these different black and dark brown surfaces make for a moody and sophisticated space, and it reflects the strong recent trend towards darker-coloured residential interiors, and particularly kitchens. It's a movement that informed the Laminex team's decision to develop more richly coloured decors for the Colour Collection, and has also been noted by Cirocco in her daily practice. "People are increasingly willing to be more bold and more dramatic with their design style," she says. "I've designed quite a few all-black kitchens recently."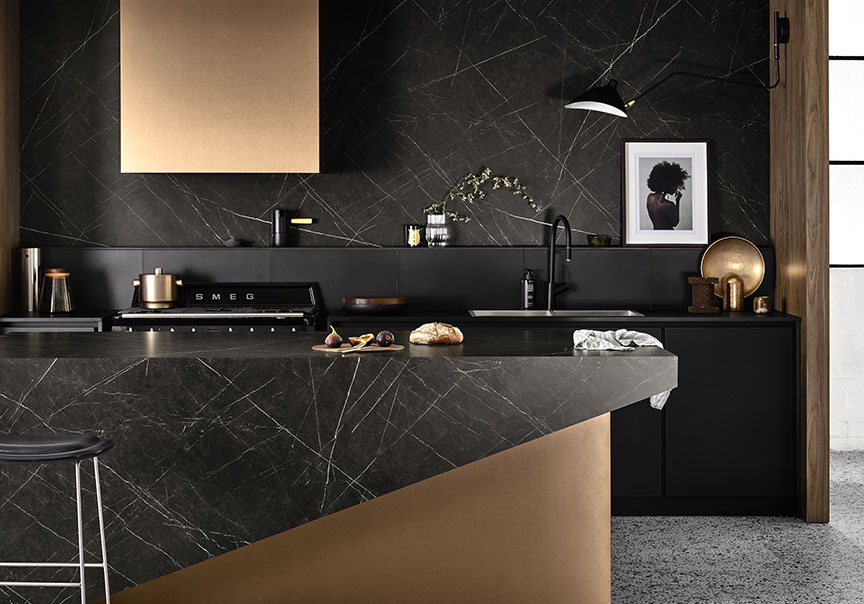 But this kitchen isn't quite all black. In fact, it's defined, to a large degree, by the interplay between that marble-look Nero Grafite and a quite different new decor, Laminex Brushed Brass, on the front face of the island bench. The Nero Grafite benchtop folds over this front panel in a triangular form that reaches down to the floor – difficult and cost-prohibitive to do in natural stone, but here achieved quite simply and authentically with high-quality laminate. Brushed Brass is also used for a custom rangehood cover, which, because of its proximity to overhead lighting, gleams that little brighter, and shows off its beautiful brushed texture. It lifts the entire kitchen with a touch of sophisticated glamour.
All other elements – appliances, tapware and task lighting – are completely black. But while that black-on-black theme is explicitly contemporary, the predominance of authentic marble and woodgrain textures, the tactile appearance of the brushed brass, and the terrazzo floor, make the space feel quite timeless.
Cirocco's work on these two kitchens is impressive for any designer, let alone one in the early stages of her career. And it also shows us how well the decors in the Laminex Colour Collection can be used to capture and combine the authentic looks of stone, woodgrain and metallic surfaces, and beautiful natural colours. Seeing these new decors through a young designer's eyes is inspiring for all of us.