Interior architecture practice CJH Studio brings its characteristically elegant vision to revitalise an Edwardian home in inner Melbourne.
In approaching the renovation of her clients' Edwardian home in the Melbourne inner suburb of Malvern, Cassie James-Herrick kept the design simple. "The house was a rabbit warren of rooms," says the director of Mornington Peninsula-based interior architecture practice CJH Studio. "So it was all about streamlining the internal floor plan to allow for a clean space with ample storage for a young family."
Creating a rationalised layout involved demolishing a number of walls to make way for more open spaces, and reconfiguring the floor plan for greater usability. The clients also wanted the interior to feel contemporary yet still respect the four-bedroom home's traditional character. James-Herrick introduced simple curve motifs and arches that play off the original house's old-world charm, and steel windows that echo the exterior's lines and angles, making for an elegantly minimalist outcome with gently sculptural qualities.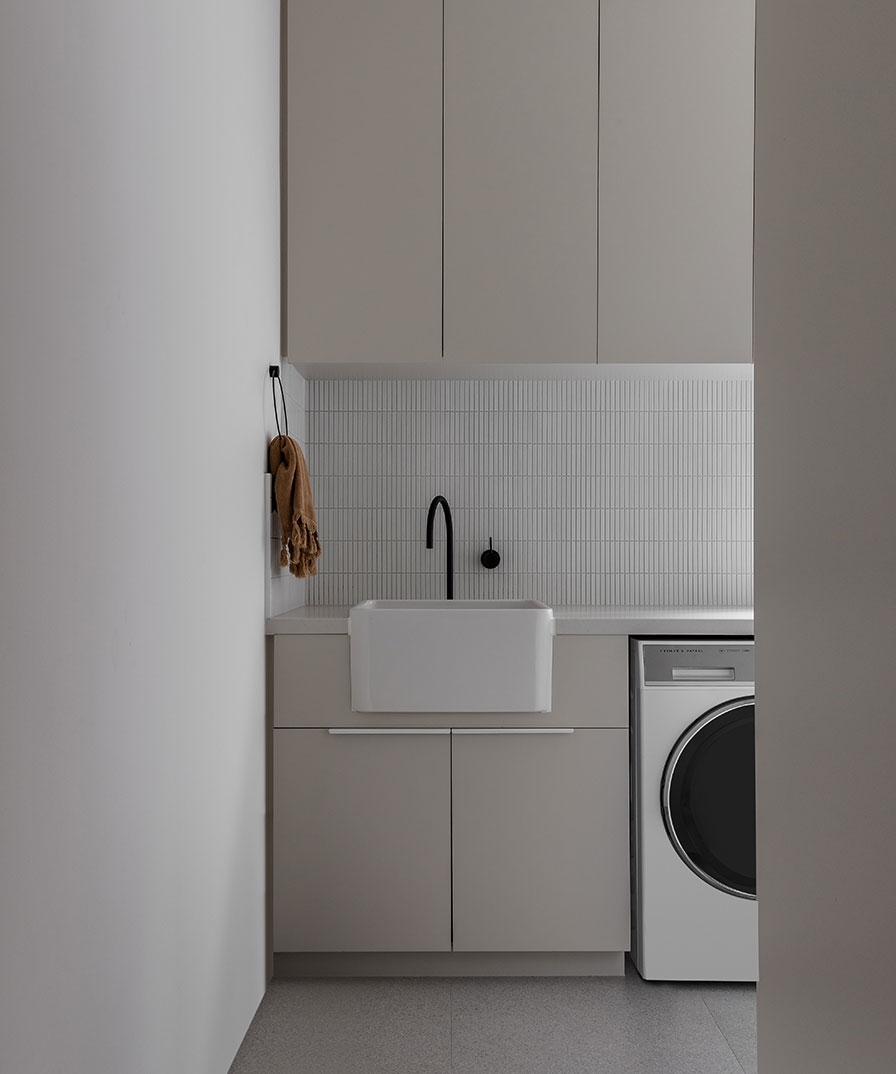 "I think the selection of hardy yet cost-effective materials doesn't mean you won't have high-end appeal when the project's complete."
Cassie James-Herrick – Director, CJH Studio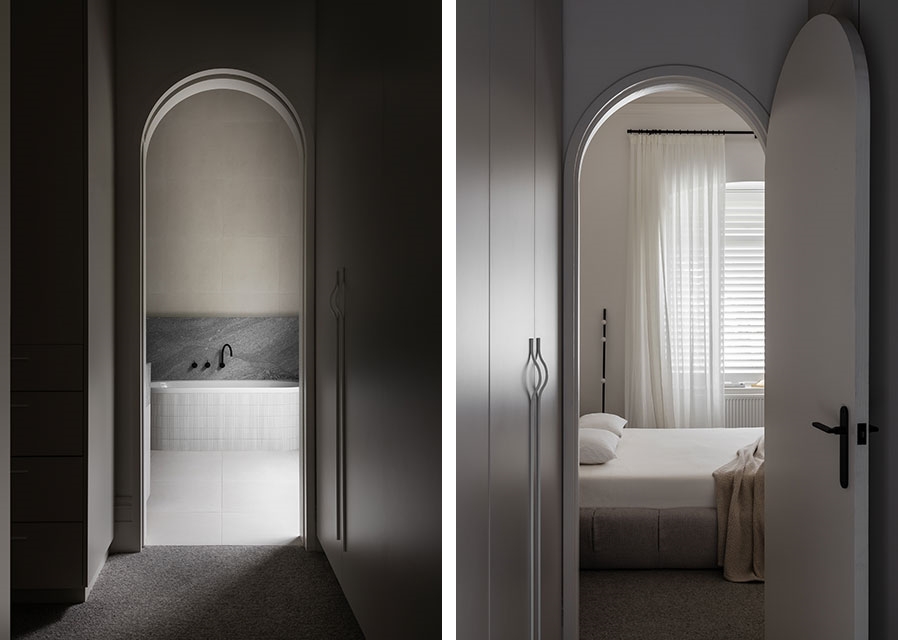 The pared-back aesthetic is further accentuated by a natural colour palette and refined materiality. Greys and creams instil a sense of calm, while American oak floorboards add warmth and Tamil granite benchtops and vanity surfaces bring texture. Finger mosaic tiles offer visual interest, especially on a wonderful curved rangehood cover, and green-grey Laminex Sarsen Grey laminate catches the eye with its soft, natural-feeling tone. The laminate decor was used in the home's most hardworking areas – the laundry, main bedroom walk-in-robe and children's bathroom – where James-Herrick needed surfaces to look good, but also be hardwearing. "We chose Laminex for its durability, great colour match, soft matte texture and cost effectiveness," she explains. "It also seamlessly integrated with the other materials in the palette."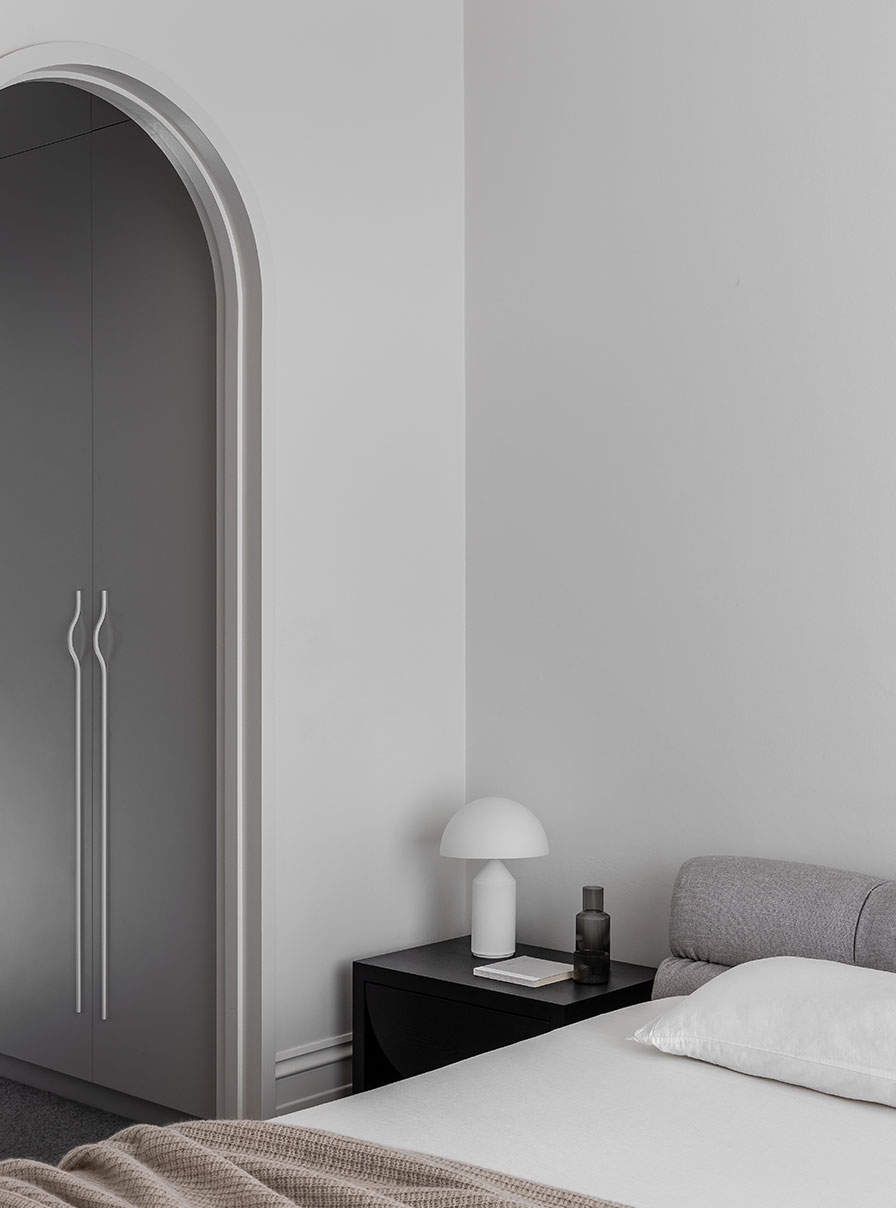 "Laminex was the perfect solution for us and we couldn't achieve what we did in this case without it."
Cassie James-Herrick – Director, CJH Studio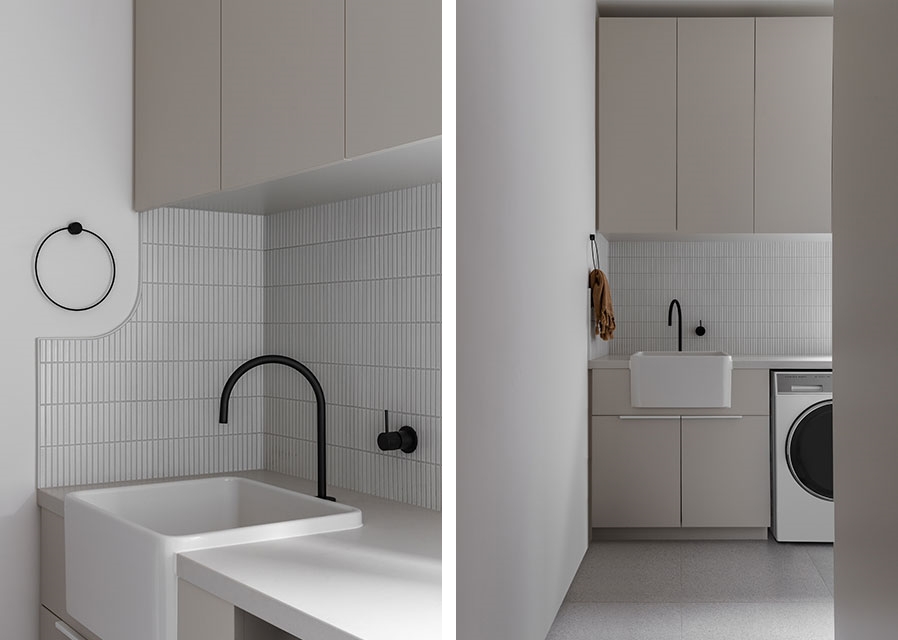 Indeed, Laminex Sarsen Grey plays an important role in a highly nuanced interior palette, one heightened by a carefully curated selection of custom hardware, lighting and fixtures. The effect is of sophisticated simplicity – unquestionably stylish, but unfussy and calming. Considered alongside the amenity and liveability enabled by the renovated home's intelligent spatial arrangement, it makes for a truly wonderful place to live.
Contributors
Design: CJH Studio
Build: KABSAV Projects
Cabinet Maker: Impact Shopfitting
Styling: CJH Studio
Photography: Timothy Kaye