This new design by Bree Leech is all about flexibility, of the workplace itself, but also the materials, colours and textures used to bring it to reality.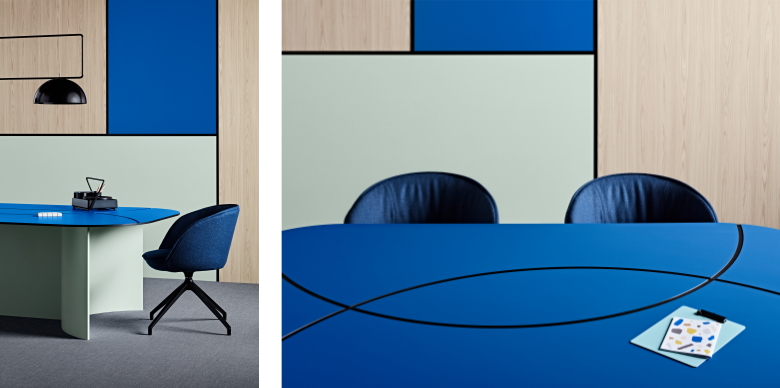 Offices are anticipated to evolve in a post-COVID world and people like interior designer and stylist Bree Leech are considering how their form might support new functions. This meeting space designed by Leech for Laminex reflects her vision of the modern office as a place of collaboration, flexibility and creative thinking. "I wanted it to feel less formal than a boardroom. When people come together to collaborate, they need to let their guard down in order to be creative," she says. "Curved forms are intended to make people feel more relaxed and fluid lines evoke a sense of flow and collaboration more than straight edges."
"It's not a closed-off room, because I think office design will need to be more flexible in the future. We need to think about how a space can be easily changed to suit a purpose."
Bree Leech, interior designer and stylist.
The use of colour was central to Leech's strategy here, with a palette comprising vibrant Laminex Olympia Blue, delicate blue-green Aquamarine and the pale warm-toned woodgrain of Milkwood. "Blue is a calming colour, but I also wanted to give the space a retro theme, and this palette represents that," she says. "Milkwood is such a great backdrop for more bold, saturated colours like Olympia Blue."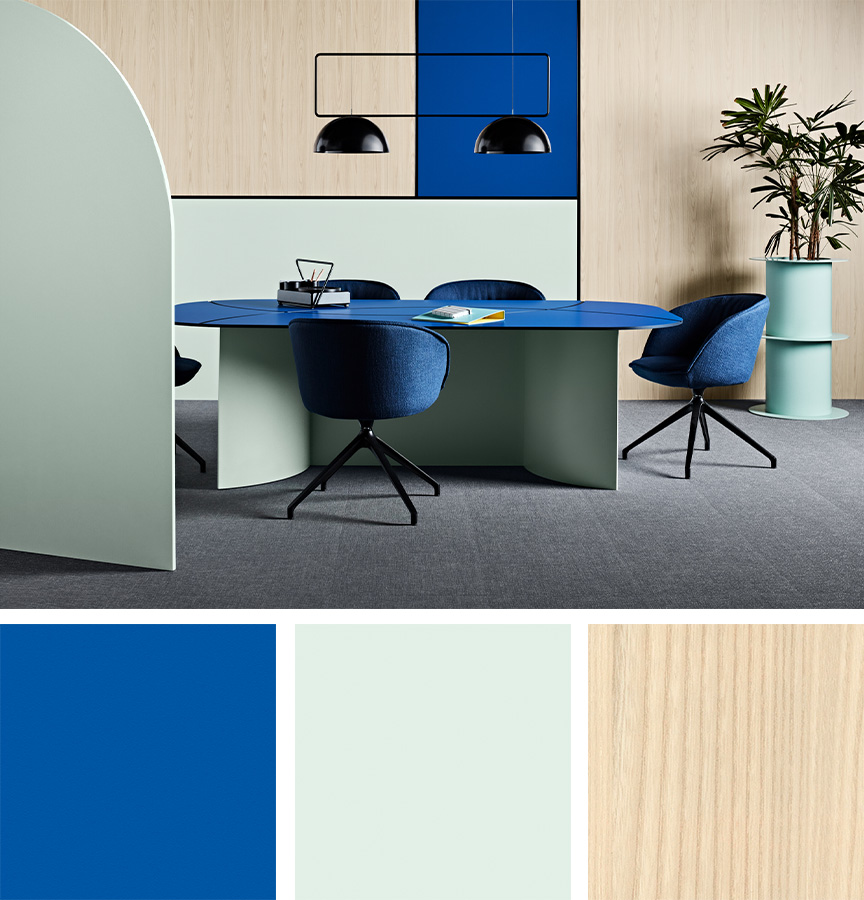 These decors were then brought together with Laminex surface materials specified as fit-for-purpose for each application. The geometrical pattern of colour and woodgrain on the rear wall, for example, was created with Laminex Vertiboard from the Large Format Commercial Range. And the same product was used for the curved office partition, which was designed so that it could be moved to divide the space as required. The curved legs of the meeting table, and a nearby cylindrical planter, were fabricated by cold-forming Laminex high-pressure laminate (HPL), while the tabletop was crafted from Laminex Multipurpose Compact Laminate with a curved pattern routered into the surface.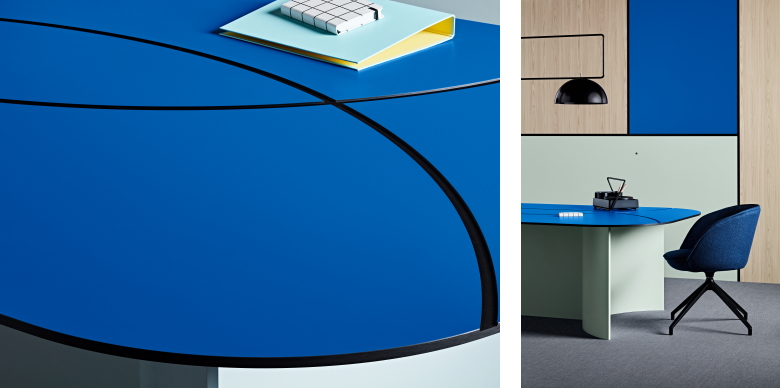 Explaining her approach to the tabletop, Leech says, "The great thing about Compact Laminate is that it has a black core, so you can create design details and you don't see MDF like you would in decorated board, you just see the black." Like the rest of the space, it looks fantastic. And it sets the scene for all of the collaboration, flexibility and creative thinking Leech set out to inspire. Indeed, if this is what the future office looks like, going to work will be a pleasure!
---
Contributors
Design & Styling: Bree Leech.
Photography: Mike Baker.