Chris Connell designs with the new Laminex Colour Collection
Go behind the scenes with revered Melbourne designer Chris Connell, as he creates four spaces to showcase a selection of brand new Laminex decors.
Architects and designers who know Chris Connell won't be surprised to hear that his first response to seeing the new Laminex Colour Collection was to draw. Connell was being briefed to create four sets – a kitchen, bedroom, living room and retail space – to showcase a selection of decors and, according to Laminex's Marketing Manager for Customer and Brand, Rachel Oakley, "We started talking and Chris immediately pulled out his notebook and began sketching ideas!"
Those ideas formed the basis for the sculptural wall panels, pigeonhole shelving, geometrical cabinetry details and other features we see here in the final designs. But Connell's next task was to identify the specific combination of decors to bring those shapes to life. "When you have a range of finishes available to you, it's knowing how much or how little to use. I would say that's the hardest thing with design, and I generally tend to keep materials and finishes to a bare minimum," Connell says. "With these four settings, I wanted to create some sort of thread between all of them, so it felt like they were designed by one person, but at the same time, each had a point of difference."
A kitchen of woodgrain, marble and copper
Connell was drawn to the new Laminex Woodgrains decors, and a wall of cabinetry in the greyed timber tones of Laminex Delana Oak defines the character of his kitchen design. "I was actually surprised by the level of reality in the woodgrains, particularly seeing them on a grand scale like this," he says. The same decor was used for a large shelving unit that provides the backdrop for an adjacent dining area, to create "a sense of unity" in the space.
READ MORE: Get the look - Chris Connell Kitchen Design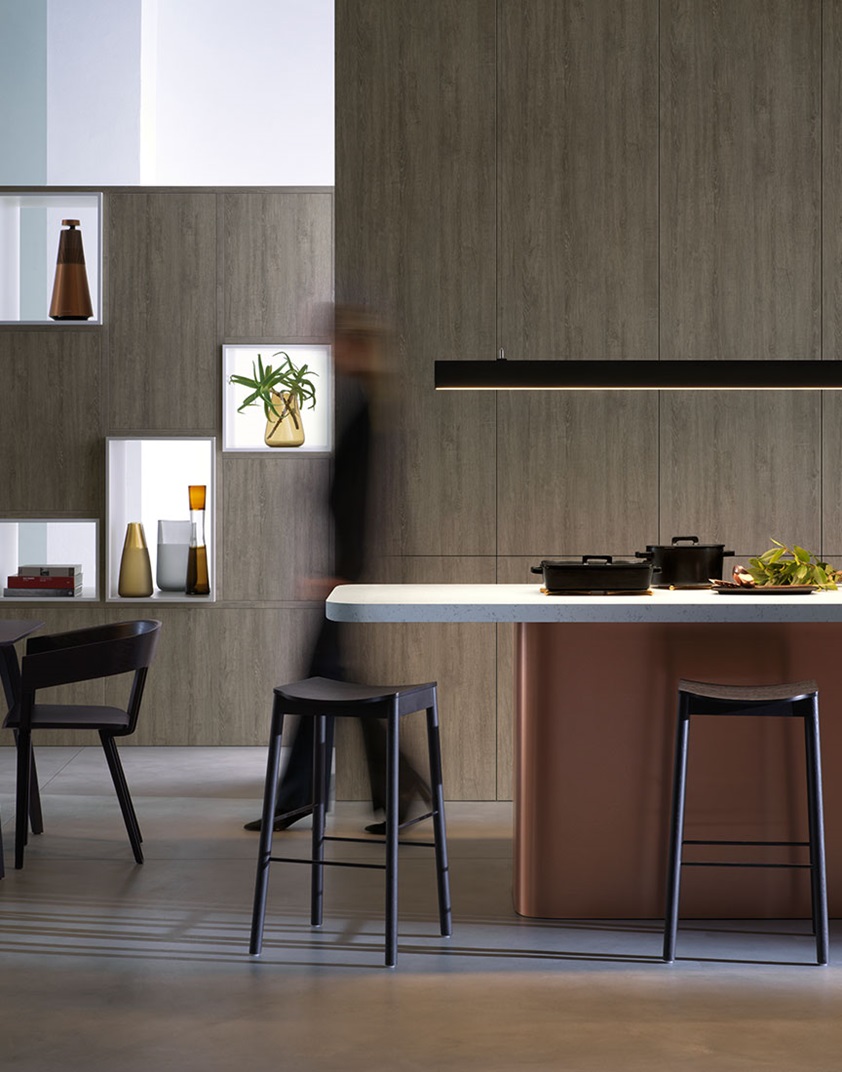 But it's the insertion of other decors in supporting roles that elevates the design. Cut-outs in the shelving unit are clad in mid-tone neutral Laminex Alpine Mist, and in the kitchen proper, a marble-look Crema Venato benchtop sits above an island bench faced with Brushed Copper. "By using the copper but keeping it below eye level, we could showcase it in a subtle way," explains Connell. "I think metallics are great used as highlights in this way."
Light, shadow and gentle colour in the bedroom
Greyed woodgrains play a prominent role in Connell's bedroom too, with a robe clad in Laminex Fox Teakwood. The front of the robe features a diamond pattern, which was routed into the laminate surface, to "break up the verticality of the grain, change the shape of things and make something we see every day more interesting." Inside the robe, only visible when it's opened, internal joinery in pastel pink Laminex Just Rose brings a gentle pop of colour. "Most people would default to white or black inside joinery, but this gives you a surprise," says Connell. "When you open up the joinery, you get a flash of colour."
READ MORE: Get the look - Chris Connell Bedroom Interior Design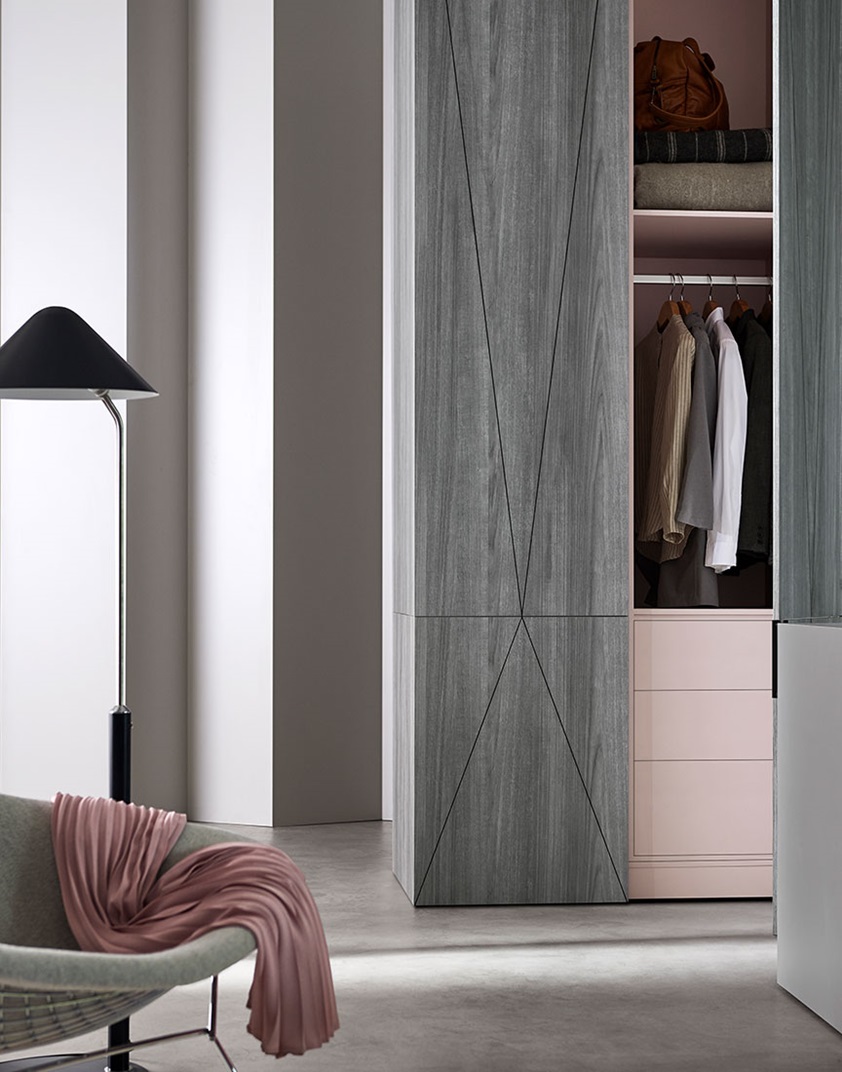 A bedhead in Laminex Lava Grey provides a close tonal match to the Fox Teakwood robe. And behind all of this, a wall of Laminex Aries provides a moody, sculptural backdrop. The grey-based white laminate is the one decor to feature in all four of Connell's sets, and here he uses it to create a sense of depth in the bedroom. "By using a flat colour and making the wall sculptural, we can play with light and shadow and form, and create texture," he says.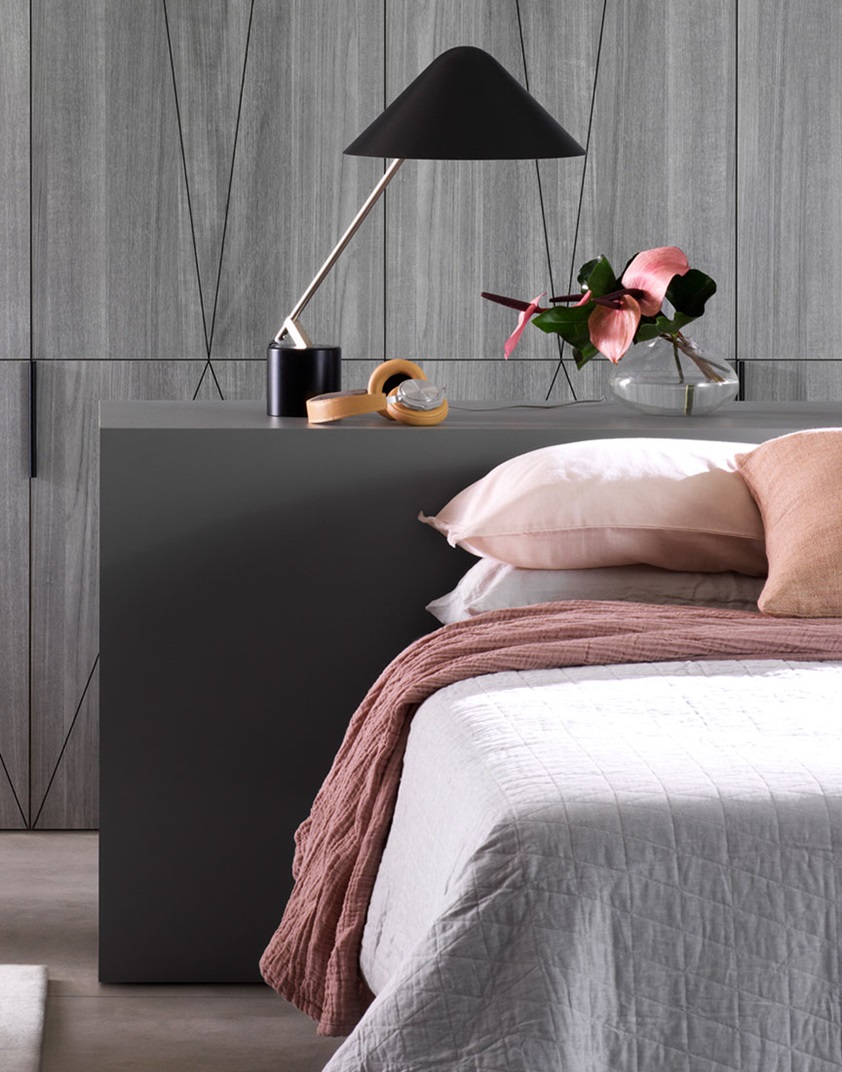 A sophisticated living room with a metallic highlight
By the time we get to the living room, a sophisticated and refined space, the design "threads" Connell refers to become fully apparent: there's a sculptural wall, again in Laminex Aries but with a profile that creates a softer interplay between light and shadow; a wall of timber, this time in the moody tones of Smoked Birchply, with alternating panels rotated to shift the direction of the woodgrain; and the warm glow of Brushed Copper lining a liquor cabinet. "In this space, I wanted to show and explore laminate as furniture, in this case a cocktail storage cabinet," says Connell. "It's not just for built-in joinery."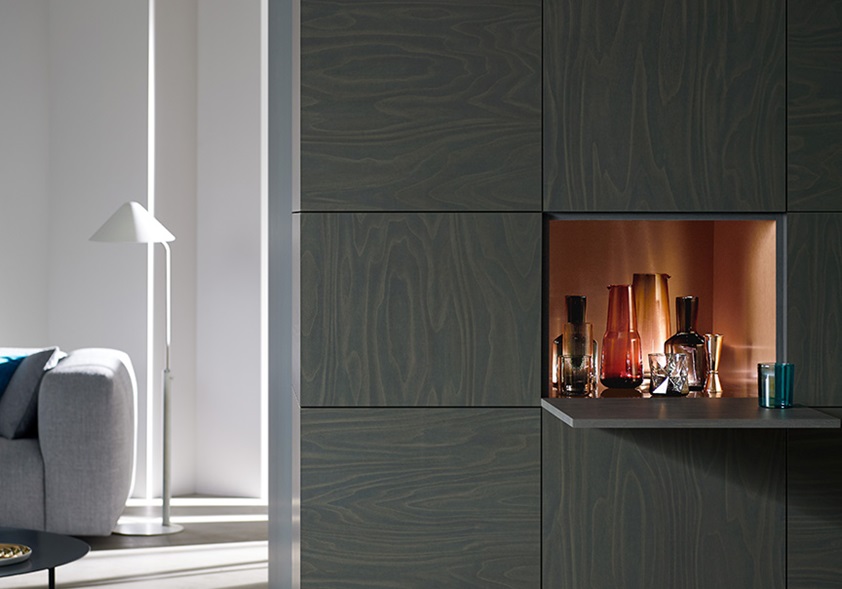 Colour and contrast for retail merchandising
To create the retail set, Connell adapted the shelving system from the living space, giving it a completely new identity by replacing the look of timber with warm green Laminex Green Slate. The cut-out shelves are again lined with Alpine Mist, but in contrast to the rich solid green, they become much more of a feature and, in the retail context, perfect places for showcasing products. "Being in that lighter colour against the green, the pigeonhole boxes are revealed, making the joinery more three dimensional," explains Connell. "It's really important to highlight how changing a colour can completely change the look and feeling of a design." Tall plinths, also in Green Slate, provide additional merchandising opportunities, and another sculptural wall in Aries makes a restrained backdrop that defines the mood of the space without distracting from the merchandise on display.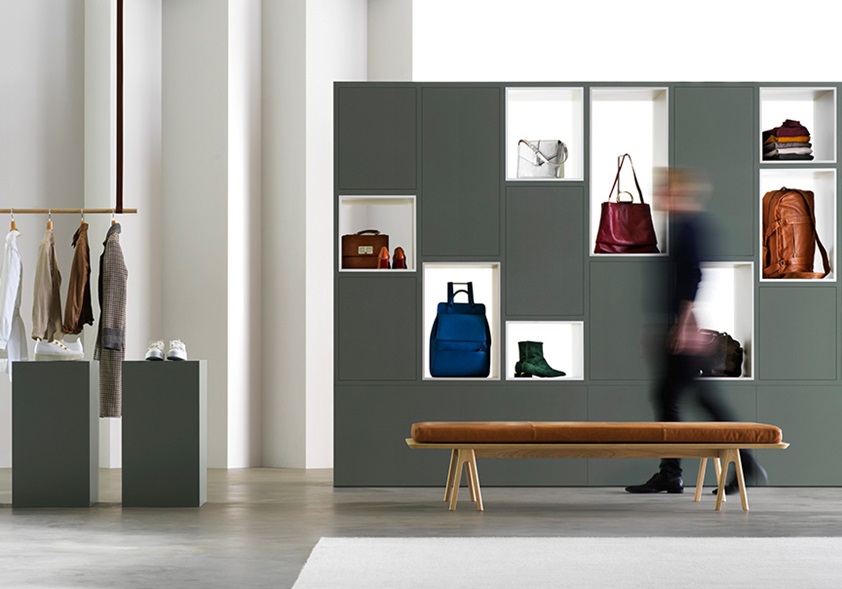 So, four different spaces, distinct but connected, showcasing Connell's deft design hand and restraint with materials and finishes, and brought alive with beautiful new decors from the new Laminex Colour Collection.
Explore all of the decors in the new Laminex Colour Collection here.