A thoughtfully designed aged-care facility in Queensland sets new benchmarks for the daily lives of older Australians.
The increasing demand for aged care in our communities is matched by rising expectations of the lifestyle these facilities will offer. In this context, TriCare's Kawana Waters aged care residence on Queensland's Sunshine Coast is one example that will make us all feel a little better about growing older. It was designed by Brisbane-based cross-disciplinary design practice Deicke Richards for maximum wellbeing and comfort of residents, with a light-filled interior, a strong sense of connection to the natural surroundings and a carefully planned mix of shared and private spaces. "Providing opportunities for incidental contact is very important for people in aged care," explains Deicke Richards interior design manager Magda Myszkowski, "and our design gives residents choices on the level of that interaction." There's a dining room and sitting room on each of the building's three levels, a tranquil "watermall" and outdoor terraces, and private suites with views over the Mooloolah River, into the internal courtyard or out to the eastern horizon.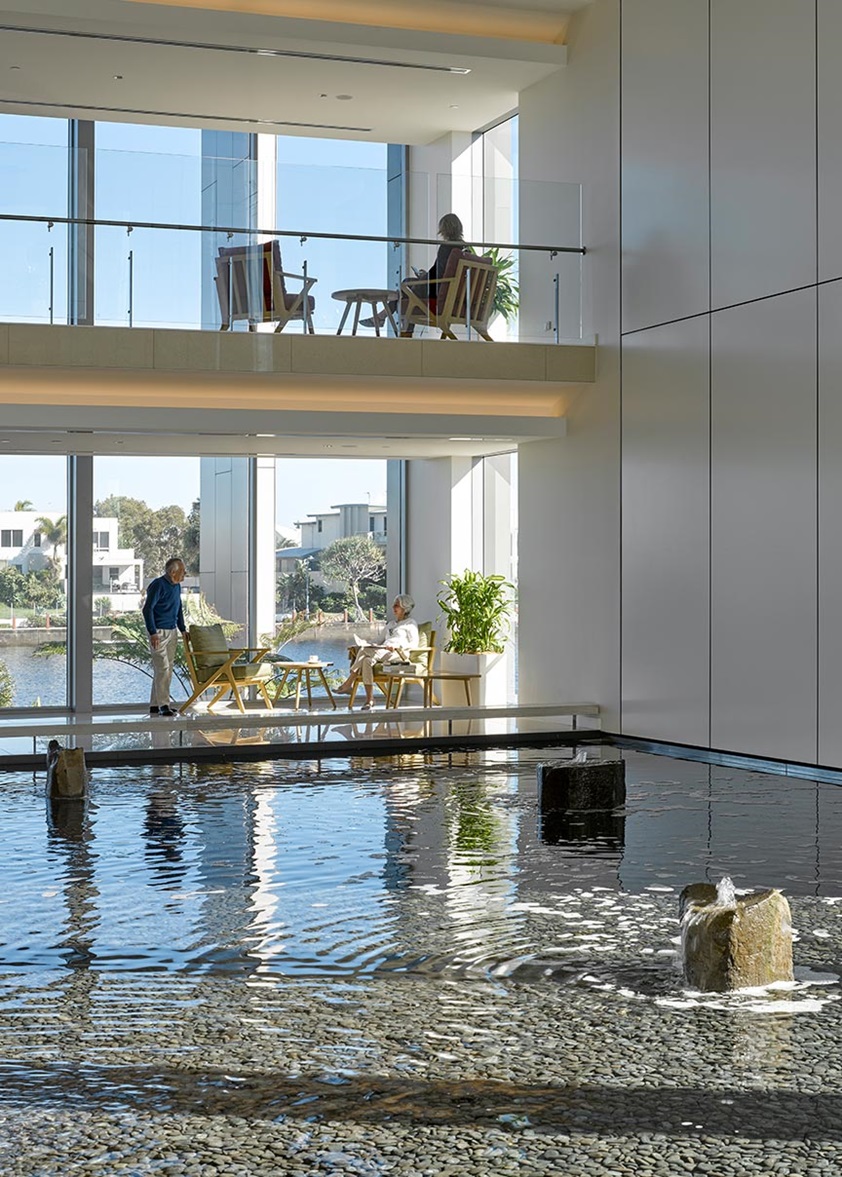 The materials palette responds to the coastal setting with stone, timber and surfaces in natural colours and textures, including nine different Laminex decors. Laminex Elegant Oak features prominently, on walls and joinery in dining rooms, and walls and feature ceilings in some residents' rooms.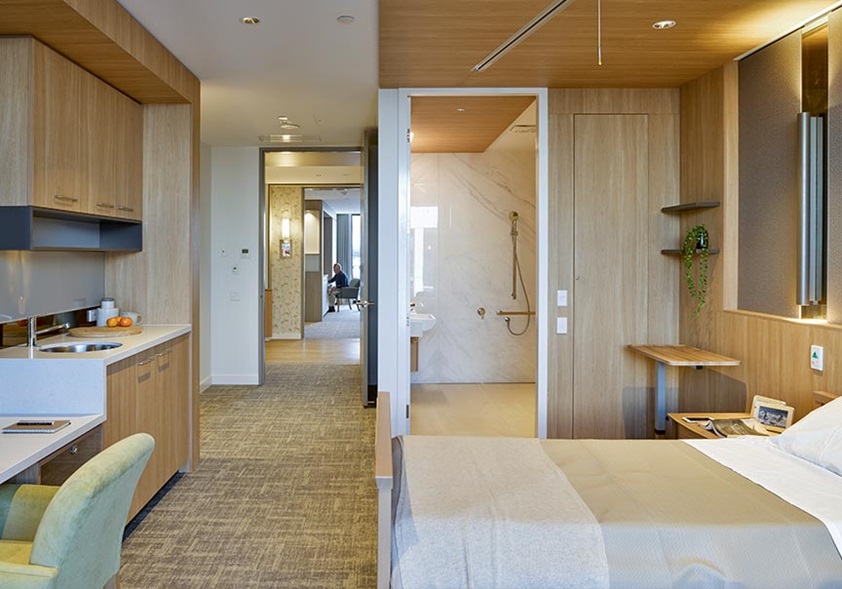 In others, where the impact of direct sun needed to be mitigated, the cooler, darker tones of Laminex Avignon Walnut were preferred. Elsewhere, we find Laminex Fossil, Charcoal, Chamois, Lustrous Elm, Ocean Micro, White and Black.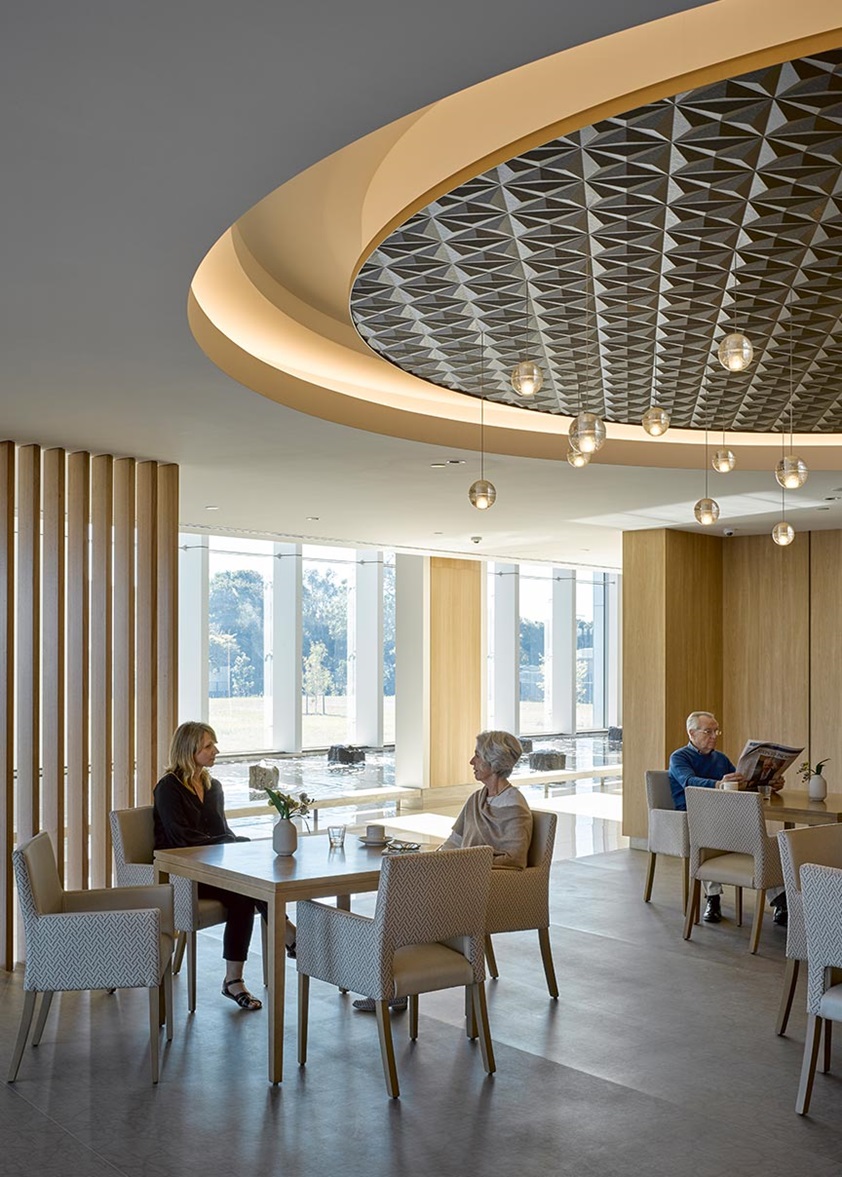 Durability and visual appeal were key factors in the predominance of Laminex surfaces, but the ways they have been used here attest to their versatility too. In private rooms, for example, hoist lifts and tracks are concealed in Laminex-clad bulkheads, and in corridors, Laminex woodgrain decors provide a matched background to solid timber handrails. In both cases, the products help deliver essential aged-care amenity without making it obvious. "The feeling we were trying to create was the comfort and warmth of home, but with the internal detailing of a boutique hotel," says Myszkowski. And that goes to the heart of TriCare Kawana Waters' success – thanks to clever design and material specification, it's a place to grow older, happily and safely, with all the hallmarks of "home" and not a hint of "institution".