The luxurious ultra-matte look and feel of Laminex AbsoluteMatte is perfect for contemporary interior design. Let our definitive guide provide inspiration for your next project.
Matte surfaces have emerged as a defining element in contemporary interior design, and the cutting-edge technology behind Laminex AbsoluteMatte has made it the ultimate ultra-matte surface material. It offers a wide array of benefits, including durability and fingerprint resistance, and is available in 10 popular decors from the Laminex Colour Collection. And its luxurious look and feel is inspiring Australia's best architects and designers, including Kennedy Nolan, to new heights of creativity. This guide to Laminex AbsoluteMatte might help you do the same!
Laminex AbsoluteMatte Black – the ultimate ultra-matte black surface
Matte black finishes are the epitome of contemporary cool, equally at home in sleek sophisticated interiors as they are in edgy industrial schemes. But matte black surfaces have been difficult to work with because they quickly become marred by fingerprints. At least, they did. Thanks to innovative fingerprint-resistant InvisiTouch® surface technology, you can use Laminex AbsoluteMatte Black confident that they'll stay looking beautiful. It's one reason why they've become the go-to ultra-matte black surface material for leading architects and interior designers. Here are some recent examples for your inspiration.
At the Casey Residence, Studio Black Interiors paired Laminex AbsoluteMatte Black and AbsoluteMatte White for kitchen cabinetry in a strong, masculine palette comprising charcoal-toned wall cladding, concrete-look benchtops, marble-look splashback and recycled timber island bench.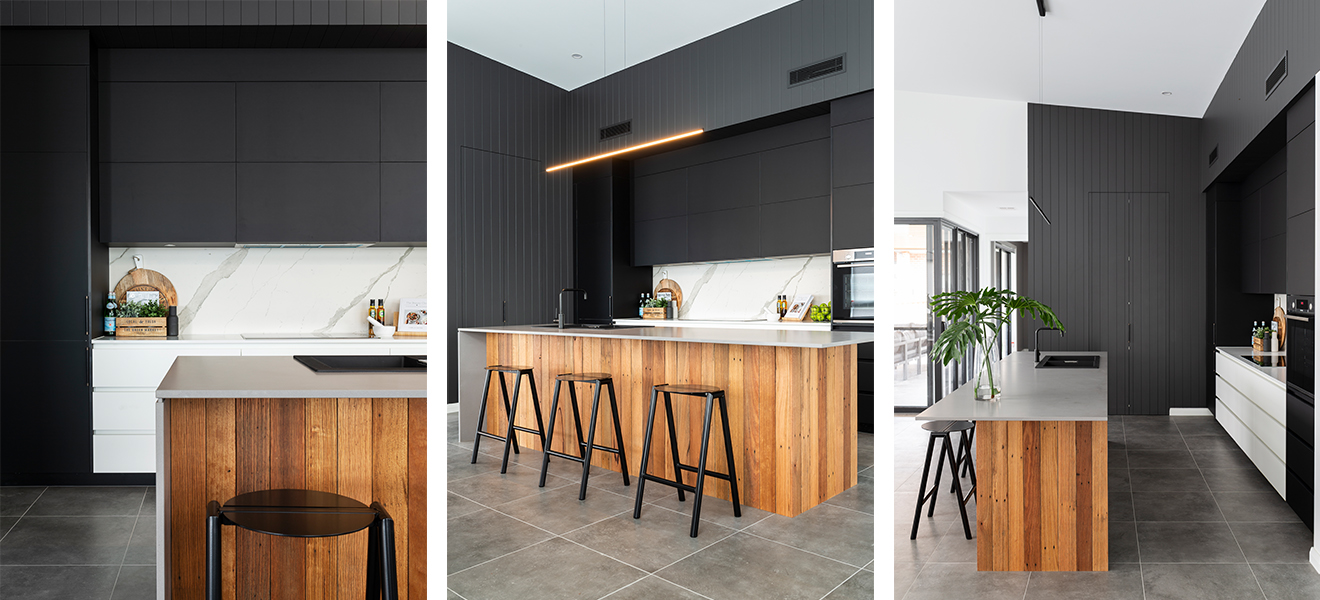 Lauren Egan Design paired Laminex AbsoluteMatte Black kitchen cabinetry with chunky concrete benchtops and glossy, geometric ceramic wall tiles in the effortlessly cool renovation of a 1920s bungalow.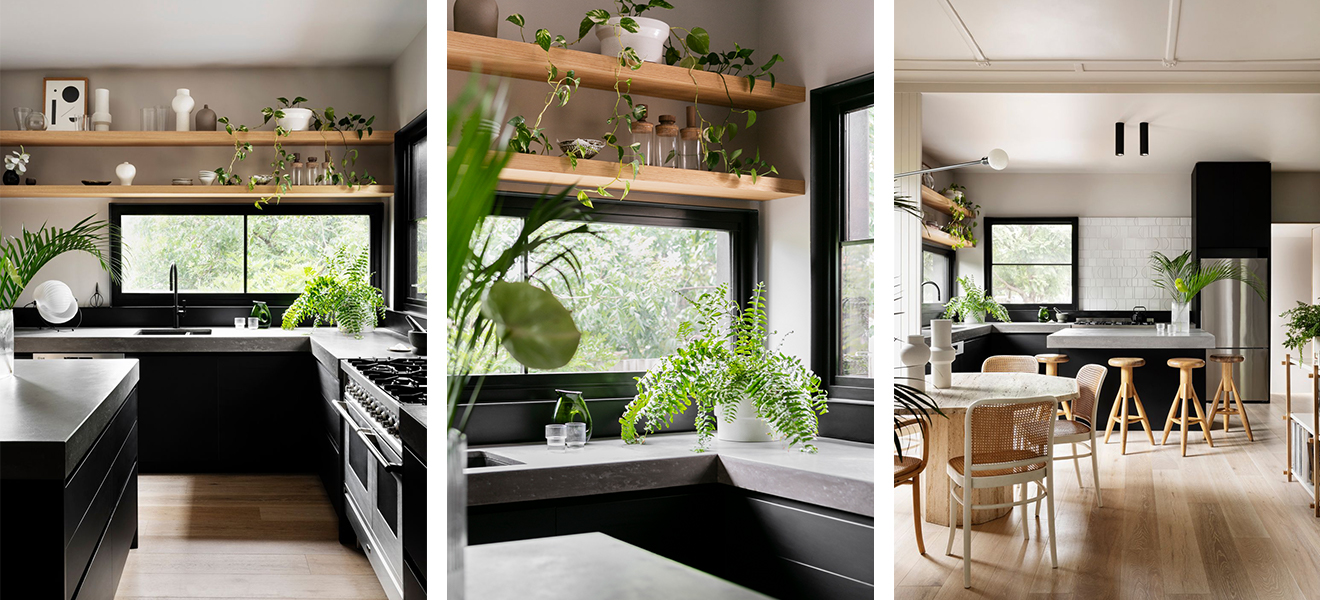 In the Willoughby Home by Anoushka Allum Design, overhead and under-bench cabinetry in Laminex AbsoluteMatte Black provides wonderful contrast to the textural detail of American Oak joinery and marble-look benchtops and splashback.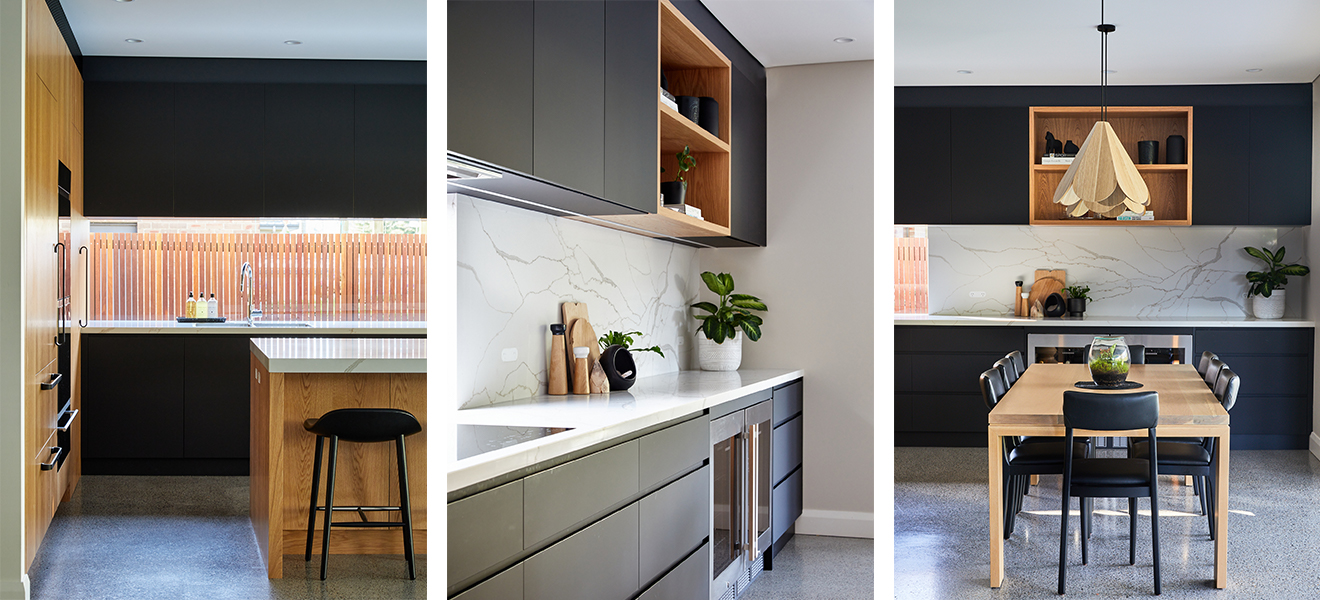 Bacic Group chose Laminex AbsoluteMatte Black for full-height cabinetry and overhead cupboards in the kitchen at their Swanbourne Residence, the ultra-matte black surfaces bringing out the darker tones in the Laminex Sublime Teak under-bench cabinetry and island bench.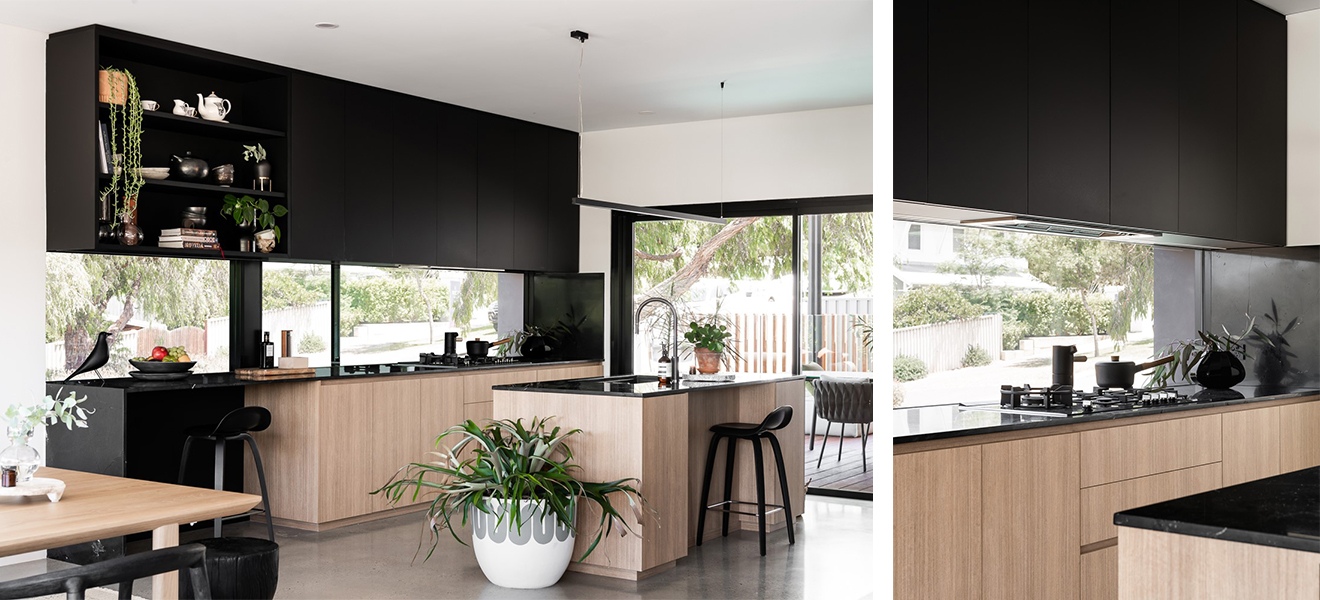 Laminex AbsoluteMatte Black works beautifully with woodgrains, whites, and concrete and stone finishes. This makes them a natural fit with decors like Laminex Sublime Teak and Classic Oak, Laminex AbsoluteMatte White, Essastone Luna Concrete and Essastone Nero Grafite.
The luxurious warmth and richness of Laminex AbsoluteMatte Neutrals
There's been a strong move in recent years, away from bright whites and towards warmer, richer neutral tones. Colours that can play a supporting role in an interior palette, but also bring a strong character of their own. AbsoluteMatte is available in a curated selection of the most popular neutrals from the Laminex Colour Collection, the ultra-matte finish adding a compelling contemporary edge to whites, on-trend mid-tone neutrals and darker tones.
These decors are particularly well suited to kitchens and bathrooms, where AbsoluteMatte's resistance to heat, stains and scratches make them a highly practical surface option. In other settings, their warmth and velvety feel brings a sense of luxury to countertops, tables and desks.
The light-absorbing qualities of Laminex AbsoluteMatte bring a wonderful visual softness to timeless Laminex White and crisp Polar White. They can be paired with the same decor in different finishes, for subtle shifts between gloss and ultra-matte, for example. Or contrasted with more vibrant decors, or natural textures.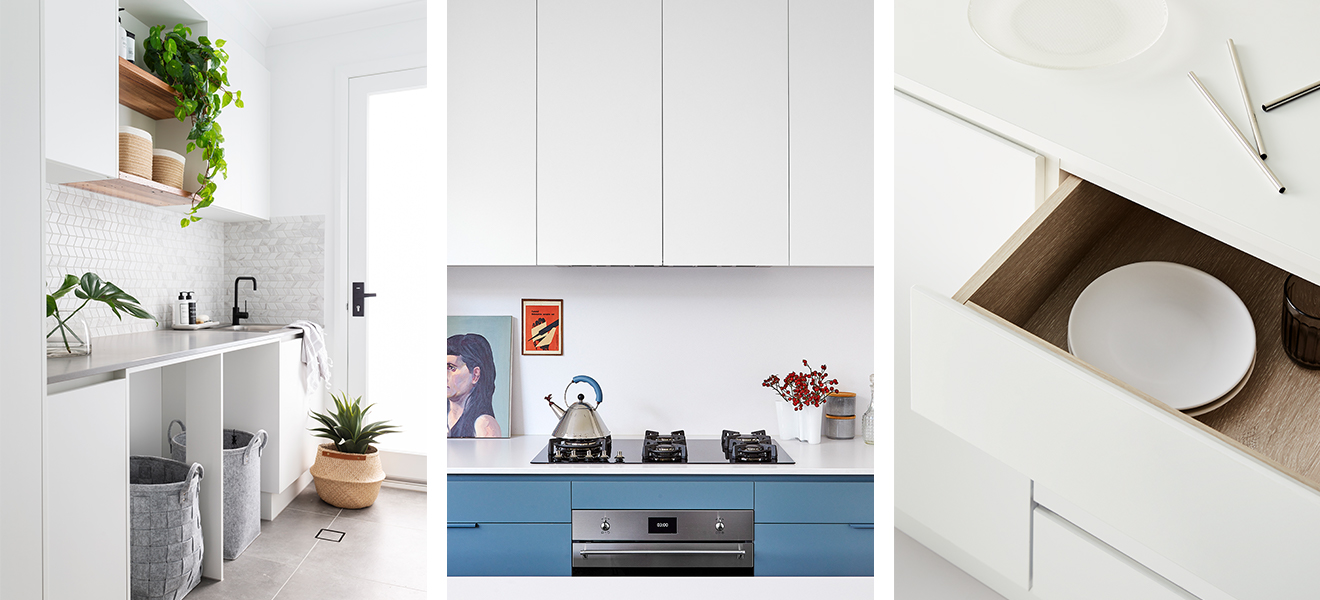 Mid-tone neutrals like creamy Laminex AbsoluteMatte Surf, slightly cool grey AbsoluteMatte Pewter and warm grey AbsoluteMatte Oyster Grey bring a naturally balanced look to interior spaces. They offer a contemporary alternative to traditional whites, while retaining a sense of lightness.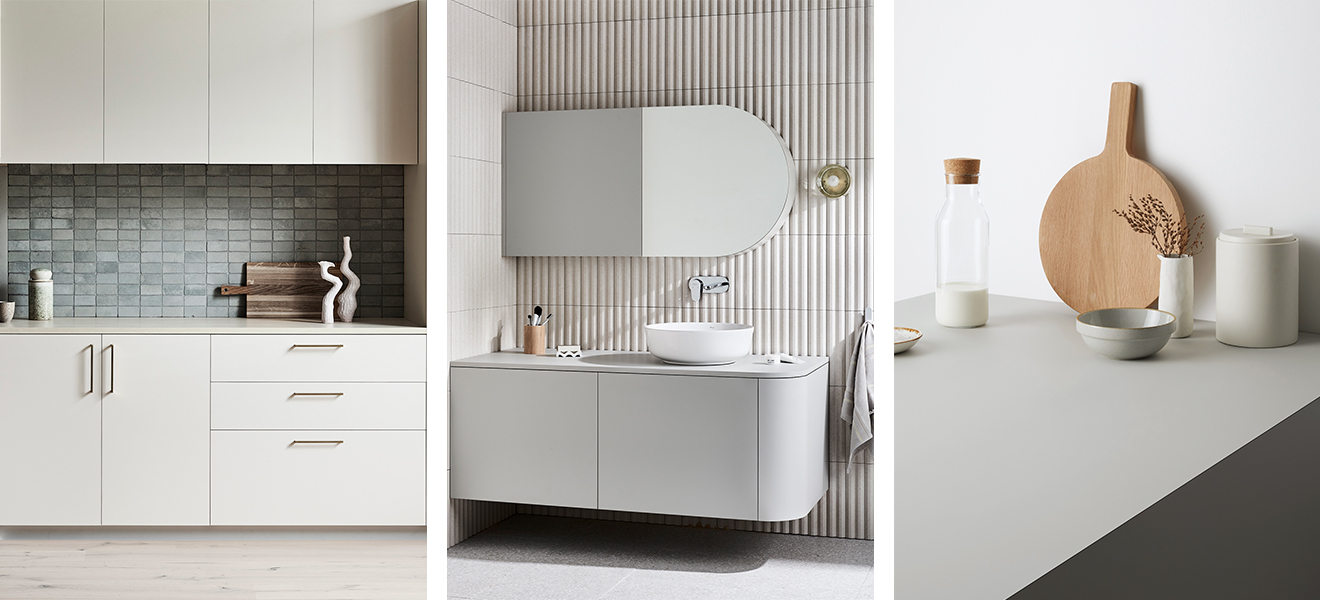 Rich grey Laminex AbsoluteMatte Terril, warm green AbsoluteMatte Green Slate, deep blue AbsoluteMatte French Navy and warm grey Stormcloud exude confidence and character. They can be used for feature elements in a complementary interior palette, or more expansively, to immerse a space in saturated colour.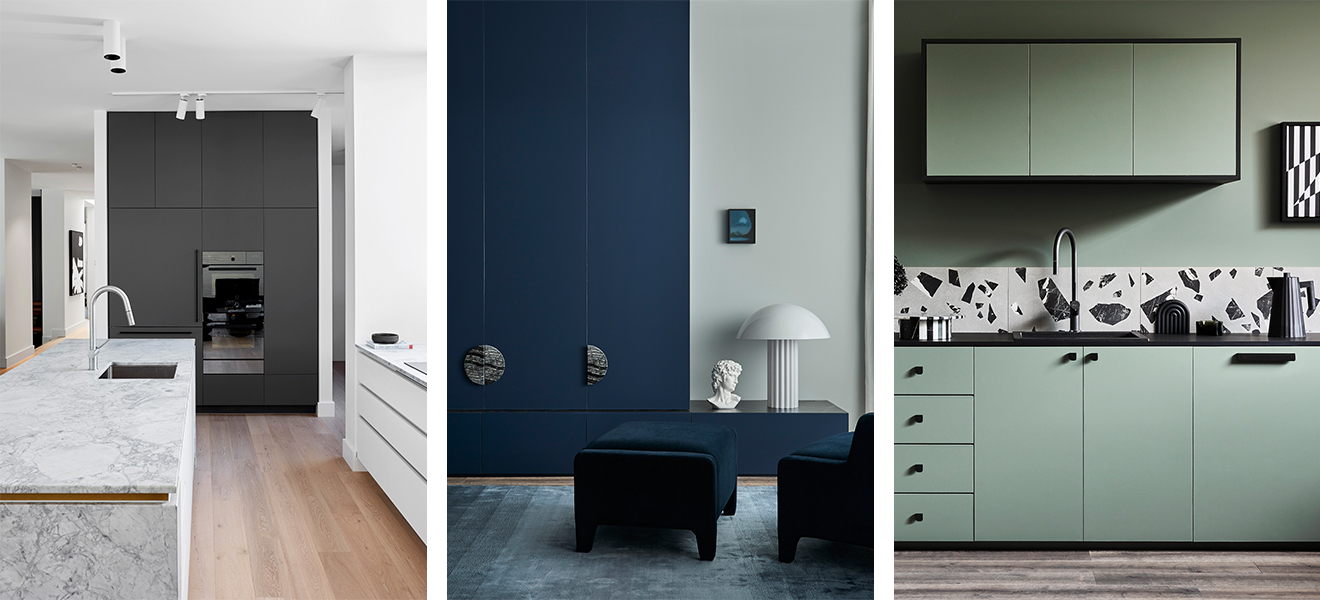 Contributors:
(1) Casey Residence by Studio Black Interiors. | Builder: REP Building. | Photography: Adam McGrath.
(2) Preston House by Lauren Egan. | Architects: Project 12 Architecture. | Styling: Ruth Welsby. | Photography: Martina Gemmola.
(3) Willoughby Home by Anoushka Allum Design. | Builder: Intuitive Building. | Cabinet Maker: MS Interiors. | Photography: Liam Molloy.
(4) Swanbourne Project by Bacic Group. | Styling: Anna Flanders. | Cabinet maker: Optima Interiors. | Photography: Dion Robeson.
(5) Casey Residence by Studio Black Interiors. | Builder: REP Building. | Photography: Adam McGrath.
(6) Woodlands Project by Sgourakis Architects. | Styling: Bea & Co. | Photography: Dave Kulesza.
(7) Kitchen styled by Bek Sheppard. | Photography: Annette O'Brien.
(8) Country Kitchen by Bree Leech. | Photography: Lisa Cohen.
(9) Oyster Grey Bathroom by Bree Leech. | Photography: Lisa Cohen.
(10) Kitchen Island styled by Bek Sheppard. | Photography: Annette O'Brien.
(11) Dendy Residence by Webster Architecture. | Builder: Mazzei Homes. | Cabinet Maker: The Kitchen Design Centre. | Photography: Elisa Watson Photography.
(12) Living Room by Bree Leech. | Photography: Lisa Cohen.
(13) Green Kitchen by Bree Leech. | Photography: Lisa Cohen.