Melbourne kitchen designers Complete Kitchens worked with Chris Connell to fabricate four sets showcasing decors from the new Laminex Colour Collection.
Chris Arnold started Complete Kitchens in the Melbourne suburb of Oakleigh South 41 years ago. Since then he says the company has built "somewhere between 19,500 and 20,000 kitchens, plus probably 5,000 laundries and 8,000 bathroom vanities!" And now they can add four Laminex sets to that tally – the kitchen, living room, bedroom and retail space designed by Chris Connell to showcase decors from the new Laminex Colour Collection. The wealth of experience that Arnold and his team brought to the project were invaluable in getting the sets built efficiently and with immaculate attention to detail. Talking to him about the project, and some of his other work, it's clear how much insight kitchen and bathroom designers have to offer about Australian design and Australian homeowners.
Collaborating with the designer to get the best result
"We do mainly mid- to high-end houses, a lot of architectural-type work," says Arnold. "This was really quite a nice project to work on because it was something a bit different, quite quirky and funky." His team collaborated closely with Connell on specific details, including the geometrical pattern cut into the front of the robe in the bedroom set. It was originally specified as separate panels but Arnold suggested a different approach, to ensure that the doors would function perfectly. "Chris was really approachable about us making it with an expressed groove rather than separate panels," he says, "and in the end it achieved the same effect."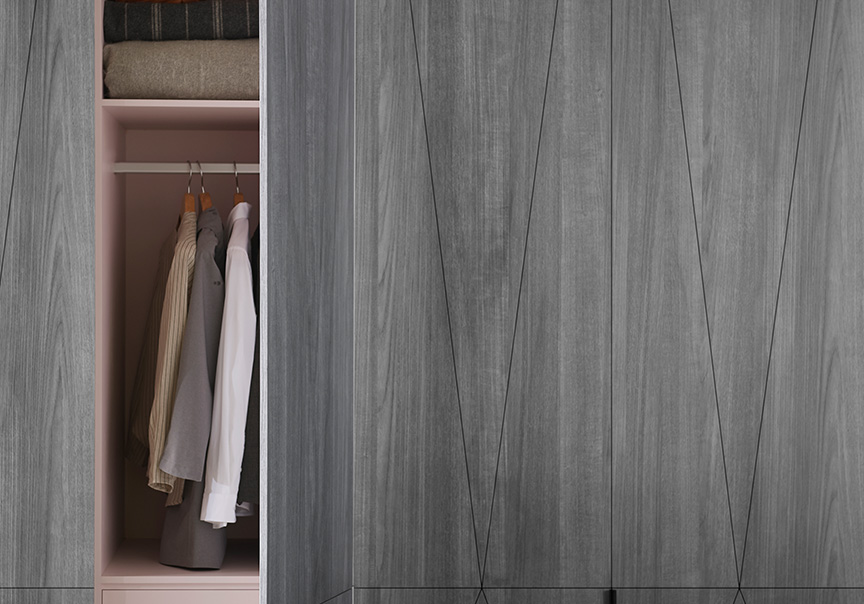 Giving clients the colours they want
Among the various decors used for the designs, Arnold was particularly impressed with warm green Laminex Green Slate and greyed woodgrain Fox Teakwood. "We used Green Slate in the wall unit with slide-in, slide-out boxes. I think that's a colour that's going to go really well. It's an emerging colour," he says. "The woodgrain product looked really good too, the Fox Teakwood that we did the face grooving on. Laminex has got a couple of particularly good colours coming out there, and also the coppers and brasses, which are just starting to take off. They've brought them on market at the right time."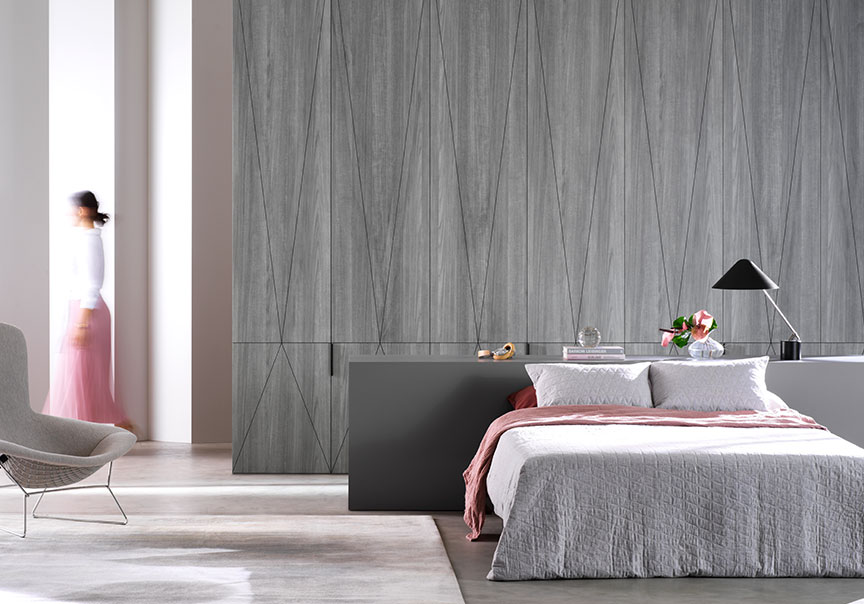 Working at the coalface of Australian residential design, collaborating directly with his customers, Arnold is well placed to see what Australians want their homes to look like in 2019 and beyond. "There's been a return to the Scandi/industrial look, using ply as substrates in some cases, with laminate over them. Also steelwork coming into it, including black steel, and copper and stainless inserts, again giving it that industrial feel," he says. "Colours have definitely gone a full circle in that blues and greens are coming back in. You know, the last time I saw colours like them was probably in the mid-to-late seventies, possibly early eighties."
Asked whether it's a sign of Australian homeowners being braver and more ambitious with colour, and not wanting to default to safe neutrals, Arnold is emphatic in his response. "Absolutely. You don't see much beige anymore, and I'm pretty glad. I'm well over beige, believe me!"
To explore the full range of decors in the new Laminex Colour Collection, click here.