HI-MACS Sink
Large Squat U'Mount No OFlow
Matt Satin
HI-MACS® sinks seamlessly integrate into HI-MACS® benchtops, supporting aesthetics, hygiene and the ability to clean the area effectively. The non-porous surface is 100% water resistant and suitable for commercial healthcare applications where cleanliness is paramount.
This rectangular sink is produced using a high-quality casting technique and has a natural matt satin finish.
Pair HI-MACS® sinks with the Covered Basket Waste here.
The following specifications apply to this sink:
Installation: Undermount
Tap holes: Installer to complete
Overflow: No
Plug & Waste: Not included. Please pair with the Covered Basket Waste here.
Availability: In stock
Warranty: 10 years limited
Are you a Laminex Trade customer?
Login to your account to see pricing, availability and make purchases online.

HI-MACS®
Colour Code: CS504
HI-MACS®
Colour Code: CS504
You can order a maximum of free samples in a single order.
$0.00 ex GST and Shipping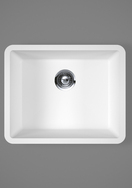 HI-MACS®
LG HI-MACS Large Squat U'Mount No OFlow Matt Satin HI-MACS Sink
COLOUR CODE: CS504
Please be aware that once your order is placed, orders can only be changed or updated via the Customer Service team by phone at 132 136 or via online chat.
Please select your delivery method.
Important note: Only 1 delivery method or address can be selected per order. The delivery method and/or address you select will be applied to all products in your cart, please be aware that changing your delivery method/address may change the availability dates of the products already in your cart.