A floating vanity can bring a sense of spaciousness and contemporary style to any bathroom. Here are some of the key design considerations.
If there's one room in the modern Australian home where a touch of luxury and style can be introduced into daily life, it's the bathroom. And one of the best ways designers and fabricators can help achieve this is with a floating vanity. Not only are their clean lines and minimal form perfect for contemporary interiors, the space created beneath the vanity brings a sense of opulence to larger bathrooms, and feelings of lightness and volume very welcome in smaller ones.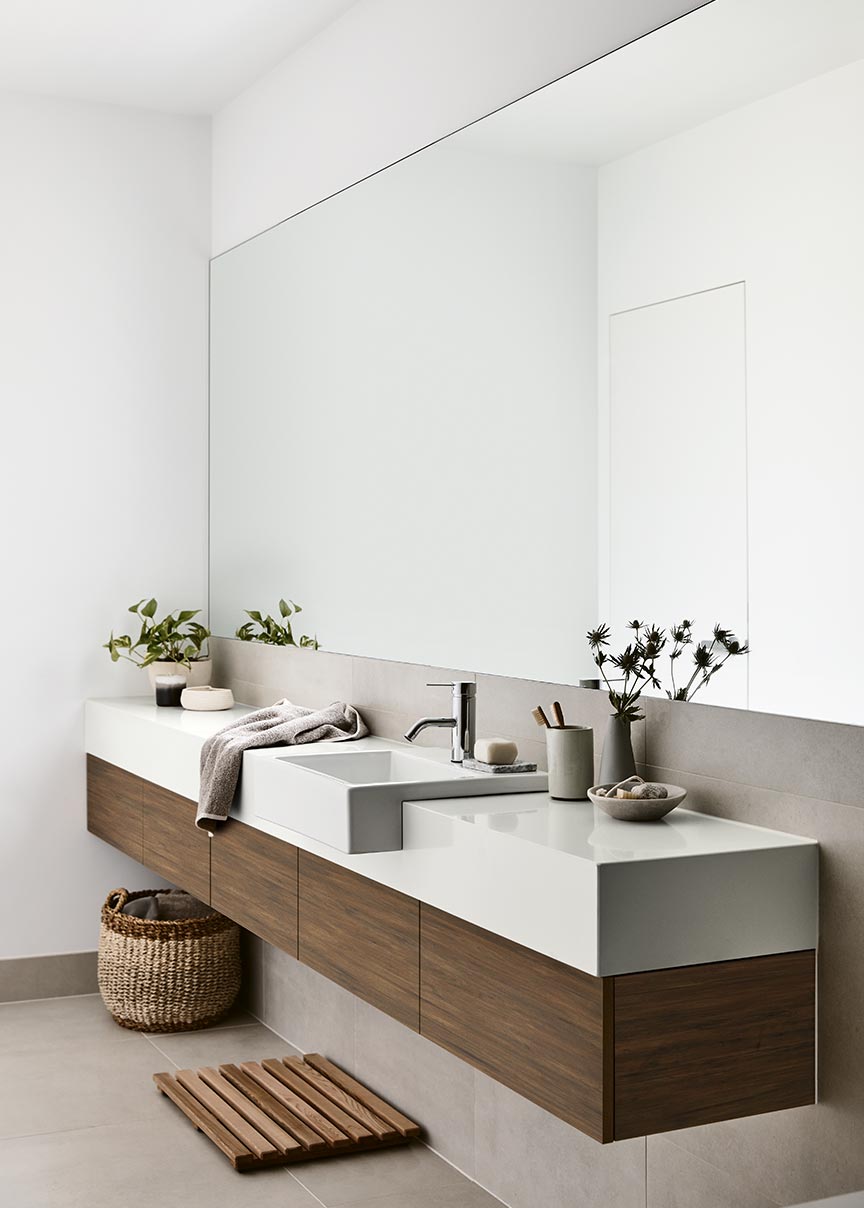 Cost-effective design with a premium look
Laminex National Technical Applications Manager Peter Harrison lists several reasons why laminate is the ideal material for a floating vanity, including its moisture resistance and durability, and the myriad colour options in the Laminex Colour Collection. The Woodgrains and Minerals ranges are particularly powerful for this application, because they emulate the look and feel of popular natural materials like timber and marble, so you can achieve a design outcome that has a premium look but is also cost-effective.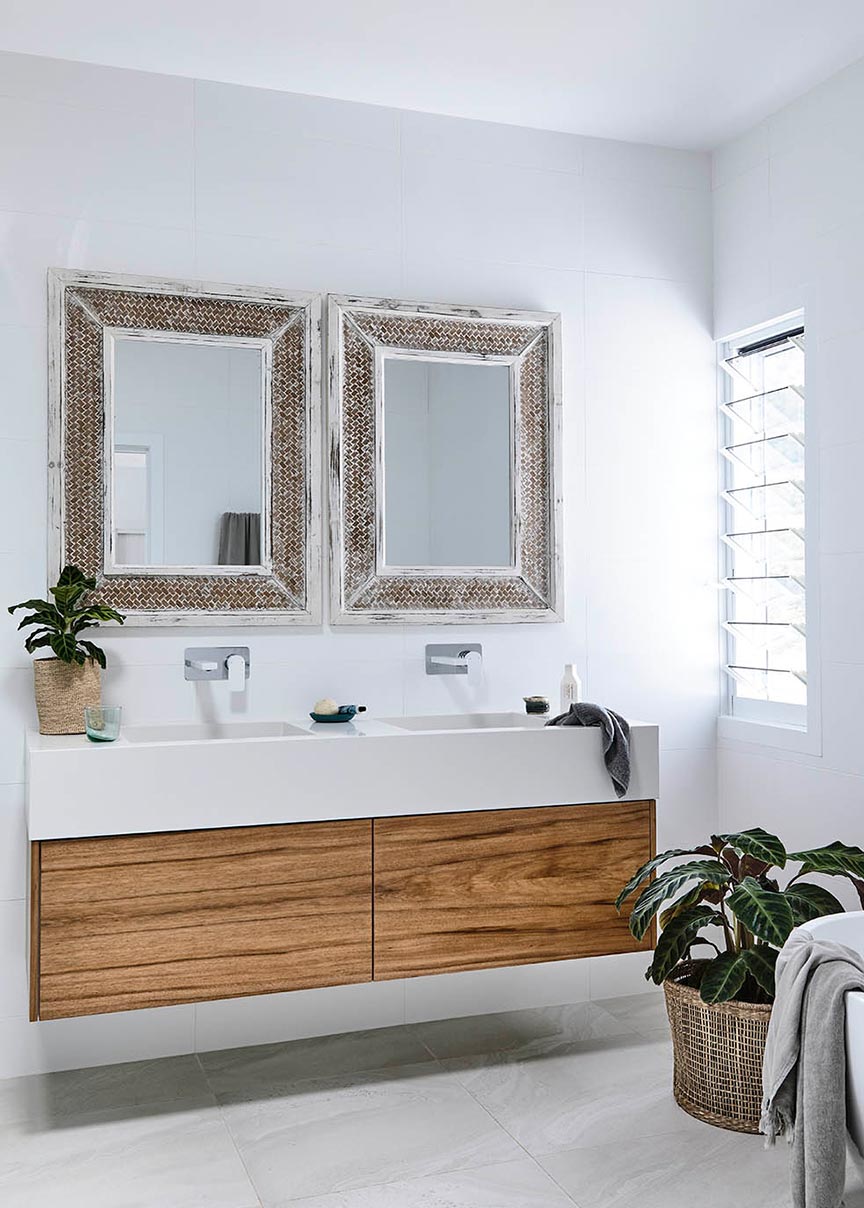 "Weight is always a consideration for floating vanities, especially ones fixed to a single wall," says Harrison. And of course, laminate surfaces are much lighter than timber and stone, which again makes them a practical choice. "You have to factor in not just the weight of the basin but also water in the basin," he advises. "And don't forget that people will quite likely lean on it from time to time to get closer to the mirror!"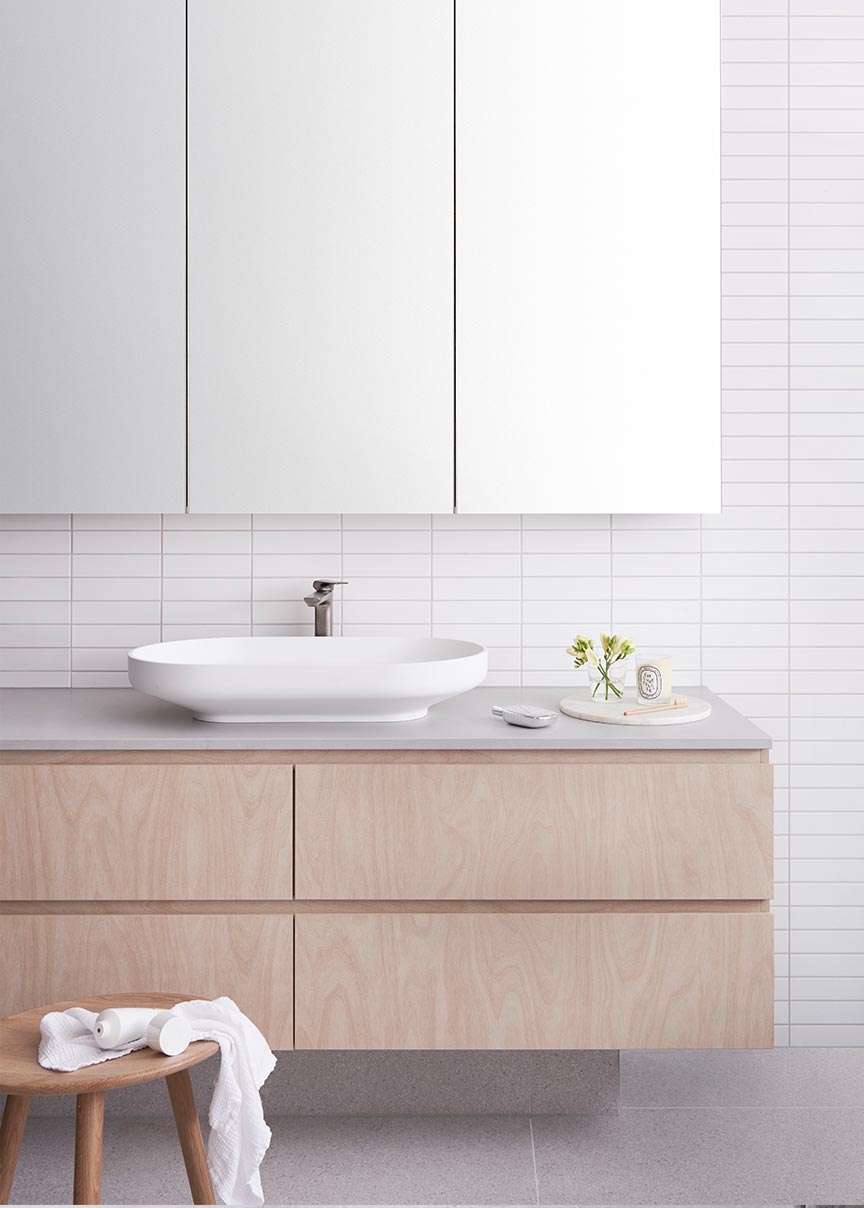 Achieving a beautiful, long-lasting finish
Another key consideration when designing a floating vanity is to minimise joins to protect it from moisture. "One of the best ways to achieve this," says Harrison, "is with a post-formed edge for a rounded, join-free finish." This again brings timber- and stone-look laminates to the fore, as these curving, seamless edges help to retain the authentic look of the natural material and make for a luxurious feel.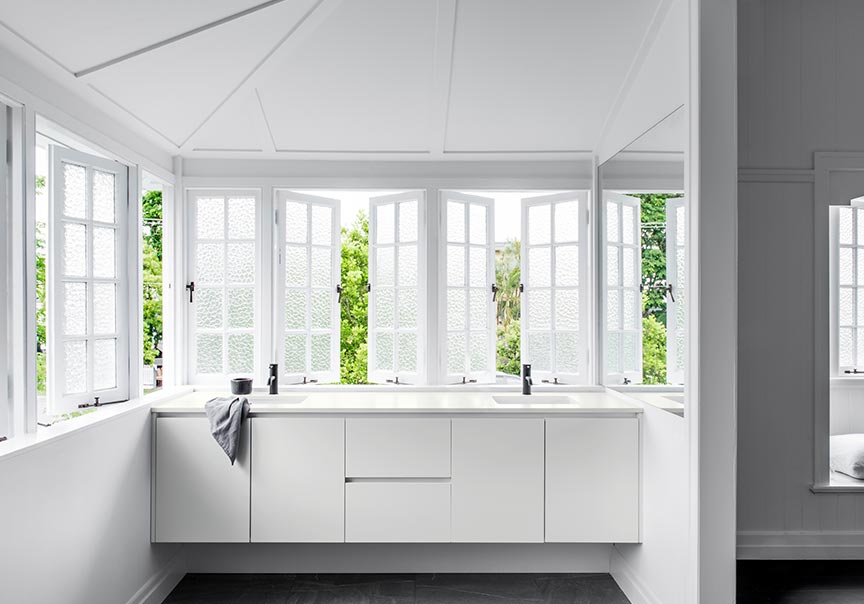 Adding a splashback to a floating vanity can create a beautiful visual effect, with the same decor continuing from the countertop up the wall. "You can't place a laminate directly on plasterboard or an uneven surface, so to create a splashback, the laminate needs to be bonded to a moisture-resistant board," explains Harrison.
Celebrating sleek minimalism
An alternative approach that elevates the minimalist appeal of a floating vanity is to use compact laminate with a square edge for a slimline countertop. Laminex Compact Laminate comes in a standard thickness of 13mm and its impact resistance makes it a neat fit for the job. To complete this minimally detailed look, a handle-less finish can be achieved with drawer fronts ordered from the made-to-measure Laminex DesignEdge range in Reverse Bevelled Edge profile.


You can learn more about the Laminex Colour Collection, including the Woodgrains and Minerals ranges, here. Or click here for more information about the DesignEdge range.