Get a great result from your bathroom renovation by following our easy-to-use planning guide. Answer just five simple questions to form a clear, stress-free action plan to follow. Congratulations – you're well on your way to enjoying a sparkling new space.
1. WHY a bathroom renovation?
Is your current bathroom:
- outdated or not functional for your family any longer?
- lacking storage space?
- using valuable space on items you no longer need?
- made from poor quality materials?
Will your future bathroom:
- have floating shelving, a shaving cabinet or extra drawers in the vanity?
- have a freestanding bath, a heated towel rail or double shower?
2. WHO will use the bathroom?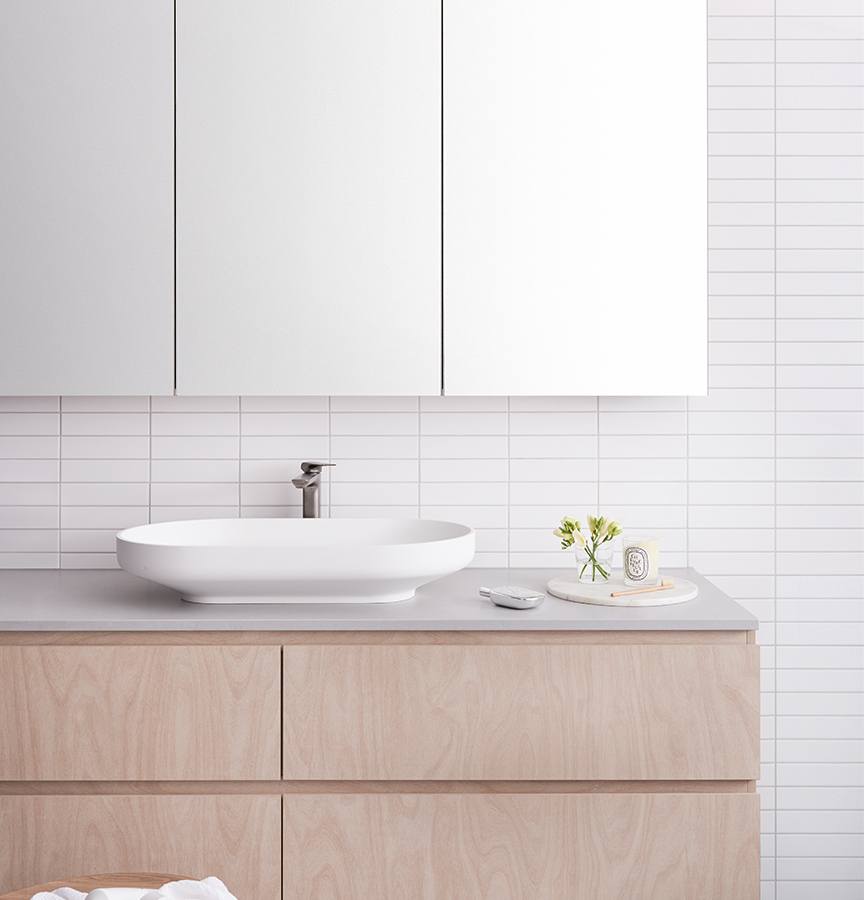 From luxurious ensuites, busy bath times for little ones or a pretty powder rooms for guests, understanding who will use the space will help you determine the best materials to use. Natural stone and timber veneers look beautiful but do not fare well against messy little fingers, makeup and soaps. Hardier options include engineered stone benchtops like Essastone or hard wearing, easy to clean Laminex products.
Tip: Consider a premium palette for your ensuite or powder room and choose durable, cost effective options in the same colours for family bathrooms. This will help you stay within budget.
3. HOW MUCH?
Have you set a budget to work within? If not, then make it a priority. When setting your budget, consider whether you are renovating with a view to sell or do you want to enjoy the space for years to come? Always set a contingency of around 15 percent for unforseen costs. Dealing with plumbing or lifting tiles can expose unfortunate nasties!
4. WHO will complete the renovation?
Is this a DIY job or are you getting tradies in? Bathroom renovations may look simple, but there are so many aspects to consider. Tiling, plumbing, electricals, waterproofing, painting – are just some of the jobs that will need attention. And unfortunately, if not done well, these tasks can compromise the final look and even cause potential – and costly – problems down the track.
Tradies Vs DIY
Look at the size of your job and your budget. Are you gutting the space and starting from scratch? Or simply revamping what you have?
Create a list of jobs to be done, including:
Tiling, Waterproofing, Plumbing, Electrical, Painting, Cabinetry
DIY can be rewarding and more cost effective, but it's important that you understand exactly how jobs like waterproofing and tiling are done before you start. Having to get a professional to fix something later is expensive and time-consuming, not to mention bad for the ego! And for some jobs, such as electrical work and plumbing, only a licensed trade can perform the work. It's true, hiring a designer and trade professionals is a bigger expense, but it's often worth it. With so much project management, organising and stress involved, it may be worthwhile investing in people who can take care of it for you.
5. WHAT style?
Being clear on your design preferences lets you narrow down material selections fast. To achieve a harmonious flow with your renovation, it's important to consider the style and materials used within the rest of your home. Be consistent with your choices and select recurring themes that feature in other spaces – a wall colour, a timber or a flooring are all good choices. If you're renovating your entire home, use the same design philosophy and maintain a consistent mood throughout. Not sure which style to choose? Take our style quiz to find the design that best suits you. And to spark live inspiration, display homes, showrooms and recently renovated open-for-inspections are great resources.