This beautiful prefabricated holiday home achieves impressive environmental credentials without compromising on liveability or contemporary style.
The Victorian coastal village of Cape Paterson is an idyllic spot for a family holiday, with pristine ocean beaches and rockpools that teem with sea-life. It's the kind of place where you can't help but respect nature. And fittingly, it's becoming a showcase of environmentally sustainable development, with local housing estate The Cape enforcing strict benchmarks for sustainable design. One of the newest homes there was designed and constructed by the modular building company, Ecoliv, for clients who wanted a seaside holiday retreat. The two-storey house has impressive sustainability credentials, of course – a 7.7-star NatHERS energy rating, no less – but also a beautiful aesthetic just perfect for the naturalistic location.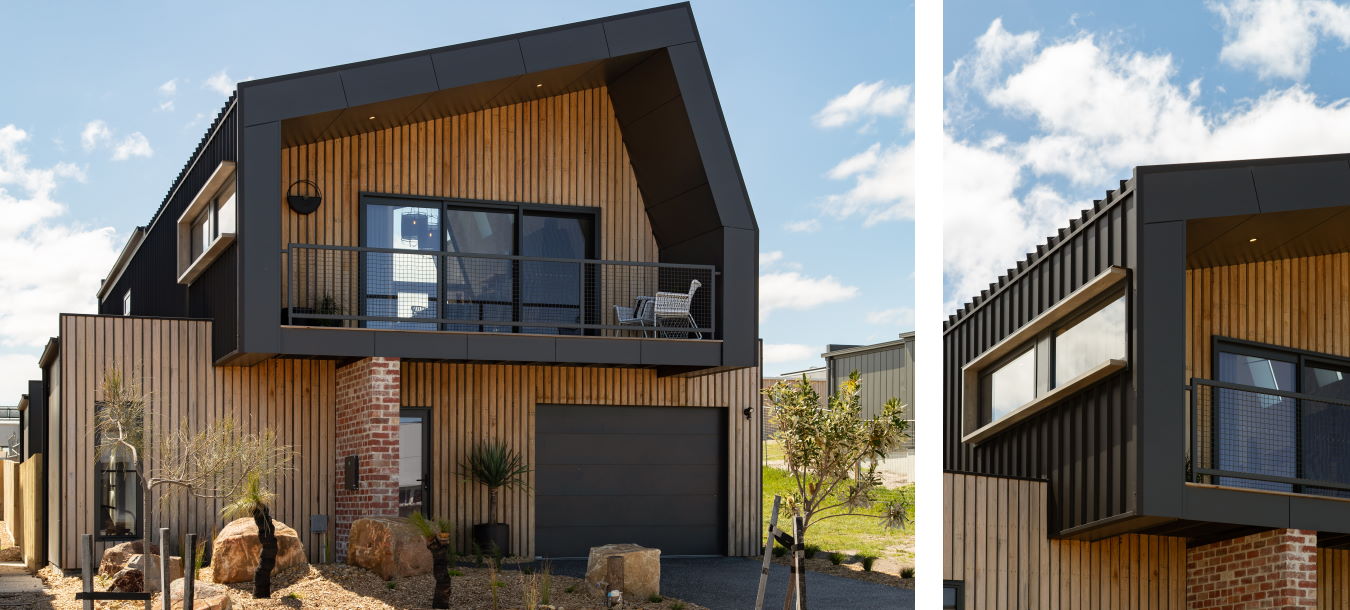 Its robust exterior combines black steel, recycled brick and hardwood cladding in an asymmetrical form that puts a modern spin on the classic A-frame beach shack. This translates to an interior with a spacious ground-floor living area and a soaring oblique ceiling. Skylight windows bring in plenty of natural light, which bounces of the crisp white walls, illuminating every corner. And taking centre stage is an expansive, strikingly designed kitchen. It features concrete-look island and rear benchtops, with glossy white subway tiles on the rear splashback providing textural contrast and Tasmanian oak shelves adding warmth. And then Laminex AbsoluteMatte Black for all vertical cabinetry surfaces, doors and drawers. Teamed with a black oven, rangehood and dining table, these strong black elements mark the kitchen as the focal point of the home, as well as providing a connection to the steel on the exterior.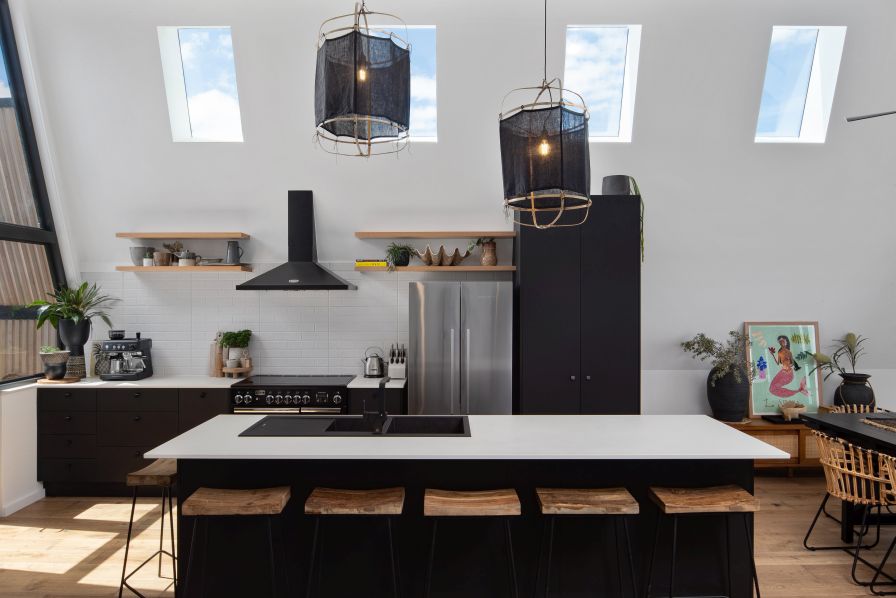 "We explored different colours before settling on black. Our idea was to create a bold statement with the use of monochromatic tones and matte surfaces, something that had an industrial vibe to it."
Esme Beaumont – Director at Ecoliv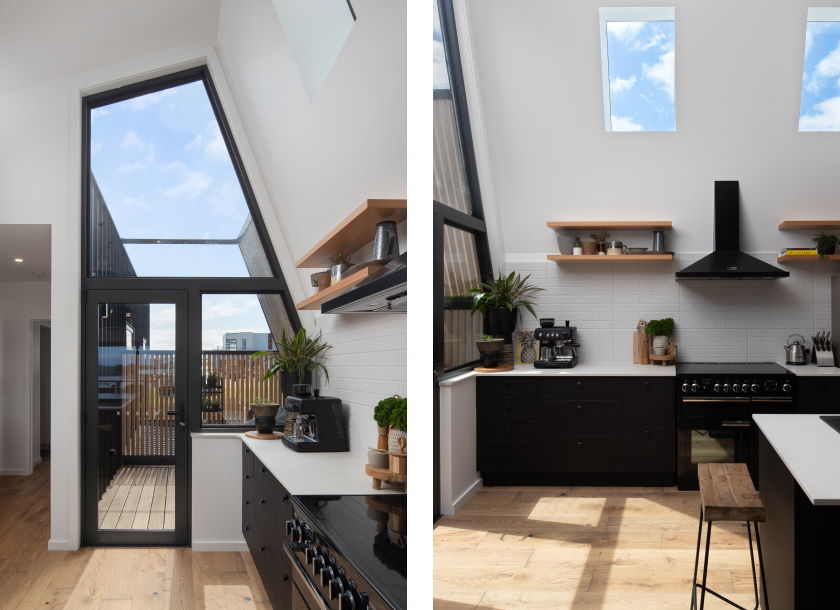 The ultra-matte AbsoluteMatte Black surfaces bring a very contemporary edge to the interior, and sit beautifully in the context of the natural timber floors and shelving, and the natural world outside. It's as if the light-absorbing quality of the material feels less manufactured, more "of the place". AbsoluteMatte's fingerprint resistance also helps to keep the kitchen looking immaculate with minimal maintenance. Because who wants to spend their holidays cleaning?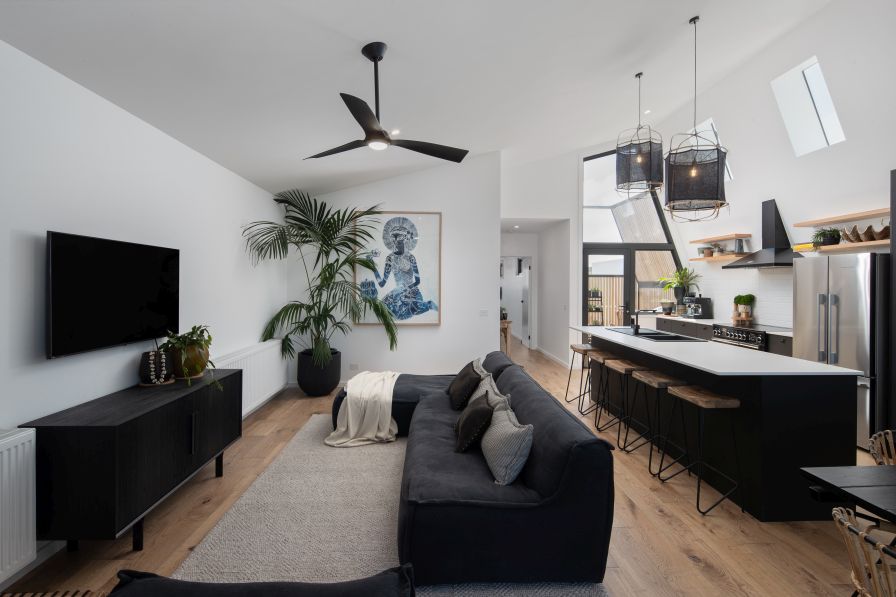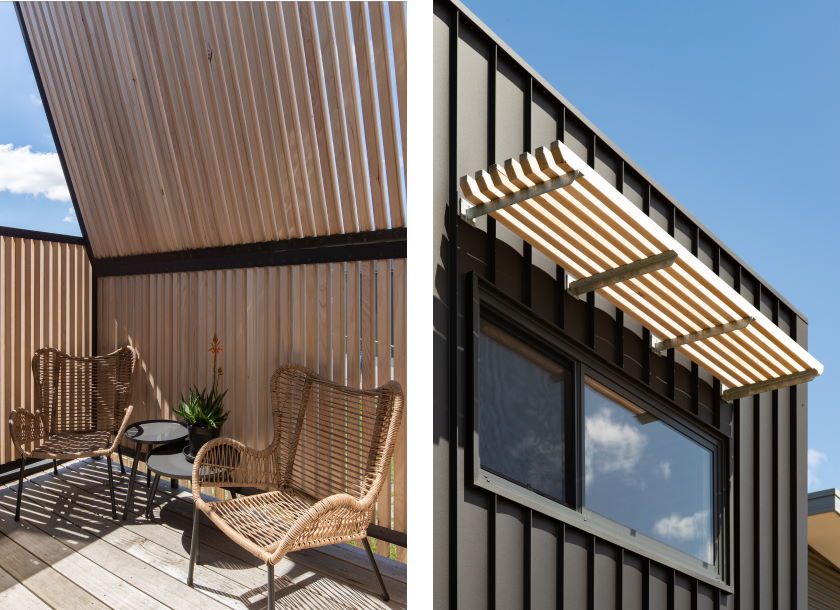 So it seems this beach house has it all! It's practical as well as beautiful, and designed to have a reduced impact on the planet. A fine case study then for future development.
Contributors:
Project: The Cape
Design & Construction: Ecoliv Sustainable Buildings
Photographer: John Thompson
Cabinet Maker: Capeview Building Products