Should a design practice be named after who you are, or what your work represents? There's no one right answer but, when Felicity Slattery and Sarah Cosentino were tossing around ideas for their Melbourne-based practice, they settled on the latter, with a name that expresses their deep appreciation of beauty: Studio Esteta, from the Italian word for "aesthete".
Indeed, beauty comes in many guises in Slattery and Cosentino's projects. It can be found in bespoke details, such as the grooved-timber bar at elegant Mont Albert eatery Via Porta, which took out Best Cafe Design at last year's Eat Drink Design Awards. And in the bold layering of materials, like the rattan, terrazzo, timber and encaustic tiles at Mexican restaurant Fonda Bondi – an approach that's of ongoing interest to the practice. "Contrasting materials can really tell a story and add textural depth," Slattery explains. "You might have a refined and simple palette, but once you start layering coarse textures with glossy surfaces, it becomes interesting."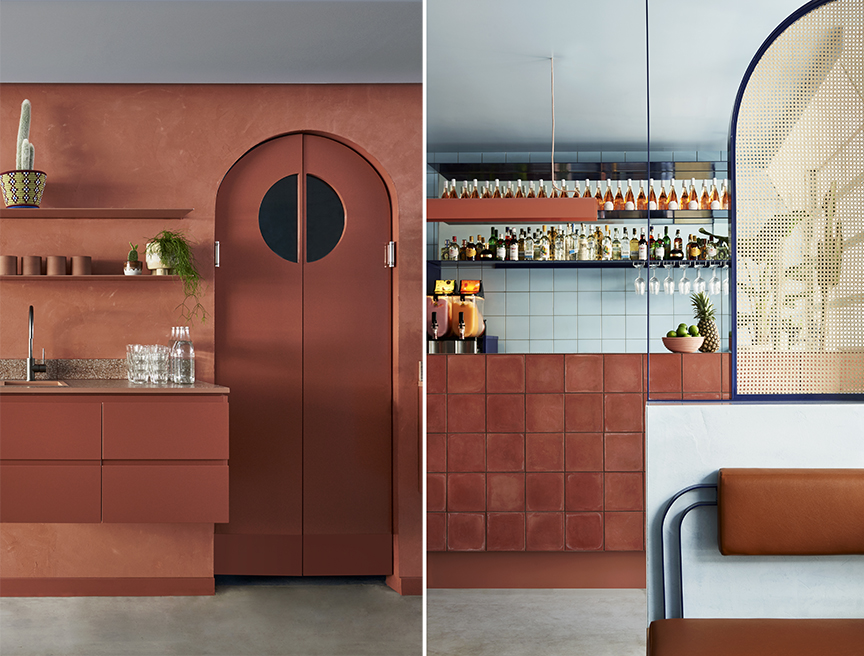 Taking a holistic approach to design
Cosentino and Slattery met while working at Clare Cousins Architects, and established Studio Esteta in 2015. In addition to a timeless beauty, their work is characterised by a "fluidity between disciplines", as Slattery puts it. "I'm an architect and Sarah is an interior designer, but we've been very conscious to not create a studio where we separate the disciplines. Our interests and skillsets expand beyond that," she says. "We're now a team of five and everyone works on everything. The architecture is just as important as the interior and vice versa, which allows for a holistic point of view.
This kind of holistic design response is also achieved by seeking harmony between a project and its surrounds, says Slattery. It's evident in the practice's Portsea House, a major renovation of a two-storey coastal residence, which features a tactile palette of slatted timber wall panelling, bagged white walls and accents of natural stone that references the location on Port Phillip Bay.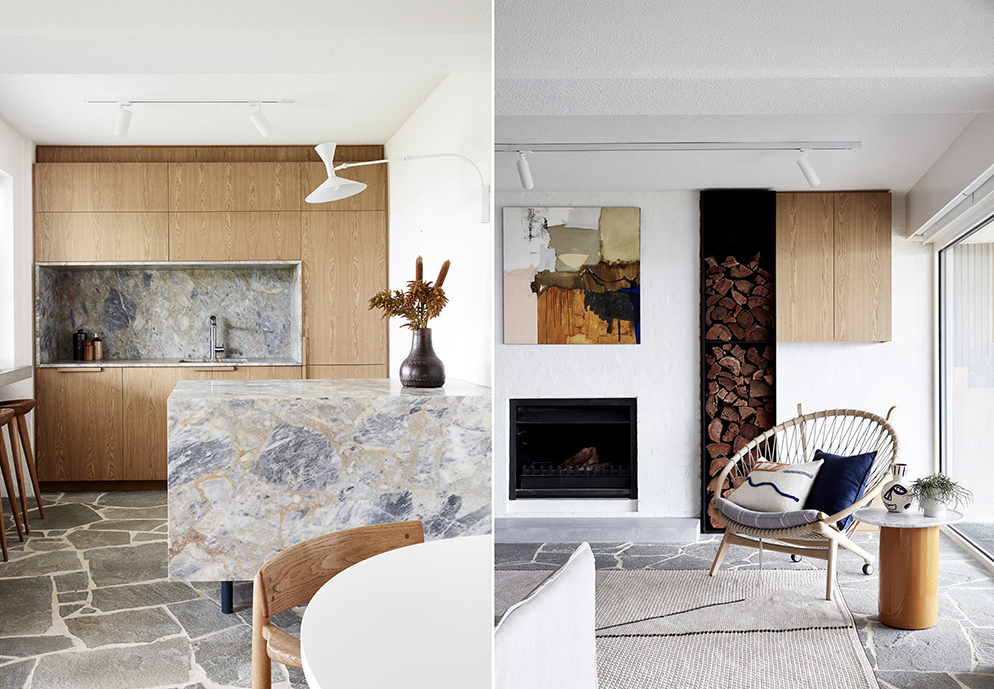 Similarly, the design concept for Via Porta was inspired by its long, narrow site, as well as the client's Italian heritage. "The site itself reminded us of alleyways that you'd stumble across in Italy, that are really narrow and quaint and layered with texture, and that provided the overarching conceptual approach for the project," says Slattery. "We then layered it further with meaning. One of the key features is the crazy paving flooring, which is made from stone offcuts from suppliers. And that earthy tonal colour is such a feature in Italy."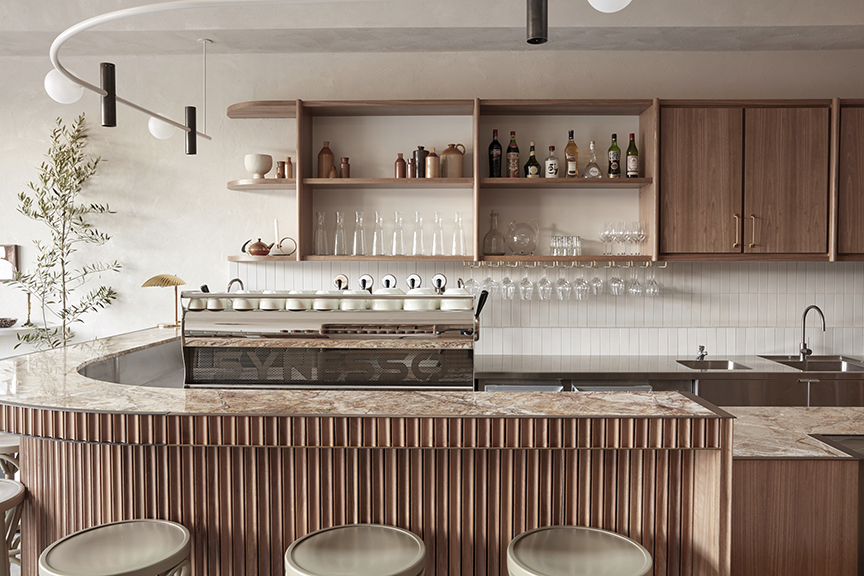 Balancing beauty and functionality
Studio Esteta's portfolio is divided equally between residential and commercial projects and while visual beauty is essential to its work, functionality is no less a priority. Again, this is demonstrated at the Portsea House, where the kitchen, dining and living areas remain in their original position on the upper level, to maximize the coastal aspect, while the ground floor is transformed into a versatile second living area. "Through clever joinery and sliding doors, we created a rumpus room for the kids on the ground floor that can be completely shut off, or opened up when entertaining," says Cosentino. "We also introduced crazy paving to most of the ground level to create a sense of connection between the front garden, the interior and the backyard."
This recurrence of crazy paving highlights the studio's preference for natural stone, alongside timber and terrazzo, but laminate is also a regular feature. "We use laminate in most of our laundries, for example, because it's so durable," says Slattery. And it's used to introduce bright pops of colour, adds Cosentino. "It's really hardwearing and you can get so many colours in laminate now," she says. "We need to be strategic about what surfaces need to be really durable, whether in residential or hospitality spaces. We think about the practicality, the longevity and, of course there's the aesthetic component, which is so important."