There's so much you can do with plywood, and the first step to unlocking its potential is understanding its different properties.
Plywood is incredibly popular in interior design right now, and much of its appeal comes down to its simple, authentic beauty - the subtle rhythm of its woodgrain, its warm-toned colouring, and the graphic, unique layered edge features that reveal its inner layers. But plywood is also prized for its versatility with variants suited to applications as diverse as furniture, wall cladding, flooring, construction hoarding and boat building. Understanding the differences between them not only helps architects and designers choose the right plywood for the job, it opens up opportunities to adapt them to new creative uses.
Understanding plywood grades
Plywood is made from thin layers of timber that have been rotary peeled from a log and then glued together, typically with the woodgrain of each layer at right angles to adjacent layers that enhance its structural integrity. The finished sheets are graded according to the appearance of the two veneer faces. A-grade is the highest quality rating and has only minor natural features, while B-grade includes larger natural features but is still classified as "appearance grade". Beyond that, C and D-grade plywoods show progressively more features, including knots and holes that may or may not have been filled, and are mostly used for structural applications and construction. Both faces of each sheet are graded, resulting in a combined grading such as A/C or C/D. A separate grading system is used to indicate the type of glue used to bond the ply layers with different glues corresponding to different applications.
The architectural plywoods
Birch and hoop pine are the two dominant timbers used for architectural plywood in Australia. "They're often referred to as 'blonde species' because of their light colouring," says Laminex Trade Category Manager, Aymeric de Rosbo. "Birch plywood is almost white in appearance, hoop pine ply has a bit more of a honey colour to it, and both have far fewer natural features in their woodgrain than other timbers, so they're visually appealing."
For birch, a European tree predominantly grown in Russia, the clear woodgrain results from slow growth in very cold conditions. "They're usually milled somewhere between 50 and 80 years of age, compared to radiata pine, which we use for construction plywood that's cut down between 18 and 30 years," de Rosbo explains. "So next to radiata with its broad growth rings and grain features, birch has a much tighter grain. And because it has small branches, any knots visible in the finished plywood are very small."
Hoop pine achieves its largely feature-free appearance in quite a different way. It's native to Queensland and northern New South Wales, and when it's grown for plywood production, it's pruned more often than other species to minimise branch development and keep the wood clear. "For that reason, it's a more expensive resource than timbers used for construction plywoods," says de Rosbo, "but then, it's so good looking, you'd never want to use it just to cover it up!"
Marine ply is the third plywood that's used for decorative applications. Its timbers are chosen for good face appearance but, because it's made from 30 or more different species of timber, it can be a challenge for large-scale applications where colour matching is important. Marine ply's defining feature is the use of solid inner veneer layers, whereas other plywoods typically use core veneers that may have gaps, splits or knotholes. This gives it exceptional impact and vibration resistance.
The variations between these different architectural plywoods mean that they can be applied in myriad ways. To gain some insight into this, we spoke to architects Claire Scorpo, Stuart Vokes and Rachel Catt about working with ply. You can read what they said here.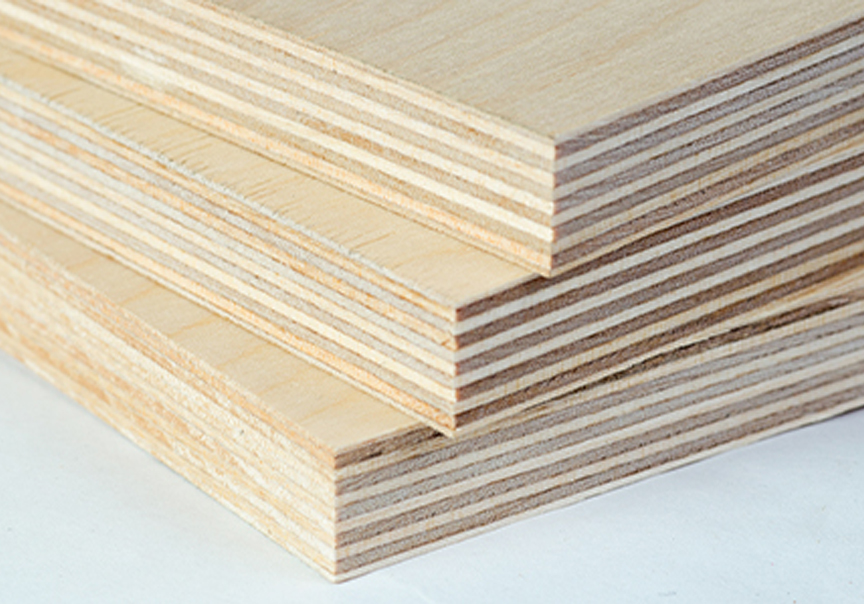 Furniture, joinery, flooring and more
While birch, hoop pine and marine plywoods are most visible in Australian design projects, there's a long list of other plywood products made for specific applications. There's structural tongue-and-groove plywood flooring, for example, which is constructed from renewable plantation pine timber, and bending plywood made from mixed hardwood species that is capable of being bent into curved shapes to a radius as tight as 300mm. Different surface appearances can be achieved with products like Lamiply plywood, which has a matte white laminate finish ideal for cabinetry carcasses in kitchens, bathrooms and laundries. Hardwood plywood can be stained or painted for use in furniture, ceiling linings, cabinet backing sheets or, when treated with appropriate preservatives, exterior applications.
Plywood laminates
For interior applications where natural plywoods aren't suitable because of cost, frequent exposure to water or other durability requirements, Laminex offers two decors that combine the authentic look of plywood with the hard-wearing performance of premium laminate. Laminex Raw Birchply recreates the natural look of rotary peeled birch plywood using the latest production technologies to capture colour and woodgrain in superb detail. While blue-grey toned Laminex Smoked Birchply was developed in response to the growing popularity of plywoods coloured with translucent washes. In many cases, architects and designers will prefer the natural material. But for some projects, these plywood laminates could be even better than the real thing.