This Queensland-based business has scaled up, from building home kitchens to providing cabinetry for multi-residential towers, schools, aged-care facilities and more.
Name: One Stop Joinery
Website: https://onestopjoinery.com.au/
Location: South East Queensland
Established: 2001
Size: Large (approx. 92 employees)
Service: Manufacture and installation of custom joinery and commercial interiors
Project profile: Multiresidential, healthcare, aged care, retail
In 2001, Graham and Sharon Taylor acquired a business called One Stop Kitchen Shop. As the name suggests, building kitchens for local homeowners was its bread and butter. But by bringing on new employees, many of whom had been working for a large cabinetmaking firm, they quickly gained the expertise and scale required for larger commercial projects. Luke Volpato, now Senior Estimator at the renamed One Stop Joinery, was one of those employees, and he describes a business that's now thriving.
Efficient processes and quality outcomes
"The business has 73 people working out of the factory and office, and 19 in our site team, doing the fitting and installing," he says. "We're focused on Brisbane, the Gold Coast and Sunshine Coast, so we can keep control of the bigger projects, like multi-res buildings. But we also do medical and dental fit-outs as far north as Townsville and Cairns, and out in the west." This combination of large buildings and boutique fit-outs enables One Stop to maximise efficiency, with the fabrication of components for the smaller projects slotting into the breaks between longer production runs. Similarly, while the business clearly has a strong suit in multiresidential work, the mix of different project types, which includes schools, aged care and retail, provides protection from the quieter times that different industries cycle through.
The success of the business appears to be a result of old-fashioned high-quality work – delivering on time and budget, and solving problems on the fly with a minimum of fuss. "In the early days we had to send out expressions of interest to get work," Volpato says, "but now we have people coming to us begging us to do their work!" One Stop also benefits from estimation software developed in-house, which enables them to calculate costs with impressive accuracy. "We know exactly how many screws, how many lineal metres of edging, how many square metres of board goes into a cupboard. All the boys get tracked with their timing in assembly, so we know exactly what a project is worth, and also when to walk away," Volpato explains. It represents a strong commitment to quality, as opposed to chasing cost cuts that are unrealistic or will lead to inferior outcomes.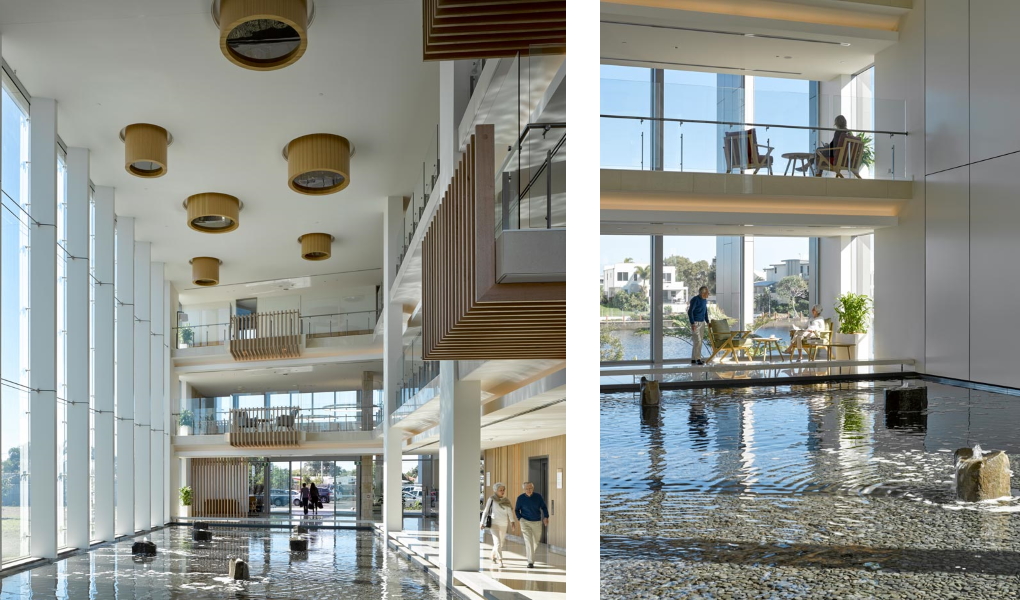 Helping to deliver a high-quality aged-care experience
One Stop's work at TriCare's Kawana Waters aged-care residence, pictured here, is an excellent showcase of their capabilities. The design by Brisbane firm Deicke Richards delivers an environment much like a well-to-do hotel, with abundant natural light, beautiful external views and a carefully planned mix of private and shared spaces. The materials palette was inspired by the coastal location, and includes nine different Laminex decors. Laminex Elegant Oak features prominently, on walls and joinery in dining rooms, and walls and feature ceilings in some residents' rooms. In areas where the impact of direct sun needed to be mitigated, the cooler, darker tones of Laminex Avignon Walnut were preferred. Elsewhere, Laminex Fossil, Charcoal, Chamois, Lustrous Elm, Ocean Micro, White and Black have been used, across a range of different applications. But perhaps the most interesting aspect from a joinery perspective is the way that services specific to aged care had to be integrated into the bedrooms.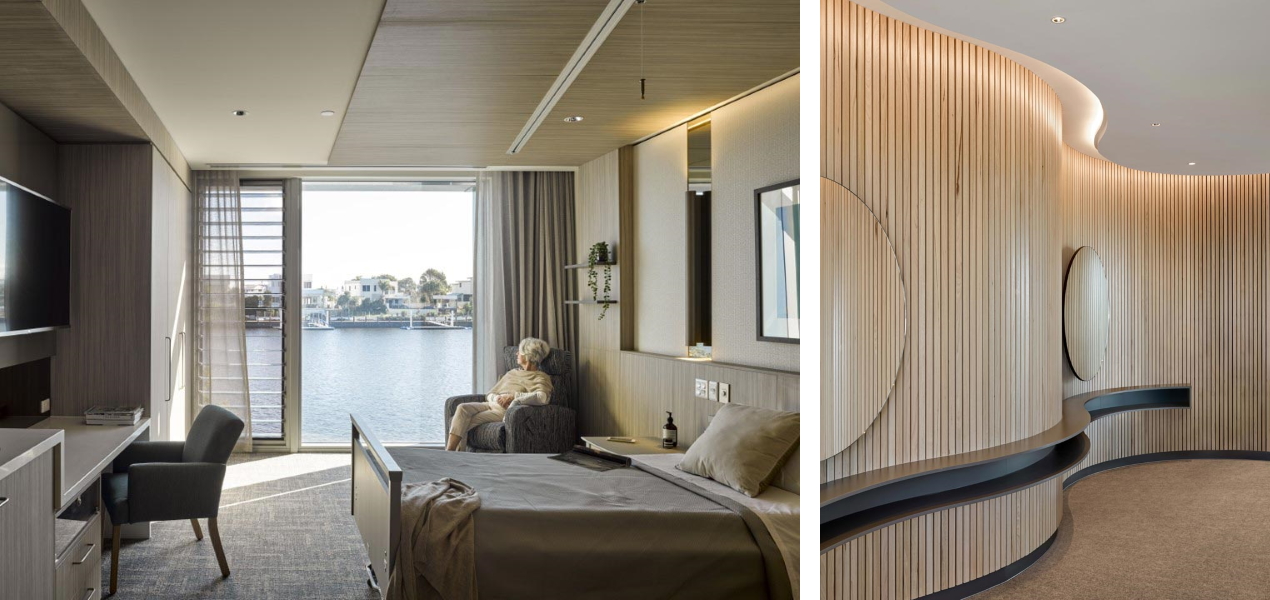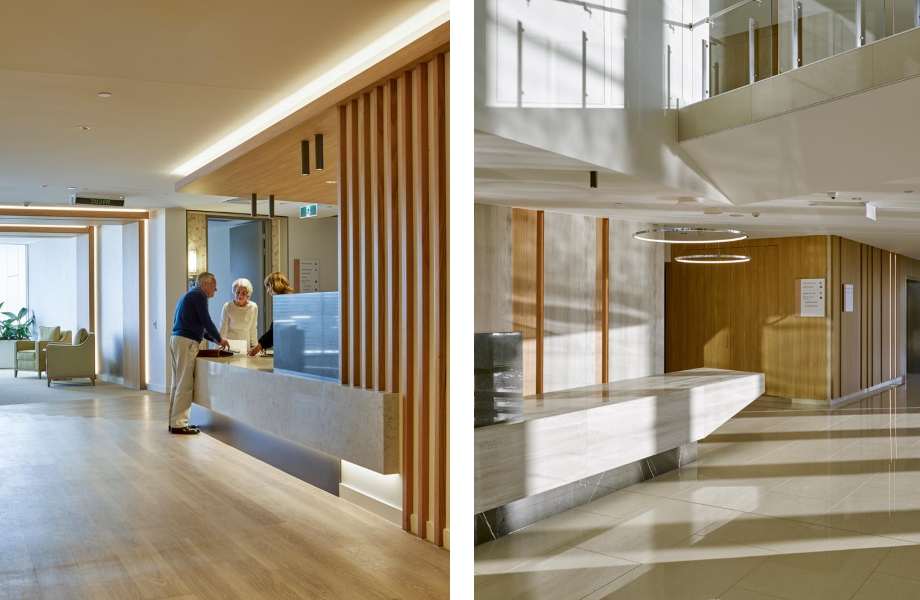 "There was a lot of integration with the hoist system in the bulkheads. When we fitted them into the ceiling, the track was already in place, so we had to come up with a design where we could slide these panels on later in the process," says Volpato. "They had to fit really neatly and part of that was adding an aluminium trim along the joins, which the other parties all loved." But he adds that this isn't an unusual situation for the team. "Sometimes architects will draw something and it's a good concept, but you might have to slightly tweak it to make it work." It's a neat illustration of the role that highly skilled joinery businesses like One Stop play in bringing great designs to reality.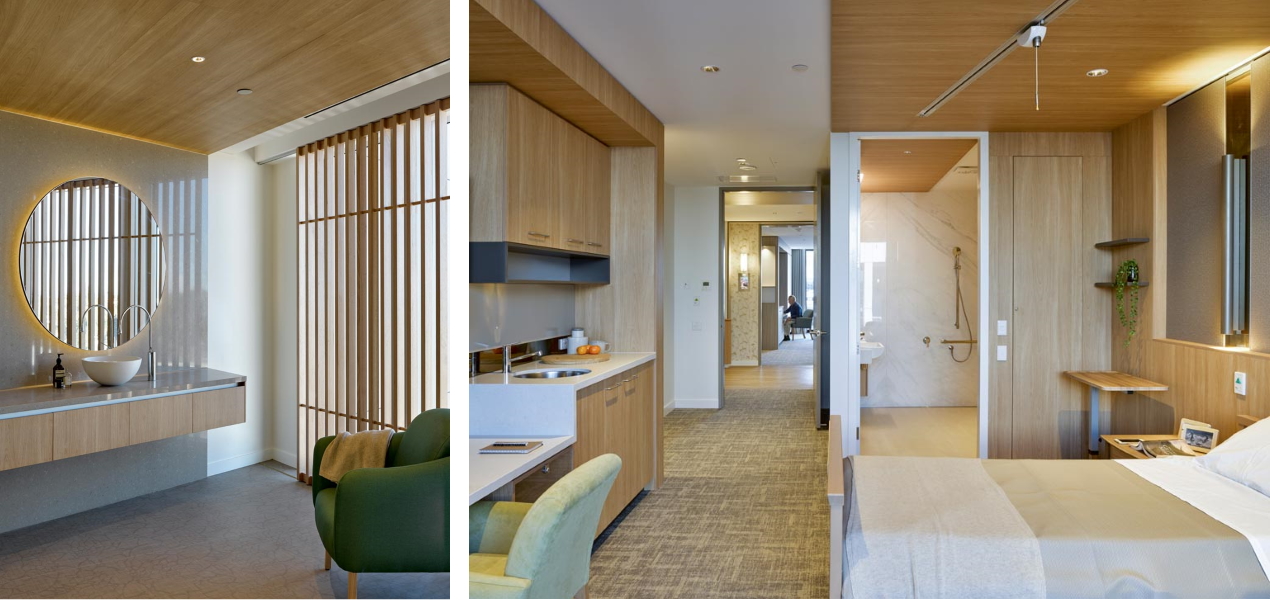 Contributors:
Project: TriCare Kawana Water aged-care residence.
Design: Deicke Richards.
Cabinet Makers: One Stop Joinery.
Photography: Christopher Frederick Jones.